Frozen Broccoli in Air Fryer
This frozen broccoli in air fryer recipe is the quick and healthy side dish dreams are made of!
We cook air fry broccoli from frozen—no thawing required!—with minimal, simple ingredients. Follow my tips for super crispy broccoli in half the time it would take to roast in the oven.
Frozen broccoli is great for cooking on a budget, and it pairs well with so many things! Pair it with frozen salmon in air fryer and frozen brussel sprouts in air fryer for an easy and delicious companion dish. Or use it as the base of this lemon garlic Whole30 broccoli recipe—yum!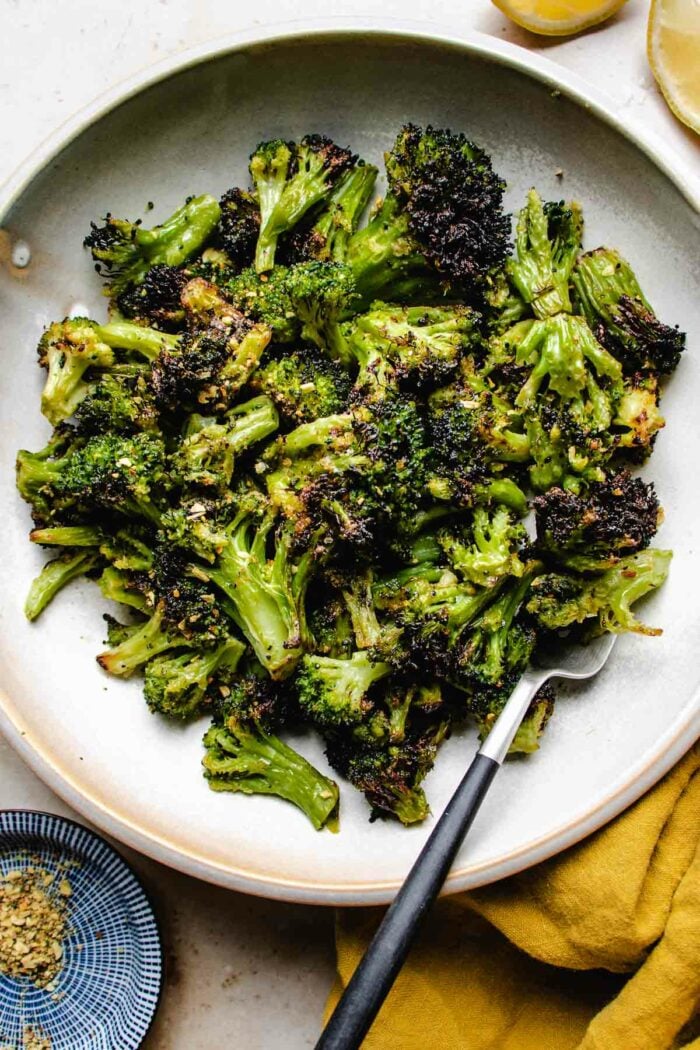 Why this will be your go-to recipe
This air fryer frozen broccoli is a staple in my house, and I know you're going to love it too!
Zero prep time – This frozen broccoli in the air fryer is both crispy and tasty, and requires no prep time.
Healthy – Broccoli is a healthy, low-carb, and nutrient-dense side dish option that pairs well with just about any protein.
Crispy delicious – Frozen broccoli in the air fryer requires minimal oil, and has crunchy and delicious flavor.
Ingredients
Ready to learn how to cook frozen broccoli in air fryer? First, let's gather our simple ingredients. You probably have them all in your kitchen already!
Frozen broccoli florets
Olive oil
Seasonings: coarse sea salt, black pepper, and lemon pepper seasoning
Ingredient substitutions
Change up the seasonings: You can really get creative here! Spice things up with chili powder or flakes, or try curry powder, smoked paprika, cumin, garlic powder, or onion powder.
Add cauliflower: Because they have a similar cook time, you can add cauliflower without changing anything else in the recipe. Please refer to my air fryer frozen cauliflower recipe.
Use a different oil: Avocado oil is a great option instead of olive oil due to its high smoke points.
How to make the dish
Cooking frozen broccoli in air fryer is so quick and easy! Here's how to make frozen broccoli in air fryer in just 3 simple steps.
Preheat your air fryer to 400F. In a bowl, toss frozen broccoli in oil and seasonings.
Spread broccoli florets in a single layer in the air fryer basket.
Airfry for 10-15 minutes, until crispy. (Cook time will vary depending on your air fryer unit)
Air Fryer Tips For Extra Crispy Broccoli
Cook from frozen: For best results, don't thaw the broccoli before cooking. This can make them soggy.
Don't overcrowd or stack veggies: Spread them into a single layer so they don't steam.
Shake the basket halfway through cooking to ensure even crisping.
Variations
Air fried frozen broccoli is a perfect side dish just as it is, but it's also so easy to modify and spice it up. Here are some fun variations to try:
Air fryer frozen broccoli and cauliflower: Because they have similar cook times, you can easily add cauliflower to your airfryer frozen broccoli for some added color and flavor.
Top with a sauce: For added flavor, drizzle some sauce after cooking. This dish would taste great with my garlic chili sauce!
Air fryer frozen broccoli and cheese: For parmesan air fryer frozen broccoli, top with parmesan cheese before serving. If you're dairy-free, try my Paleo parmesan cheese!
Frozen breaded broccoli in air fryer: Sprinkle Italian-style or gluten-free Japanese panko breadcrumbs to make breaded, crispy broccoli dish.
Is frozen broccoli healthy?
Broccoli is high in many nutrients, including fiber, vitamin C, vitamin K, iron, and potassium. It also boasts more protein than most other vegetables (source). Frozen vegetables are nutritious and a study found that frozen broccoli has more riboflavin than fresh broccoli (source).
Can you air fry frozen broccoli
Yes! Air fryer broccoli is fast, healthy, and easy. You should put the frozen broccoli into the air fryer without thawing for the best results.
How long to air fry frozen broccoli
Cook times will vary between air fryer models, but generally total time will be around 10-15 minutes. It's easy to check for doneness in an air fryer— just keep an eye on the florets until they're crispy!
Can you use air fryer without oil?
Yes, you can, but some foods that don't naturally contain oil (like frozen broccoli) require some oil to crisp up. The good news is an air fryer requires less oil than conventional cooking. You can use an oil spray to minimize oil further.
Storage and make-ahead
Frozen vegetables can be stored for 8-12 months. After this, they begin to lose some nutrients.
Once cooked, air fry frozen broccoli can be stored in an airtight container for up to 4 days in the fridge. But it really tastes best when eaten immediately!
Umami Tips
Cook from frozen: For best results when air frying frozen broccoli, don't let the veggies thaw.
Shake the basket: Shake the basket to evenly cook the veggies and prevent them from steaming.
Don't overcrowd the basket: Overcrowding or layering will cause the broccoli to steam instead of roast.
Feel free to experiment with your own favorite seasonings and spices!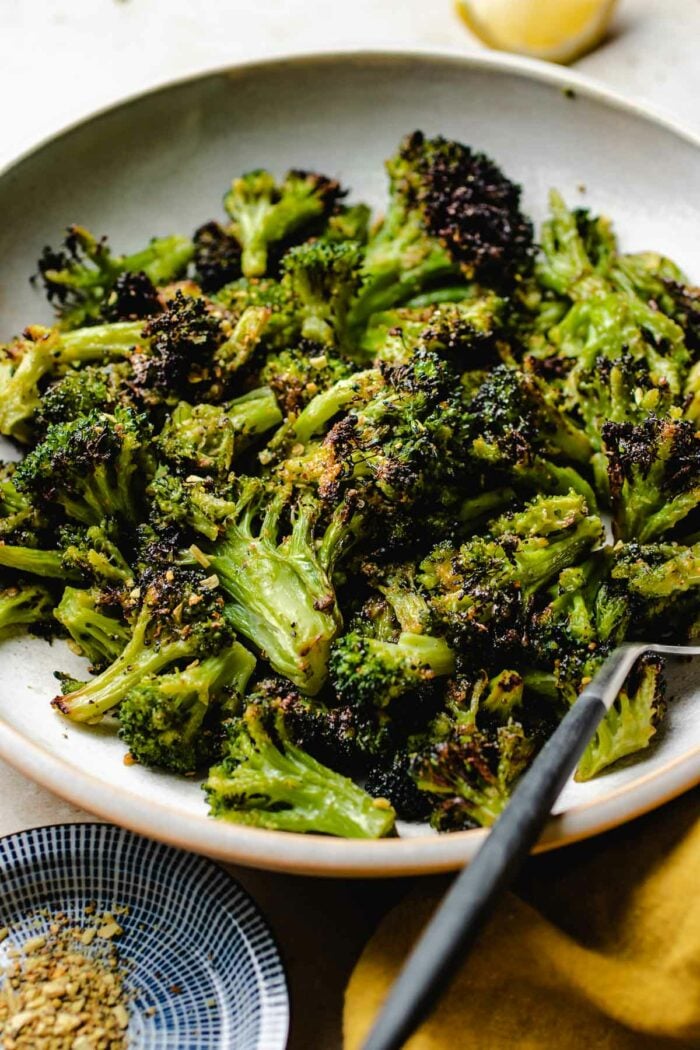 Frozen broccoli in air fryer recipe
Air fryer frozen broccoli is so simple and crispy! Simply put frozen broccoli in an air fryer with oil and a few simple seasonings for a crispy healthy side dish in no time!
Print
Pin
Rate
Ingredients
16 oz. frozen broccoli florets
4 tbsp olive oil
½ tsp coarse sea salt
½ tsp ground black pepper
½ tsp lemon pepper seasoning
Instructions
Preheat the air fryer following the default setting. I use Cosori and the default is 400F for 5 minutes.

In a large mixing bowl, add the ingredients from broccoli to lemon pepper seasoning. Toss and combine well.

Pour the florets into the basket and spread them out in a single layer. Some overlap is okay.

Air fryer for 8 minutes, shake the basket and cook for an additional 6 minutes or until the florets are slightly crisp outside with some brown bits. Serve warm, room temperature, or lightly chilled.
Notes
No need to thaw the vegetable. Cook directly from frozen.
Line the basket – I always line a layer of foil paper between the air fryer basket and the tray for easy cleanup.
Coat the oil evenly – I found that coating a thin layer of oil over the broccoli florets helps them crisp up evenly.
Cook time varies – Cooking time and temperature can be different, depending on the brand of the air fryer. I have a Cosori at home.
Flavor variety –

Spicier: toss the florets with a sprinkle of red pepper flakes.
Other flavor suggestions: curry powder, smoked paprika, garlic, and onion powder are all great choices.
Nutrition
Serving: 1serving, Calories: 218kcal, Carbohydrates: 10g, Protein: 4g, Fat: 19g, Saturated Fat: 3g, Polyunsaturated Fat: 2g, Monounsaturated Fat: 14g, Sodium: 438mg, Potassium: 487mg, Fiber: 4g, Sugar: 3g, Vitamin A: 946IU, Vitamin C: 135mg, Calcium: 74mg, Iron: 1mg
Made a dish and love it? Please remember to rate the recipe and leave a comment in the comment section below! It helps my blog grow organically so I can continue sharing free and awesome content with you. Thank you!