Air fryer salmon bites
These air fryer salmon bites will be your next go-to snack! Serve these crispy salmon bites as a quick appetizer or as a side dish with your favorite meal. It requires zero marinade time and no breading, so you can start eating as soon as it's ready!
If you're a salmon lover, you will also love my air fryer salmon with dijon mustard sauce or bang bang salmon bites. This teriyaki salmon air fryer is also a readers' favorite!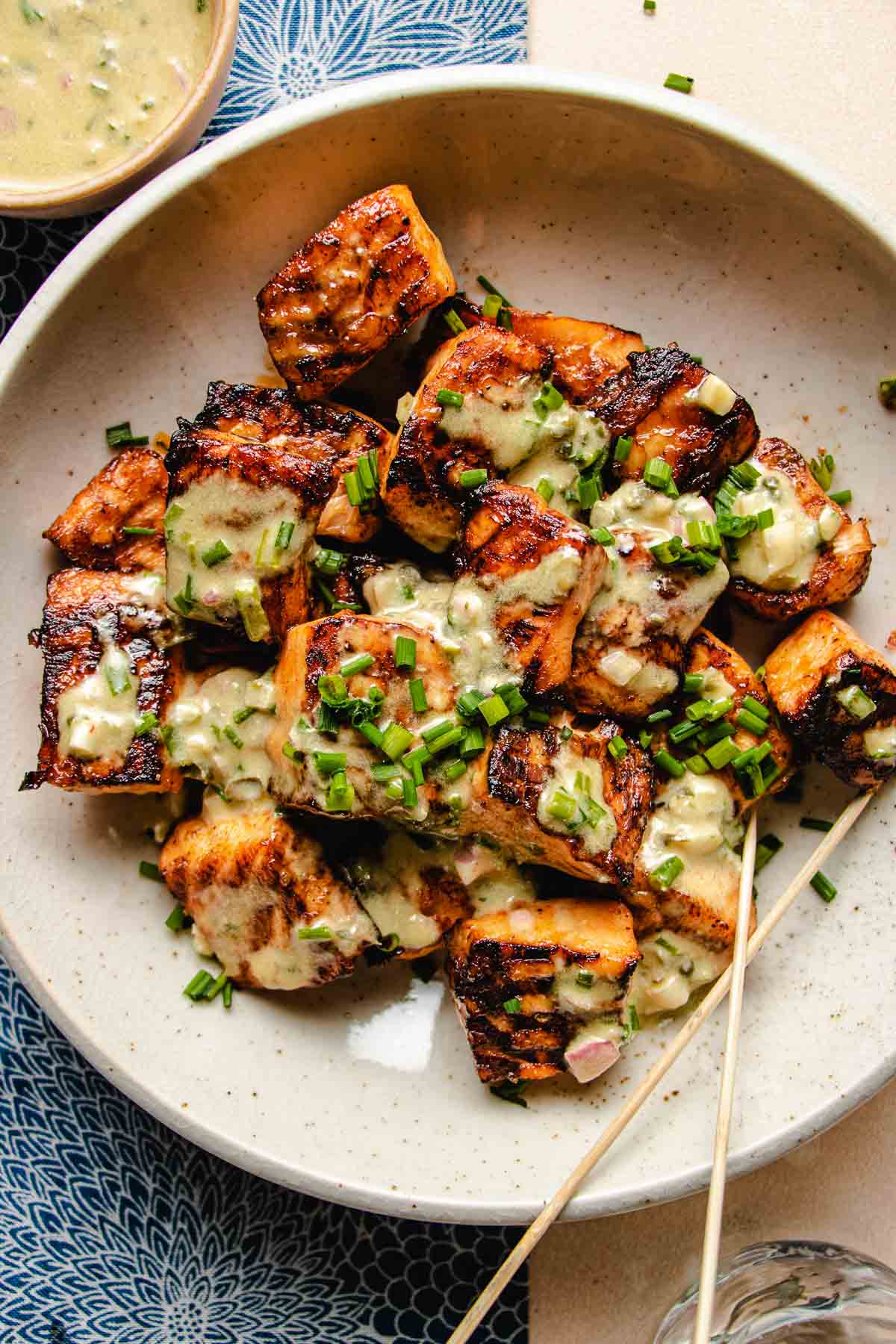 Ingredients
Here's what you'll need to make these air fryer salmon nuggets at home:
For the salmon: Salmon filet, coarse sea salt, teaspoon garlic powder, paprika, ground black pepper, honey, olive oil, olive oil spray, chives
For the dipping sauce: Dijon mustard, mayo, red wine vinegar, shallot, capers, chives, coarse sea salt, olive oil
Ingredient substitutions
Sweetener: You can use keto honey to keep it keto friendly. Maple syrup or a sprinkle of coconut sugar or brown sugar are great choices, too!
Use onion powder instead if you can't have garlic.
Swap for green onions if you don't have chives.
You can use frozen salmon, but make sure to defrost the filet in the fridge the night before.
Skip the dipping sauce: The salmon tastes just as delicious without the sauce. Lightly season with a touch of lemon or lime juice for serving.
How to make salmon bites in air fryer
Now that you have everything you need for this salmon bites recipe, here are instructions to help you start: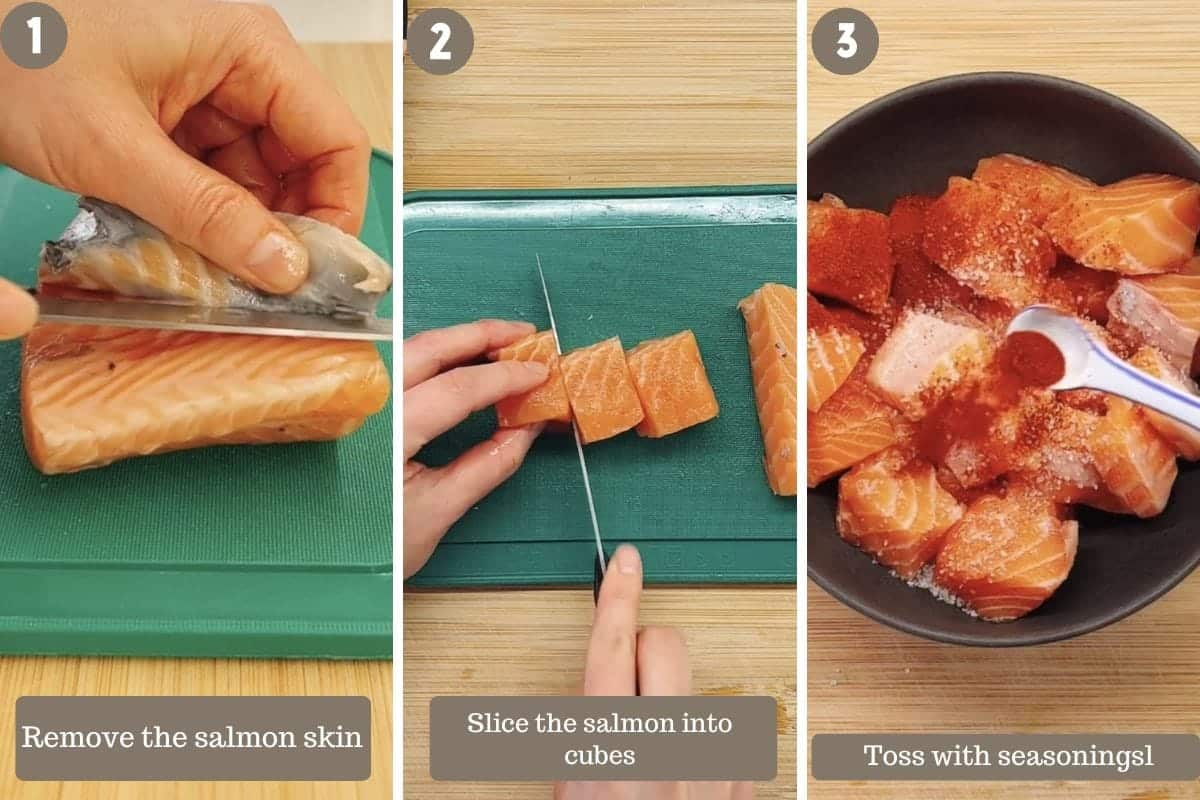 Preheat your air fryer based on its default settings. Remove the salmon skin (see this article on how to do it yourself).
Using a sharp knife, dice the filet into one inch cubes.
Season the cubed salmon and gently toss them to evenly coat each piece.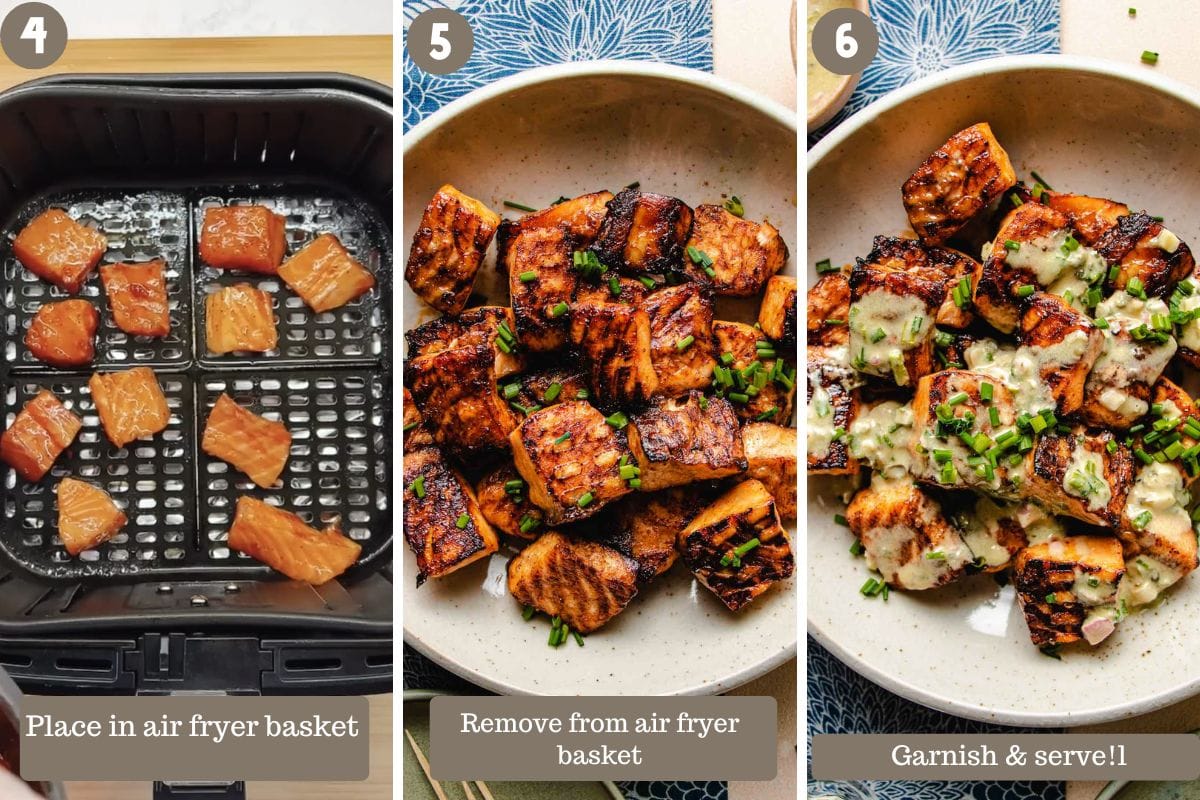 Spray the basket and add the salmon in a single layer. Cook in batches if you need to.
Once they're cooked, wait 10 seconds before taking them out. This stops them from sticking to the basket.
Garnish your salmon with chives and serve warm, alongside the dipping sauce.
Best salmon to use for air frying
In my opinion, center-cut Atlantic salmon that's 1 to 1.5 inches (2.5cm) thick is best suited for air frying, as the salmon chunks would be cooked evenly. Avoid using thin or lean salmon filets, as they don't cook as well in an air fryer. The fish has to be meaty and contains more oil to maintain the moist texture after air frying.
Variations
You can dig into these air fryer salmon bites on their own, but here are some fun variations that you can try out:
Oven method: You can also cook this in an oven. Bake on the top rack at 400°F for 12-15 minutes.
Extra savory flavor: Add a dash of low-sodium soy sauce if you prefer a more savory taste.
Spices: Add in spices of your choice such as blackened seasonings like skinnytaste, lemon pepper seasoning, cajun, or Italian seasonings.
Marinate the salmon: Give it an Asian twist by marinating the fish in teriyaki sauce. You can do so with this easy keto teriyaki sauce.
Pair with a different sauce: Serve it with other tasty sauces like this Whole30 ranch yogurt dressing, garlic butter, garlic cream sauce, or simply squeeze some lemon juice before serving.
Prefer it hot? Make it spicy with a sprinkle (or two) of red pepper flakes or chili of your choice.
How to cook salmon in an air fryer without it sticking?
Line the air fryer basket with a thin piece of parchment paper or air fryer liner and spray a thin layer of olive oil or avocado oil. Place the salmon pieces on top of the parchment and spray another thin layer of oil over the fish. This way, the salmon will not stick to the basket.
Serving suggestions
Here are a few ideas on what to eat with salmon bites for a nourishing meal:
These airfryer salmon bites are best served on the side of flavorsome shirataki fried rice. You could otherwise serve it with steamed rice for a speedy and yummy air fryer salmon bowl.
You can also enjoy the healthy salmon cubes air fryer with umami-filled veggies. Whip up a quick meal with some frozen broccoli in air fryer. If you want to step it up, go for these finger-licking miso butter sauteed asparagus, or even Asian Brussel sprouts.
Common FAQ
How long to cook salmon bites in air fryer?
The exact temperature will depend on your air fryer and food quantity. In general, they are ready after 8 minutes at 350°F (177°C).
How long to cook salmon at 400 Fahrenheit?
For a 1 lb whole filet, cook for 8 to 10 minutes at 400F. If it's diced up into chunks, cook at 350 F for 8 minutes or at 400F for 5 minutes.
Can I use parchment paper in my air fryer?
Yes, you can. Place the parchment paper after you reheat it and place food on top to avoid it from burning.
Is salmon good in an air fryer?
Yes. Center-cut Atlantic salmon filet (1 to 1.5 inches thick). Its meatier texture will result in less drying salmon bites air fryer.
Storage, make-ahead, and reheat
Storage: Store leftovers in an airtight container and refrigerate for 2 to 3 days.
Make ahead: You can make the sauce ahead to save time. Simply dice up and season the salmon bites, and pop them in the air fryer!
Reheat: When you're ready to serve them, just reheat them in the air fryer at 350F for 3 minutes.
Related recipes
Can't get enough of these air fried salmon bites? Here are some air fryer recipes and inspirations on what to make once you've cleaned your plate of this keto-friendly meal:
If you love making salmon bites in the air fryer, you can relive the experience by making frozen salmon in air fryer, which takes an even shorter time to prepare! For another mouthwatering option, check out this crispy rice sushi recipe which makes an appetizing finger food.
For a fresh and green variety, save up the dipping sauce to drizzle over a plate of smoked salmon salad.
Umami Tips
Use center-cut (or thick-cut) salmon filets which are juicier and more tender. This would work best for this salmon recipe.
Remove the skin from the salmon fillet before cooking it. Take a look at our recipe notes for a detailed how-to.
You can line the air fryer basket with or without parchment paper.
Cut up the salmon into roughly similar sizes to make sure they cook evenly.
Air fryer salmon bites recipe (with creamy caper chive sauce)
Air fryer salmon bites are cubes of salmon nuggets seasoned with honey, and paprika and air fried to crispy. Serve with creamy caper-chive sauce on the side!
Print
Pin
Rate
Ingredients
1 lb center-cut Atlantic salmon fillet, skin removed and diced to 1-inch chunks
0.5 tsp coarse sea salt
0.5 tsp garlic powder
¼ tsp smoked paprika, or sweet paprika
⅛ tsp ground black pepper
1-2 tsp honey, optional
1 tbsp olive oil
Olive oil spray, for the air fryer basket
2 tbsp chopped chive, garnish
Instructions
Preheat the air fryer following your default setting.

Remove the salmon skin. You can also ask a fishmonger to do this for you. Dice the fillet into 1-inch (2.54cm) cubes and add them to a large bowl.

Season the salmon chunks with salt, garlic power, paprika, black pepper, honey, and olive oil. Gently toss them well to coat the salmon evenly. I wear a cooking glove to do this.

Spray the air fryer basket with olive oil, add the cubed salmon with some space between them. You might need to cook them in 2 batches. Air fryer at 350°F (177°C) for 8 minutes.

When air frying is done, open the basket and wait for 10 seconds before removing the salmon. The cold air will make the meat shrink a bit and therefore helps it "unstick" from the basket. Carefully and gently transfer the cubes to a serving plate so they won't fall apart.

Garnish the salmon bites with chive and serve with the dipping sauce on the side. Serve warm.
Notes
You can line the inside of the air fryer basket with a thin layer of parchment paper/air fryer liner or without. Either way, you still need to spray the parchment with oil otherwise the fish will still stick to the paper.
If you do decide to line the inside of the air fryer basket, only add the paper AFTER you reheat it. Place the salmon cubes on top of the paper to weigh the parchment down. If the paper is not weighted down, it'll fly up and catch fire in the air fryer.
For oven: bake on the top rack at 400°F for 12-15 minutes.
I strongly recommend that you use center-cut Atlantic salmon fillets for air frying use.
You can serve the salmon without a sauce or use any dipping sauce you prefer. 
The nutritional label is estimated without the caper chive sauce.
Nutrition
Serving: 1serving, Calories: 214kcal, Carbohydrates: 2g, Protein: 23g, Fat: 12g, Saturated Fat: 2g, Polyunsaturated Fat: 3g, Monounsaturated Fat: 6g, Cholesterol: 62mg, Sodium: 342mg, Potassium: 565mg, Fiber: 0.1g, Sugar: 1g, Vitamin A: 107IU, Vitamin C: 0.01mg, Calcium: 15mg, Iron: 1mg
Made a dish and love it? Please remember to rate the recipe and leave a comment in the comment section below! It helps my blog grow organically so I can continue sharing free and awesome content with you. Thank you!