Air fryer frozen green beans
Did you know Air fryer frozen green beans are the new it dish in town? They are easy to whip up and spare you the task of trimming, washing, and dicing. The green beans are perfectly tender yet crisp, offering a flavor that feels farm-fresh. Imagine having a hassle-free, flavorful green side dish. Explore the delight of air-frying frozen green beans and elevate your meals with minimal effort.
If you love green beans, or want a similar recipe that is Asian-inspired, try my Chinese garlic green beans or Din Tai Fung green beans made in an air fryer!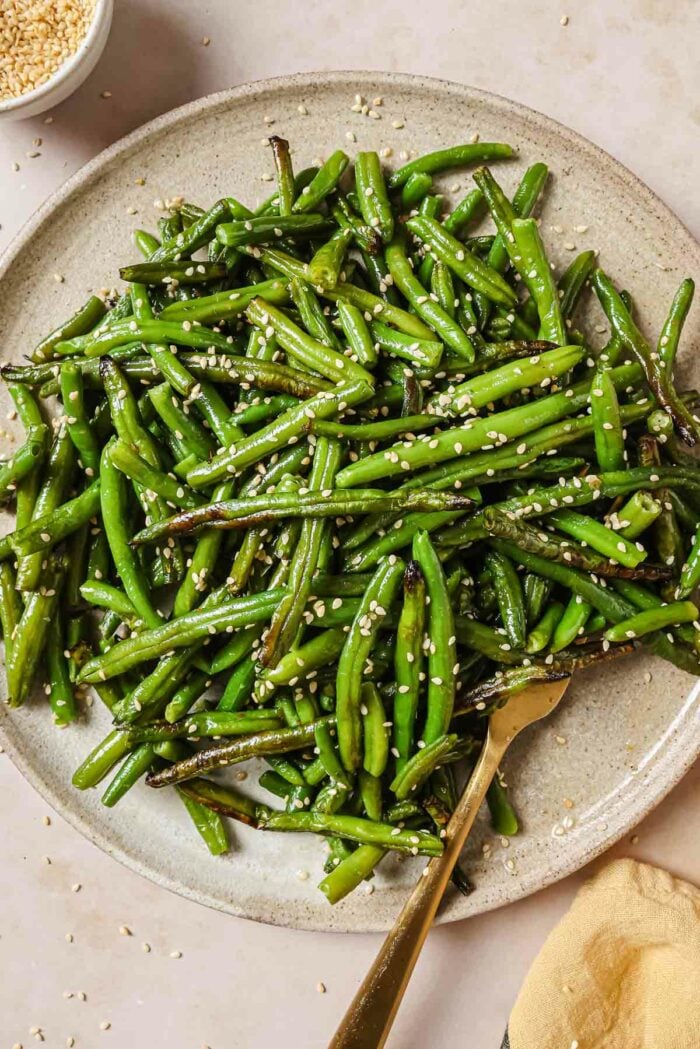 Ingredients
You can make your frozen air fryer green beans with only four simple ingredients – most of which you probably already have in your pantry!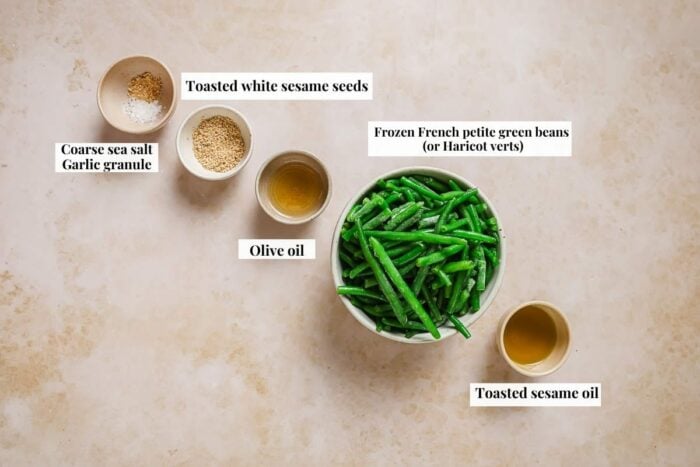 Frozen Green Beans: Start with a bag of cut-up Frozen French petite green beans, also known as Haricot Verts.
Sea Salt: Coarse ground sea salt is recommended for the best flavor.
Garlic Powder: Sprinkle with garlic powder, or fresh diced garlic if you prefer.
Olive Oil: Coating the green beans with cooking oil, such as olive oil, will allow them to crisp up beautifully in the air fryer.
Substitutions and variations
Types of green beans: Instead of frozen, try fresh green beans or canned green beans from Bird's Eye or Trader Joe's
Oil: You can also use avocado oil or melted butter. If toss the beans and butter quickly to prevent it from hardening.
Cheese: If you're a cheese lover, grated cheese, such as parmesan or cheddar, works well. If preferred, try vegan cheese.
Dried herbs: Try substituting alternate fresh herbs – dried oregano, basil, and parsley all work well.
Seasonings: Alternative seasonings that pair well include ground black pepper, red pepper flakes, onion powder.
Flavor variety: Mix up the flavor with parmesan cheese and a squeeze of lemon juice. If you change try that flavor profile, don't use the sesame oil and seeds, as they do not pair well.
Different garnishes: Try a nut such as sliced almonds for an added crunch,
How to make the dish
You might be wondering how to cook frozen green beans in an air fryer. Cooking frozen beans in the air fryer is simple and fun. You'll have a gluten-free, low-carb, vegan side dish in just a few quick and easy steps.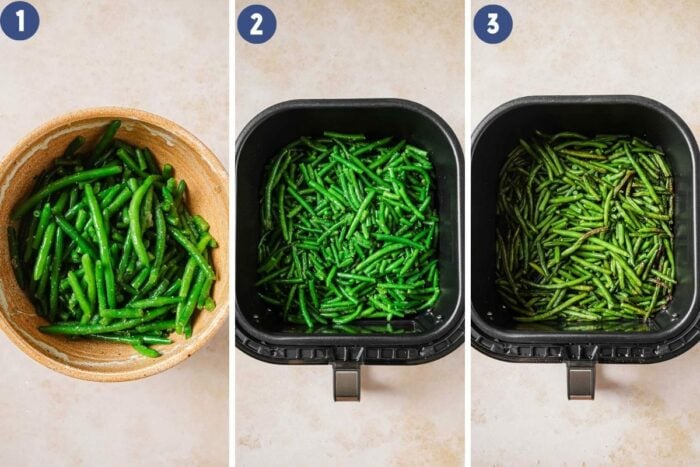 Mix all the ingredients. First, preheat your air fryer to 380°F (193°C). Then, take the green beans from your freezer and mix all the ingredients in a large mixing bowl.
Add the ingredients to the air fryer basket. Ideally, they should be one layer, but a little overlap is okay.
Air Fry. In 6 short minutes, your frozen green beans in the air fryer will be crisp and tender.
Serve. Transfer the green beans onto your serving platter. Add extra garnish as desired, and enjoy!
Tip 1: If you use full-sized (longer) frozen green beans that are not cut up into smaller pieces, increase the total cooking time. Set your air fryer at 380°F (193°C) for 10 minutes (Check after 7 minutes) and shake the basket halfway through cooking.
Tip 2: If you want the beans extra crispy, like green bean fries that are similar to Din tai fung green beans air fryer, add another 2-3 minutes.
How to make-ahead, store, and reheat
When you air fry frozen green beans, do you need to make ahead? Luckily, prep, storage, and reheating are super simple.
Make-ahead: You can cook this dish from frozen – no thawing needed – so there's no need to make ahead!
Storage: Once the beans are cooked, store them in an airtight container in the fridge for 3 to 4 days.
Reheat: Set your air fryer to 360°F (182 °C) and cook for just 2 to 3 minutes. Toss the basket halfway through.
What to serve with air fryer frozen green beans
While cooking frozen green beans in the air fryer, you might wonder what to pair with your perfect side dish. These are some ideas to turn your side into a complete meal.
Umami Tips
Preheat the Air Fryer: Similar to an oven, preheat the air fryer before adding the green beans will help the food cook evenly.
Use completely frozen green beans: Similar to cooking frozen broccoli in air fryer, do not thaw the beans before air frying. The frozen moisture helps them cook up crispy.
Toss in oil: A light coating like avocado or olive oil will help the beans get crispy. About 1-2 tablespoons of oil is enough for 1 lb of frozen beans.
Spread in a single layer: Make sure the beans are spread out in the air fryer basket and not overcrowded. This allows for even cooking.
Cook at a high temp: Cook at 380°F-400°F to get the beans crispy on the outside while tender inside.
Flip halfway (larger quantity or full-sized beans): Open the air fryer halfway through cooking time and give the beans a shake or flip with tongs for even browning.
Season generously: Toss the cooked beans with seasoning like garlic powder, onion powder, paprika, chili powder, or parmesan. The seasoning will stick nicely to the crispy beans.
Don't overcook: Check before the recommended cooking time to avoid dried-out beans. The total air fry time is usually 6-12 minutes.
FAQs
Should frozen green beans be thawed before cooking?
Frozen green beans should not be thawed before air frying. The frozen moisture helps the beans get crispy in the dry air fryer heat. Thawed beans will get less crispy. Keeping them frozen also shortens cooking time. Toss the frozen beans in oil and spread in a single layer in the air fryer basket for best results. Cook at a high temperature (380°F to 400°F) until tender and crispy, about 6-10 minutes total.
Can you put frozen vegetables in an air fryer?
Yes, you can cook frozen vegetables in an air fryer. The dry heat of the air fryer crisps up frozen veggies nicely. Keep them frozen, toss them with oil, and spread them in a single layer in the basket. Cook at a high temperature and shake the basket halfway through. Adjust times based on the specific vegetable and desired crispness.
What is the time and temperature for frozen vegetables in the air fryer?
Cook frozen vegetables at 380°F or 400°F in the air fryer, shaking or flipping halfway through. Cook times vary based on type and amount, but average 6-12 minutes for 1 pound. Check a few minutes early to prevent burning. Let rest before serving. Higher heat crisps frozen veggies up nicely for quick, easy, delicious air-fried vegetables.
How long do you cook frozen food in air fryer?
The cooking time for frozen food in an air fryer varies based on the item. Generally, frozen foods cook between 10-25 minutes at 375°F (190°C) or higher. Smaller frozen items like french fries may take up to 10 minutes, while larger foods like chicken breasts can take up to 20 minutes to fully cook. Always check the specific instructions for the food item and shake or stir halfway for even cooking. Adjust time for desired crispness.
More Air fryer frozen vegetable recipes you might like
After enjoying your air-fried frozen green beans, you'll be ready to try more crisp, simple, and delicious air-fried veggies. For more ideas, download my Air fryer cooking times cheatsheet and try these vegetable air fryer recipes: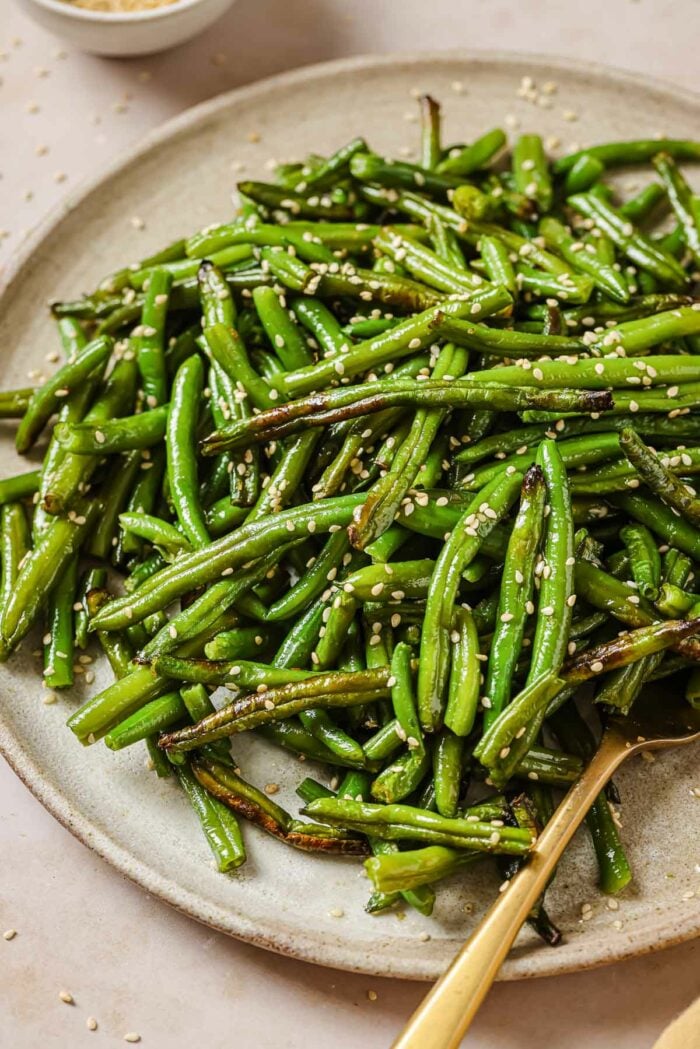 Air fryer frozen green beans recipe
Air fryer frozen green beans with 3 ingredients only! Learn how to make frozen green beans in an air fryer with tender and crisp beans fast!
Print
Pin
Rate
Ingredients
16 oz. Frozen French petite green beans or Haricot Verts, or regular green beans
½ tsp coarse sea salt, plus more to taste
½ tsp garlic granule
2 tbsp olive oil
Instructions
Preheat the air fryer to 380°F (193°C).

In a large mixing bowl, add the ingredients from green beans to olive oil. Toss and combine well.

Pour the beans into the air fryer basket and spread them out into a single layer. Distribute them evenly and some overlap is okay.

Air fryer for 6 minutes. The beans will be perfectly tender and some are a little crisp.

Transfer them onto a serving plate and garnish with toasted sesame oil and sesame seeds. Serve warm or at room temperature.
Notes
You can use the same seasoning quantity and cooking temperature for regular sized cut-up frozen green beans.
If you want the beans extra crispy like green bean fries, add another 2-3 minutes.
Nutrition
Serving: 1serving, Calories: 118kcal, Carbohydrates: 8g, Protein: 2g, Fat: 9g, Saturated Fat: 1g, Polyunsaturated Fat: 2g, Monounsaturated Fat: 6g, Sodium: 298mg, Potassium: 244mg, Fiber: 3g, Sugar: 4g, Vitamin A: 782IU, Vitamin C: 14mg, Calcium: 43mg, Iron: 1mg
Made a dish and love it? Please remember to rate the recipe and leave a comment in the comment section below! It helps my blog grow organically so I can continue sharing free and awesome content with you. Thank you!