Vietnamese Lemongrass Meatballs
Have I shared with you a secret perk at where I work that we get summer Fridays off?  These 3-day weekends are like a godsend that gives me extra time to sleep-in, to daydream or just to wander around thinking what to eat next. 🙂
Why am I telling you this?
Another perk is that I get to do grocery shopping when everyone else is still at work. (Sorry guys) :))   I can beat the crowds and pick the best ingredients when the stores aren't busiest and take my time to really plan out a week's meal plan (so I can share it with you guys!) before Monday hits.
Just as I was planning my weekly menu, I noticed a heart-shaped arrow sign pointing at my Lemongrass Meatball recipe – see evidence below.  Apparently, the man in my life was so happy to see that these meatballs are on the menu and drew a heart to express his love for these balls.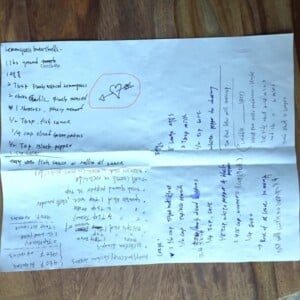 I have to tell you that it feels tremendously satisfying knowing my family enjoy the meals I put on the table – knowing that someone appreciates what you do makes all the sweat and hard work all the more rewarding.
Lemongrass is an interesting ingredient. If you've never used it before, check out this video that shows you how to prepare it in 3 ways.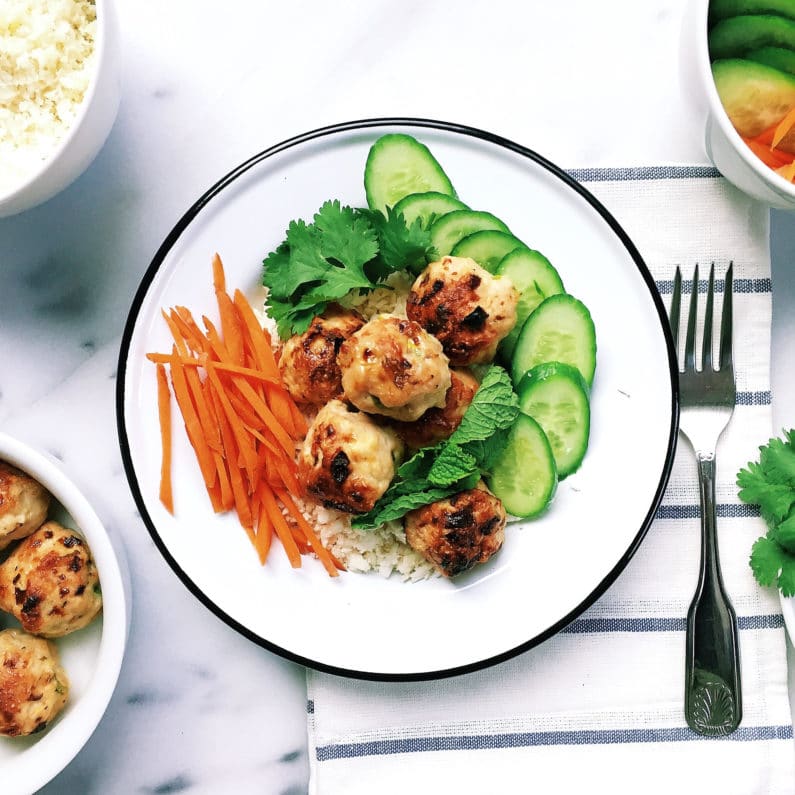 Vietnamese Lemongrass Meatballs
Print
Pin
Rate
Ingredients
Meatballs and Seasonings:
1 lbs ground meat, usually pork but I use chicken today
1 large egg
2 tbsp finely minced lemongrass
2 cloves garlic, finely minced
1 shallots, finely minced
½ tbsp fish sauce
¼ cup sliced green onions
½ tsp black pepper
1 tsp kosher salt
Vietnamese dipping sauce w/ infused herbs:
2 garlic cloves, finely minced
1 tbsp shallots, finely minced
1 tbsp ginger, minced
2 tsp dry chilli pepper
½ tbsp kosher salt, or to taste
About 2 tbsp olive oil
1 tbsp fish sauce
1 tbsp room temperature water
1 tbsp lime juice
Garnish:
Fresh cilantro, as much as you like
Mint, as much as you like
Instructions
Combine the ground meat with egg, garlic, lemongrass, shallots, green onions, pepper and salt.

Form the mixture from Step 1 into meatballs: Pinch off a piece of the meat mixture and gently roll between your hands to form 1 inch meatballs. Continue shaping until all the meat is used.

Roast the meatballs in the oven: Arrange the meatballs spaced slightly apart on a baking sheet. Bake at 375°F for 20 minutes. Turn the heat up to broil and broil for 5 minutes for a bit of color.

Serve with dipping sauce (see below) & Enjoy with cauliflower rice, sliced cucumbers and carrots.

Steps for the dipping sauce:
Heat 2 tbsp. of olive oil over medium high heat, add in garlic, shallots, ginger, dry chili pepper, and kosher salt. Lightly stir fry until fragrant (be careful not to burn the garlic).

Pour everything into a bowl and set aside to cool to room temperature.

Combine the herb infused oil w/ fish sauce, water, and fresh lime juice.

Drizzle over meatballs, cilantro, and mint and serve over cauliflower rice.