Air fryer cooking times
Know the exact air fryer cooking times so you'll have perfectly cooked, crispy meals every time! Check out my free printable air fryer PDF chart that you can put up and use in your kitchen.
This air fryer cheat sheet is a must-have to cook your favorite air fryer recipes. You'll find meat, seafood, vegetables, and even frozen foods on the free printable air fryer chart!
Notes about cooking times
Air fryer cook time varies greatly on the air fryer you use. Different wattages, air fryer size, brand, and type all affect the cooking times.
Air fryer ranges from as low as 800 watts (small size) up to 1800 watts. Generally, higher wattages cook faster compared to a lower wattage. So you'll need to adjust the air fryer times and temps accordingly.
Toaster-style air fryers cook slower than the popular basket style, due to bigger size and difference in hot air circulation.
There are a lot of air fryer brands out there. I use the Cosori air fryer in a 5.8 qt size with a 1700 wattage. If you use a different brand, my air fryer time guide also works as a first point reference.
Air fryer meat and seafood
Cooking meat or seafood is probably the easiest when using the air fryer, compared to baking or deep-frying them. As long as you follow the air fryer time chart, you'll get thoroughly cooked meats with mouthwatering flavors!
Generally, foodstuffs with fat produce the best results when air fried. Chicken thighs, skin-on chicken wings, and steak are some examples. My air fryer whole chicken and lemon pepper wings are the perfect examples.
Did you know that you can cook tasty seafood in an air fryer? This air fryer salmon teriyaki is prepped and ready in under 30 minutes!
Aside from air-frying, seafood can also be steamed in an air fryer. This Asian steamed cod recipe is tender and rich in flavor. For shrimp lovers, my air fryer bang bang shrimp is a must-make!
Air fryer vegetables
It turns out air frying vegetables is super easy and delicious! Follow the cooking times for air fryers as an easy reference, and remember to flip the food halfway through and don't overfill the basket.
Try making these keto stuffed mushrooms for mind-blowing party finger food. For a vegan-friendly variation, these golden air fried oyster mushrooms are super crispy.
My buttery corn ribs air fryer and rice paper dumplings are two very popular appetizers on the blog! The air fryer zucchini fries recipe is another fantastic choice!
Air fryer frozen foods
Cooking your favorite foods has never been easier, thanks to air fryers. Food cooks faster and gives crispier results, due to the high internal temperature. With an air fryer timing chart, you'll get yummy food without using a deep fryer!
You can enjoy healthy meals made from frozen food beyond french fries, tater tots, and chicken nuggets. This delicious air fryer frozen salmon comes together quickly and requires minimal prep. If you need a quick side of vegetables, my frozen broccoli in air fryer or frozen brussel sprouts air fryer is a crowd favorite.
Should I preheat an air fryer?
Preheating an air fryer is optional. The airfryer chart does not include this, but a preheated air fryer cooks food faster, like a preheated convection oven. The preheating temperature varies between brands as every brand has different air fryer settings.
Oven-to-air fryer conversion
Due to its smaller size, an air fryer generally cooks food faster than a conventional oven. So you'll need to convert the oven recipe to suit air fryer temperatures.
The general rule of thumb is to lower the cooking temperature by 25°F and shorten the time by roughly 20-25%. However, the adjustments vary depending on the dish you are cooking. I'd suggest setting a shorter cooking time, so you can regularly add extra time if necessary.
Common FAQ
What can you cook in an air fryer
Technically, you can cook almost everything in an air fryer. However, you should avoid cooking foods with wet batter, delicate fresh baby greens, and raw grains.
How to reheat food in an air fryer
Simply set the temperature to 380°F for 3 to 5 minutes. If the food isn't hot enough, add another 1-2 minutes.
What oil or oil spray is best for an air fryer
It's highly recommended to use oil with a high smoke point, such as avocado oil. Other options like olive oil and peanut oil are okay, too.
Can I line the air fryer basket?
You can line the air fryer tray with a thin layer of aluminum foil for easy cleanup after.
Air fryer cheat sheet printable (in celsius and Fahrenheit)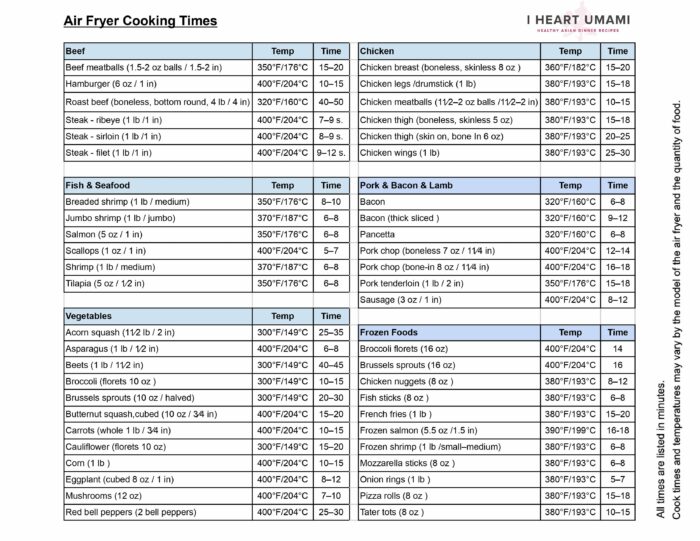 Print and put this air fryer cooking times chart PDF on your fridge as a handy reference when you're cooking.
You are one click away from the only air fryer guide chart you need.
👉 If you'd like this resource emailed to you, subscribe to receive emails. You'll get it along with more free gifts!
Air fryer tips
Preheat the air fryer before cooking.
Flip the food halfway through cooking — or simply shake the basket to ensure the food is cooked to crispy perfection.
Cook the food in batches. Arrange them in a single layer, as overfilling the basket might result in undercooked food.
Use a meat thermometer to test the meat for doneness, as recommended in the USDA guidelines.
Download our air fryer charts with temperatures to cook your favorite air-fried food!
Made a dish and love it? Please remember to rate the recipe and leave a comment in the comment section below! It helps my blog grow organically so I can continue sharing free and awesome content with you. Thank you!