Paleo Chicken Stir-Fry
Paleo Chicken Stir-Fry with Cabbage and Shiitake is the most delicious Paleo stir-fry with chicken breasts. This Keto Whole30 chicken stir-fry is full of flavor and the chicken breasts are tender flavorful. Healthy and easy Paleo Chicken Cabbage Stir-Fry everyone will love in the family!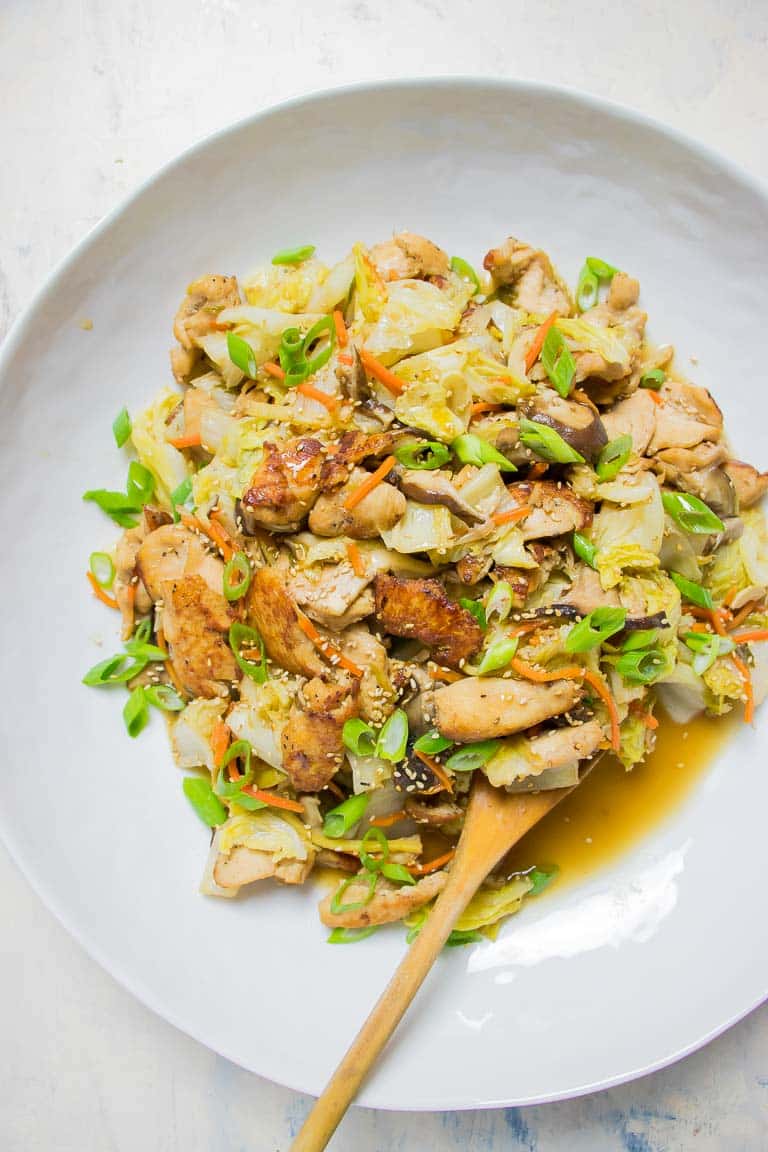 Paleo Chicken Stir-Fry with Cabbage and Shiitake
I absolutely adore stir-fry dishes. They are quick and flavorful, and quintessential in Asian cuisine. From easy beef with broccoli, healthy sesame chicken, sweet and sour chicken, to Kung Pao Chicken. The list can go on-and-on and I'll never get bored of enjoying a bowl of super flavorful paleo stir-fry recipe !
This Paleo Chicken Stir-Fry with Cabbage and Shiitake is a common household dish that you often see in Taiwan and China. I use a simple technique to make stir-fry chicken breasts tender and juicy. See more info below in the video demo and the recipe section. Also check out how to stir-fry like a pro here !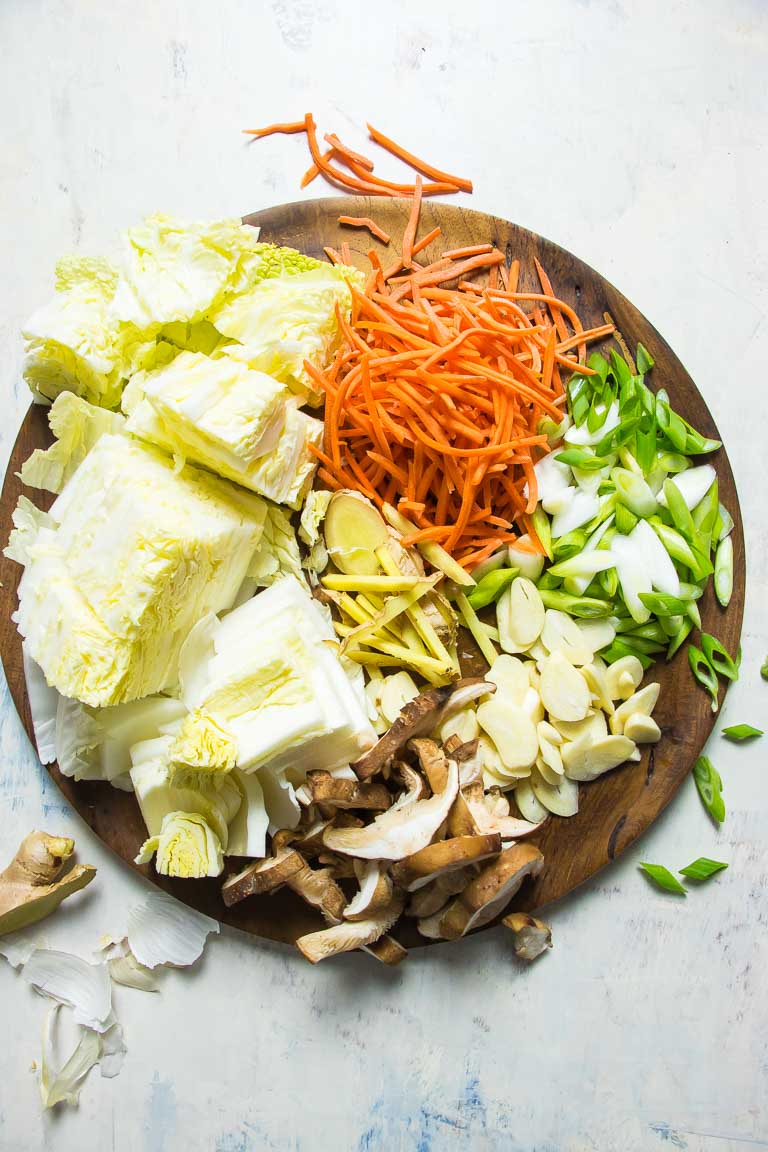 Pair this Paleo Chicken Stir-Fry with Cabbage and Shiitake for fiber. The Napa cabbage and shiitake add extra Umami (savory) deliciousness to this wonderful Paleo Chicken Stir-Fry dish. I'm drooling just thinking about it.
Hit Play for Paleo Chicken Stir-Fry with Cabbage and Shiitake Recipe !
How to make Paleo Chicken Stir-Fry tender and juicy ?
In Chinese stir-fries, there are two ways to make stir-fry chicken breasts tender and juicy.
Use velvet technique that coats thin sliced chicken breasts with white egg and arrowroot powder.Hot water blanch for a few quick seconds before stir-frying. This technique is used in my Paleo Cashew Chicken.
Mix 1 teaspoon (or small amount) of baking soda and arrowroot powder with thin sliced chicken breasts. Mix well and set aside in the fridge for 10-15 mins before stir-frying. The same technique is used in my Paleo Beef with Broccoli.
If you find this recipe helpful in helping you make tender juice chicken breast stir-fry, be sure to rate the recipe and leave a comment below. If you own a blog and are sharing this technique with your readers, please provide a link back to my site. Thanks in advance ! XOXO !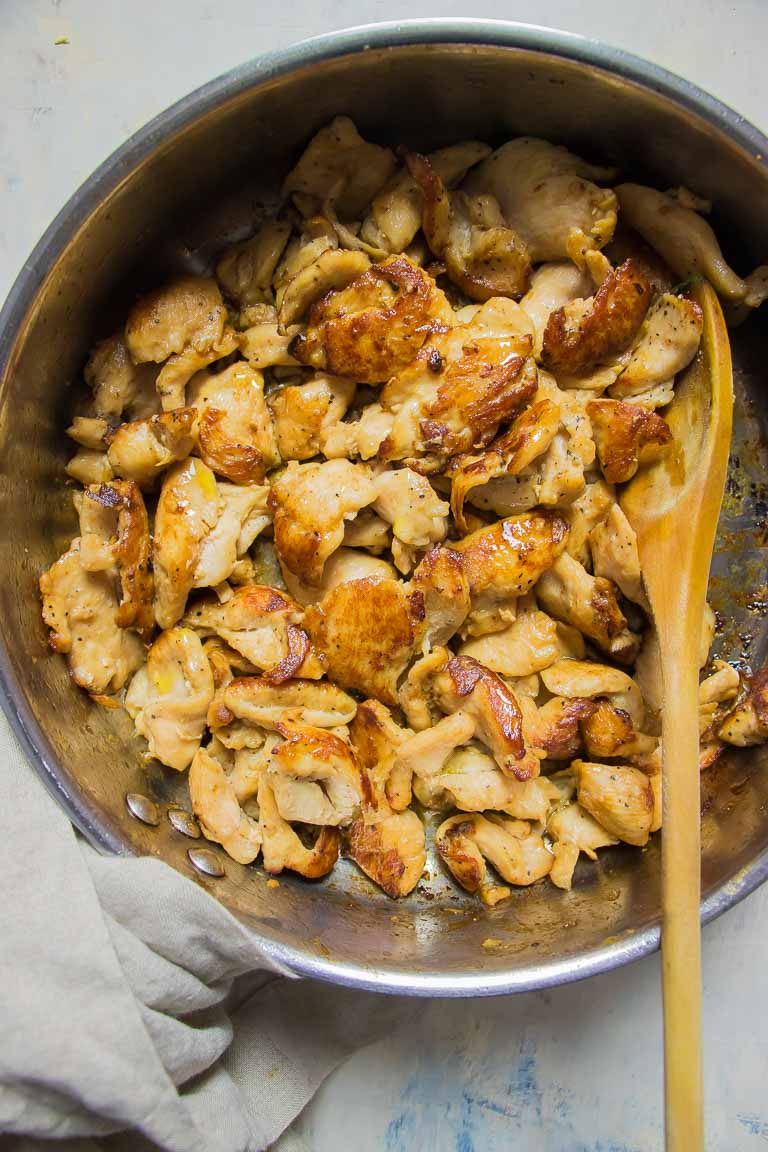 Check out this article for the difference between baking soda and baking powder. Baking Soda is Whole30 friendly when used in the context of this recipe (i.e. not for baked sweets…etc).
You can apply the same paleo chicken stir-fry technique for any chicken stir-fry dishes. The chicken breasts will always be tender and full of flavor. I recommend using a stainless steel skillet to sear the chicken breasts. To learn how to make your stainless steel skillet become temporarily non-stick, check out this article here.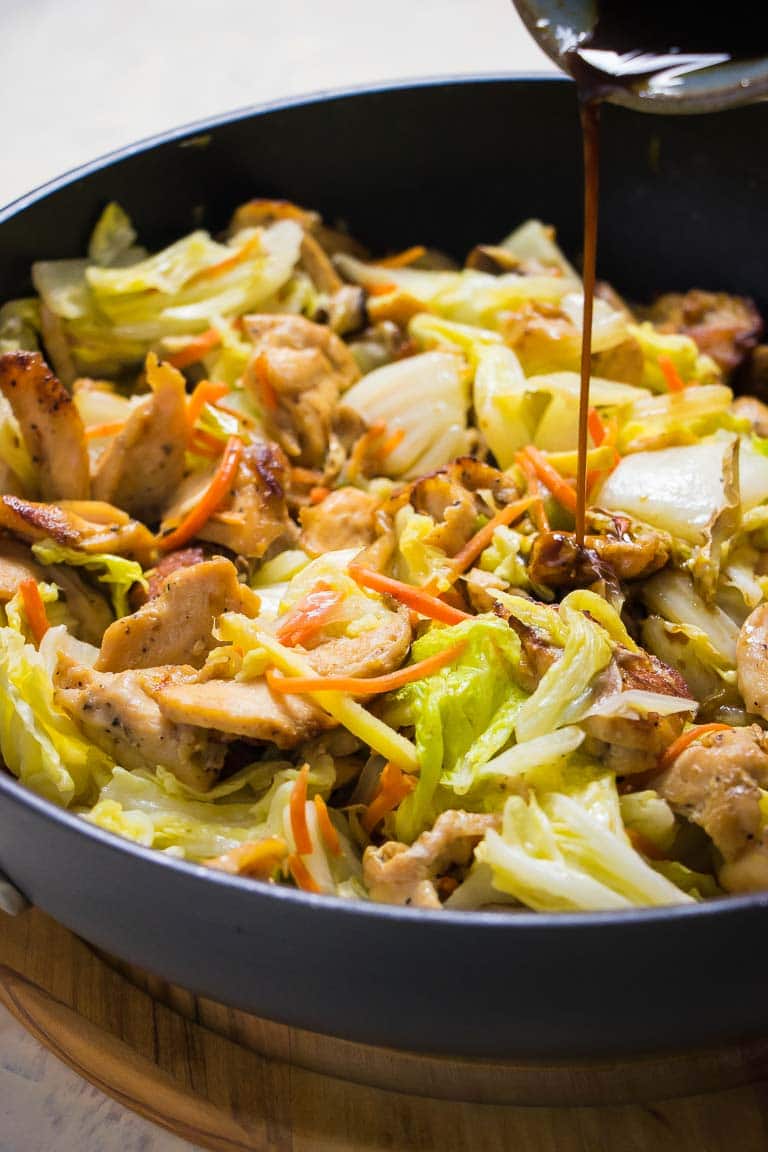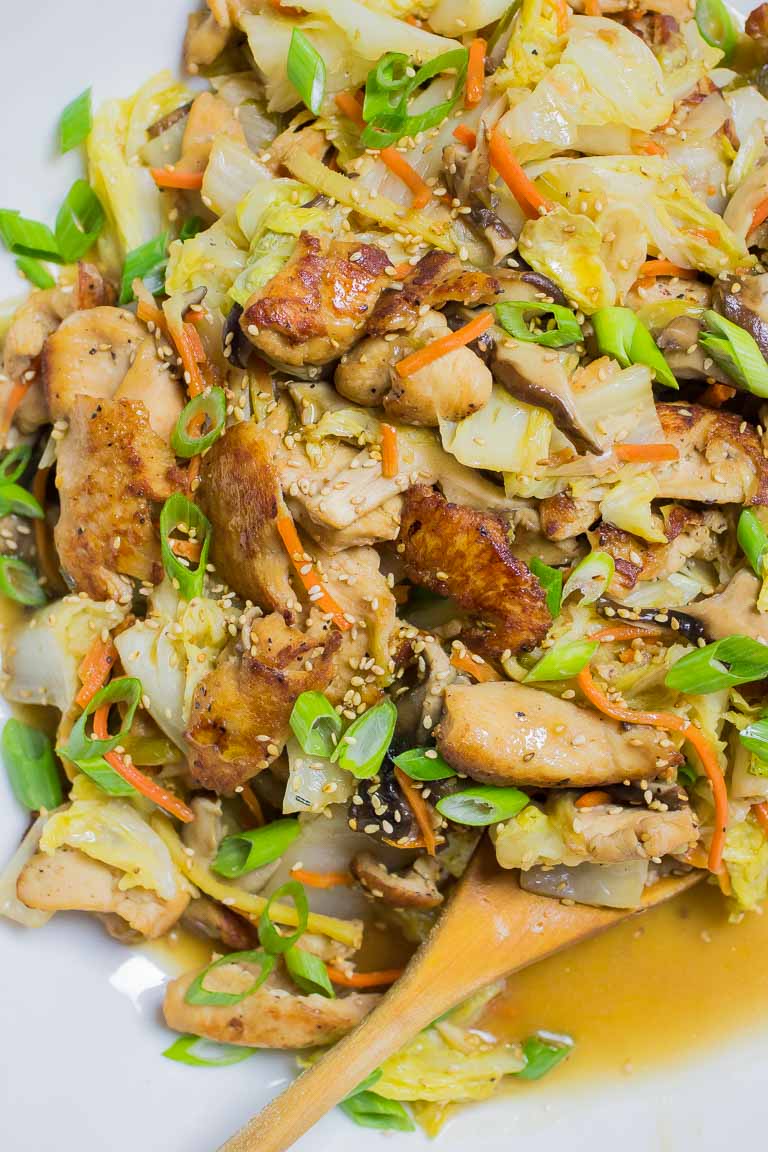 What to pair with Paleo Chicken Stir-Fry with Cabbage and Shiitake ?
I'm all about re-purposing a dish for multi-use ! Add Korean Sweet Potato Noodles to Paleo Chicken Stir-Fry and voila !  You got a gorgeous plate of Paleo Japche Noodle Stir-Fry !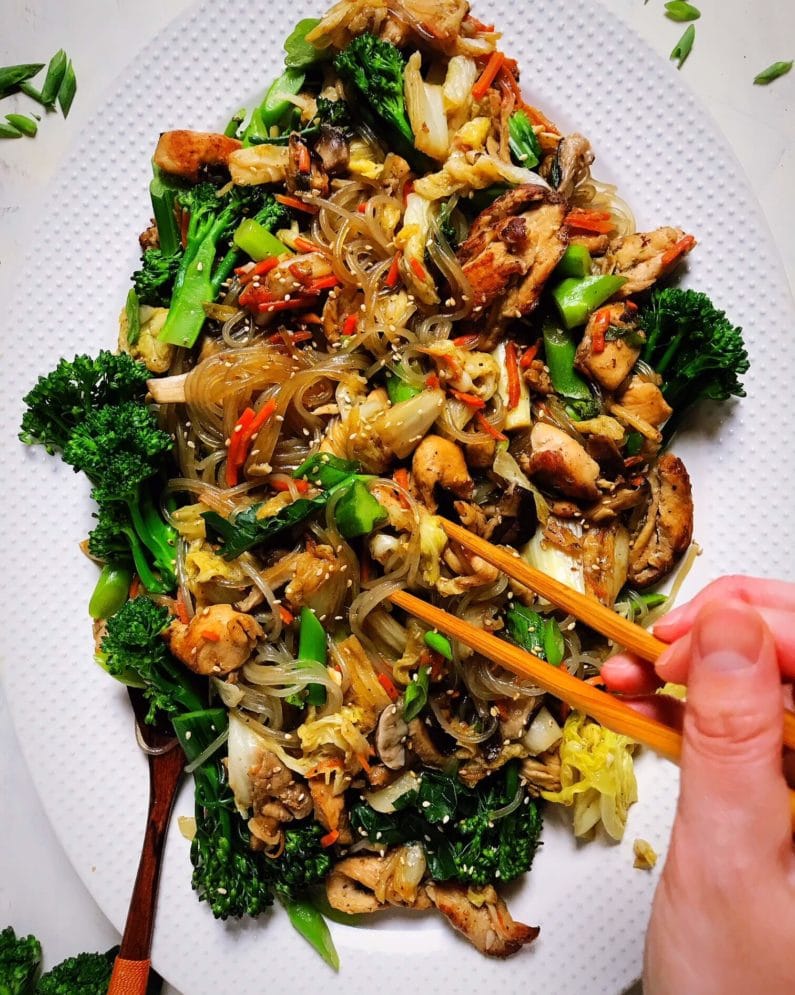 So my friends this Paleo Chicken Stir-Fry with Cabbage and Shiitake is –
Full of flavor
Easy
Low carb, Healthy
Paleo, Whole30, Keto
& one of my favorite paleo chicken stir-fry dish !
If you give this Paleo Chicken Stir-Fry with Cabbage and Shiitake a try, let me know ! Leave a comment and rate the recipe. And don't forget to take a picture and tag it #IHeartUmami on Instagram. I'd love to see what you come up with. XOXO !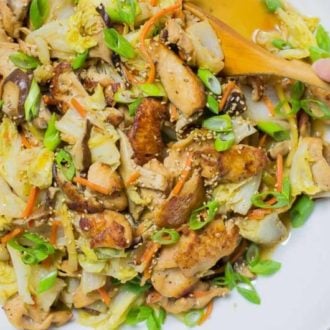 Paleo Chicken Stir-Fry with Cabbage and Shiitake
Paleo Chicken Stir-Fry with Cabbage and Shiitake. Tender chicken breast stir-fry with Napa cabbage. Most flavorful and easy Whole30 Keto Paleo Chicken cabbage stir-fry everyone will love in the family !
Print
Pin
Rate
Ingredients
Other Ingredients:
1 tbsp fresh ginger, matchstick shape
6 garlic cloves, sliced
6-7 bulbs scallions, sliced diagonally (separate white & green parts)
1 to 1 ¼ cups carrots, sliced to matchstick shape (or use shredded carrots)
5-7 oz. fresh shiitake
7-8 cups napa cabbage, diced to about 2-inch sections (separate stems from leafy parts)
Small dash of chicken or vegetable broth
Stir-fry Sauce (stir-well with no lumps):
Instructions
Prep: Thin slice chicken breasts and mix well with coconut aminos, arrowroot, baking soda, and salt and pepper. Set aside in the fridge while preparing ingredients listed under "other". Mix well "Stir-fry sauce" and set aside.

Chicken: In a well-heated 12-inch large stainless steel skillet or wok, add 2 tbsp cooking fat of your choice, sear the chicken breasts without disturbing over medium-high heat in one thin layer so to not overcrowd the skillet. Sear until golden brown. Do the same thing for flip side until they are almost cooked through. Cook in separate batches if need be. Set them aside.

Combine: Use the same skillet add 2 more tbsp cooking oil. Add garlic, ginger, and white parts of scallions. Season with a pinch of salt and saute until fragrant. Add cabbage stems and carrots. Season with little salt and keep stir-frying until the stems turn slightly softer. Add leafy parts of the cabbage, shiitake, and a dash of broth to lightly deglaze the skillet. Lightly toss the veggies then lower the heat to medium/medium-low and cover with a lid. Cook until the cabbage turns softer but not mushy (about 3-4 mins). Add sauteed chicken and give the stir-fry sauce another stir before adding to the skillet. Toss everything together and serve hot or in room temperature.
Notes
If can't find napa cabbage, use thin sliced/shredded savoy or green cabbage.
If you prefer a thicker sauce texture, after step 3, scoop out the chicken and cabbage, stir-in ½ tsp arrowroot powder with the liquid/sauce over medium/low heat until it thickens. Pour the sauce over chicken and cabbage.
Be sure to check out Paleo Japchae Korean Sweet Potato Noodle recipe, using the recipe from this chicken cabbage stir-fry and turn it into Korean noodle stir-fry ! 
Nutrition
Calories: 180kcal, Carbohydrates: 9g, Protein: 26g, Fat: 3g, Cholesterol: 72mg, Sodium: 384mg, Potassium: 747mg, Fiber: 2g, Sugar: 3g, Vitamin A: 435IU, Vitamin C: 28.5mg, Calcium: 88mg, Iron: 1mg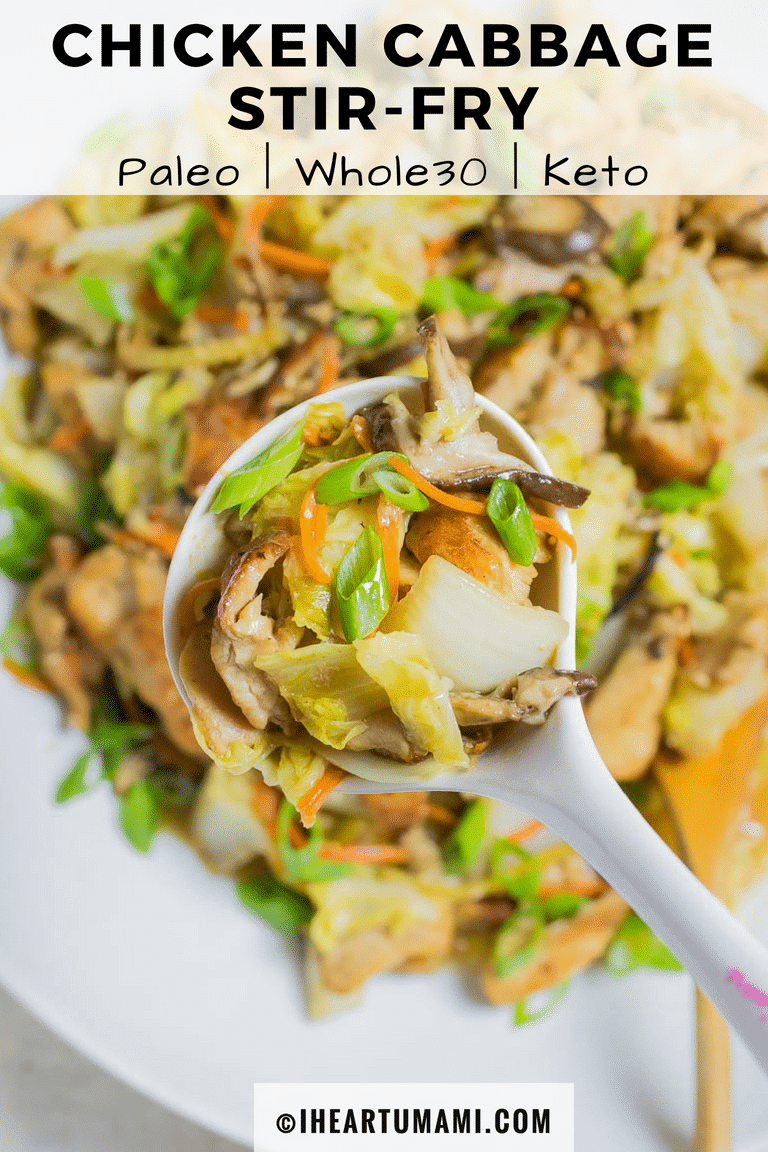 Want more chicken recipes ? Check out Chicken with Olives and Squash Stir-Fry, Paleo Chicken Nuggets, Paleo Chicken Katsu, and Creamy Chicken Mushroom Casserole !