Healthy Whole30 Ranch Salad Dressing with Dairy-Free Yogurt
You'll want to drizzle this Whole30 Ranch Yogurt Salad Dressing on everything! With only 4 ingredients and 3 minutes of your time, this creamy and tangy Whole30 ranch dressing with dairy-free yogurt is great for so many things – from salads to grilled proteins, this Whole30 yogurt ranch dressing will become your new obsession. America's most popular salad dressing just got even better!
This is not a sponsored post however I did receive the free product from Tessemae and fell in love with it so I have to share this recipe with you!
Ever since our latest trip in Japan, I've been searching for new ways to bring more flavor to salad dressings. Out of all the amazing dishes we sampled, to my surprise, Japanese take on Western-influenced salads were some of the most memorable dishes we had. Today's Whole30 ranch yogurt salad dressing is invented based on our trip. I couldn't think of an easier salad dressing recipe that's so healthy, simple, yet totally delicious!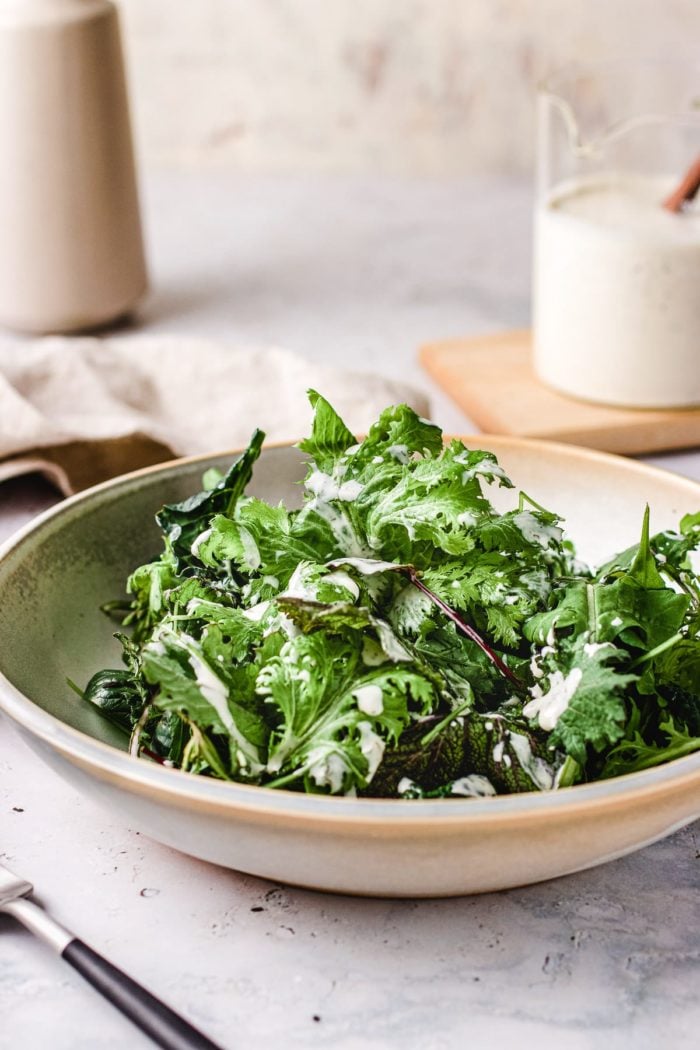 What are the ingredients in Whole30 Ranch Yogurt Salad Dressing
This Asian-influenced Whole30 Ranch Dressing with Dairy-free yogurt is packed with tons of umami! I use store-bought Tessemae's ranch mayo to save time! I've tried other brands of Whole30 compliant mayo before and didn't like any of them until Tessemae's. It has the perfect consistency and offers a more luxurious texture than any other ranch mayo I've tried.
The rest of the ingredients are Whole30 compliant yogurt (more on that below), coconut aminos (extra umami & a little bit of Asian influence), dairy-free milk, and salt and pepper. Seriously just add everything to a jar or a bowl, whisk/shake until creamy smooth. 3 minutes of you time is all you need! AMAZING!!!
Can you have yogurt on Whole30?
Whole30 compliant yogurt should be dairy-free and has no added sugar. It is a good source of natural probiotics. As long as it's not used for parfait, smoothie bowls, desserts…etc. It's totally OK to have plain and unsweetened dairy-free yogurt on Whole30. (source)
Besides no added sweeteners (read both the label and the ingredients), Whole30 compliant yogurt shouldn't have carrageenan, soy lecithin (sunflower lecithin is ok), and sulfites (sulfur dioxide, sodium bisulfate, potassium metabisulfite).
My husband and I both love Anita's plain coconut yogurt (a NYC based local brand with handmade small batch coconut yogurt that's thick, creamy, and smooth). Other compliant Whole30 yogurt brands include – Lavva original, GT's cocoyo pure (also very good!), Kite hill almond milk yogurt – plain/unsweetened, Forager cashew milk yogurt – plain/unsweetened, and The coconut collaborative original flavor.
Why my Whole30 Ranch Yogurt Dressing is extra delicious!
Comes together in 3 minutes!
A more luxurious texture and with a buttermilk tang from the yogurt
Goes well with practically anything from salads to grilled proteins!
How to make Whole30 yogurt ranch salad dressing
Making this healthy and creamy salad dressing cannot be easier. Simply put all the ingredients in a bowl or a mason jar. Give it a whisk (or a good shake), and voila, you have yourself a delicious, healthy, creamy, and homemade salad dressing that you can use pretty much anything. Because it is super simple, this ranch yogurt dressing makes a great meal prep recipe, too!
More fan's favorite Whole30 recipes –
More Whole30 approved salad dressings –
Friends! This Whole30 ranch yogurt dressing is serious my new favorite salad dressing for a reason! It's creamy yet refreshing and with a nice bright tang. You'll want to drizzle it on everything! Try it on heartier salad greens, like romaine, kale, tatsoi, swiss chard, or grilled meats and roasted vegetables. It takes no more than 3 minutes to make and keeps well in the fridge for up to 4-5 days, but trust me it'll be gone before then!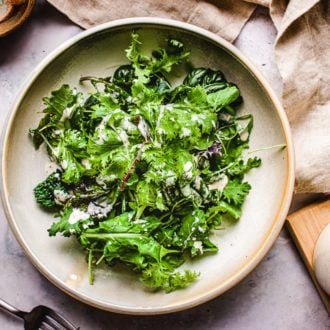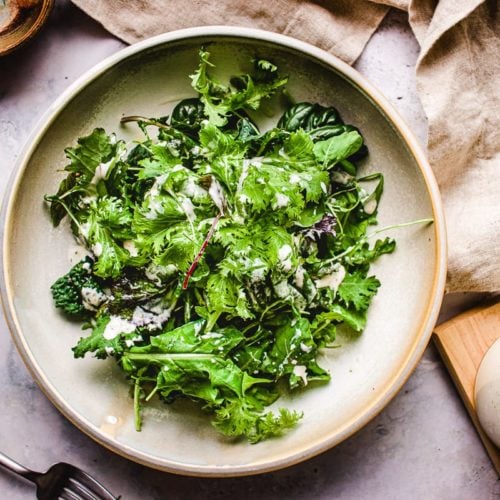 Whole30 Ranch Yogurt Salad Dressing (Paleo, Dairy-free, Keto)
Whole30 Ranch Yogurt Salad Dressing with dairy-free yogurt is creamy and tangy. 4 ingredients and 3 minutes to make. America's most popular ranch dressing just got even healthier! Makes about 2/3 cup.
Print
Pin
Rate
Instructions
Combine all the ingredients from ranch mayo to coconut aminos in a bowl. Whisk until creamy smooth.

Season with salt and pepper to taste.

Store extra in a sealed mason jar and in the fridge for up to 4-5 days.
Notes
Different yogurt brands have slightly different consistency. I use Anita's coconut yogurt which is quite thick. Use the recipe measurements as a starting point and make adjustments to your own desired consistency.
If you can have dairy and are not on Whole30, try 2-3 tbsp full fat Greek yogurt.
If you can have gluten-free Tamari, use ½ tbsp tamari to replace coconut aminos.
This recipe also works with plain mayo.
Nutrition
Serving: 1tbsp, Calories: 14kcal, Carbohydrates: 1g, Protein: 1g, Fat: 1g, Saturated Fat: 1g, Cholesterol: 1mg, Sodium: 56mg, Potassium: 8mg, Sugar: 1g, Vitamin A: 11IU, Vitamin C: 1mg, Calcium: 9mg