Easy Bok Choy Soup Recipe (Vegetarian, Vegan)
Vegetarian Bok Choy Soup – everyone's favorite Asian vegetable and ready in 20 minutes! This clear broth Asian soup with bok choy tastes light yet at the same time full of flavor. The broth is infused with ginger and garlic, and fried in toasted sesame oil. This recipe comes with simple ingredients, is easy to make, and healthy!
I will show you my special (and super simple) trick to make perfectly crisp and tender bok choy in soup because no one wants mushy veggies. :d This recipe is a must-make for bok choy lovers!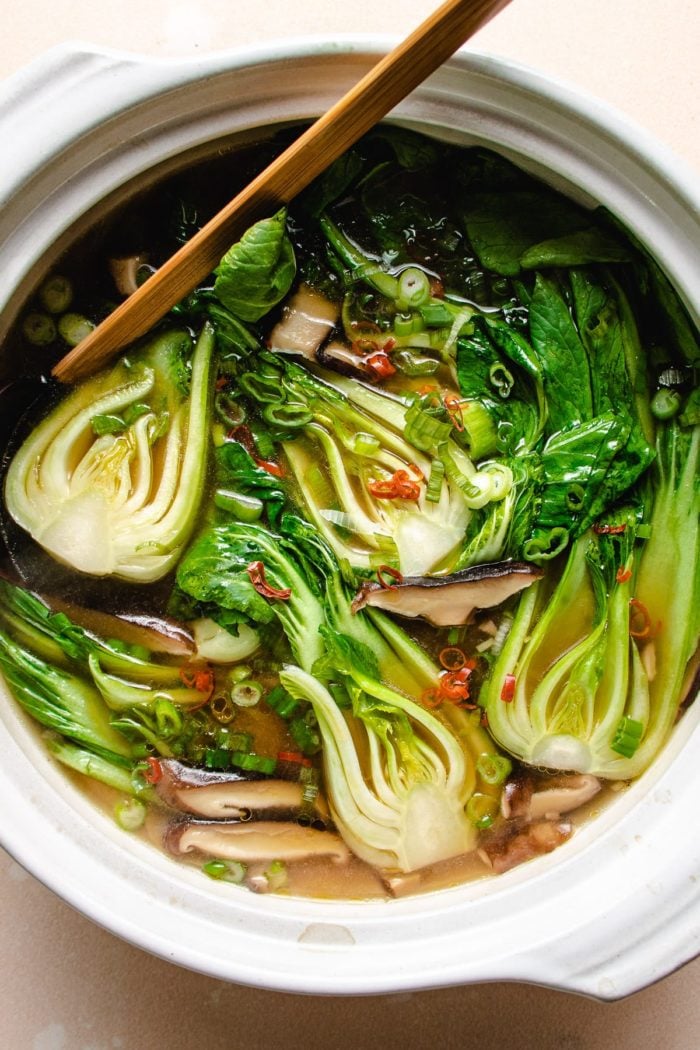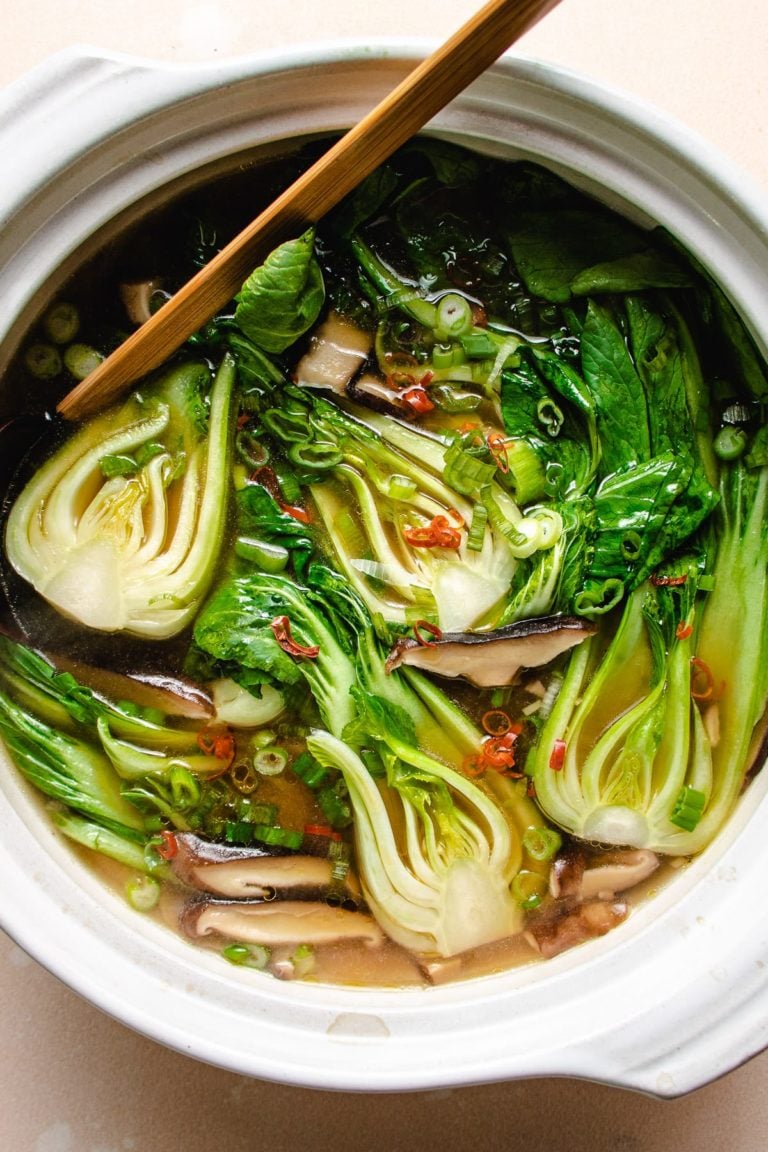 Easy Healthy Bok Choy Soup Recipe (vegetarian or vegan)
There are so many ways to enjoy bok choy and I'm absolutely a fan! Did you know bok choy is great for pretty much everything from salads to stir-fry dishes and today let's learn how to cook bok choy in soup!
Here's why I think my bok choy vegetable soup is the best!
Simple ingredients: No hard-to-find ingredients (hence: everyone can make it)!
Fast: From start to finish in about 20 minutes.
Healthy: Ginger-infused clear broth with loads of fresh crunchy greens.
Flavorful broth: The broth is light yet full of flavor. It's adapted from Taiwanese sesame oil chicken soup which uses toasted sesame oil to fry the garlic and ginger to create an aromatic soup base.
SPECIAL TRICK!
Plus my special trick on how to cook bok choy in soup so they always taste crisp and fresh, and in vibrant green color!
Ingredients to make Asian bok choy soup
Toasted sesame oil
Fresh garlic and ginger
Fresh shiitake
Vegetable stock or chicken bone broth
Coconut aminos
Spring onions
Coarse sea salt
Shiitake-made mushroom seasoning (I use Takii. Product link in my recipe card) This is optional but really good to have for vegetarian or vegan pantries.
How to cook Chinese soup with bok choy
While the concept of this dish is very simple (because it is), there are a few details behind the scenes so here are the overall highlights:
Clean the bok choy: Halve or quarter the baby bok choy and rinse them in cold water.
Saute: Saute the garlic and ginger with toasted sesame oil and shiitake to create a flavorful base.
Simmer: Bring the broth to a gentle boil then lower the heat to simmer to extract more flavor.
Taste & Adjust: Every brand of broth tastes different. Taste and make seasoning adjustments.
Add bok choy: Place the bok choy stem side down as if they are standing in an upward position. I use my hands to hold them in place for 1-2 minutes. Then submerge the whole bundles in the broth to cook the leafy parts for 1 minute.
Garnish & Serve: Sprinkle spring onions and toasted sesame oil. Serve hot or warm.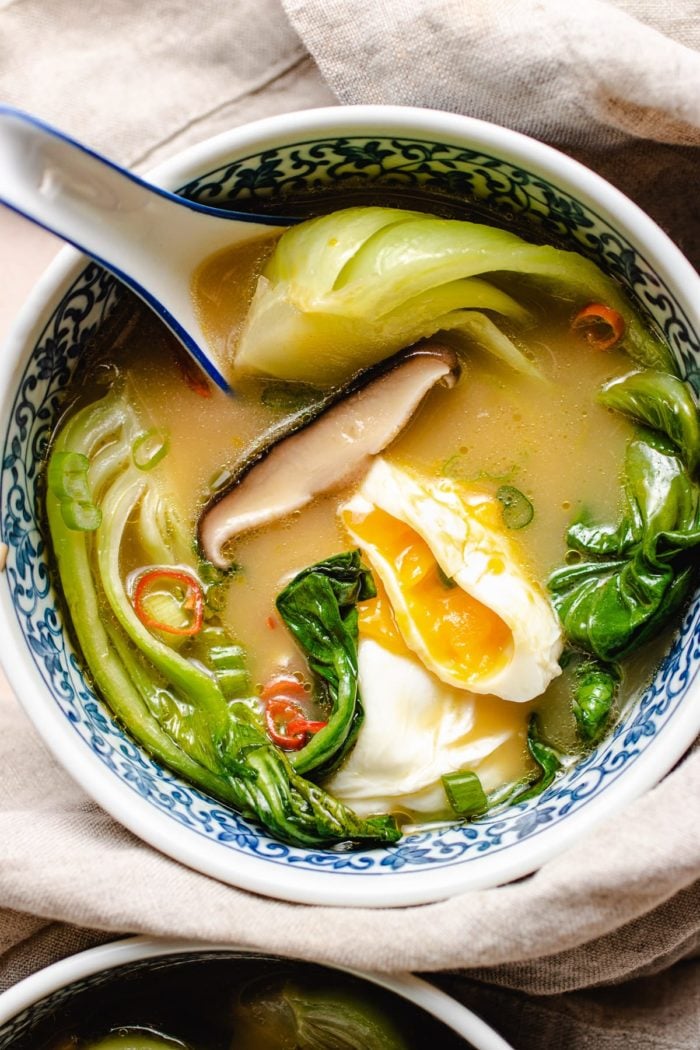 Common questions to make this bok choy soup recipe
How to wash bok choy
The best way to wash baby bok choy is after you slice (or dice) the vegetable so you can get to the inside layers and rinse away the dirt.
How to cut baby bok choy in soup
Halve: For a smaller bundle, make one slice to separate it in half from the leafy part to the stem.
Quarter: For a larger bundle, quarter it. Make two slices from top to bottom.
Help! My baby bok choy tastes mushy in soup!
Cook the stems slightly longer than the leafy parts. For halved or quartered bok choy, place the bok choy stem side down to the broth as if they are standing in an upward position and cook for 2 minutes. Then submerge the whole bundles for 1 additional minute.
How long does it take to cook bok choy in soup?
The bok choy stems take about 2-3 minutes to simmer in hot soup and the bok choy leaves take about 1 minute to cook.
I can't find bok choy. What else can I use?
You can substitute yu choy for bok choy. Yu choy has a slightly bitter flavor than bok choy.
The next best is to substitute napa cabbage (Chinese cabbage) for bok choy. Either yu choy or napa cabbage will make great substitutions for this bok choy soup. Learn more about Chinese vegetables here.
Can I freeze the soup?
I recommend freezing the broth without the bok choy for best texture. Cook only the amount of vegetables you can finish in 1-2 settings so this ensures that the bok choy always remains crunchy and fresh in the soup.
You can bring the soup to a simmer on the stovetop then add the bok choy. Also see below on how to store baby bok choy if you want to prepare the vegetable ahead, too!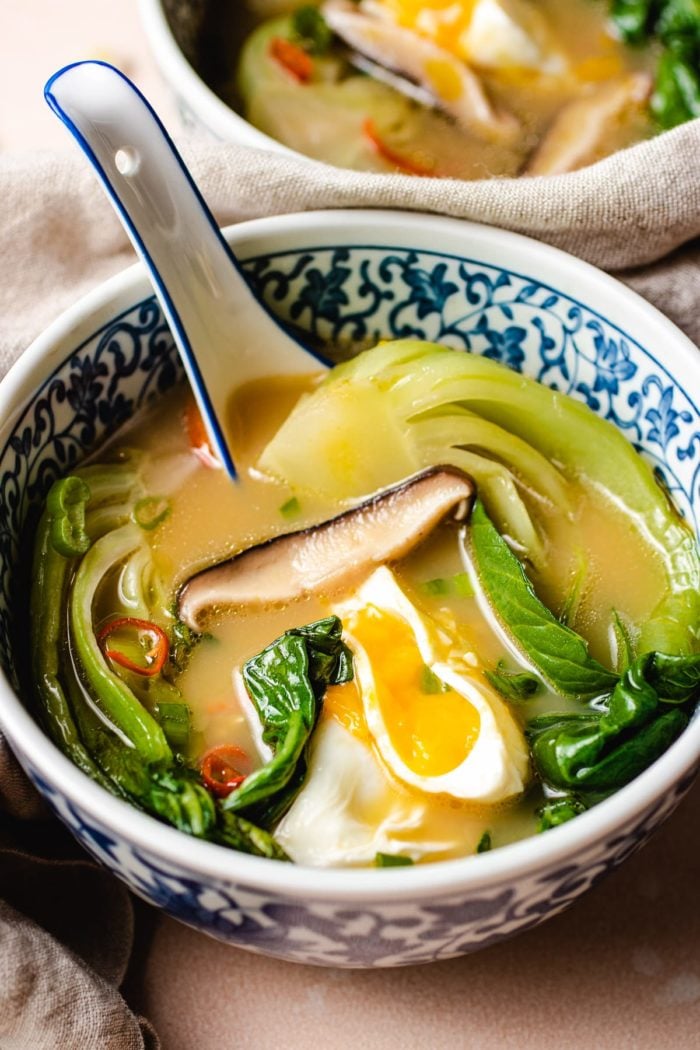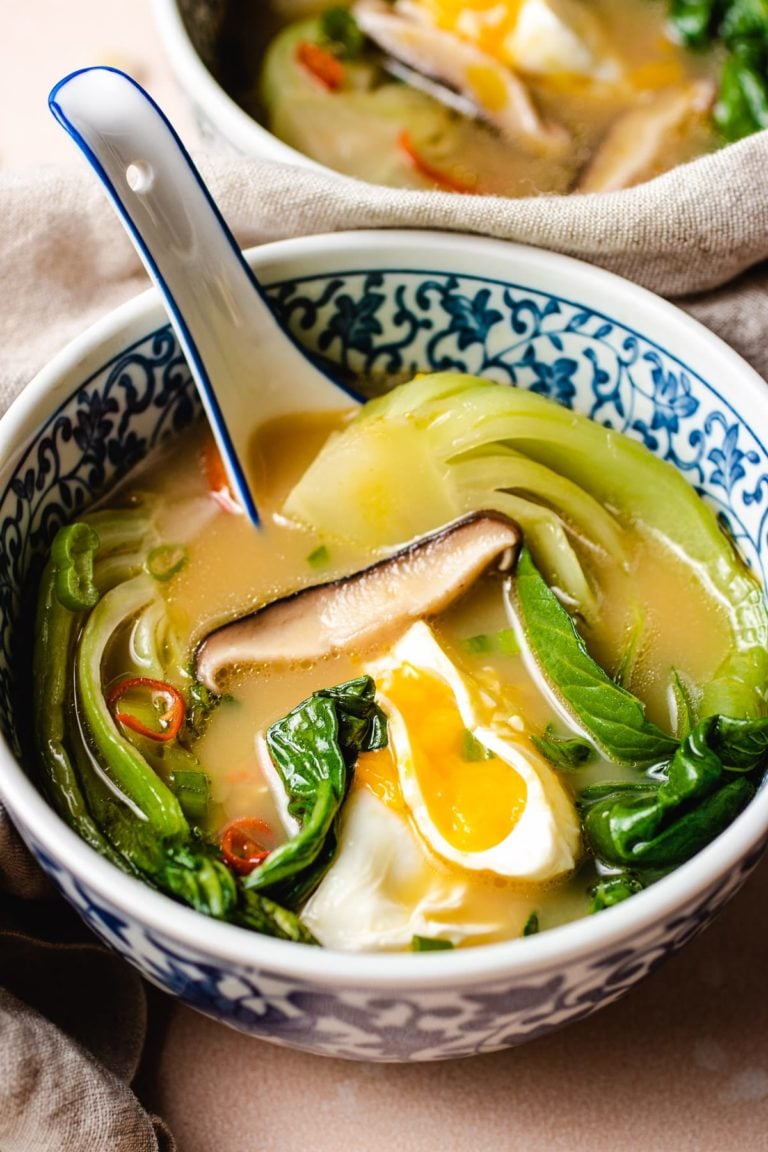 Common questions about bok choy vegetable
What is Shanghainese bok choy
Shanghai bok choy is the most common type that we see in Western markets. The stalks are in gorgeous green color and the shapes look like soup spoons. We use Shanghai baby bok choy for today's vegetarian bok choy soup.
Is baby bok choy and bok choy the same?
Baby bok choy is a smaller version of bok choy. They are basically the same. Baby bok choy tastes more tender and sweet because they are harvested earlier than the mature full size version of bok choy. Baby bok choy also has a stronger peppery and mineral flavor than the full grown version of matured bok choy.
What does bok choy taste like?
Bok choy has a slightly bitter, mineral, and peppery flavor. Bok choy stems are shaped like a spoon. They are crisp yet full of water. Bok choy leaves are tender and taste peppery. Both bok choy stems and leaves are edible raw or cooked.
What part of bok choy is edible?
Both the leaf and stem parts of bok choy are edible. Bok choy stems taste crunchy and juicy while the leaves are soft and tender and with a peppery taste.
How to store bok choy so it lasts longer
The best way to store baby bok choy is unwashed and in the vegetable crisp drawer in the fridge. Store baby bok choy in a stasher bag with a piece of clean paper towel and seal the bag air tight. Try to use the bok choy in 2-3 days for the best texture.
Umami tips for the best easy vegetarian bok choy soup!
Use toasted sesame oil to fry the ginger and garlic so your broth tastes extra flavorful.
Thinly slice the ginger root so it turns tender in soup and you can eat them!
Use either fresh or rehydrated shiitake mushrooms. If you use rehydrated shiitake, filter the mushroom water and use it as soup broth.
Cook the bok choy last. To keep the bok choy crisp, fresh, and not mushy, add them to the hot broth in standing upward position to cook the stems first before cooking the leaves. Serve right away!
More bok choy recipes!
Also check out my bok choy dim sum, Thai bok choy salad, Shiitake stir-fry with baby bok choy, bok choy salad, and my Whole30 vegetarian dinner recipes. Browse my healthy Asian soup recipes.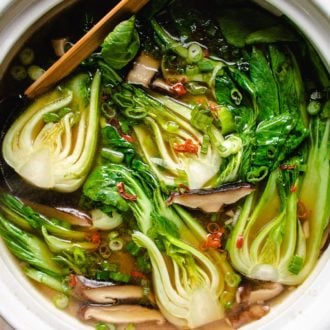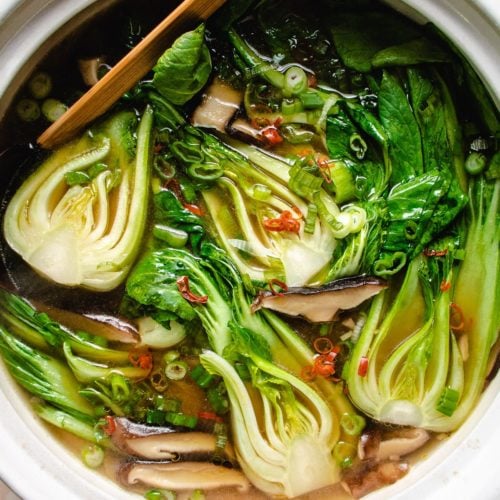 Bok Choy Soup Vegetarian (上海青菜湯)
This Bok Choy Soup is full of flavor and ready in 20 mins! This Asian soup with bok choy is vegan or vegetarian, easy and healthy!
Print
Pin
Rate
Ingredients
18 oz. baby bok choy, halved or quartered
1.5 tbsp toasted sesame oil
0.6 oz garlic clove, thinly sliced, about 3 large
0.4 oz ginger root, thinly sliced
pinch coarse sea salt, or to taste
4 oz fresh shiitake, sliced
1-1.5 tbsp olive oil
3.5 cups chicken bone broth, or vegetable stock
1 tbsp coconut aminos, or to taste
1 tsp Takii shiitake mushroom seasoning, optional
2 bulbs spring onions (scallions), diced
For the poached eggs (optional):
4 large eggs
½-1 tbsp white or apple cider vinegar, to add to the boiling water
Instructions
Slice the bok choy in half. For large bundles, quarter them. Rinse and clean under cold water. Set aside to drain.

Preheat a medium-sized soup pot over medium-low heat until it feels warm. Add the sesame oil, garlic, ginger, and a pinch of salt. Saute over medium heat until fragrant, about 1 minute.

Add the mushrooms and olive oil. Saute for 30 seconds.

Add the stock and cover with a lid to bring the broth to boil over medium-high heat, about 4 minutes. Then lower the heat to low and simmer for 5 minutes.

In the meantime, make soft poached eggs, if using. Please see directions in the notes section.

Taste the broth and adjust with seasonings. I added 1 tbsp coconut aminos and about 1 tsp Takii shiitake mushroom seasoning to add depth and extra flavor. If you don't have this Asian seasoning, season with more salt and coconut aminos to taste.

Bring the heat up to medium and add the bok choy. I place the bok choy stem side down first and leave the leafy parts above the broth so they look like they are in standing upward position. Cook the stems for 1-2 minutes then turn off the heat and allow the leafy parts to submerge in the broth for 1 minute.

Season with another dash of toasted sesame oil and sprinkle spring onions. Divide the soup into 4 serving bowls and add one poached egg to each bowl. Serve hot or warm.
Notes
How to make soft poached eggs:
Bring a pot of water to boil (about 4-inch/ 2.54cm) deep and add a small dash of vinegar.
Crack one egg into a small ramekin or bowl.
Stir the water to create a vortex.
Gently slide the egg into the middle of the vortex and set a timer for 3 minutes.
Once the egg is done, use a slotted spoon to remove the poached egg.
Nutrition
Serving: 1serving, Calories: 223kcal, Carbohydrates: 10g, Protein: 13g, Fat: 15g, Saturated Fat: 3g, Polyunsaturated Fat: 4g, Monounsaturated Fat: 7g, Trans Fat: 1g, Cholesterol: 186mg, Sodium: 287mg, Potassium: 363mg, Fiber: 2g, Sugar: 3g, Vitamin A: 5952IU, Vitamin C: 59mg, Calcium: 186mg, Iron: 2mg