Chili oil ramen
This chili oil ramen recipe with garlic is a 10-minute masterpiece, perfect for a no-fuss, late-night snack or a family meal on the fly. College goers, delight your dorm mates with this nourishing winter favorite that comes together in minutes, using Chinese pantry staples!
Loaded with flavor from oil-activated aromatics and my homemade garlic chili sauce, this quick ramen has less sodium and grease than store-bought. Plus, it's gluten-free! If you love this recipe, try these garlic chili noodles too!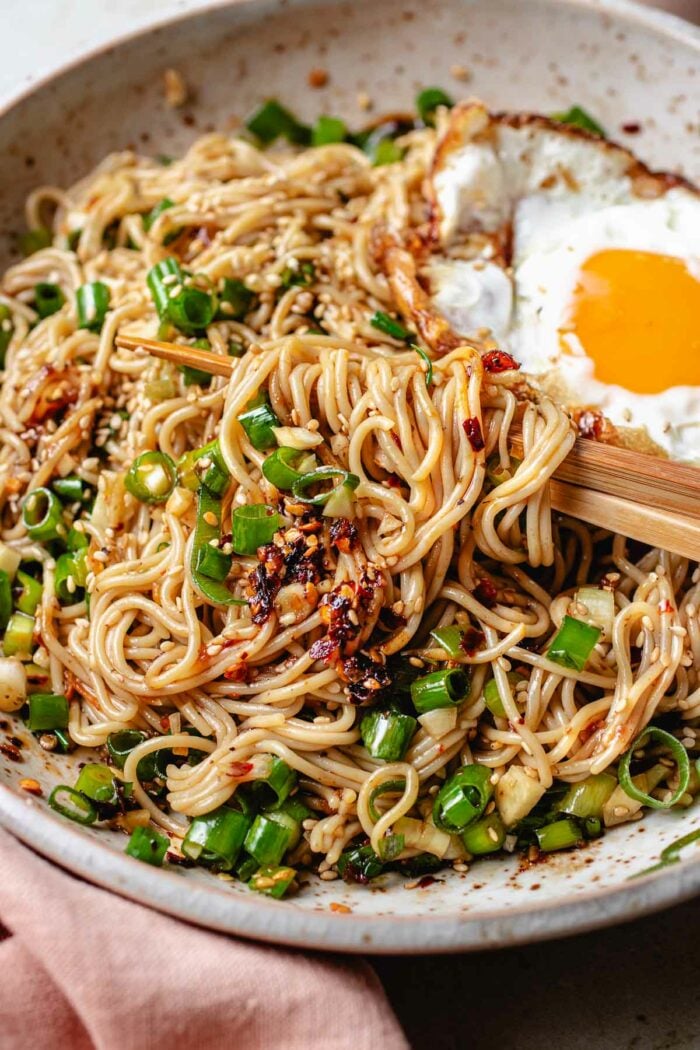 Ingredients
These chili ramen noodles are a flavor explosion in a warm and nourishing broth. Oil-activated aromatics in combination with my homemade garlic chili oil sauce and fresh garnishes give this no-fuss dish a gourmet feel. Here's what you need for these delicious chilli ramen noodles.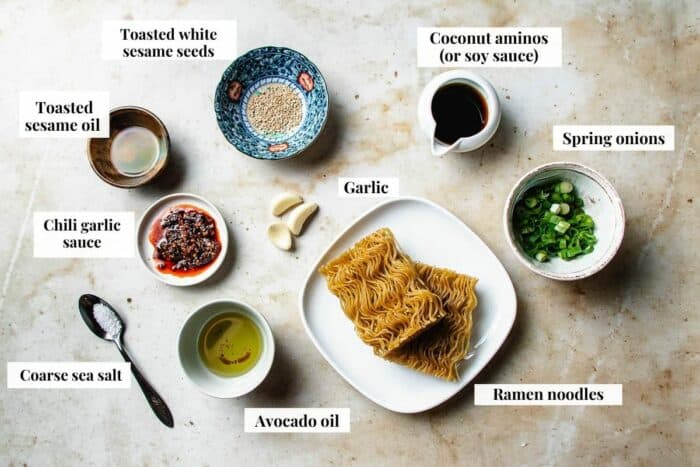 Ramen noodles: We use rice ramen noodles from Lotus Foods.
Olive oil: Toss the cooked noodles with olive oil to prevent them from sticking.
Avocado oil: We use a neutral-flavored oil with a high smoke point to activate the aromatics in this recipe.
Garlic cloves, scallions, and course sea salt: The garlic and scallions are what make the flavor pop in this dish. Don't skip them!
Coconut aminos: Or use half the amount of soy sauce combined with 2 teaspoons of brown sugar.
Garlic chili sauce: My homemade version is garlicky, smokey, a bit sweet, and a little spicy. If using a store-bought version, start with a bit less and adjust as the store version will be spicier.
Toasted white sesame seeds: Sesame seeds give a nice nutty flavor and add a bit of pop to each bite.
Crispy fried egg: This is optional, but eggs work really well with this dish, adding extra protein and a nice texture. I highly recommend including it!
Substitutions and variations
Different oil: Any neutral flavored oil (peanut oil, rice bran oil) will work. I avoid seed oils like canola oil and vegetable oil for health reasons.
Extra spicy: For hot garlic ramen noodles, add chili flakes or crushed red pepper flakes with the aromatics before pouring the hot oil.
Extra tangy: Add a splash of rice vinegar, Chinese black vinegar, or aged balsamic vinegar.
Extra sesame: Drizzle some toasted sesame oil before serving.
Creamy nutty flavor: Stir in some peanut butter into the sauce.
Add vegetables: Add mushroom, onion, or peppers to your noodles. Or serve alongside this spicy cucumber salad or my gluten free kimchi for a classic instant noodles with kimchi meal.
How to make the dish
This 10 minute chilli oil ramen is the perfect alternative to the college favorite instant noodles because it's better for you but comes together almost as fast. The secret to this recipe is activating the garlic and ginger with hot oil before adding them to the noodles. Here are the steps for chile ramen.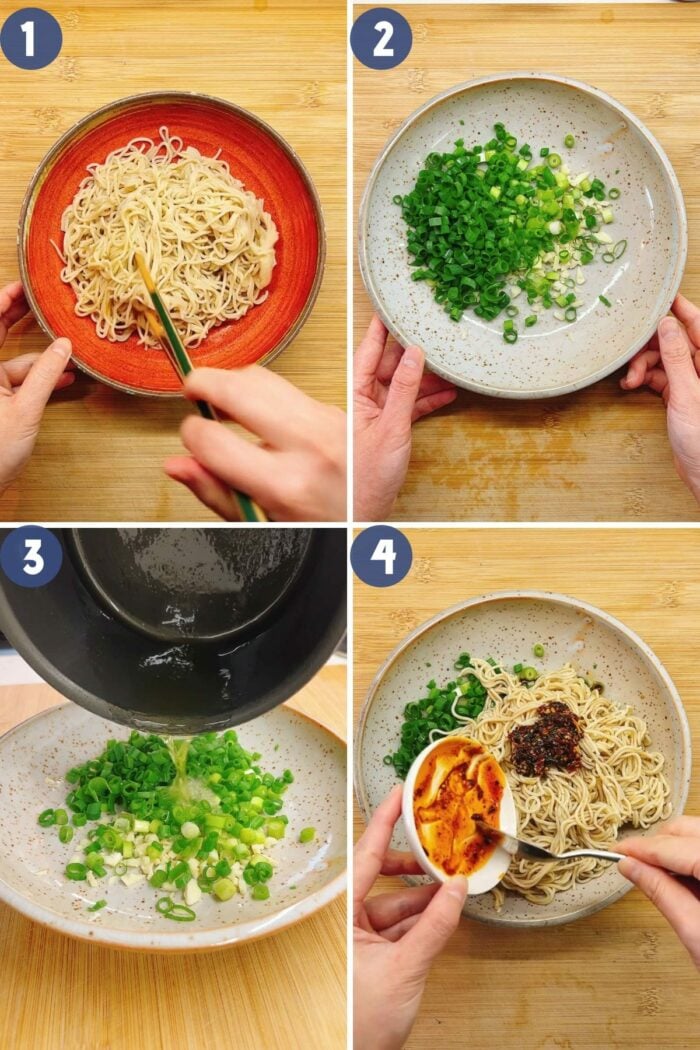 Cook the noodles to al dente. Rinse to remove extra starch and drain well before adding to the bowl. Toss with a touch of oil to prevent the noodles from sticking.
Chop the aromatics and heat the avocado oil in a small saucepan, uncovered over medium-low heat for 3 minutes or until the oil simmers. Be careful not to burn the oil
Activate the aromatics by pouring the hot oil over the minced garlic, scallion, and salt in a serving bowl. You should hear them sizzle.
Add the coconut aminos, garlic chili sauce, and the noodles. Toss well to combine. Garnish with sesame seeds and add a fried egg on top, if using. Serve at room temperature.
Recipe note: My homemade chili garlic sauce is not as spicy as store-bought. Start with a smaller amount and taste and adjust the ramen chili oil to your liking. My favorite store-bought chili sauces are Momofuku chili crunch and Fly By Jing.
What types of noodles to use
I prefer using gluten-free noodles when making ramen noodles with chili. You can use any type of ramen noodles or other noodles that you prefer. Here are some of my noodle recommendations for chilli noodles ramen.
Ramen noodles are the most common, as they're pre-portioned and cook quickly. Instant ramen or fresh ramen noodles both work. I use Lotus Food millet and brown rice ramen noodles (gluten-free).
Udon noodles have a pleasant chewy texture that soaks up the chili oil nicely. For gluten-free, look for rice-based udon noodles.
Soba noodles add a nutty, buckwheat flavor. They tend to be more delicate so be gentle when tossing in the oil. Look for 100% soba noodles (gluten-free).
Rice noodles are naturally gluten-free. Go for a medium thickness.
Zucchini noodles, shirataki noodles, and kelp noodles are lower-carb options. (Follow my tips for how to cook kelp noodles.)
Glass noodles become nearly transparent when cooked. Their texture works well with the chili oil.
How to make ahead, store, and reheat
This quick and easy spicy garlic ramen is best slurped up as it's made! The homemade garlic chili oil can be made ahead and stored for a month in the fridge. Here's how:
Make-ahead: You can make the homemade garlic chili sauce ahead. Use chili oil in ramen, rice paper dumplings, Keto potstickers, gluten free har gow dumplings, and more!
Storage: Store the chili sauce for ramen in an airtight container in the fridge for up to 1 month!
Reheat: No need to reheat the sauce on the stovetop. Set aside the amount you need for serving on the kitchen counter until it comes to room temperature.
---
What to serve with chili ramen noodles
This chili noodles ramen TikTok recipe is a satisfying meal on its own. Or pair hot oil ramen with your favorite protein and vegetables for a well-rounded and nourishing winter meal.
Tips for success
Types of noodles: Ramen noodles are the classic choice. There are many gluten-free ramen available nowadays. Rice noodles and soba noodles are also great choices.
Al dente: Cook the noodles according to package instructions just until al dente so they don't get mushy when tossed in the hot oil. They will continue cooking from the residual heat.
Oil: Use a neutral, high smoke point oil like vegetable or canola so it can get very hot without burning. This helps to quickly infuse the aromatics.
Aromatics: Add aromatics like garlic, ginger, and chili flakes to a heatproof bowl first before pouring the hot oil over. This prevents burning.
Preheat the oil: Make sure the oil is hot but not smoking before pouring over aromatics. Smoking oil may give a burnt taste.
Toss the noodles well in the chili oil to evenly coat and absorb all the flavors.
Garnish: Don't skimp on garnishes like scallions, green onions, sesame seeds, etc. They provide texture contrast and make the dish look appetizing.
Storage: Store leftover chili oil in an airtight container in the fridge for up to one month. Reheat leftovers of chili crisp ramen noodles in a pan over medium-high heat before serving.
Add toppings: Feel free to customize with proteins like eggs, shrimp, pork, or chicken and additional spices or aromatics.
FAQs
Is chili oil good in ramen?
Yes, chili oil is a great addition to ramen. It adds spice, aroma, texture, visual appeal, and rich flavor that complements the savory umami broth, allowing you to customize and enhance the dish.
What type of oil is used for chili oil ramen?
Neutral oils with high smoke points like avocado oil or peanut oil work best. This allows the oil to get very hot to quickly bloom aromatics without burning. The neutral taste lets the chili and aromatics shine.
What chilli is used in ramen?
Crushed red pepper flakes are commonly used for their versatility, spice level control, and availability. Other good options are gochugaru, sambal oelek, harissa, or Sichuan peppercorns for numbing heat. Use your preferred chili based on the desired flavor and heat.
How to make chili oil for ramen?
Heat neutral oil until hot but not smoking. Pour over chili flakes, garlic, and ginger in a heatproof bowl and let sit for 1-2 minutes. Strain out solids. Toss cooked ramen noodles in infused oil to coat. Adjust chili flakes to personal spice preference.
What is the best oil for ramen noodles?
For the best chili oil noodles, use a neutral, high-smoke point oil like avocado oil to bloom aromatics rapidly without burning. Rice bran or peanut oil also works well. The neutral taste also lets the chili and garlic flavors shine.
More ramen and noodle recipes you might like
With cooler weather and winter on the way, I'm already craving hot noodle and ramen dishes! Here are some of my favorite at-home noodle dishes you'll love.
Garlic chili oil noodles – coming soon!
Chili oil ramen recipe
Chili oil ramen with homemade chili garlic oil is tasty, easy to make, and ready in 10 mins.! Extra garlicky with gluten-free ramen noodles.
Print
Pin
Rate
Ingredients
5 oz ramen noodles , 2 packets at 2.5 oz (70 g) per packet
2 tsp olive oil
2 tbsp avocado oil
0.5 oz garlic cloves, finely minced, 3 large cloves
2 bulb scallions, chopped
Pinch coarse sea salt
2 tbsp coconut aminos, or 1 tbsp soy sauce
3 tbsp garlic chili sauce, taste and adjust (use 1.5 – 2 tbsp if store-bought)
Sprinkle toasted white sesame seeds
2 whole crispy fried eggs, optional
Instructions
Boil the ramen noodles following the package instructions. Cook the noodles to al dente. Rinse them under tap water to remove extra starch. Drain the noodles then place them into a large bowl and drizzle with a few teaspoonsful olive oil. Toss the noodles so they won't stick to each other.

In a heavy bottom small sauce pan, add the avocado oil, uncovered, and warm it over medium-low heat for 3 minutes until the oil simmers.

In a large serving bowl, add the garlic, scallion, and salt. Pour the hot oil over. You should hear a sizzling sound right away. Then add coconut aminos, garlic chili sauce, and the noodles. Toss well to combine.

Garnish with sesame seeds and add a fried egg on top, if using. Serve at room temperature.
Notes
If using soy sauce, start with 1 tbsp soy sauce and 2 tsp brown sugar. Taste and adjust to your personal liking.
My homemade garlic chili sauce is not as spicy as store-bought. If using store-bought, start with 1.5 tbsp first and add more if you like it spicier.
My favorite store-bought chili sauces are 1) Momofuku chili crunch and 2) Fly by jing.
Types of ramen noodles I use: Lotus Food millet and brown rice ramen noodles
For extra tangy flavor, add 0.5 tbsp Chinese black vinegar, Chinese chinkiang vinegar, or aged balsamic vinegar.
For low-carb users, I recommend zucchini noodles, shirataki noodles, and kelp noodles are lower-carb options. (Follow my tips for how to cook kelp noodles.)
Nutrition
Serving: 1serving, Calories: 456kcal, Carbohydrates: 46g, Protein: 9g, Fat: 21g, Saturated Fat: 2g, Polyunsaturated Fat: 2g, Monounsaturated Fat: 13g, Cholesterol: 4mg, Sodium: 1526mg, Potassium: 33mg, Fiber: 5g, Sugar: 5g, Vitamin A: 16IU, Vitamin C: 2mg, Calcium: 66mg, Iron: 2mg
Made a dish and love it? Please remember to rate the recipe and leave a comment in the comment section below! It helps my blog grow organically so I can continue sharing free and awesome content with you. Thank you!