Spicy peanut noodles
This spicy peanut noodles dish is a super quick and simple recipe that you can whip up when you don't have time. Ready in 15 minutes with a drizzle of my homemade garlic chili sauce, this vegan-friendly dish comes with chewy rice noodles and is full of creamy nutty flavor.
For a non-spicy choice, you can get the same delicious flavors with my Whole30 peanut sauce and if you prefer Thai-inspired flavors, try my cucumber noodles with Thai peanut sauce.
Why this will be your go-to dish
Think of this dish as Asian-style peanut butter pasta. You'll love these delicious and easy-to-make noodles. It's simply the best! Here's why:
Easy and fast: It's a simple and deeply satisfying meal you can serve in under 20 mins.
Nutty delicious: A combo of chewy noodles smothered in spicy peanut sauce.
Pairs well with anything: A great side dish to serve with chicken, beef, pork, or any protein of your choice
Ingredients
This dish is so simple and fast. Here is everything you'll need to make this effortless noodles dish with spicy peanut butter:
Noodles: Rice noodles, green onions, Persian cucumber, toasted white sesame seeds.
Sauce: Smooth peanut butter, coconut aminos, rice vinegar, balsamic vinegar, garlic, toasted sesame oil, chili garlic sauce, and noodle water.
Ingredient substitutions
If you're using soy sauce, start with half the amount of coconut aminos. Remember to balance the salty flavor with a touch of sugar.
Allergic to peanuts? Switch to paleo-friendly options like almond butter, sunflower seed butter, Chinese sesame paste, or tahini to get similar flavors and consistency.
If you use store-bought chili oil, it comes with various spices and sodium levels. Start with a small quantity and adjust to taste.
You can also use Chinese black vinegar to replace aged balsamic vinegar. See my 12 essential Chinese pantry staples for more information.
How to make the dish
Preparing it is fairly straightforward. In 6 easy steps and 15 minutes, you'll get a bowl of hearty and wholesome Asian peanut butter noodles.
Boil noodles in a large pot of water according to the package instructions. Meanwhile, prepare the green onions and cucumber while the noodles are being cooked.
Mix all the sauce ingredients together. Taste and adjust accordingly.
Add some hot noodle water to the sauce, and stir to smoothen the sauce mix.
Drain the cooked noodles and toss them well with the sauce.
Serve warm with a spring onion and sesame seeds garnish, plus a drizzle of chili sauce.
What type of noodles to use
Low carbohydrates: Substitute with low-carb noodles, such as shirataki noodles or kelp noodles.
Gluten-free: Use rice noodles as I did for this recipe.
No dietary restrictions: Originally, this dish is made with wheat-based Taiwanese knife-cut noodles, but you can also use spaghetti or any pasta noodles.
Variations
The spicy peanut noodles are amazing on their own, but here are some twists and flavor variations that you can try.
Make a Thai-inspired dish by tossing spicy Thai peanut noodles together with the tasty cold Paleo Thai peanut sauce.
For flavor variety, stir-fry your noodles with one of these mouthwatering hotpot sauces.
Prefer a non-spicy version? Just skip the chili when making peanut butter noodles.
Want it extra spicy? Finish off with a sprinkle of red pepper flakes before serving. For a subtler spice note, add a few thin ginger slices.
Add extra vegetables like sliced bell peppers and julienned carrots to make a more colorful and wholesome platter.
---
What to serve with the noodles
The best part about peanut chili noodles is that you can serve them with anything! From salads to various proteins, the pairing possibilities are endless.
You can drizzle the sauce from the spicy peanut noodle over fresh and crispy salads. This sweet and savory mandarin orange chicken salad makes the perfect complement to your everyday meal. Serve it with a plate of succulent Whole30 lettuce wraps for something healthy and nourishing, or try the almond tofu salad for a meat-free and high fiber option.
Include tasty toppings like air fryer frozen broccoli or air fryer teriyaki salmon for a no-frills, wholesome feast.
Common FAQ
How long will it last?
This dish is good for 4 days when kept in an airtight container.
What if I can't have peanuts?
Simply swap the nut butter for almond or sunflower seed butter, tahini, or sesame paste.
Can you serve the noodles hot or cold?
Yes, you can. Similar to soba noodles, cold peanut butter chili oil noodles are just as delicious.
Storage and make-ahead
Storage: Store leftovers in an airtight glass container, where it lasts for 4 days. The rice noodles will stick together, so you need to add a splash of water or broth when warming them up.
Make-ahead: You can make the peanut butter sauce for up to a week in advance. The sauce tends to thicken and dry up in the fridge. Add a few tbsp of water to smoothen the texture.
---
Related recipes
If you're a fan of garlic peanut noodles, you'd want to put these recipes on your must-try list.
If you prefer hot and spicy, my quick and flavorful chili garlic noodles or Chili oil ramen will hit the spot. For a low-carb option, my shirataki noodles recipe is a fantastic no-cook meal. The Hibachi noodles taste extra garlicky and buttery delicious. It's a great choice for the whole family, too!
Umami Tips
This dish is easily adaptable for all dietary needs — just change the type of noodles you want to use.
Start on the sauce first before preparing the noodles so you can add them directly to the sauce.
To get a head start, prepare the sauce first and store it in the fridge.
Skip the garlic chili oil sauce for a non-spicy version.
Be creative and add any toppings, extra vegetables, or extra toppings you like.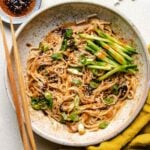 Spicy peanut noodles recipe
Spicy peanut noodles with chewy rice noodles and spicy Asian peanut butter sauce and garlic chili oil. Ready in 15 minutes!
Print
Pin
Rate
Ingredients
8 oz rice noodles
2 bulb green onions, diced
2 whole Persian cucumber, julienned
Sprinkle toasted white sesame seeds
Spicy peanut butter sauce:
Instructions
Bring a large pot of water to boil and follow the package instructions to boil the noodles.

In the meantime, prepare the green onions and cucumber.

In a large serving bowl, combine the sauce ingredients from peanut butter to garlic chili sauce. Taste and adjust.

Take ¼ cup of hot noodle water and add it to the peanut sauce. Stir the sauce until smooth.

Drain the noodles and add them directly into the sauce bowl. Toss and coat the noodles until well incorporated.

To serve, divide the noodles into individual serving bowls. Garnish with spring onions and sesame seeds, and drizzle with more chili sauce on top. Serve warm or at room temperature.
Notes
Other types of noodles you can use:

Low carbohydrates: Substitute with low-carb noodles, such as shirataki noodles or kelp noodles.
Gluten-free: Use rice noodles as I did for this recipe.
No dietary restrictions: Originally, this dish is made with wheat-based Taiwanese knife-cut noodles, but you can also use spaghetti or any pasta noodles.

If you are allergic to peanuts, use smooth almond butter, sunflower seed butter, cashew butter, or tahini. 
Nutrition
Serving: 1serving, Calories: 205kcal, Carbohydrates: 23g, Protein: 4g, Fat: 10g, Saturated Fat: 2g, Polyunsaturated Fat: 3g, Monounsaturated Fat: 5g, Sodium: 493mg, Potassium: 116mg, Fiber: 2g, Sugar: 3g, Vitamin A: 6IU, Vitamin C: 1mg, Calcium: 20mg, Iron: 0.5mg
Made a dish and love it? Please remember to rate the recipe and leave a comment in the comment section below! It helps my blog grow organically so I can continue sharing free and awesome content with you. Thank you!