Cold Sesame Noodles with Shredded Chicken
Cold sesame noodles.
Shhh…… can I tell you a secret?
Don't tell anyone else but I'd like to show you how to cheat today.
I'm an honest person but this is a recipe that can fool your friends and family and make them think you are The One, the bomb, in the whole universe.
This dish requires no skill – really I'm not kidding.
You do not need a stove or even a microwave. That means PERFECT for hot summer days.
It will take you 5 minutes – okay, if you like to get a glass of wine first, then 10 minutes – to put together.
You can use it to feed as many people as you want.
And it's PALEO FRIENDLY.
How cool is that ??
If you are really ambitious, fine.  You overachieving kids  :d
Poach the chicken in a pot of water and shred the meat into thin slices and store in an air-tight container (see instructions below so you won't mess it up !).
If you are running out of time, no biggie. Get a store-bought rotisserie chicken and use my sesame/tahini combo below and call it a day.
Trust me, no one will call you lazy.
Should we start ?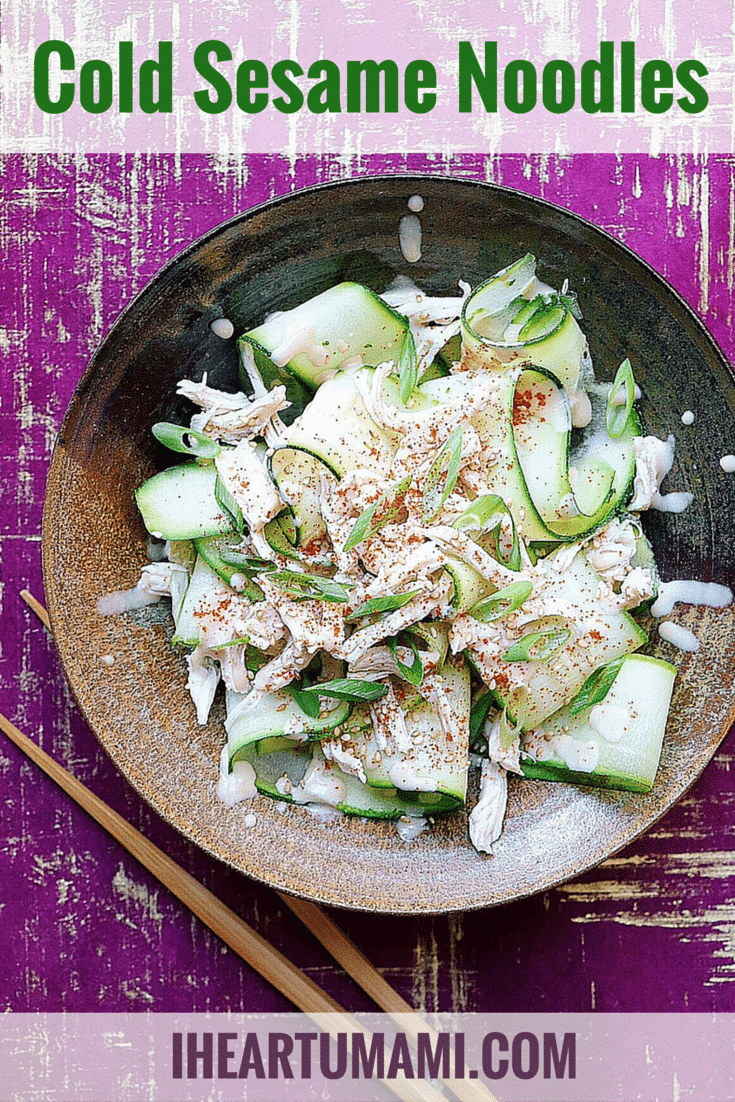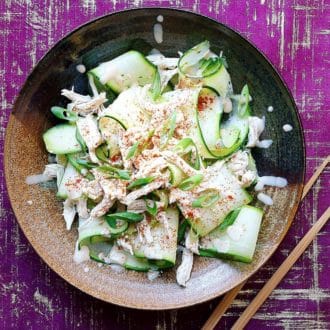 Cold Sesame Noodles with Shredded Chicken
Print
Pin
Rate
Ingredients
1 lb boneless & skinless chicken breast
2 large zucchini squash
1 scallion, chopped
Shredded chicken seasoning (after poached):
2 tsp toasted sesame oil
1 tsp sesame seeds, either black or white sesame seeds
Salt and white pepper to taste
Sesame Sauce combo:
3 tbsp tahini, no sugar, no salt added W30 compliant.
1 1 ½ tbsp coconut aminos
½ tsp balsamic vinegar
½ tsp organic rice vinegar, W30 compliant
1 tsp garlic, crushed
3 tbsp water, or more for thinner sauce
Sprinkle with sesame seeds and chili powder, optional
Instructions
Water boil the chicken breast until cooked through. Set aside to cool. Shred into thin pieces. Mix well with ingredients under "Chicken seasoning".

Use a peeler or spiralizer to make zucchini ribbons/noodles.

Mix well ingredients listed under "sesame sauce combo".

Combine zucchini ribbons, shredded chicken, sprinkle with scallion, sesame seeds, and drizzle with sesame sauce combo.