Simple Pineapple Beef Stir-Fry
One of the great things about Asian food is that there are hundreds of quick sit-fry dishes.
As long as you have the following few ingredients handy – garlic, shallots/onions, scallions, and ginger etc.- you are pretty much guaranteed to deliver a satisfying meal.
Today's recipe is one of the few that I serve regularly in my household.
There are two ways to prepare it:
1. Pre-slice the steak (cut thinly across the grain) and marinate overnight & a quick stir-fry with the rest of the ingredients (pineapple & bell peppers) when you are ready to eat.  OR
2. Have the entire dish ready and stored in an airtight container. Re-heat in a microwave and scoop as much as you want throughout the week.
There are pros and cons to each method so it totally depends on your preferences.
I opted for method 2 this time because my time is usually very limited during the work week and cooking is the last thing I want to think of at the end of a day.
If you also opt for method 2, the trick is to saute the bell pepper and pineapple chunks for only a few seconds so when you reheat in a microwave, the veggies won't turn mushy.
Flank steak is low-cost and delicious. As long as you follow the steps below, I guarantee this dish will become one of your favorites !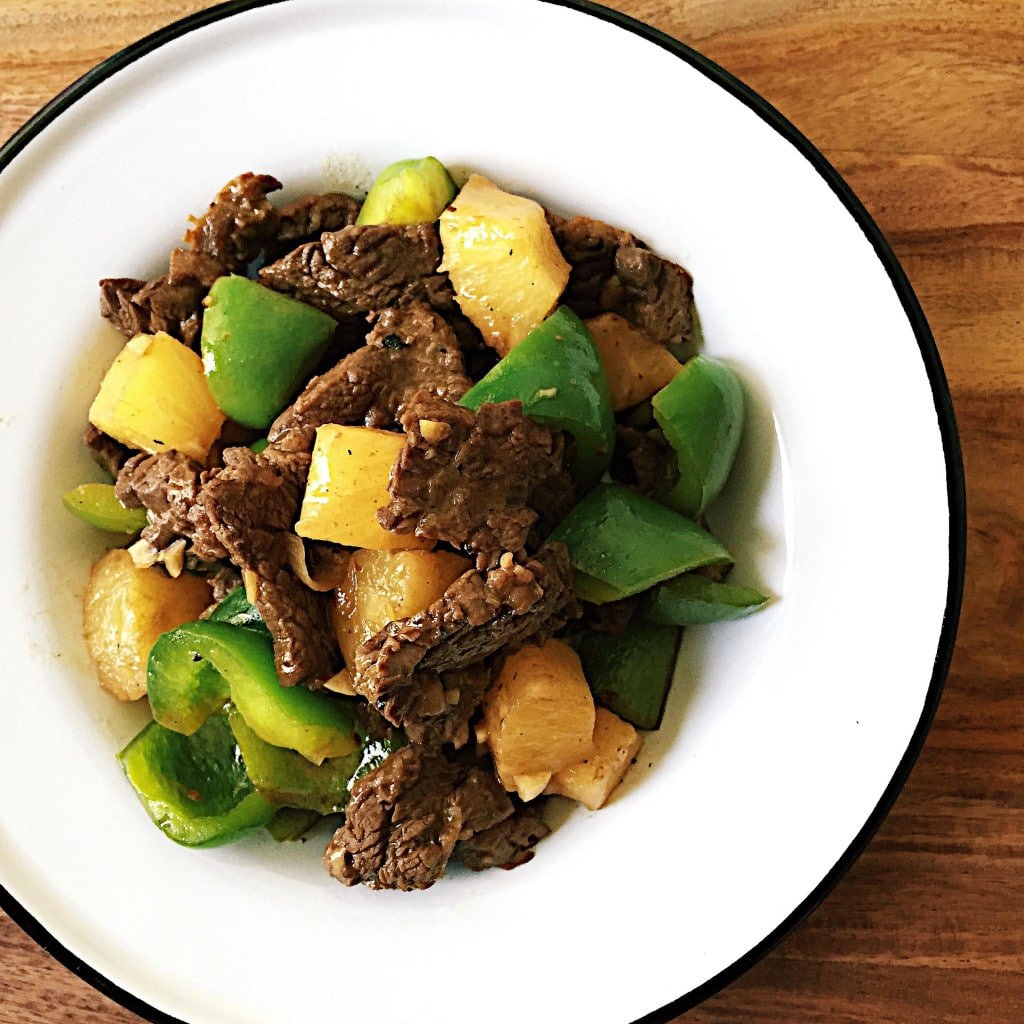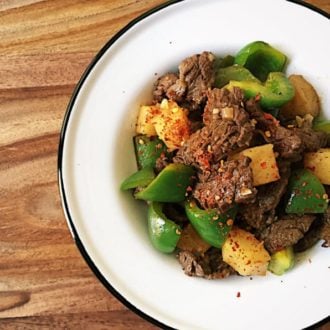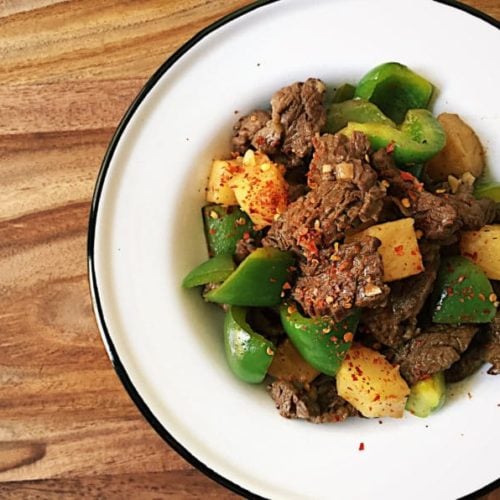 Simple Pinapple Beef Stir-Fry
Print
Pin
Rate
Ingredients
1 lb flank steak, thinly sliced across the grain
1 large size shallots, diced
1 large size green bell pepper, deseeded and cubed
2 cups pineapple chunks, I use a canned version with no added sugar or syrup
Beef marinade:
2 garlic cloves, minced
½ tbsp Redboat fish sauce
1 1/2 tbsp coconut aminos
½ tsp ground black pepper
Other seasonings:
1 tbsp coconut aminos
optional 2 tsp arrowroot or sweet potato flour/starch, dissolved in 2 tbsp water
Instructions
Combine the beef slices with ingredients under "beef marinade". Mix and until the beef is well coated. Set aside for 15 minutes (or overnight) to marinate.

Heat 1 tbsp of coconut oil in a skillet or saute pan over high heat until very hot. Stir-fry the marinated beef until it changes color, about 1 minute. Remove from the pan and set aside.

Heat another tbsp of oil in a skillet or saute pan over high heat, stir-fry the shallots and bell pepper for about 1 minute then add pineapple chunks for 1 more minute, seasoning with 1 tbsp of coconut aminos.

Return the beef to the pan and mix well.

(optional) Pour in the arrowroot starch mixture and stir-fry until the sauce is thickened.

Transfer to a serving plate & Enjoy with mashed potatoes, yams, or mashed cauliflower.