Frozen Brussel Sprouts Air Fryer
This Frozen Brussel Sprouts Air Fryer recipe is easy and FAST! Enjoy perfectly crispy and tender Brussels in just 20 minutes from freezer to fork, with no thawing or prep required. This simple side dish can be easily dressed up or eaten as is — a delicious pairing for any meal!
Made with a few, simple ingredients, these air-fried frozen sprouts are as economical as they are healthy. Don't miss my Frozen Broccoli Air Fryer and Frozen Salmon In Air Fryer recipes for more quick and easy meal ideas!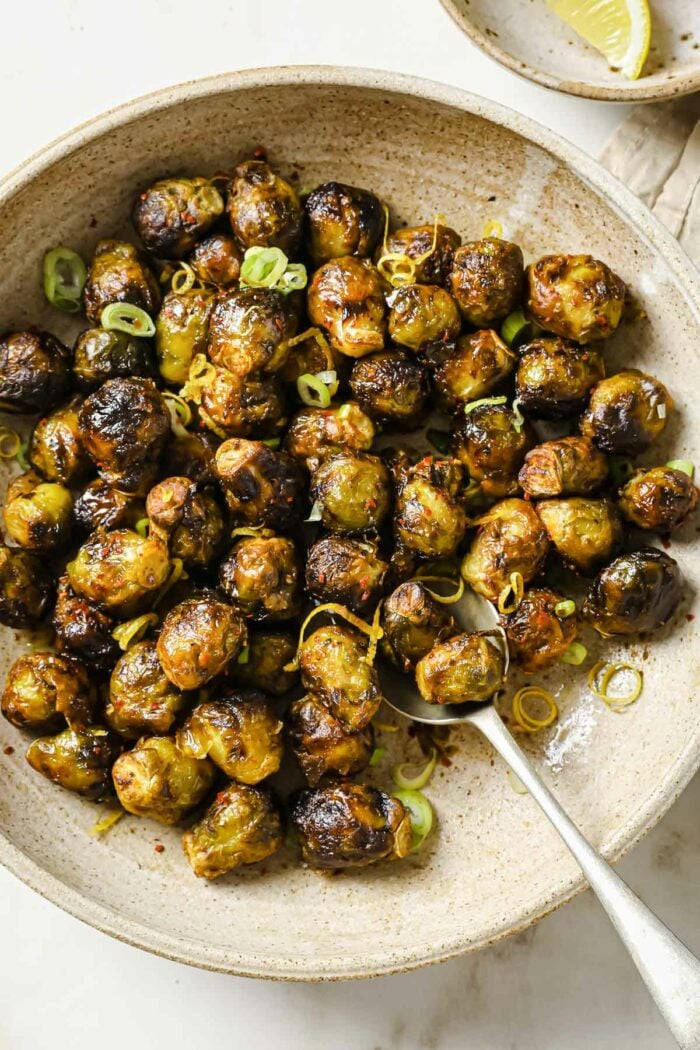 Why this will be your go-to recipe
Air fryer frozen Brussels sprouts are crispy on the outside, tender on the inside, and delicious all over — with minimal effort. These veggies have a mellow flavor and can easily be spiced up to suit your meal and personal tastes.
Fast and convenient: Ready in just 20 minutes, including prep. No need to thaw!
Healthy: Packed with nutrients, antioxidants, and fiber, these Air fry frozen brussel sprouts are low in calories and low-carb. Plus, they are keto-friendly, vegan, and gluten-free!
Economical: Frozen vegetables are a wallet-friendly option with all the health benefits of fresh. Plus, they're available year-round!
Ingredients
Air fry frozen brussel sprouts couldn't be any easier! The ingredients are super minimal, and you probably have them at home. You can even omit the spices if you use already seasoned Brussels, like the ones from Trader Joe's.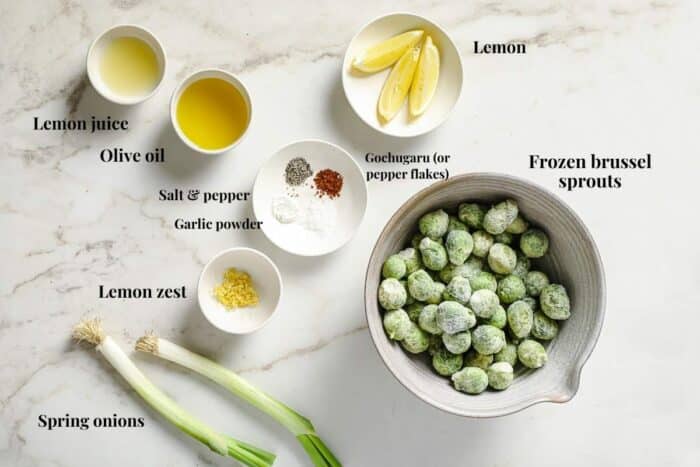 Frozen brussel sprouts
Olive oil
Spices: Course sea salt, pepper, garlic powder, Korean gochugaru (or red pepper powder)
Garnish: Lemon (zest and juice), spring onion
Ingredient substitutions
Use regular red pepper powder if you don't have Korean gochugaru.
Use minced garlic instead of garlic powder to kick the flavor up a notch.
Use a touch of rice vinegar if you don't have lemon juice to garnish.
Use avocado oil instead of olive oil for a more neutral taste.
How to make the dish
If you've been wondering how to cook frozen brussel sprouts in the air fryer, this is the recipe for you! Let's learn how to make this crowd-pleasing side dish in 20 minutes! (You won't believe how easy it is!)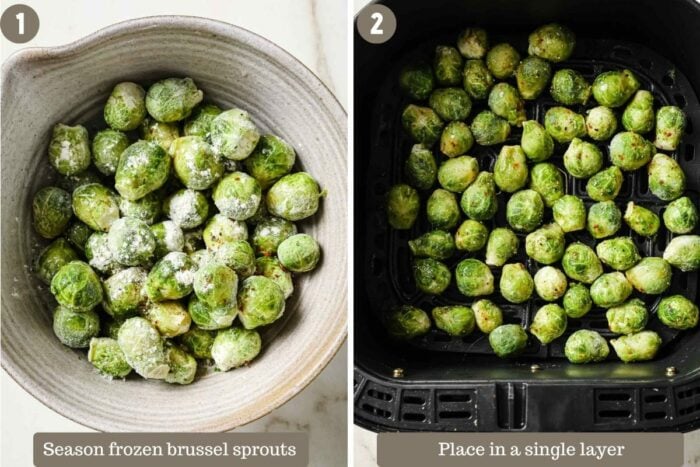 Preheat the air fryer (I preheat my Cosori for 5 minutes, but times may vary for a Ninja Foodi or other models). In a mixing bowl, toss in the seasoning.
Spread sprouts in the air fryer basket in a single layer.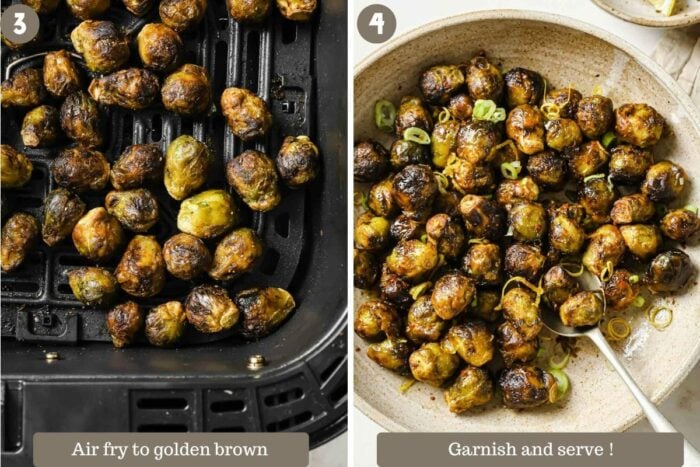 Airfry for 16 mins (shaking the basket halfway through)
Garnish and serve
Air Fryer Tips for Crispy Brussels Sprouts
Cook from frozen: For best results, don't thaw the sprouts before cooking or they'll be soggy.
Don't overcrowd or stack sprouts: Spread them into a single layer so they don't steam.
Shake the basket halfway through cooking to ensure even browning.
How to make this dish in the oven
For roasted frozen brussel sprouts in the oven (versus the air fryer), follow these simple steps:
Preheat oven to 400F and line the sheet pan with parchment.
Roast the sprouts on a baking sheet in a single layer until crisp (35- 40 minutes), shaking the pan from time to time to brown evenly.
Garnish and serve
Variations
These frozen brussel sprouts in air fryer are perfectly crispy with a subtle (not bitter!) flavor even kids will love. But it's so easy to dress them up in creative ways! Here are some yummy variations:
Balsamic Glaze: Toss them in an aged balsamic glaze after air frying. You could even try a honey balsamic reduction for some sweetness.
With Bacon: After cooking, mix in some crispy bacon or my bacon aioli for a classic, family-friendly flavor combo.
Melted butter: If you're not dairy free, drizzle the cooked sprouts in some melted butter for a truly mouthwatering treat.
Parmesan: Sprinkle some parmesan cheese or my dairy-free Paleo Parmesan Cheese before serving.
A little sweeter: Drizzle with a little honey or hot honey over the sprouts for a touch of sweet and spicy kick!
Common FAQ
Are frozen brussel sprouts healthy?
Brussels sprouts pack a lot of nutrition including Vitamin C (among other vitamins), potassium, and calcium. They are high in fiber and low in calories and carbohydrates. (source)
Can you air fry brussel sprouts from frozen?
Absolutely! It is recommended to fry from frozen versus thawing so they don't get soggy.
How long to air fry frozen brussel sprouts?
Cook time will range from 10-20 minutes with different air fryers and based on the size of the sprouts. For faster cooking, you can cut the veggies in half.
Storage and make-ahead
This Brussels sprout dish is great for meal prep, so go ahead and cook the Costco size bag and enjoy these throughout the week!
Frozen sprouts have a shelf life of up to 12 months. Store leftovers in an airtight container in the fridge for up to 5 days.
To reheat, pop them back into the air fryer or the oven for about 10 minutes.
Umami Tips
Save time and money by cooking straight from frozen!
Get creative with seasonings and sauces to remix this dish for any meal!
For meal prep make a double batch to eat throughout the week!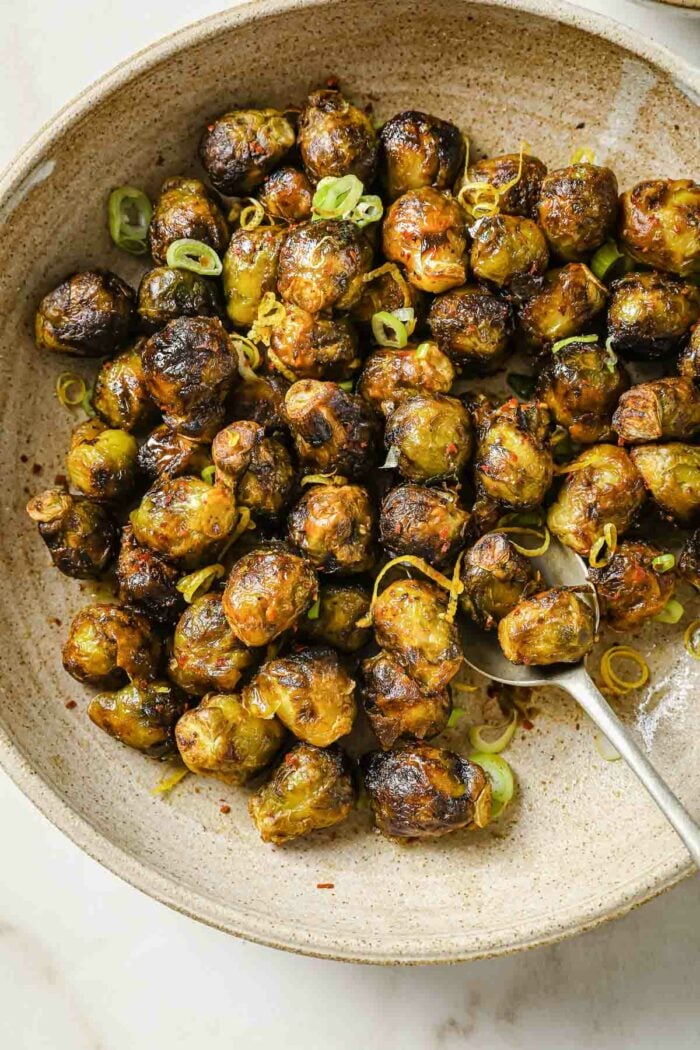 Frozen brussel sprouts air fryer recipe
Cooking frozen brussel sprouts in air fryer has never been easier. Ready in under 15 minutes and no thawing needed. Crisp, tender, and flavorful every time!
Print
Pin
Rate
Ingredients
16 oz. frozen brussels sprouts
2-3 tbsp olive oil
½ tsp coarse sea salt, plus more to taste
½ tsp garlic powder
¼ tsp ground black pepper
¼ tsp gochugaru, or red pepper powder, plus more to taste
Half one whole lemon zest and juice, plus extra wedges on the side
1-2 bulb spring onions, finely chopped
Instructions
Preheat the air fryer following the default setting. I use Cosori and the default is 400°F (204°C) for 5 minutes.

In a large mixing bowl, add the ingredients from the sprouts to gochugaru. Toss and combine well.

Pour the sprouts into the basket and spread them out in a single layer.

Air fryer for 8 minutes, shake the basket, and cook for 8 more minutes or until the sprouts are a little crisp outside with some brown bits.

To serve, transfer them to a serving plate or bowl and season with a touch of salt, gochugaru, lemon zest, and juice. Garnish with finely chopped spring onions. Serve warm or at room temperature.
Notes
The sprouts will be a little crispy outside and soft inside. Do not defrost the sprouts. Cook them from frozen. 🙂
For oven:
Preheat oven to 400F, and line the sheet pan with parchment. Roast the sprouts in a single layer for 35 to 40 minutes until crisp outside and tender inside. Shake the pan from time to time to brown the sprouts evenly.
Nutrition
Serving: 1serving, Calories: 113kcal, Carbohydrates: 11g, Protein: 4g, Fat: 7g, Saturated Fat: 1g, Polyunsaturated Fat: 1g, Monounsaturated Fat: 5g, Sodium: 322mg, Potassium: 451mg, Fiber: 4g, Sugar: 3g, Vitamin A: 895IU, Vitamin C: 97mg, Calcium: 49mg, Iron: 2mg
Made a dish and love it? Please remember to rate the recipe and leave a comment in the comment section below! It helps my blog grow organically so I can continue sharing free and awesome content with you. Thank you!