Vietnamese Turmeric Fish with Herbs and Mango Dipping Sauce
Paleo Vietnamese Turmeric Fish with Herbs and Mango Dipping Sauce.
Nate and I visited Andy Ricker's restaurant, Pok Pok, in Brooklyn NY the other day.
Boy it was a life changing experience.
As cosmopolitan as New York City is, by far, I'd only put two real Thai restaurants on the map – Sripraphai in Woodside Queens & Pok Pok in Brooklyn.
If you are reading this article, chances are you are one of my people – health conscious & foodie.
So it makes sense that we are keen on eating lean/good protein like the fresh cod we are talking about today.
Unfamiliar with turmeric ?
Turmeric has long been used in Chinese and Indian cooking and serves as an agent to treat a wide variety of conditions, particularly in the anti-inflammatory category. (source 1) (source 2)
The fresh cod is pan-fried until golden brown with infused scallion and dill oil. The turmeric gives a beautiful color and adds a bit of ginger/lemony touch to this delicate dish.
I finish the dish with a few drops of fresh lime juice to awaken the palate. I also mix fresh ripe mango with a few mint leaves as dipping sauce to compliment the palate and to remind us the origin of this dish.
The result? It's earthy, sweet, salty, citrusy, yet slightly spicy.
If you love fish, I urge you not to miss this simple yet special dish that comes from the heart of south-east Asia – Vietnam.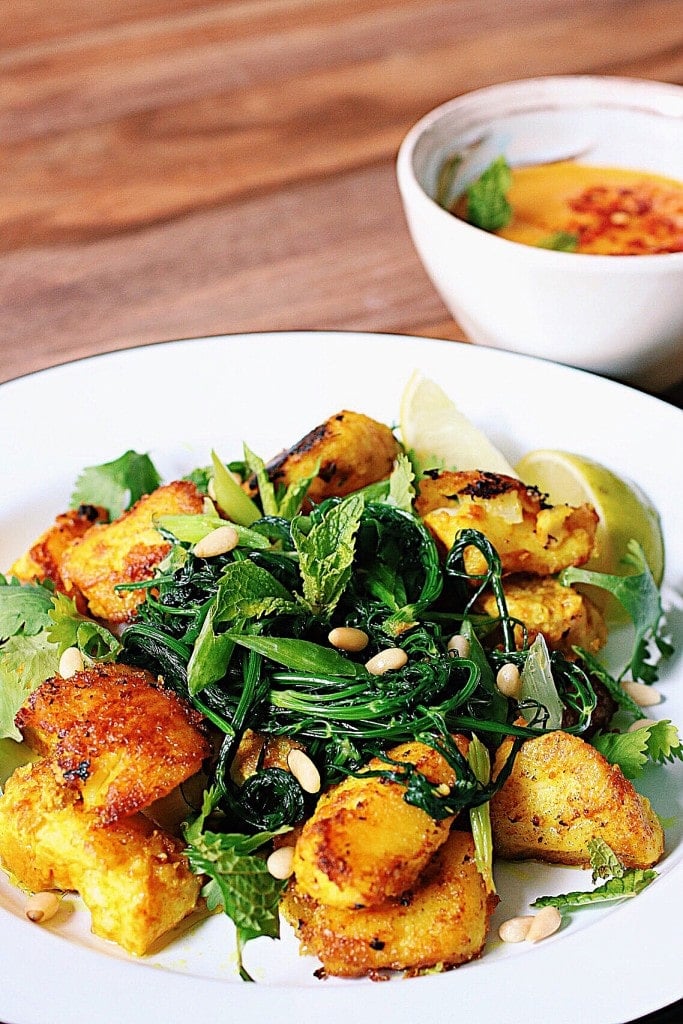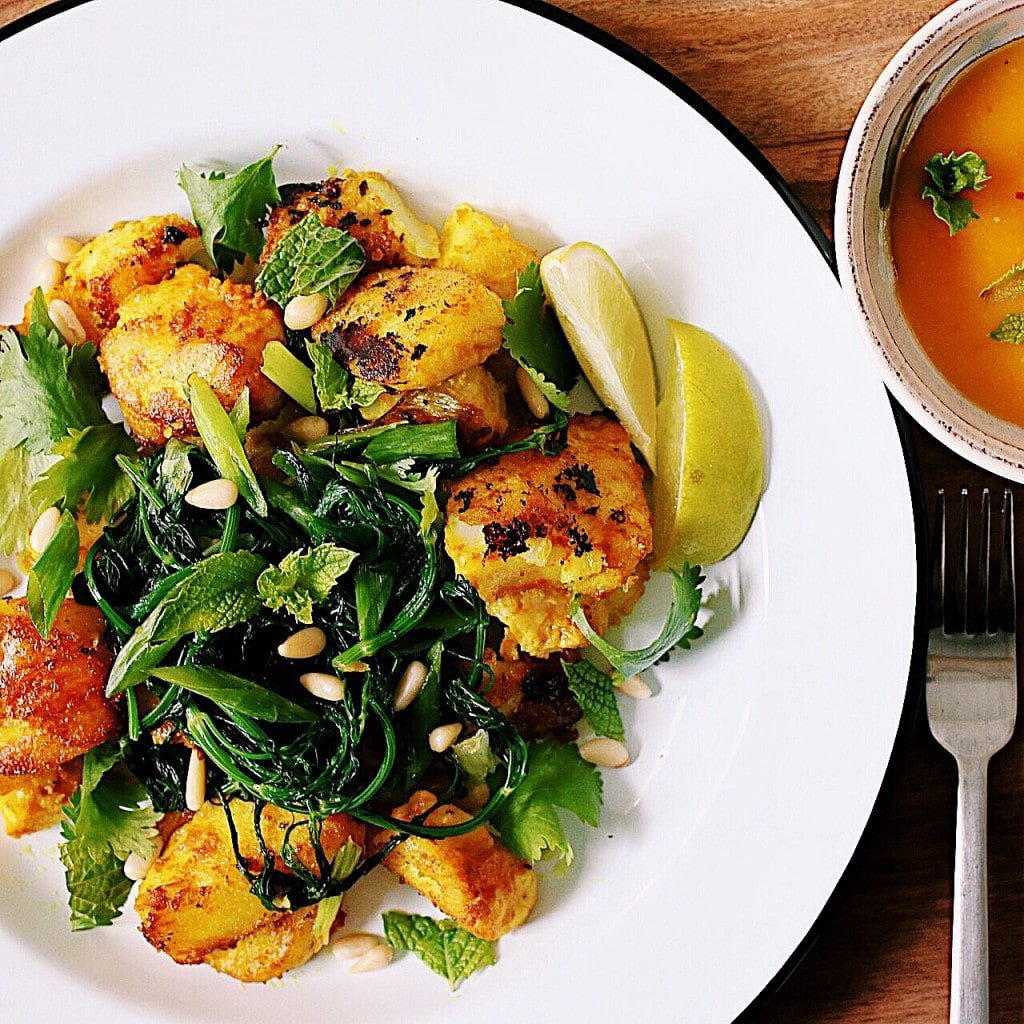 Vietnamese Turmeric Fish with Herbs and Mango Dipping Sauce
Paleo Vietnamese Turmeric Fish with Herbs and Mango Dipping Sauce. Golden crispy turmeric fish with fresh herbs and mango dipping sauce. Enjoy the ultimate crispy and sweet Paleo Vietnamese recipe.
Print
Pin
Rate
Ingredients
1 ¼ lbs fresh cod fish, cut into 2-inch piece that are about 1/2 inch thick
2 cups scallions, slice into long thin shape
2 cups of fresh dill
Coconut oil to pan fry the fish
Fish marinade: (Marinate for at least 1 hr. or as long as overnight)
1 tbsp turmeric powder
1 1/2 tsp kosher salt
2 tsp grated ginger
2 tbsp olive oil
Mango sauce:
1 medium size ripe mango
2 tbsp rice vinegar
Half one whole lime juice
1 clove garlic, grated
1 tsp chili powder, optional
Toppings::
Fresh cilantro, as much as you like
Lime juice, as much as you like
Pine nuts, (optional)
Instructions
Marinate the fish for at least 1 hr. or as long as overnight. Place all ingredients under "Mango Sauce" into a food processor and blend until smooth.

Heat 2 tbsp of coconut oil in a non-stick large frying pan over high heat. When hot, drench the marinade then add the fish. Note: place the fish slices into the pan individually and separate them to two batches to pan fry if necessary. You should hear a loud sizzle, after which you can decrease the heat to medium-high. Do not turn or move the fish until you see a golden brown on the side, about 5 minutes. Season a small pinch of salt. Then carefully turn the fish to fry on the other side. Once it's done, transfer to a large plate.

Use the remainder of the oil and heat in the frying pan, turn off the heat and add 2 cups of scallions and 2 cups of dill. Give a gentle toss until the scallions and dill have wilted, about 15 seconds. Season with a small pinch of sea salt.

Pour the scallion/dill oil over the fish and serve with fresh cilantro, lime, pine nuts (optional), and mango dipping sauce.
Nutrition
Calories: 241kcal
Also check out my Turmeric chicken thighs, Whole30 turmeric milk, Turmeric Kabocha Squash Soup, Iced matcha mango tea, Baked cod with panko, and Vietnamese garlic shrimp!