Garlic Chili Sauce
Quick and easy, homemade Garlic Chili Sauce ready in 15 minutes! With a perfect blend of garlic, spice, and a touch of smokey sweetness, Chinese food lovers, rejoice! You will find a lot of Huy Fong chili garlic sauce recipes on the internet; my version of this popular sauce blows them away!
Homemade chili garlic sauce is terrific on EVERYTHING, and I highly recommend you pair it with my 15-minute Garlic Chili Noodles and Spicy Cucumber Salad!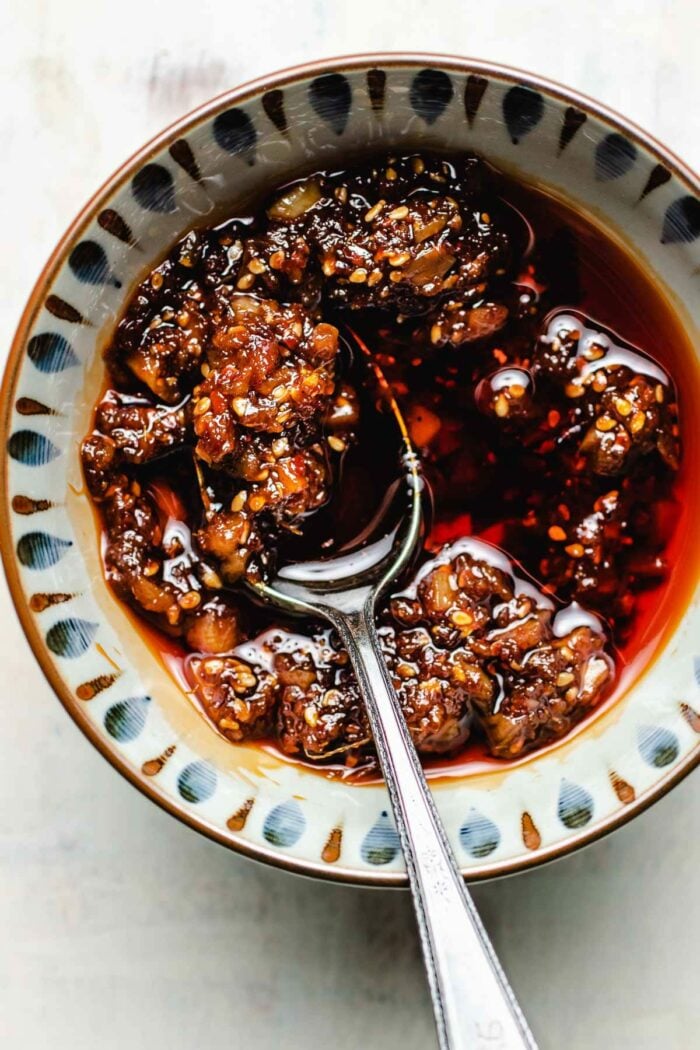 Why this recipe is the best
A staple in Asian countries, from street food vendors to home kitchens, no one is without chili garlic.sauce. For good reason, it's delicious and will make any dish next level. If you want a few more reasons to make this homemade chili garlic sauce:
Simple to make: Ready in 15 minutes.
Perfect condiment: Pair it with noodles, dumplings, and even ice cream (Yes!). The sky is the limit!
Flavor explosion: Aromatic garlic and ginger combine with the perfect amount of heat, ensuring this chili-garlic sauce will make your taste buds scream!
Ingredients
You may need to make a trip to your favorite Asian markets or source a few specialty online stores for chili garlic paste ingredients. Using fresh ingredients gives you the most garlicky smokey excellent Asian chili garlic paste imaginable.
The ingredients for chili paste sauce are grouped into 3 categories:
Aromatics: garlic cloves and ginger
Dry Spices: Gochugaru (Korean red pepper flakes), toasted sesame seeds, and optional Sichuan peppercorn powder.
Seasonings: Coarse sea salt, coconut brown sugar, sesame oil, coconut aminos, aged balsamic vinegar, and avocado oil (or light olive oil).
Ingredient substitutions
This recipe for spicy garlic sauce is addicting as is, but if you want to experiment, I have listed a few ideas below to try.
Kick up the spice: Want a spicy chili garlic sauce? Use Chinese dried red chilis or Sichuan chili flakes for some extra heat.
Vinegar: Use Chinese black vinegar instead of balsamic for a more traditional flavor.
Keto sugar: Looking for a low-carb chili garlic sauce? Substitute your favorite keto brown sugar instead of the coconut variety.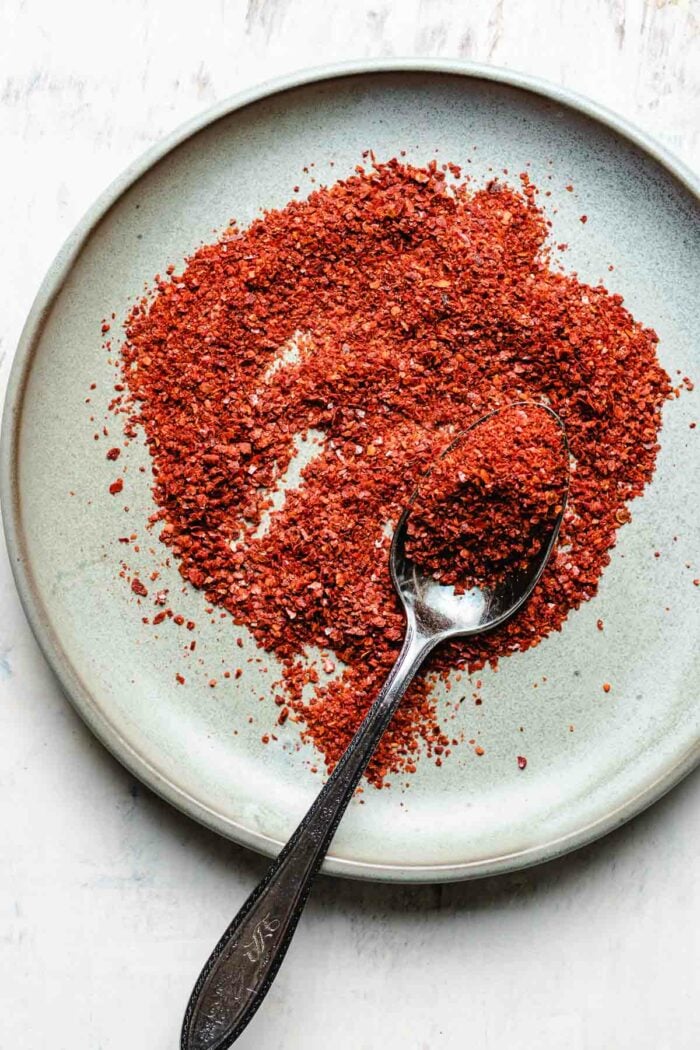 What type of chili pepper to use
You can buy chili garlic sauce; trader joe's carries it, and the rooster garlic chili sauce (Huy Fong Foods) can be found in most stores. The problem is that they use red jalapenos, red chili peppers, or Thai chili peppers that can be so spicy they overpower the aromatic taste of the sauce.
I choose to use Gochuganu (Korean red pepper flakes) for a hint of sweet and smokey flavor that doesn't upset the balance of flavor.
How to make chili garlic sauce
All you need is a heavy-bottomed saucepan, your collection of ingredients, and 15 minutes until this fantastic sauce is drizzled over everything in sight. Follow my simple step-by-step instructions below to become a master at making garlic chilli sauce!
Be sure to finely mince your garlic and grate your ginger (keep them separate)
Add to your cold saucepan: Avocado oil and minced garlic. Turn heat on to low to infuse the oil with garlic flavor. Simmer for about 5 minutes.
Continue to bloom your oil: Now add ginger and salt to the pan and gently stir; cook for 2 minutes.
Initial seasoning: Now it's time to add your Chili flakes, sugar, sesame seeds, sesame oil, and 1Tbsp of avocado oil. Continue to stir and simmer for 3 more minutes.
Additional seasoning: Add the coconut aminos, vinegar, and Sichuan peppercorn powder (if you are using them) now. Gently stir everything together, bring the sauce back to a simmer and turn off the heat.
Cool to room temperature: Your chilly garlic sauce is now ready to be devoured. Grab some paleo egg rolls, and start dipping or pour your sauce into glass jars and seal. Store in the fridge for up to a month.
Slow and low heat
For outstanding flavor, it is essential to use slow and low heat to infuse (bloom) the oil with the flavor of garlic and ginger. High heat could burn the spices and result in an off taste.
Variations
Now that you can make chilly garlic sauce, you can start experimenting with your own homemade chili garlic sauce recipe ideas and variations.
Vietnamese chili garlic sauce: Add a small splash of fish sauce for a salty and umami kick.
Thai chili garlic paste: Adding extra spicy Thai chiles brings the heat. You should also try my Thai chili dipping sauce if spicy food is your thing.
Filipino chili oil: For an entirely different experience, infuse the oil with star anise and add some homemade hoisin sauce.
---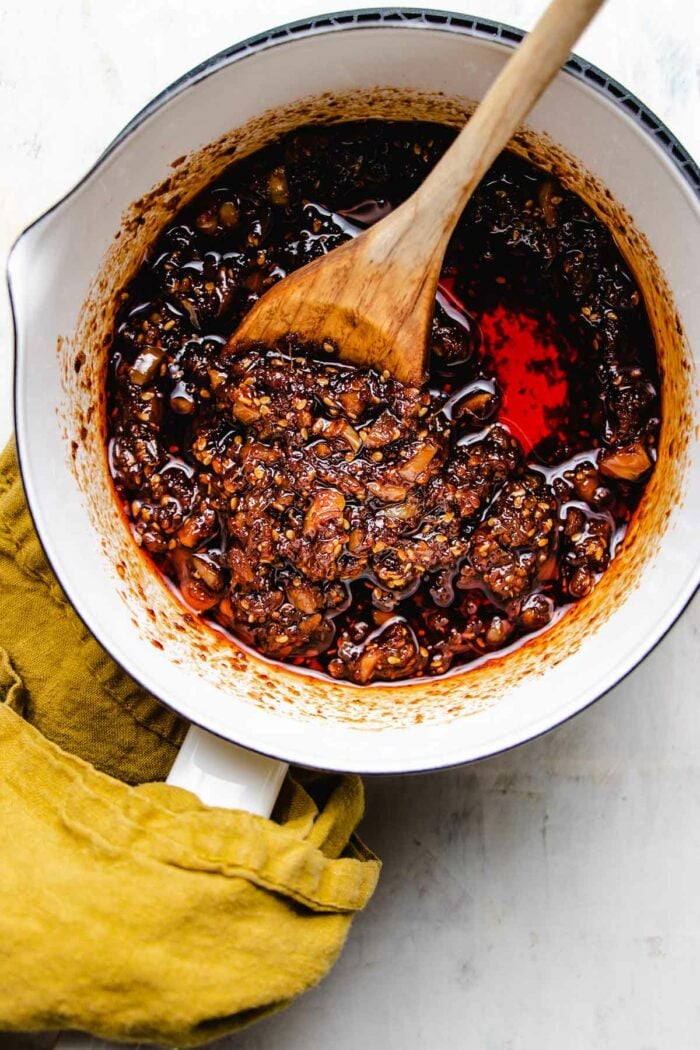 How to store the sauce
This is a good sauce to keep on hand at all times! Below are some storage tips for keeping your sweet chili sauce fresh and delicious for future use.
Cool first: Ensure your sauce is at room temperature before storing it.
Refrigerate: Use an airtight container to store your sauce, and use a clean spoon each time you serve. Good for a month.
Common FAQs
What is chili garlic sauce?
Chili garlic sauce is an iconic Chinese condiment. Regional variations are available throughout Asia.
Is chili garlic sauce spicy?
Depending on the peppers used, it can range from mild to flaming hot. My homemade version has the perfect medium heat profile.
Chili garlic sauce v.s. Chili oil?
Chili oil has a higher ratio of oil to pepper flakes. Chili garlic sauce has the opposite, more pepper flakes and less oil (source).
Is sriracha and chili garlic sauce the same?
No. Sriracha sauce uses more vinegar and has a tangier taste. Chili garlic sauce uses less vinegar and is more garlicky, smokey, and sweet.
Related recipes
If you love this mildly spicy sauce, you might also want to try similar sauces like; sambal garlic sauce or my shacha sauce, a super tasty Taiwanese BBQ sauce that goes great with a variety of Asian cuisine.
My homemade chili sauce makes a quick and simple stir-fry sauce. Mix it with Bok choy stir-fry for a quick weeknight dinner, or try the great recipe ideas I've listed below.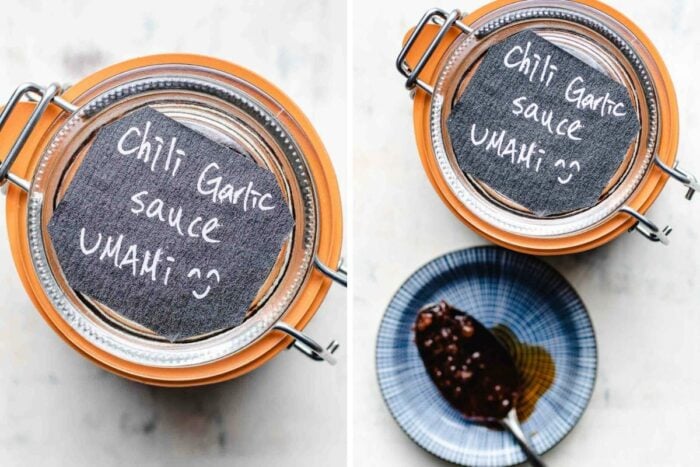 Umami Tips
Start with cold oil.
Low and slow: Use low heat to infuse the oil.
Gochugaru: Do not skip the Korean red pepper powder.
Experiment: Try different spices (star anise, bay leaves, etc.).
Garlic chili sauce recipe
Homemade chili garlic sauce recipe ready in 15 mins.! Inspired by huy fong garlic chili sauce but more fresh, garlicky, and healthy! Makes 1 cup.
Print
Pin
Rate
Instructions
Finely mince the garlic and grate the ginger. Separate them into 2 separate piles.

In a heavy-bottom small saucepan, start the pan cold with 4 tbsp avocado oil. Add the minced garlic and simmer over low heat to infuse the oil with garlic flavor. Stir with a wooden spoon until the garlic turns in light golden brown, about 5 minutes.

Add the ginger and salt and continue to gently bloom and infuse the oil over low heat for another 2 minutes.

Add the chili flakes, sugar, sesame seeds, the remaining 1 tbsp avocado oil, and sesame oil, and continue to stir the sauce and simmer for another 3 minutes.

Add the coconut aminos, vinegar, and Sichuan peppercorn powder, if using. Stir and taste to adjust with more salt or sugar.

Bring the sauce to a gentle simmer then turn off the heat.

Once the sauce is cool to room temperature, transfer it into a glass jar to pack and seal. Store the sauce in the fridge. Good for a month.
Notes
Keep the heat low the whole time as you infuse the oil and bloom the spices. Slow and steady low heat to bring out the flavor and take care not to burn the aromatics otherwise it'll have a bitter flavor.
The chili garlic sauce should taste a little spicy-savory-sweet-tangy and with a hint of sweet smokey flavor.
I use a 0.75 liter/3 cup/25 oz. milk pan. You can also use a butter warmer. 
The nutritional label is estimated with coconut brown sugar. 
How to use the sauce? Try it with my Garlic Chili Noodles, Vietnamese pizza, or gluten-free wonton soup! 
Nutrition
Serving: 1tbsp, Calories: 88kcal, Carbohydrates: 5g, Protein: 1g, Fat: 8g, Saturated Fat: 1g, Polyunsaturated Fat: 2g, Monounsaturated Fat: 5g, Trans Fat: 1g, Cholesterol: 1mg, Sodium: 292mg, Potassium: 63mg, Fiber: 1g, Sugar: 1g, Vitamin A: 496IU, Vitamin C: 1mg, Calcium: 20mg, Iron: 1mg
Made a dish and love it? Please remember to rate the recipe and leave a comment in the comment section below! It helps my blog grow organically so I can continue sharing free and awesome content with you. Thank you!