Chinese Shrimp and Broccoli Stir-Fry in Ginger Garlic Sauce
Easy Shrimp and Broccoli stir-fry with a delicious ginger garlic sauce that coats the shrimp beautifully. Plump and juicy shrimp stir-fried with the freshest garlicky broccoli. With 6 ingredients only, comes together in 20 minutes, and with 347 calories and 0 grams of added sugar, this is the best Chinese shrimp broccoli recipe for busy weeknights!
Love homemade healthy takeout? Then you must also try my General Tso shrimp, Kung pao shrimp, and Shrimp scrambled eggs!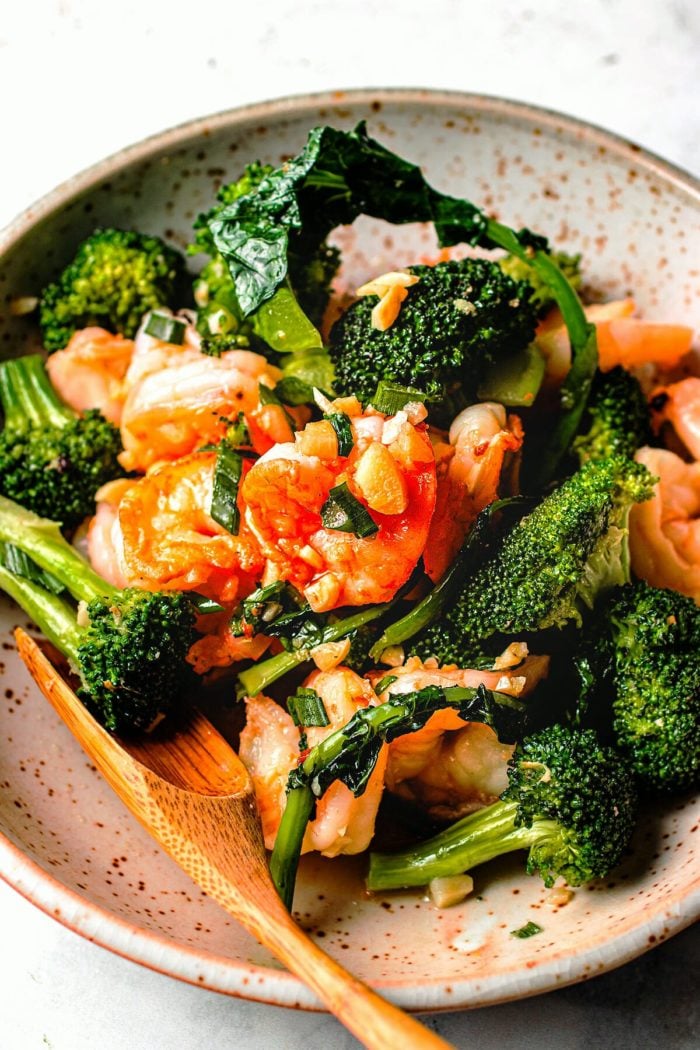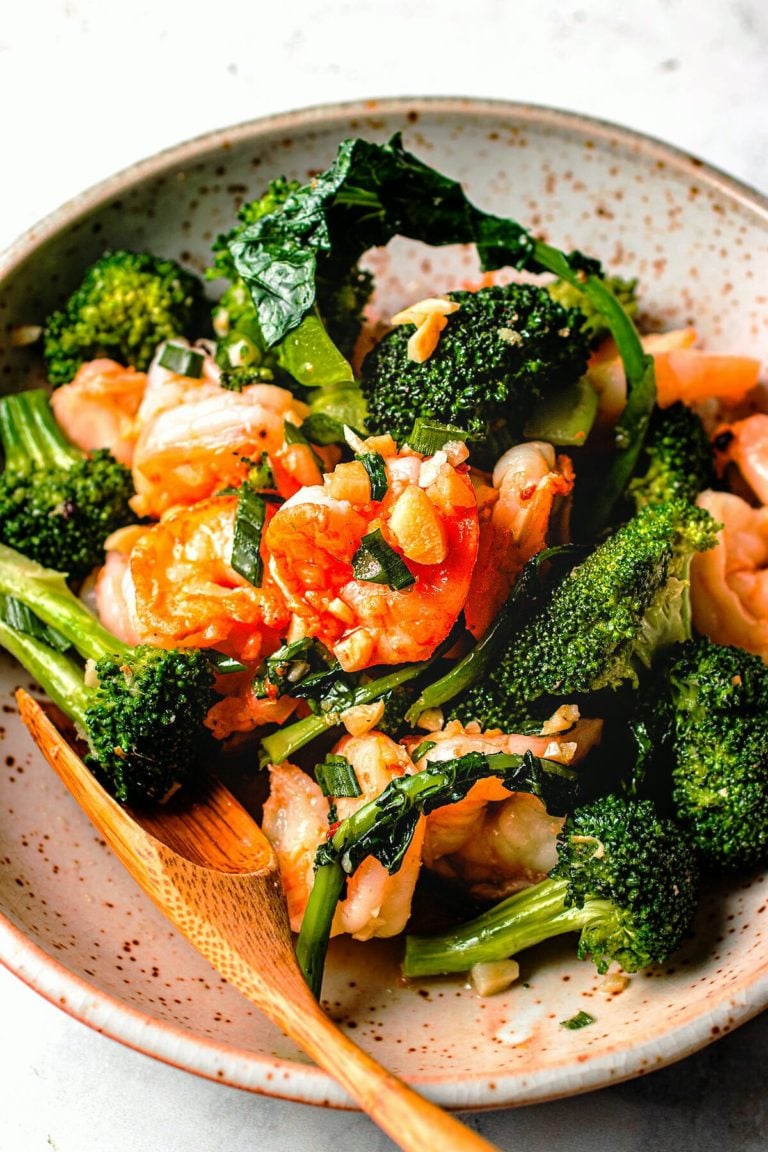 You have to love the simplicity of this Chinese shrimp and broccoli stir-fry. Similar to my fans' favorite dishes – Chicken and Broccoli and Beef and broccoli, you only need a few ingredients to make these popular American Chinese dishes and chances are you probably already have the ingredients at home.
I Heart Umami readers might have noticed that I started sharing more seafood dishes on the blog lately. It's always good to expand our protein variety and seafood is usually lean, quick to prepare, and packs with tons of umami delicious flavor. In today's post, we will go back to the basics and I'll show you how to make the juiciest shrimp stir-fry with broccoli florets and ginger garlic sauce so that you can recreate this dish at home easily.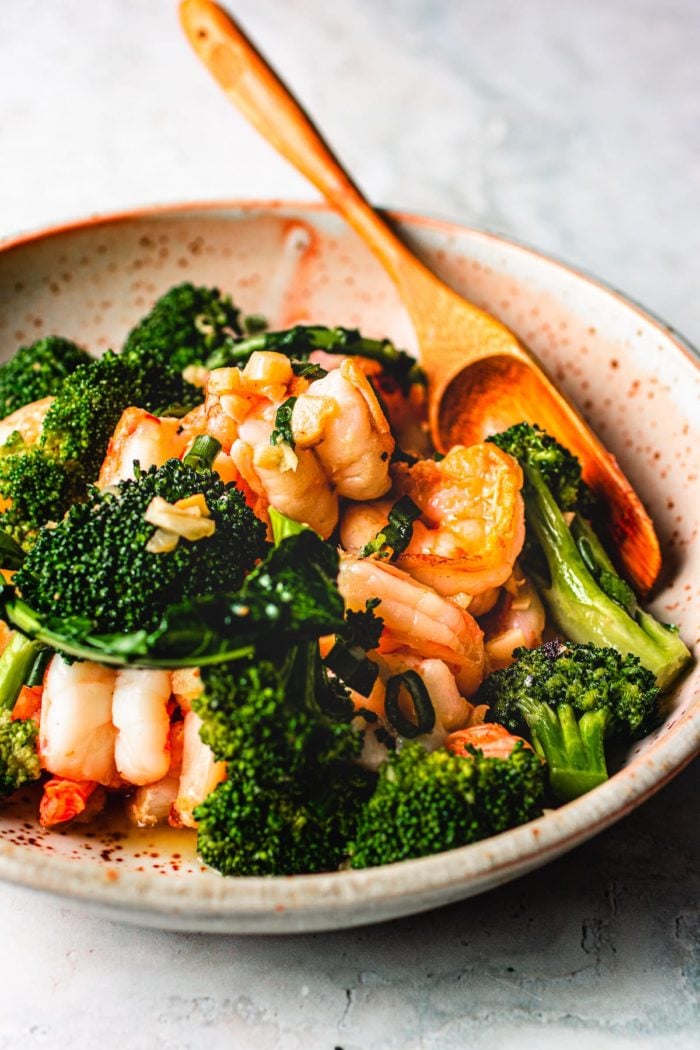 How to make Chinese shrimp and broccoli
There are only 6 major ingredients in my ginger garlic shrimp and broccoli recipe. Large shrimp, broccoli, ginger, garlic, coconut aminos, and arrowroot starch for thickening. To make this dish Keto, skip the arrowroot starch or use xanthan gum to replace the starch. I also use a teaspoon of toasted sesame oil in the sauce to make this dish more Asian. If you are allergic to sesame oil, simply skip it. You pan-sear the shrimp, add the blanched broccoli and garlic, and toss in the sauce. Basically, that's it! Add a side of rice and dinner is ready!
Irresistibly Delicious Ginger Garlic Sauce
The super delicious stir-fry sauce has grated ginger, coconut aminos, chicken or vegetable stock, and toasted sesame oil. It's simple with a perfectly balanced sweet and savory. I love this stir-fry sauce so much that sometimes I even use it for broccoli stir-fry without the shrimp.
You can also use my homemade vegetarian oyster sauce (made with shiitake) to the shrimp and broccoli stir-fry. If you do so, please skip the coconut aminos in the recipe so it won't be too salty.
How to make the juiciest stir-fry shrimp
Buy large shrimp with tail-on or without
Pat dry and butterfly the shrimp so they cook evenly
Shrimp cooks quickly so make sure that your skillet is well-heated (very hot) so that the shrimp can sear nicely on the outside.
If you aren't sure how to properly preheat your skillet, check out my how to pan-sear the beef blog post where you can learn the technique how to preheat your skillet for stir-frying.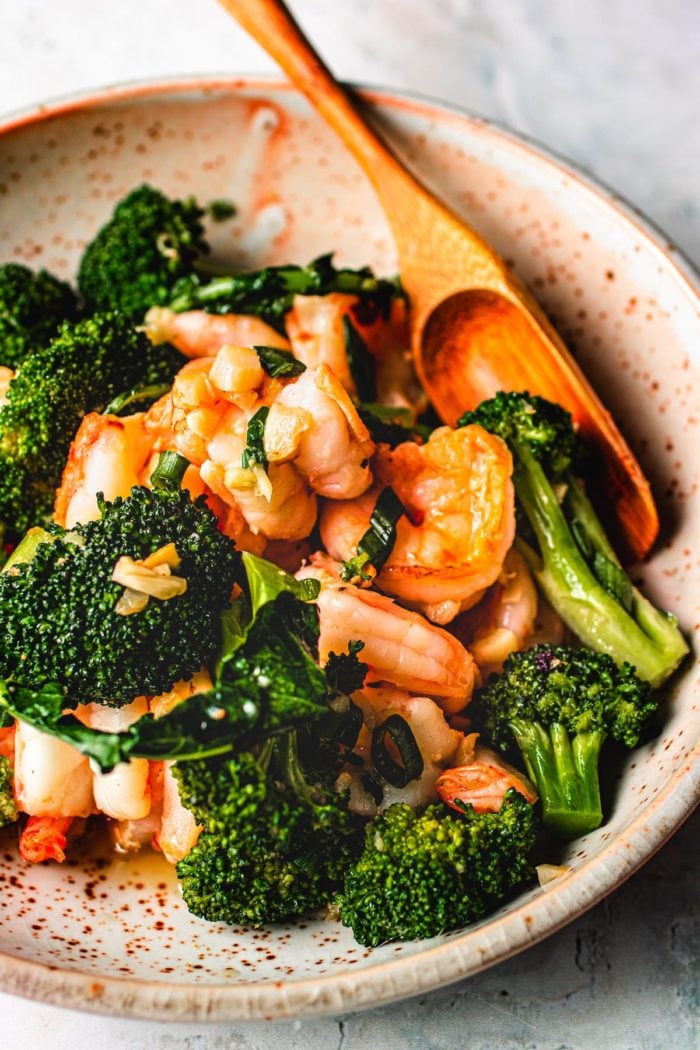 Can you use frozen shrimp?
Yes. Use pre-peeled or easy-peel large frozen raw shrimp and let it thaw in the fridge overnight or for up to 24 hours in the fridge. Once defrosted, dump the liquid, pay them dry with clean paper towels, and butterfly them before sauteeing so they will open up in flower shape just like what you see in restaurants.
How to keep broccoli crunchy and vibrant green in stir-fries
Use fresh broccoli not frozen and cut them into similar bite sizes so they cook evenly. You can hot water blanch them for about 1 minute and sock them in cold water to stop cooking or use my shortcut method – microwave on high for 2 minutes total with 1 tbsp water. Watch my lemon garlic broccoli video recipe on how to blanch or microwave the broccoli florets.
You can also use pre-cut broccoli florets to save time. Trim off end tips if they look dry or brittle.
Tips for making the best Shrimp and Broccoli
Make sure all the ingredients are chopped and ready to go, including the ginger garlic stir-fry sauce.
Chop the garlic but don't overly mince it or it will easily get burnt in stir-fries.
Quickly blanch the broccoli florets (or use my microwave method in the recipe card) and set them aside to cool and drain.
Preheat your skillet well over medium heat. You want it hot so it can sear the shrimp quickly. Place your palm near the surface about 2-3 inches away. When it feels too hot to place your palm near, it's ready. You can watch how to preheat a skillet for stir-fry.
The exact time to cook the shrimp will depend on the type of skillet materials – stainless, cast iron, ceramic, non-stick…etc. and the size of the shrimp. In general, sear the shrimp over medium-high to high heat for about 2-3 minutes the first side and 1-2 minutes on the flip side. It's easy to overcook shrimp so scoop them out and set them aside while you stir-fry other ingredients.
Cook the garlic for no longer than 10 seconds and you want to constantly scoop and flip it with a spatula or wooden spoon so it doesn't get burnt.
How to create more variety
The beauty of this shrimp broccoli recipe is that you can easily create variety. Try adding sliced carrots, snow peas or sugar snap peas, or diced celery. Quickly hot water blanch these veggies and shock them in cold water to stop cooking. Please make sure that you drain the veggies before adding them to the stir-fry.
I use coconut aminos to replace soy sauce. Coconut aminos is naturally sweeter than soy sauce because it's made with coconut nectar so there's no need to add sugar to the stir-fry sauce. If you use regular soy sauce and want a sweeter flavor to balance the saltiness, try adding a few tablespoons of orange juice with 1-2 teaspoons of arrowroot starch to thicken the sauce.
Pairing Suggestions for Shrimp Broccoli
A bowl of steamed rice will be the perfect go-to's for Chinese shrimp and broccoli! To keep it low carb, try cauliflower fried rice or toss in shirataki noodles or zucchini noodles for a quick shrimp broccoli noodle stir-fry. I've served this dish numerous times with simple salad on the side, with Chinese tomato egg drop soup, Chinese pan-fried potstickers, Chinese garlic broccoli, Broccolini noodle salad, or Chinese mustard green stir-fry. The possibilities are endless.
More Easy Paleo Shrimp Recipes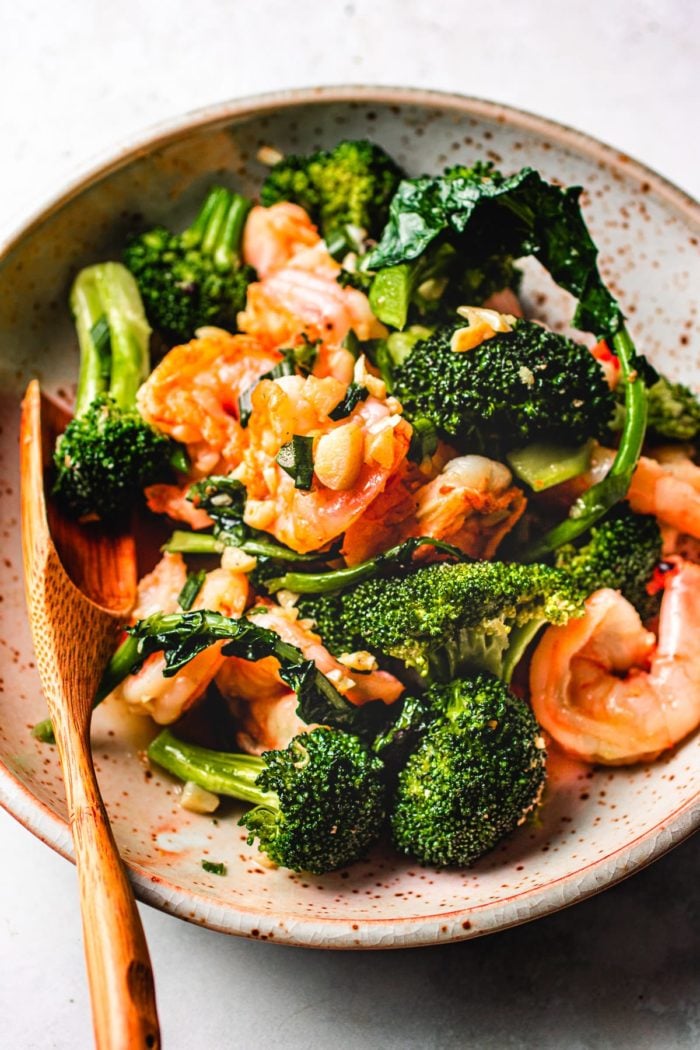 More Stir-Fry Recipes (Paleo, Low Carb)
If you love one-pan meal and stir-fries, my Shrimp with broccoli recipe is the one! With 6 ingredients only and comes together in 20 minutes with a delicious garlic ginger sauce, this is the perfect weeknight meal or for friends and families!
Please note that I do not count oil, salt, pepper, or stock as part of the ingredients because they are basic pantry essentials. The goal is to keep the list minimum and I hope to inspire you to make delicious meals at home.:)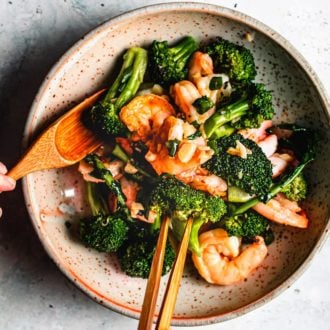 Shrimp and Broccoli in Ginger Garlic Sauce (Paleo, Whole30, Keto)
Easy shrimp and broccoli stir-fry with ginger garlic sauce. 6-ingredients & ready in 20 minutes. This is the best Chinese shrimp with broccoli recipe for busy weeknights!
Print
Pin
Rate
Ingredients
12-14 oz. broccoli florets
0.5 oz. garlic, minced about 3 cloves
1-2 bulbs green scallions, optional, chopped
0.75 – 1 lb. large shrimp, deveined with or without tail-on
3 tbsp avocado oil
3 pinches coarse sea salt
For the ginger garlic sauce:
Instructions
Place the broccoli florets in a large microwave safe bowl with 1 tbsp water. Cover the bowl and microwave on high for 1 minute. Toss the florets and microwave for 1 additional minute. Rinse in cold water and set aside to drain.

Chop the garlic but do not overly mince or it will get burnt easily in the wok. Chop the green scallion parts for garnish, if using.

Pat dry the shrimp with clean paper towels. Butterfly with a small paring knife. Make a slice on the top (the back) of a shrimp down the middle, cutting almost but not all the way through to expose the vein. The butterfly step is optional but will help the shrimp cook evenly and more beautiful looking in presentation.

Combine the ingredients in the ginger garlic sauce from coconut aminos to arrowroot starch. Stir-well.

Preheat a large skillet or wok over medium heat until it's too hot to place your palm near the surface, about 2-3 minutes away. Add 1.5 tbsp oil. Quickly place the shrimp one-by-one to the skillet and fry them in a single layer (try not to overlap them) over medium-high heat about 2-3 minutes first side. Do not flip or move around the shrimp. Then quickly flip them with a tong or chopsticks to fry the second side for about 1-2 minutes. Scoop them out along with pan juice and scrape off any brown bits into a bowl and set aside to keep warm.

Use the same skillet/work, add the rest of oil. Fry garlic with a pinch of salt over medium heat, about 5 seconds. Toss and scoop often so as not to burn the garlic. Add broccoli and season with 2 pinches of salt. Stir-fry and toss for 30 seconds over medium-high heat.

Stir the sauce one more time. Add the shrimp and sauce back to the wok, scoop and toss for another 30 seconds.

Off heat, garnish with green scallions, if using, and drizzle with more toasted sesame oil if desired. Serve warm or in room temperature.
Notes
You can also hot water blanch the broccoli florets for about 1 minute then shock in cold water to stop cooking and set aside to drain well.
For keto, skip the arrowroot starch or use xanthan gum. Start with 0.5 tsp first.
This dish tastes great even chilled the day after.
I use pre-cup broccoli florets. If using a whole crown broccoli, make a cut as close to the florets as possible and try to cut the florets in similar size so they cook evenly. 
If use frozen shrimp, please defrost first. The shrimp should be pat dry as instructed in the recipe steps. 
Nutrition
Serving: 1serving, Calories: 347kcal, Carbohydrates: 9g, Protein: 43g, Fat: 15g, Saturated Fat: 2g, Polyunsaturated Fat: 1g, Monounsaturated Fat: 1g, Trans Fat: 1g, Cholesterol: 500mg, Sodium: 1933mg, Potassium: 454mg, Fiber: 2g, Sugar: 2g, Vitamin A: 530IU, Vitamin C: 85mg, Calcium: 334mg, Iron: 5mg
Made a dish and love it? Please remember to rate the recipe and leave a comment in the comment section below! It helps my blog grow organically so I can continue sharing free and awesome content with you. Thank you!