No Cook Summer Chicken Salad
 No Cook Summer Chicken Salad
You know those lazy summer days when you just don't want to turn on the stove and spend time in the kitchen.
What do you do when your stomach is hungry and that husband of yours is looking at you with a big pair of innocent eyes that subtly say – what do we eat honey?
Although I grew up in the southern part of Taiwan – Yes, I'm a girl from the south! –  my grandparents came from mainland China.
There's a subtle yet distinct difference between Chinese and Taiwanese cooking, and I guess given my background, my family inherited cuisines from both sides of the world.
You might be wondering – What does this have to do with this dish?  Well, it turns out my solution – the recipe – has a lot to do with my ancestry.
This salad is widely known in Taiwan and China. I won't bother you with the distinctions between Taiwanese and Chinese cooking today since we are all hungry and looking for a quick fix.  So how did I solve the stomach issue without calling Seamless?
Read on and follow the steps below. This recipe might just well be your No. 1 chicken salad that you simply can't miss this summer.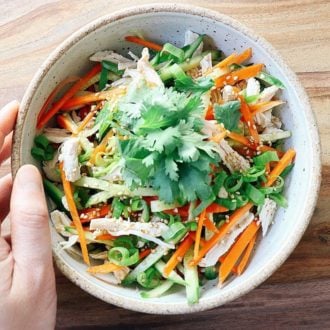 No Cook Summer Chicken Salad
You can also use a store bought rotisserie chicken seasoned with salt and pepper only!
Print
Pin
Rate
Ingredients
1 ½ lbs poached chicken breasts, skinless or use store bought simple/herb flavor rotisserie chicken
1 cup shredded carrots
1 cup thin sliced seedless cucumbers
1 scallion, chopped
½ cup fresh cilantro
Chicken seasoning (after poached):
3/4 tbsp sea salt
1 tbsp sesame oil
½ tsp white pepper
Sprinkle with sesame seeds
½ tsp chili powder, optional
Instructions
Water boiled the chicken breasts until cooked through. Once it's cooled, shred them to long pieces and combine with the "chicken seasoning". Store in the fridge for at least 30 minutes. If you purchase a store bought simple rotisserie chicken, you can skip this step.

Toss shredded chicken, cilantro, scallion, sliced cucumbers and carrots with ingredients listed under "Salad dressing".

Give it a gentle toss. Serve and Enjoy!