Vietnamese Lemongrass Pork
Vietnamese Lemongrass Pork, BBQ grilled to juicy sweet & delicious. This Paleo, Whole30, and Keto Vietnamese Grilled Pork recipe tastes just like your favorite Vietnamese restaurant style !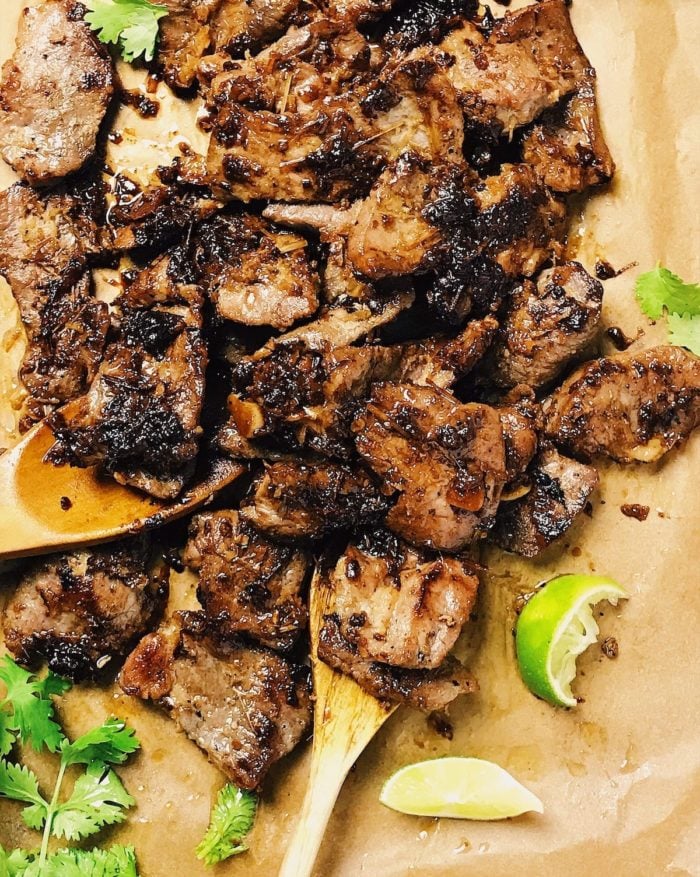 Oohoo ! Holiday is right around the corner guys! Besides that I'm suffering from a cold that I still think I got from my colleague at work – speaking of the importance of not coming to work sick – everything else is going well.
As long as I can keep myself from falling asleep as a result of the virus I'm battling, I'm pretty much enjoying the staycation with my man and two pups this week. 🙂
I spent much of my stay-home vacation browsing through camera lenses for food photography and new recipes because I love what I do and you guys so much that I really want to make my blog even better for you all !
My previous post about Korean kalbi seems to have gotten a lot of likes from my readers. :)) Today, I'd like to share another great grilling recipe that will set your grilling game apart from everyone else's.
Want to make yourself look good in front of the crowds without breaking the bank, and feed an army of people in the process?
This new recipe will deliver restaurant quality Vietnamese lemongrass grilled pork/pork chops.
You can eat it straight, with salad, with your favorite pickles, or with rice, noodles, even bread (if you aren't strictly paleo) or make a sandwich out of it !
Don't like pork? The same marinade will work uber well for chicken too !
What are you waiting for ?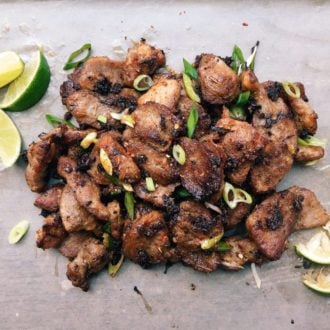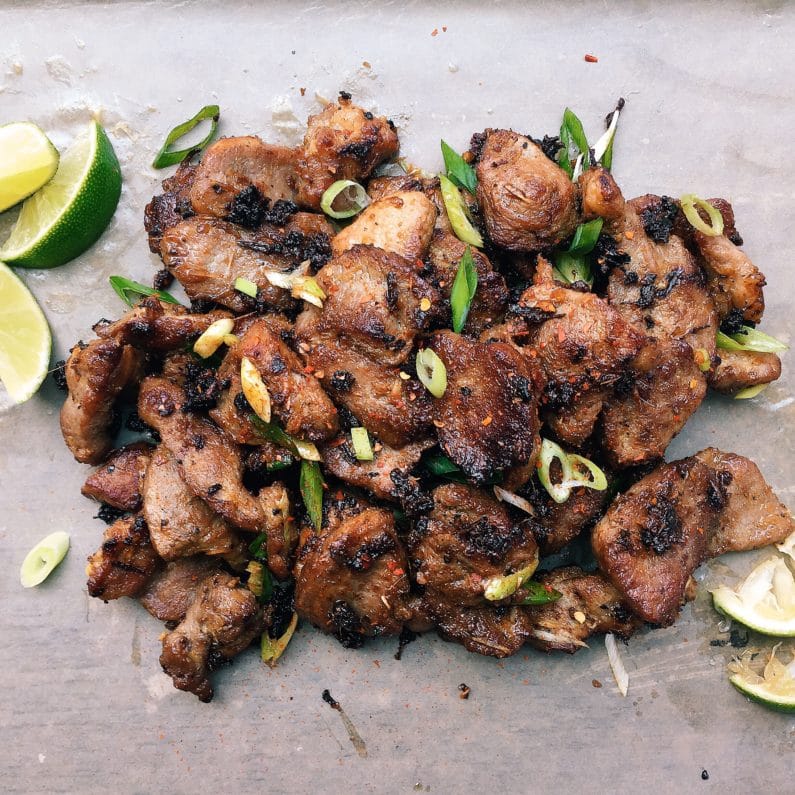 Vietnamese Lemongrass Pork
Vietnamese Lemongrass Pork, grilled BBQ to juicy sweet & delicious. Paleo Whole30 Keto Vietnamese Grilled Pork just like your favorite restaurant style !
Print
Pin
Rate
Ingredients
2 lbs pork shoulder, , boneless
Lime wedges, as much as you like, serving use
Vietnamese Lemongrass Pork Marinate:
6 large cloves garlic
2 large shallots
2 stalks lemongrass, (alt. 1 ½ grated ginger + 2 tbsp fresh lemon zest +1 tbsp fresh lime zest)
2 tbsp coconut aminos
¼ cup Red Boat fish sauce
3 tbsp pineapple juice, (alt. orange juice)
3 tbsp olive oil
1/4 tsp ground black pepper
1/2 tsp coarse salt
Instructions
Preparations:
Slice the pork to 1/2-inch thick & 3-4 inch wide for outdoor grill. For indoor stovetop, slice the pork to 1/4-inch thick.

Blend the ingredients under "Pork Marinade" (garlic, shallots, lemongrass, coconut aminos, fish sauce, olive oil, and black pepper) in a small 4-cup work bowl until a fine texture. Pour the marinade over sliced pork and let it sit overnight (or up to 24 hrs.) in the fridge.

Day of grilling:
Preheat a grill over medium-high heat. Slightly drip off the marinade and grill about 3-4 minutes per side or until the pork is cooked through and slightly charred on the surface. For 1/4-inch thick slices, grill about 6-8 minutes per side.

Serve with fresh lime wedges and enjoy while they are sizzling hot !
Notes
If not on whole30, try brushing the pork slices with 3 tsp raw honey mixed with 1 tsp water while grilling the pork to add extra sweetness flavor to the grill.    If cook indoor over a stovetop, pan sear the pork slices in separate batches. Try not to over crowd the skillet
Nutrition
Serving: 9.3g, Calories: 217kcal, Carbohydrates: 4g, Protein: 18g, Fat: 13g, Saturated Fat: 3g, Cholesterol: 61mg, Sodium: 450mg, Potassium: 388mg, Sugar: 2g, Vitamin C: 1.8mg, Calcium: 22mg, Iron: 1.7mg