Frozen Corn on the Cob Air Fryer
This frozen corn on the cob air fryer recipe is the perfect summer side made EASY! This no-prep dish is ready in just minutes and delivers perfectly roasted, sweet corn on the cob every time—crispy on the outside with tender and juicy kernels you can't get enough of.
This simple side is the ultimate combination of healthy and buttery deliciousness. This recipe cooks corn from frozen, but if you're looking for a cook-from-fresh alternative, check out my corn ribs air fryer recipe!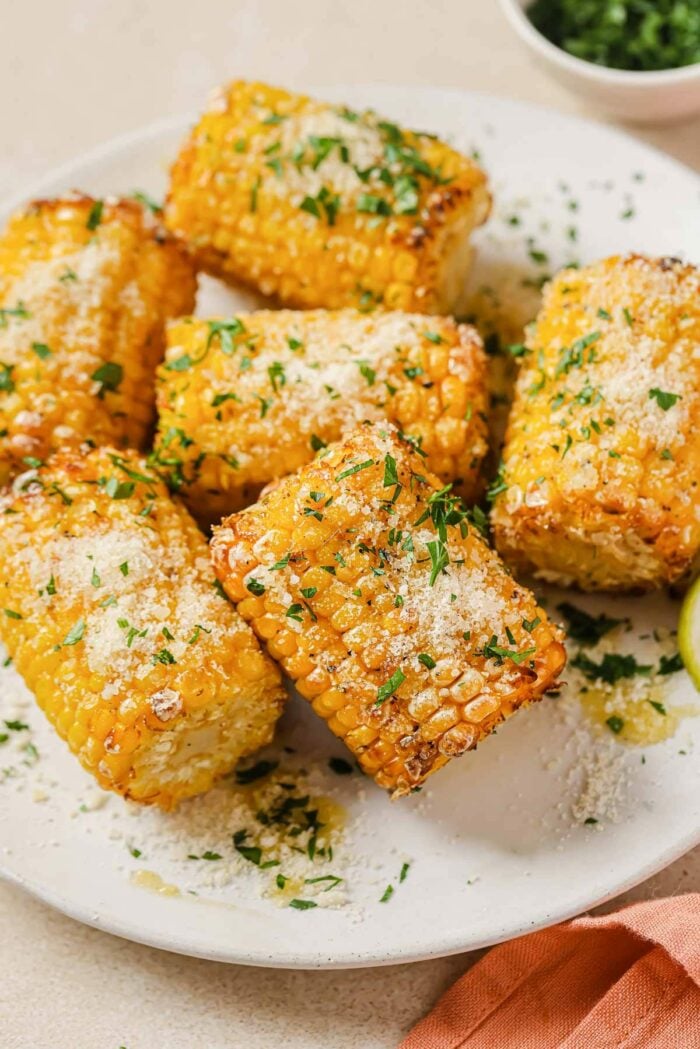 Why this will be your go-to recipe
Whether you're gearing up for a summer BBQ or just want an easy and delicious healthy side dish for dinner, this air fryer frozen corn on the cob recipe is simply the best!
Super simple: I'm talking zero prep, very few ingredients, minimal cleanup, and ready in under 15 minutes. Voila!
Healthy and affordable: the freezing process seals in maximum nutrients AND they are less expensive than buying fresh produce!
Summertime favorite: There may not be a more classic summertime dish than corn on the cob. Since we're cooking corn from frozen, now you can enjoy it all year round!
Why use frozen corn on the cob?
While you can certainly use fresh corn, cooking frozen corn in air fryer has some great advantages:
Convenience: It's already pre-cooked, making it quick and easy to prepare in the air fryer. Plus, they're already cleaned, and no husks or silk to deal with.
Affordable: Frozen vegetables are less expensive than fresh, plus they're available year-round.
Great texture: Crisp up the outside while keeping the inside tender and juicy. Get the perfect grilled corn in the air fryer without having to light up the grill!
Ingredients
Another great plus of this air fry corn is how few ingredients you need! It's also so easy to switch up the flavors, so be sure to check out the substitutions and variations for ideas.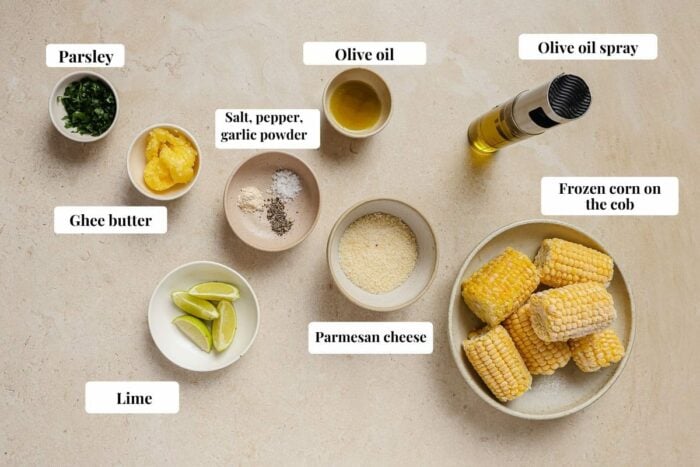 Corn: Frozen corn cobs (I use half-sized cobs), olive oil spray for the air fryer basket
Seasonings: Ghee or butter, olive oil, course sea salt, garlic powder, ground black pepper
Garnish: Sprinkle of parmesan cheese, chopped parsley, half lime wedges
Ingredient substitutions
Butter: If you aren't eating dairy, you can use a vegan substitute, add some olive oil, or simply omit it.
Lime: Lemon will give you the same brightness as lime with a subtly different flavor.
Fresh herbs: Cilantro, dill, chives, or mint would also work, depending on your flavor profile.
Parmesan: For another non-dairy swap, try my Paleo parmesan cheese, made from cashew and nutritional yeast.
How to make the dish
Cooking air fryer corn on the cob from frozen couldn't be any easier! Here's how to air fry corn on the cob from frozen in 4 easy steps: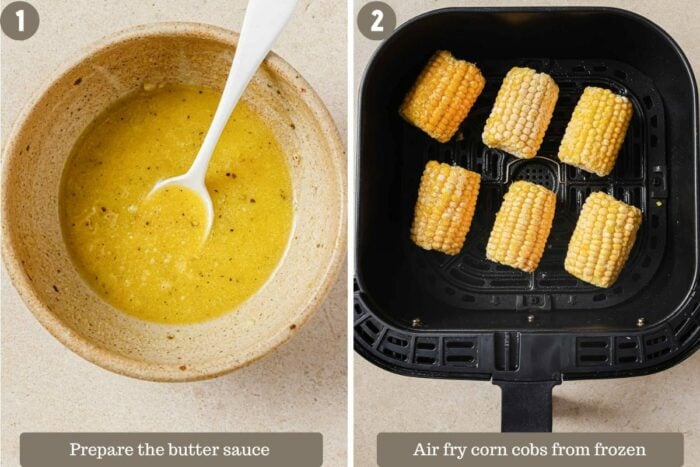 While preheating the air fryer, combine all seasoning ingredients in a bowl.
Place corn in the lightly-sprayed basket and air fry frozen corn for 10 minutes to defrost.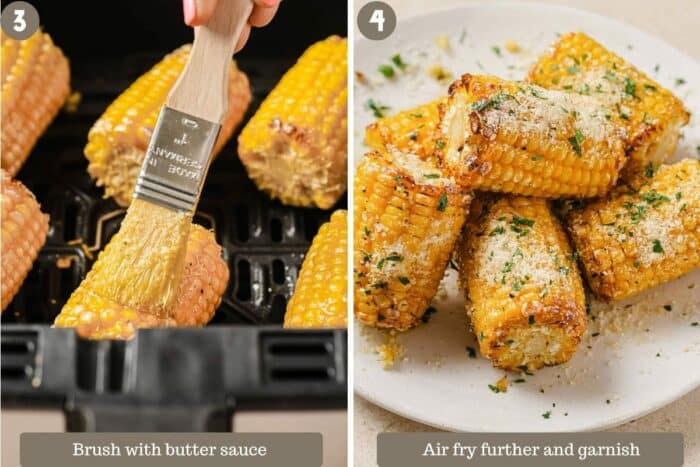 Brush on some of the butter sauce and cook for 3 more mins.
Carefully transfer to a serving plate and add the rest of the sauce and garnishes.
Recipe Notes:
Cook time: I use an Instant Pot Vortex for this air fryer corn on the cob. If you're using a Cosori or Ninja air fryer, you may have to adjust your cooking time and temperature slightly.
Tin foil: You can wrap the corn with seasonings in foil to better coat the corn in the melted butter. The texture will be closer to steamed corn than crispy grilled.
Tips for crispy and tender corn on the cob in the air fryer
Don't thaw first: Not only is it more convenient, but frozen corn on the cob in the air fryer will yield a better texture.
Don't overcrowd: This will keep the corn from steaming and give you those crispy edges.
Flip halfway through: Get perfectly roasted corn on all sides.
Variations
Roasted corn in air fryer is so versatile, you can easily adjust the recipe to fit your palate and your meal. Here are just a few delicious variations to try:
Mexican: For a healthy take on Mexican street corn (elote), top the corn with mayo or sour cream, chili powder, feta cheese, lime juice, and fresh cilantro.
Chili lime chipotle: For something smokey and sweet with a little heat, add a bit of chili and chipotle powder to the spice mix. Garnish with lime juice and cilantro.
Indian Masala: For a classic Indian street food variation, add some black salt, chili powder, and chat masala to your seasonings. Garnish with lime juice and cilantro.
Common FAQ
Can you cook frozen ears of corn in an air fryer?
Absolutely! It's super convenient, and you don't even have to thaw them first. I find the texture is actually better when cooking from frozen.
How do you know when frozen corn is done?
I like my corn to be a little crispy on the outside, so a good rule is to wait until the edges start to brown a bit.
How long does it take to cook frozen corn on the cob?
Cook time may vary with different models and the size of your cobs, but this recipe calls for 13 minutes of total cook time.
Storage and make-ahead
If you have any left, leftover corn can be stored in an airtight container in the refrigerator for up to 4 days. Once cooked, air fried corn on the cob leftovers don't freeze well. They become soggy when thawed.
Reheat corn on the cob in the air fryer, oven, or microwave until heated through. Add fresh garnish after it's heated to freshen things up.
Umami Tips
Cook time: I use an Instant Pot Vortex for this recipe, so if you're using another model, the cooking time may vary.
Tin foil: If you prefer tender, steamed corn to crispy, you can wrap the cobs with the seasoning in aluminum foil. Place some beneath the basket too for easy cleanup!
Mini cobs: Use mini/half cobs or cut full cobs in half to better fit into your air fryer. (Plus, they're adorable!)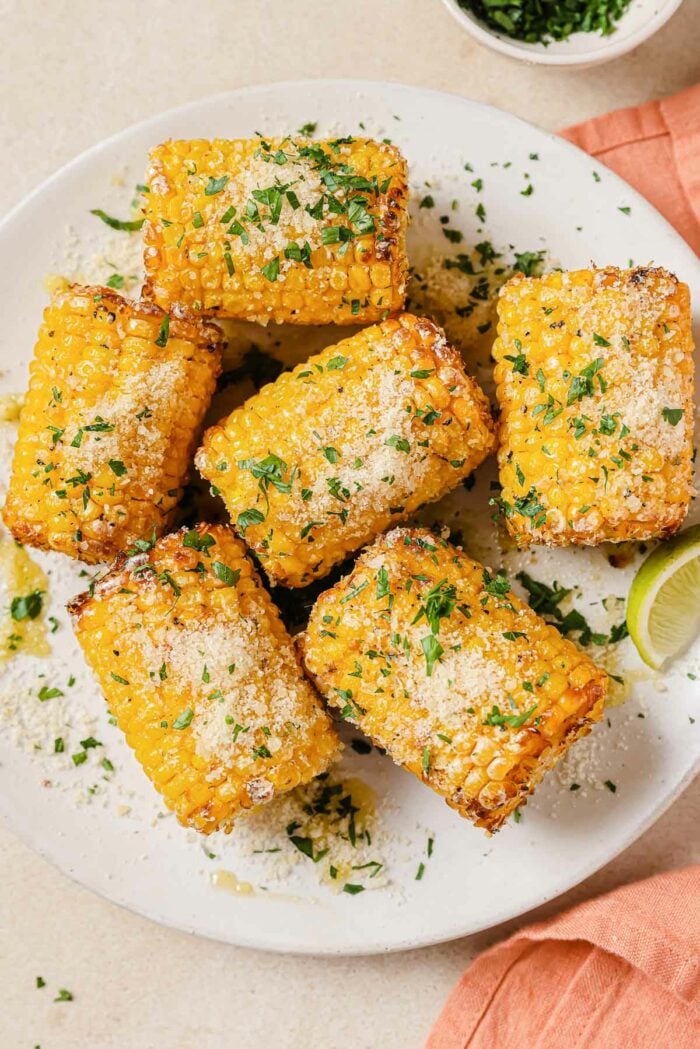 Frozen corn on the cob air fryer recipe
Making frozen corn on the cob in an air fryer has never been easier! Cook the corn cobs from frozen, brush with butter sauce, and watch them turn juicy, sweet, and delicious!
Print
Pin
Rate
Ingredients
6 small ears frozen corn on the cobs
Olive oil spray
Sauce:
2 tbsp ghee butter at room temperature
1 tbsp olive oil
½ tsp coarse sea salt
½ tsp garlic powder
¼ tsp ground black pepper
Garnish:
Sprinkle Parmesan cheese
Sprinkle Chopped parslley
Half lime wedges
Instructions
Preheat the air fryer to 360F. In the meantime, combine the sauce ingredients from butter to black pepper in a bowl and stir well.

Lightly spray the air fryer basket with oil and place the frozen corn cobs into the air fryer basket in a single layer. Air fryer for 10 minutes. This stage is to defrost.

Open the basket and brush the sauce on all sides of the corn cobs, using a pastry brush. You'll have extra sauce left. Reserve it for later.

Send the basket back to the air fryer and air fry at 400F for 3 minutes.

Carefully transfer the corn cobs to a serving plate as they will be hot. Brush with more sauce. Sprinkle parmesan cheese over the cobs and garnish with the parsley on top. Serve with lime wedges on the side. Serve warm.
Notes
If using fresh corn cobs, 380F for 12 to 15 minutes. Brush the corn with the butter sauce before adding them to the air fryer basket.
For dairy-free, use my Paleo parmesan cheese (it's made from cashew for dairy-free people)
Use regular unsalted butter as opposed to ghee butter
Use olive oil as opposed to butter for a lighter taste.
Little spicy: add a few drops of sriracha for serving.
Nutrition
Serving: 1small ear, Calories: 115kcal, Carbohydrates: 9g, Protein: 2g, Fat: 7g, Saturated Fat: 3g, Polyunsaturated Fat: 1g, Monounsaturated Fat: 3g, Trans Fat: 0.2g, Cholesterol: 10mg, Sodium: 225mg, Potassium: 8mg, Fiber: 2g, Sugar: 3g, Vitamin A: 119IU, Vitamin C: 0.1mg, Calcium: 2mg, Iron: 0.04mg
Made a dish and love it? Please remember to rate the recipe and leave a comment in the comment section below! It helps my blog grow organically so I can continue sharing free and awesome content with you. Thank you!