Air fryer frozen cauliflower
Air fryer frozen cauliflower is your new go-to side dish! There's 0 prep time, so it's fast and easy to make, especially when fresh ones aren't available. Seasoned in everyday seasonings, each cauliflower bite is perfectly tender on the inside, with a hint of garlic flavor.
You can also cook them with frozen broccoli in air fryer, as they use similar cooking methods. Alternatively, my paleo cauliflower recipe has all the low-down on cooking fresh cauliflower.
Why you'll love this side dish
Frozen cauliflower in air fryer is the best because you don't have to defrost the florets beforehand! They are also low in calories and high in fiber. Here's why you should make them:
0 prep time! You can cook the florets directly from frozen.
Delicious and healthy: This flavorful side dish is low carb, gluten-free, and keto-friendly!
Economical and convenient: Making air fryer cauliflower from frozen is a lot cheaper and prepped in advance, these frozen vegetables will save you time and money!
Ingredients
Making frozen cauliflower in an air fryer has never been easier. This air fryer cauliflower recipe comes together quickly using everyday ingredients: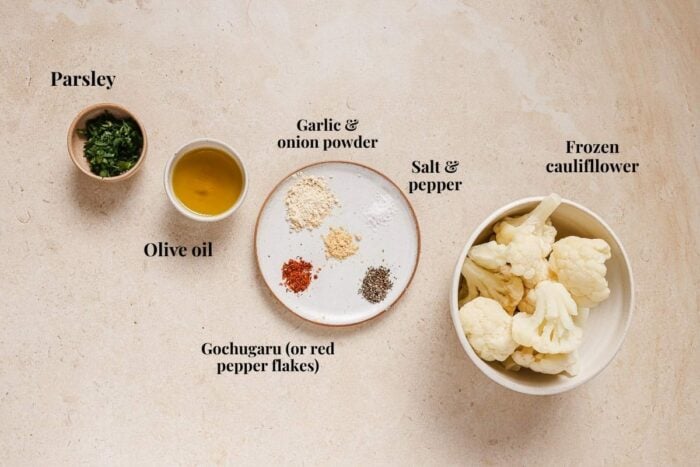 Main ingredients: Frozen cauliflower florets, olive oil
Seasonings: Coarse sea salt, ground black pepper, garlic powder, onion granules, Gochugaru flakes (optional)
Garnish: Parsley
Ingredient substitutions
Use red pepper flakes instead of gochugaru, if you can't find them.
Select a different oil like avocado oil spray to cook the frozen fried cauliflower.
Change up the spices and try out different flavors, such as smoked paprika, sweet paprika, curry powder, or cajun seasonings.
Frozen Cauliflower rice is something I've yet to try but I will share my findings with you when I do.
How to air fry cauliflower from frozen
Here's how to cook frozen cauliflower in an air fryer. Simply follow these easy instructions.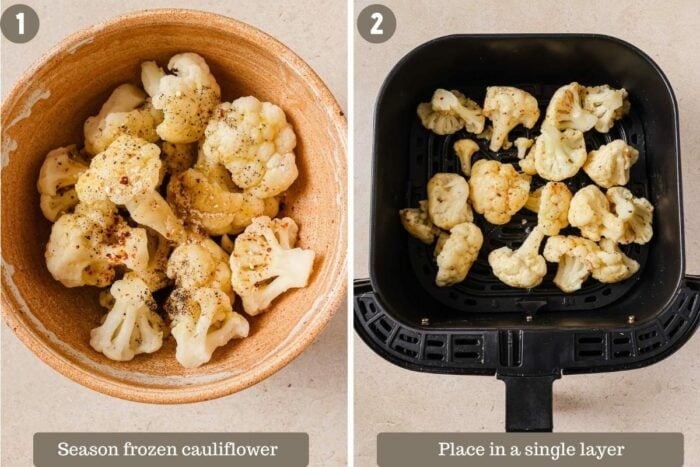 Preheat your air fryer according to its default settings. Combine the main ingredients and seasonings in a large bowl.
Place the frozen cauliflower in a single layer across the basket. Make sure to not overcrowd it.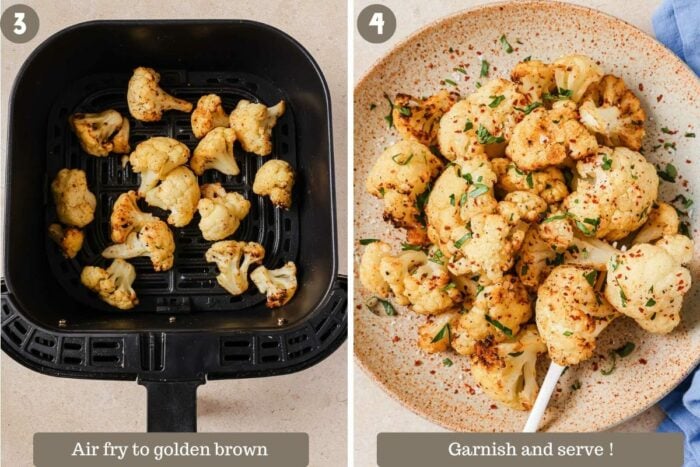 Air fry them for 8 minutes at 400°F (204°C). Shake the basket and cook for another 6 minutes cook time until they are golden brown.
Serve warm on a plate or bowl, and sprinkle some salt and gochugaru. Garnish with fresh parsley.
Expert tips
Preheat the air fryer by following the defrost settings of your air fryer, as all air fryers are programmed differently.
Cook frozen cauliflower straight from the fridge into the air fryer — no need to defrost them.
It's ok to have a little overlap, as long as you don't overcrowd the air fryer basket.
Shake the basket or flip the florets halfway through to make sure they crisp evenly.
Variations
If you prefer an extra crispy variation, you can make frozen breaded cauliflower by coating the frozen florets with starch or flour of your choice.
Change up the seasonings to suit your tastes! For example, toss frozen cauliflower wings in buffalo sauce (hot sauce and nutritional yeast), to make finger-licking air fryer buffalo cauliflower from frozen.
Top it off with a tablespoon of grated parmesan cheese for a savory finish.
Make it a tad spicy and dip them in highly flavored garnishes, like the versatile, sweet and sour Thai chili sauce, or the smoky sweet, Chinese-flavored garlic chili sauce.
Serve it alongside shacha sauce for an umami-forward variation of air fry frozen cauliflower.
Serving suggestions
Air fryer frozen cauliflower can be enjoyed as a quick and easy vegan side dish. However, you can also make a whole meal by serving it with frozen salmon in air fryer, which takes less than 20 minutes to cook! Pair them with creamy bacon aioli for a perfect lunch or dinner combo.
Common FAQ
Can you air fry frozen cauliflower
Yes! Air fry them at 400°F (204°C) for 8 minutes.
How to air fry bird's eye crispy cauliflower florets?
You can make these tasty florets by air frying frozen cauliflower from whichever brand you choose to buy.
Should I thaw frozen cauliflower before cooking?
No. You can cook them immediately from frozen.
Can I roast the frozen cauliflower florets in the oven?
Yes. Roast them at 450°F for 15 minutes on the first side and another 5-10 minutes once they're flipped.
Storage and reheat
Frozen cauliflower bites can be stored for up to 3 days in the fridge when kept in an airtight container. The leftovers can be eaten cold, but you can also reheat them at 350°F (176°C) for 5 minutes in an air fryer.
Related recipes
If you find frozen cauliflower recipes fun to make, you can also give these vegetable air fryer recipes a try. Frozen brussel sprouts air fryer requires 0 prep, and it's ready in no time at all. I also have an upcoming air fryer frozen corn on the cob recipe, so keep an eye out!
Another veggies side dish you can easily attempt is the sauteed cauliflower and mushroom recipe. It's quick and savory, perfect for weeknight meals.
Umami Tips
Cook the air-fried cauliflowers directly from frozen — no defrosting is required!
Make sure the air fryer basket isn't overcrowded when cooking frozen cauliflower.
Season the frozen florets first before adding them to the air fryer basket.
Shake or flip the florets halfway through cooking to ensure they are evenly cooked.
Air fryer frozen cauliflower recipe
Air fryer frozen cauliflower is super simple and easy! Crispy cauliflower florets with a handful of seasonings, ready in 15 minutes!
Print
Pin
Rate
Ingredients
1 lb Frozen cauliflower florets
2 tbsp olive oil
¼ tsp coarse sea salt, plus more to taste
¼ tsp ground black pepper
½ tsp garlic powder
¼ tsp onion granules
¼ tsp Gochugaru, Korean red pepper flakes, optional
Garnish chopped fresh parsley
Instructions
Preheat the air fryer following your air fryer's default setting.

In a large mixing bowl, add the ingredients from the cauliflower to gochugaru. Toss and combine well.

Pour the florets into the basket and spread them out in a single layer. Some overlaps are okay but you should try to keep them in one layer and not on top of one another.

Air fryer at 400°F (204°C) for 8 minutes, shake the basket, and cook for 6 more minutes or until the florets are a little crisp outside with some golden color brown bits.

To serve, transfer them to a serving plate or bowl and season with a touch of salt and gochugaru. Garnish with finely chopped parsley. Serve warm or at room temperature.
Notes
Do not defrost the cauliflower florets. Air fry them from frozen. 🙂
To bake in the oven: Roast at 450°F for 15 minutes on the first side and another 5-10 minutes once they're flipped.
Nutrition
Serving: 1serving, Calories: 123kcal, Carbohydrates: 8g, Protein: 3g, Fat: 10g, Saturated Fat: 1g, Polyunsaturated Fat: 1g, Monounsaturated Fat: 7g, Sodium: 243mg, Potassium: 465mg, Fiber: 3g, Sugar: 3g, Vitamin A: 50IU, Vitamin C: 73mg, Calcium: 36mg, Iron: 1mg