Baked Asparagus Coconut Cream Frittata
I was at the farmer's market in Park Slope, Brooklyn this weekend and couldn't leave without these beautiful spring asparagus!
Since Nate and I started following the paleo diet, breakfast has been a challenge.  I've decided to look further into solutions.
You'll see that I will incorporate more of my paleo breakfast findings in this blog and I hope you will share your great tips and recipes with me in the comments below.
Cheers, everyone!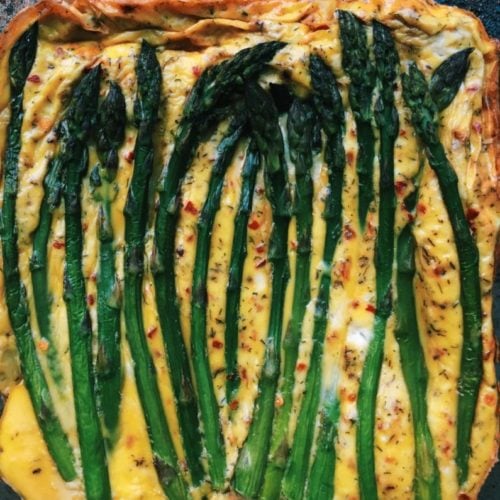 Baked Asparagus Coconut Cream Frittata
Print
Pin
Rate
Ingredients
6 large eggs
1/3 cup canned coconut cream milk, I use a brand called Chaokoh
1 tbsp dill weed
big pinch of kosher salt
handful of thin asparagus
ground black pepper
Instructions
Steam the asparagus until tender (about 6 minutes).

Cool the steamed asparagus in ice water to keep texture and color

Preheat oven to 410 degrees Fahrenheit. Line a 8-inch square baking pan with parchment paper and lightly spray with coconut oil or EVOO.

Scramble the eggs with coconut cream milk, dill weed, kosher salt, and black pepper.

Pour the egg mixture into the prepared baking pan and carefully place into the oven.

After 10 minutes, remove the egg dish from the oven and place the asparagus one by one.

Return to the oven for another 15 minutes.

Let the frittata rest for a few minutes and use both hands to lift the frittata out and onto a flat surface.