Frozen asparagus in air fryer
If you're looking for an easy, no prep, and healthy side dish, frozen asparagus in air fryer is perfect to serve with your favorite mains. It's buttery, garlicky, and ready in 6 minutes! The best part is you can cook them straight from the freezer!
For fellow asparagus lovers, check out this umami-rich sauteed asparagus with miso butter using fresh asparagus if you want something different but equally tasty.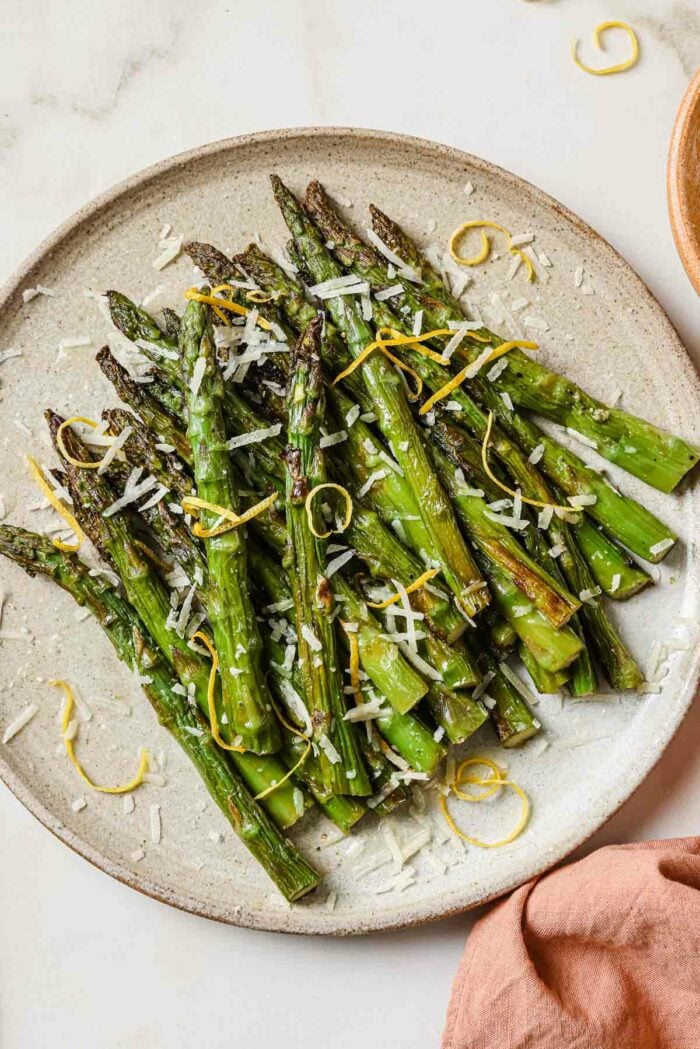 Why you'll love this side dish
You'll love these frozen asparagus spears once you've tried them for the first time, and I'll tell you why:
Easy no prep: You'd save so much time as this recipe requires zero washing and chopping.
Great flavor: Its rich buttery and garlicky flavor is so yummy, paired with a zest of lemon that freshens up the dish.
Healthy side dish: Besides being low carb, it's also gluten-free and keto-friendly, so they are perfect all year round.
Ingredients
You can immediately make air fryer frozen asparagus once you've assembled these ingredients:
Main ingredients: Ghee butter or melted butter, coarse salt, ground black pepper, garlic powder, frozen asparagus spears
To serve: Lemon juice and zest, parmesan cheese
Tools:
I use an Instant Pot Vortex Plus 6-quart air fryer, but this recipe also works for Cosori air fryer or Ninja Foodi.
Ingredient substitutions
You can also use melted butter or room-temperature butter instead of ghee if you prefer.
To keep this dish vegan-friendly, swap butter with olive oil and sprinkle some paleo parmesan cheese on top.
If you're using fresh asparagus, simply air fry them at 400°F for 7-8 minutes.
For this recipe, you can use grated or finely minced garlic to replace garlic powder.
How to make the dish
Here's how to cook frozen asparagus until they're perfectly tender:
Preheat your air fryer to 380°F (193°C). Gently mix ghee butter and dry ingredients to make the sauce.
Using a pastry brush, cover the frozen asparagus in the sauce.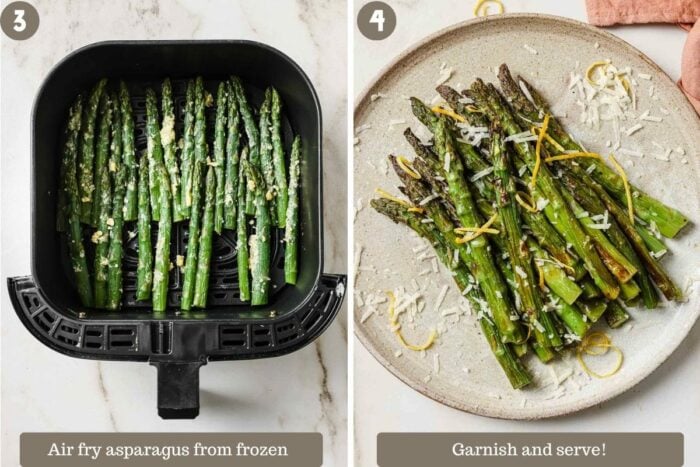 Place the spears in a single layer in the air fryer basket. Cook them for 6 minutes.
Transfer and plate up warm asparagus on a serving plate. Top it off with a squeeze of lemon juice. Garnish with lemon zest and grated parmesan cheese.
Why use frozen asparagus?
You don't have to prep or trim them.
It reduces the cooking time as frozen spears are already parboiled.
Flash freeze fresh ones at their peak season so you can enjoy them all year round.
Variations
The best way to cook frozen asparagus is by using the air fryer, but here are different ways to make and enjoy this crunchy veggie:
Oven method: Cook them at 425°F for 15 minutes.
Fresh asparagus: If they're fresh, air fry them at 400°F for about 7-8 minutes.
Flavor: Sprinkle some red pepper flakes to make it a little spicy or drizzle some aged balsamic vinegar over the dish for a sweet tangy flavor.
Serving suggestions
As a side dish, you can enjoy air fry frozen asparagus with a dip, or served with your favorite main dishes. Dip these crunchy spears in creamy bacon aioli for a quick and yummy afternoon snack.
If you want a simple low-carb meal, this side dish pairs perfectly with bok choy soup that's oh-so flavorful. Prefer a saucy meal? A plate of sweet and savory keto lo mein would do the trick.
You can make an appetizing frozen salmon in air fryer for a meal ready in under 20 minutes! For a total crowd-pleaser, this crispy air fryer teriyaki chicken will get everyone asking for seconds.
Common FAQ
How to cook frozen asparagus in an air fryer?
Season the frozen asparagus with your favorite seasonings, a little bit of oil or spices before cooking them in a single layer in the air fryer basket.
Should frozen asparagus be thawed before cooking?
No, they can be cooked directly from frozen.
How do you know when asparagus is finished cooking?
The asparagus spears are tender and slightly crispy when you take a bite.
How do you freeze asparagus to keep it crisp?
To freeze fresh asparagus, you'll need to trim and blanch the asparagus first before freezing them. This helpful article shares a step-by-step guide to do this.
Storage and reheat
Once cooked, you can keep any leftovers in an airtight container in the fridge, where it's good for up to 3 days. No oil is needed when reheating them. Simply air fry at 380°F for 3 minutes or pan grill for a few minutes on each side.
Umami Tips
Cook the frozen asparagus spears directly from the frozen. No need to thaw or trim them beforehand.
Cook the spears in a single layer in the air fryer basket.
As soon as the asparagus spears are tender, remove them from the air fryer to avoid overcooking them.
Toss them with your favorite seasonings to suit your taste buds.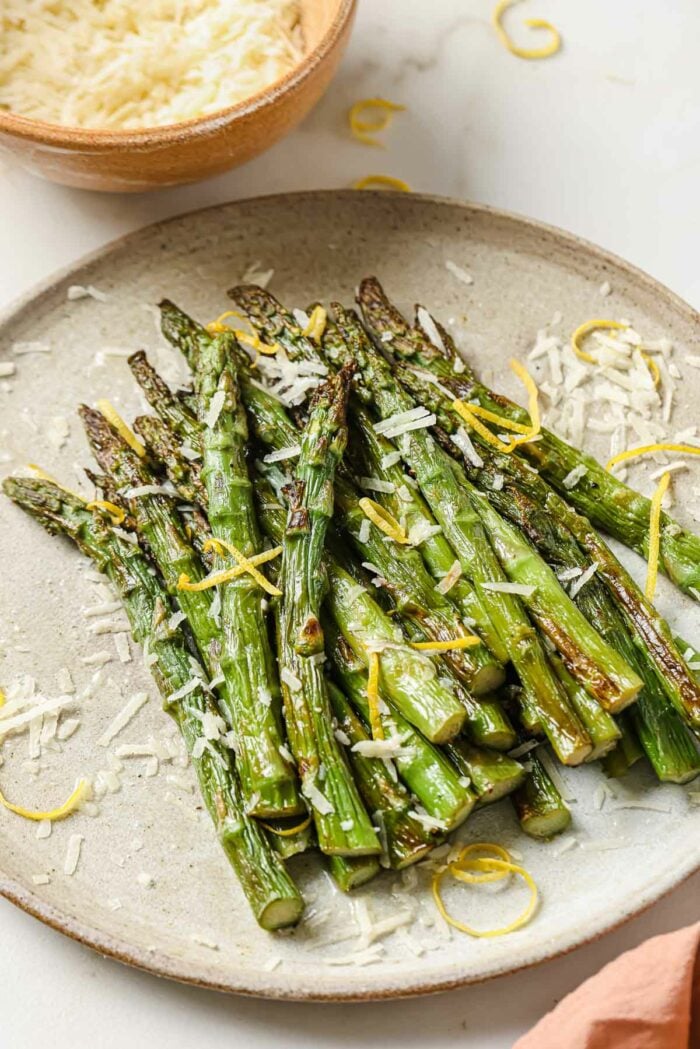 Frozen asparagus in air fryer recipe
Learn how to cook frozen asparagus in air fryer easy and fast! Air fryer frozen asparagus is an easy side dish to enjoy all year round. Brush the spears with my butter sauce for extra yum!
Print
Pin
Rate
Ingredients
2 tbsp ghee butter, room temperature or melted
¼ tsp coarse salt
⅛ tsp ground black pepper
¼ tsp garlic powder
12 oz. Frozen asparagus spears
For serving:
Lemon juice and zest, to taste
Parmesan cheese, to taste
Instructions
Preheat the air fryer to 380°F (193°C).

Combine the sauce from ghee butter to garlic powder in a small bowl. Stir-well.

On a large plate, brush the frozen asparagus, using a pastry brush, with the sauce on all sides.

Add the asparagus to the air fryer basket. Arrange them in a single layer. Air fry for 6 minutes.

Remove the basket and transfer the spears onto a serving plate. Sprinkle lemon juice and zest. Garnish with parmesan cheese. Serve warm or at room temperature.
Notes
If you prefer asparagus with a more roasted brown color, add 2 extra minutes to the cooking time.
The texture of the frozen asparagus cooked in an air fryer will be softer and tender compared to cooking fresh.
The flavor of this dish is really excellent as the butter adds good fat and rich flavor to the lean asparagus.
Ingredient substitutions:

While butter works really well with asparagus, you can also use olive oil for a lighter taste.
If using fresh asparagus, air fryer at 400°F (204°C) for 7 minutes.
Nutrition
Serving: 1serving, Calories: 83kcal, Carbohydrates: 3g, Protein: 2g, Fat: 8g, Saturated Fat: 5g, Polyunsaturated Fat: 0.3g, Monounsaturated Fat: 2g, Cholesterol: 19mg, Sodium: 147mg, Potassium: 175mg, Fiber: 2g, Sugar: 2g, Vitamin A: 643IU, Vitamin C: 5mg, Calcium: 21mg, Iron: 2mg
Made a dish and love it? Please remember to rate the recipe and leave a comment in the comment section below! It helps my blog grow organically so I can continue sharing free and awesome content with you. Thank you!