Paleo Matcha and Pine Nut Cookies
Team Matcha or Team Pine nuts?
If you don't like cookies, I don't think we can be friends.
My reader and good friend, Vikki, requested this cookie recipe for her lovely daughter, who happens to love Chinese cookies very much.
I think I've had my fair share of cookie-eating experience in Asia but somehow it never occurred to me that the cookies I'd been enjoying back home are called Chinese cookies. 🙂
So what exactly are Chinese cookies?
In my opinion, pine nuts seem to be a popular ingredient and I am happy to discover that they are not only paleo friendly but also a good source of manganese, copper and magnesium.
I was so happy that these cookies took me only 30 minutes to make (including baking) and they are moist inside and slightly crunchy outside. Hmmm….. worth the time and absolutely delicious !!
Should we start?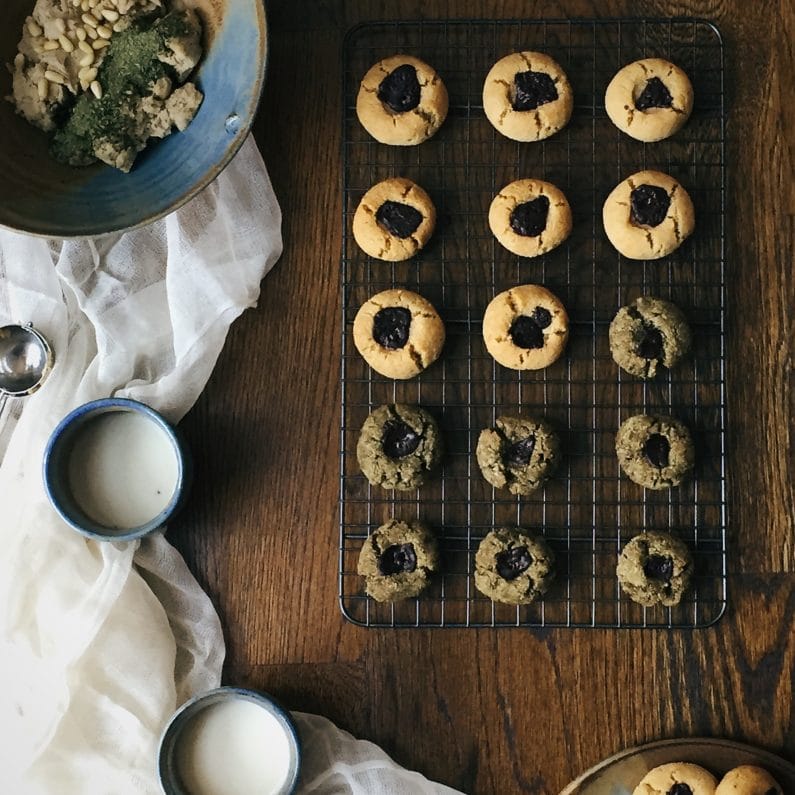 Paleo Matcha and Pine Nut Cookies
Print
Pin
Rate
Instructions
Preheat oven to 320 F.

Mix all ingredients well until the dough comes together.

Form 1 tbsp-sized balls and place onto a lined baking sheet, then gently press the center of the balls with your thumb.

Add a tiny piece of unsweetened dark chocolate in the center.

Bake for 10 minutes in the oven then reduce the heat to 300F and bake for an additional 8 minutes.

Let cool and enjoy with your favorite tea, or iced almond or coconut milk !!


*Tip: For some reason, my pine nut dough is more moist than the matcha one. If your matcha dough is too dry, adding a bit more coconut oil will help.