Air fryer teriyaki chicken
This air fryer teriyaki chicken is THE recipe you'd want to have at hand. It's an easy recipe, perfect for a delicious weeknight dinner. It's a flavorful dish that takes only 15 minutes to prepare, and one that your whole family will love!
These golden crispy chicken chunks are blanketed in yummy homemade teriyaki sauce. Choose between the sugar free teriyaki sauce or paleo teriyaki sauce for everyone to enjoy!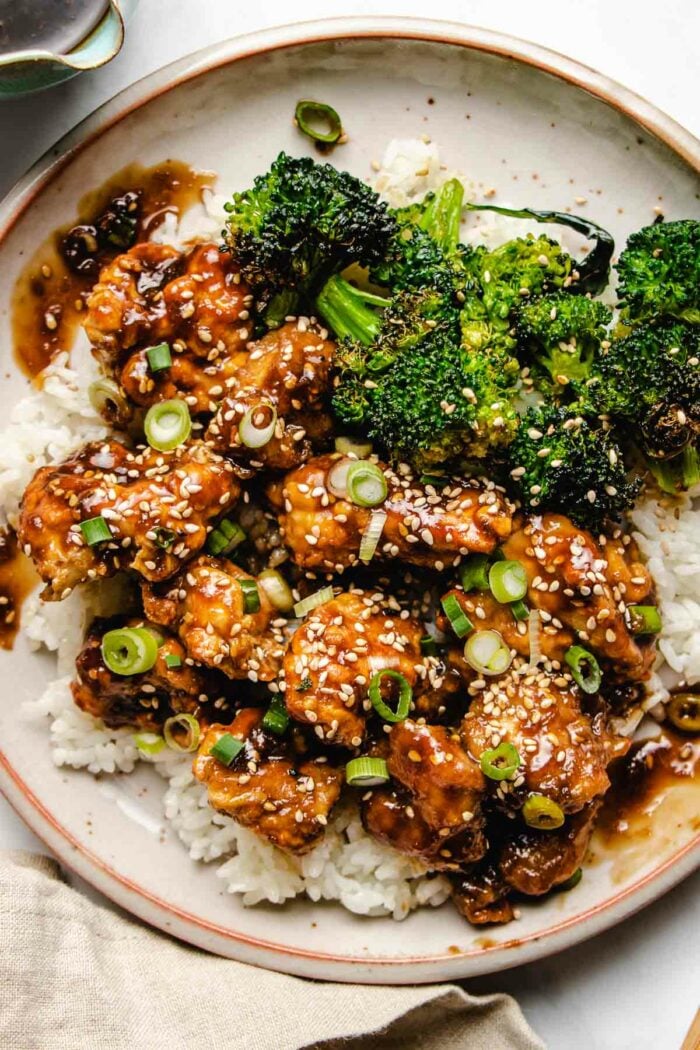 Why you'll love this recipe
I always find myself coming back to this healthy air fryer recipe whenever I need a quick dinner fix. You will too, and here's why:
Crispy chicken nuggets: Chicken is cooked to crispy perfection every time!
Easy and fast with delicious flavors: This simple recipe yields flavorsome results in just 15 minutes.
Keto or paleo: Serve it with your choice of teriyaki sauce — they are both low-carb and paleo-friendly.
What is air fried teriyaki chicken
Teriyaki refers to a Japanese style of cooking. Teri means "shine or gloss" from the sauce and yaki means "pan-grilled, pan-fried, or charcoal grilled". (source)
This Japanese-inspired dish is made in an air fryer and features crispy chicken bites with a sweet and savory homemade teriyaki sauce. The sauce is usually made with soy sauce, sake, mirin, and brown sugar. This is what makes the dish super addictive and family-friendly!
Ingredients
Preparing teriyaki chicken in an air fryer has never been easier — and here are all the ingredients you need to get started: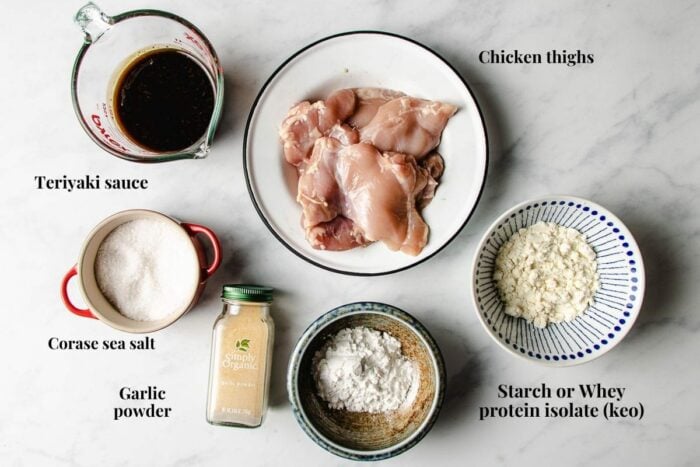 For the chicken: Chicken thighs, coarse sea salt, garlic powder, starch or whey protein isolate, avocado oil, teriyaki sauce, spring onions, and toasted white sesame seeds
For the sauce: Coconut aminos, apple cider vinegar, fresh ginger, garlic, monk fruit sweetener, and xanthan gum
Ingredient substitutions
You can also use Gluten-free tamari or low-sodium soy sauce to make teriyaki sauce. Reduce the amount of soy sauce by half as it has a saltier taste.
I highly recommend using chicken thighs in the air fryer. Some people make teriyaki with chicken breasts but air fryer tends to make them driers and chewier.
Although some recipes suggest coating the chicken with eggs and panko breadcrumbs, I found it unnecessary.
Use brown sugar or coconut sugar to sweeten the sauce, if you prefer.
Swap xanthan gum for either tapioca or arrowroot starch to thicken the sauce.
How to cook the dish
Here's how you can make air fry teriyaki chicken in 15 minutes of prep time with my simple instructions: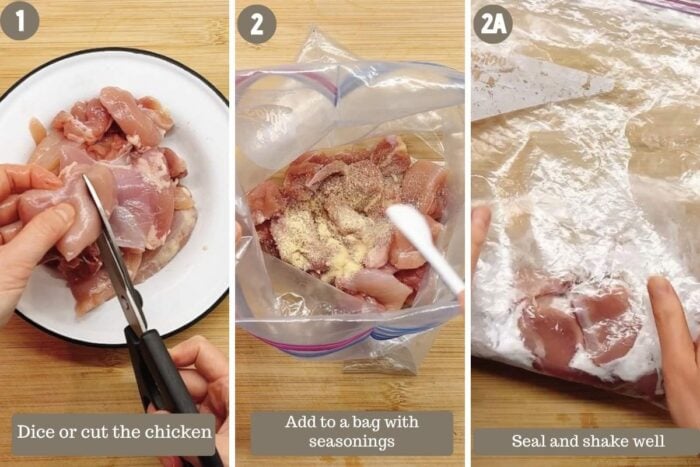 Preheat the air fryer. Dice the chicken into chunks while waiting.
Add the chicken and dry ingredients into a ziplock bag. Seal and shake the bag to evenly coat the chicken.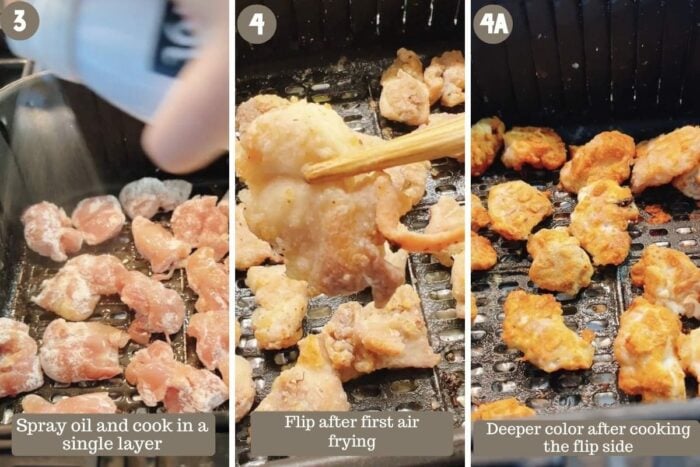 Spray oil in the air fryer basket before and after placing the chicken. Leave a bit of space between each chicken piece in a single layer.
Air fry the chicken for about 12 minutes. Shake the basket halfway and spray a bit more oil on them.
Make the teriyaki sauce in a small saucepan whilst the chicken is air fried. Let the sauce cool down.
Place cooked chicken in a large bowl or plate before mixing it with the sauce. Sprinkle some sesame seeds and spring onions before digging in.
How to make this dish low carb
Use whey protein isolate to dust the chicken as opposed to using regular starch.

You can use it in the same quantity as the starch.
To maintain a keto-friendly dish, use it as a starch substitute.
Whey protein isolate contains dairy, so it's not dairy-free.
It does give the chicken a light golden brown coating but it tends to stick to the air fryer basket compared to when using starch.
Variations
Air fryer teriyaki chicken is undoubtedly delicious as is, but you could also change it up if you want to.
Chicken seasonings: Add a dash of black pepper or red pepper flakes to spice it up.
Use chicken wings: Make the same dish or try on this air fryer lemon pepper wings for a zesty tangy twist!
Add a touch of honey to the teriyaki sauce to make a honey teriyaki variation of air fried chicken.
Vary your garnish by topping it with sliced green onions.
Common FAQ
Can you make the chicken ahead?
Yes. Store the cooked chicken in the freezer for up to 2 months. Defrost them overnight in the fridge before reheating them in the air fryer.
Can you make the sauce ahead?
The teriyaki sauce is perfect for meal preps, so make it in advance to save time. It's good for up to 2 weeks when stored in an airtight container and kept in the fridge.
Can you use teriyaki sauce as a marinade
Yes. It can also be used on beef and salmon. Marinate for at least 20-30 minutes (or overnight for best results).
Can I use store-bought teriyaki sauce
You can but the homemade version tastes a lot better. It has the perfect balance of salty and sweet, and is more flavorful.
Storage and reheat
Storage: Store leftovers of the cooked chicken and sauce in separate airtight containers in the fridge. The chicken is good for 4 days and the sauce can last for 2 weeks.
Reheat: You can reheat the chicken in a microwave but it won't be as crispy. To reheat them in an air fryer, simply cook them at 400F for 2 to 3 minutes. Air fryer cooking time varies, please adjust it according to your preference.
Related recipes
Take your weeknight cooking skills to the next level by giving these easy dinner recipes a try!
Besides teriyaki chicken, you can use the tasty homemade sauce to make teriyaki salmon air fryer.
If you want to stick to chicken, I've got you covered. Both these Thai-style air fryer chicken satay and Japanese chicken yakitori skewers are perfectly juicy and savory.
Umami Tips
You can use either my keto or paleo homemade teriyaki sauce to make this dish.
I recommend using boneless skinless chicken thighs for the best results.
Cook the chicken in 2 separate batches. Leave a little space between each piece for them to be crisped to perfection.
Make the sauce ahead to save time, and you can also use it for other dishes!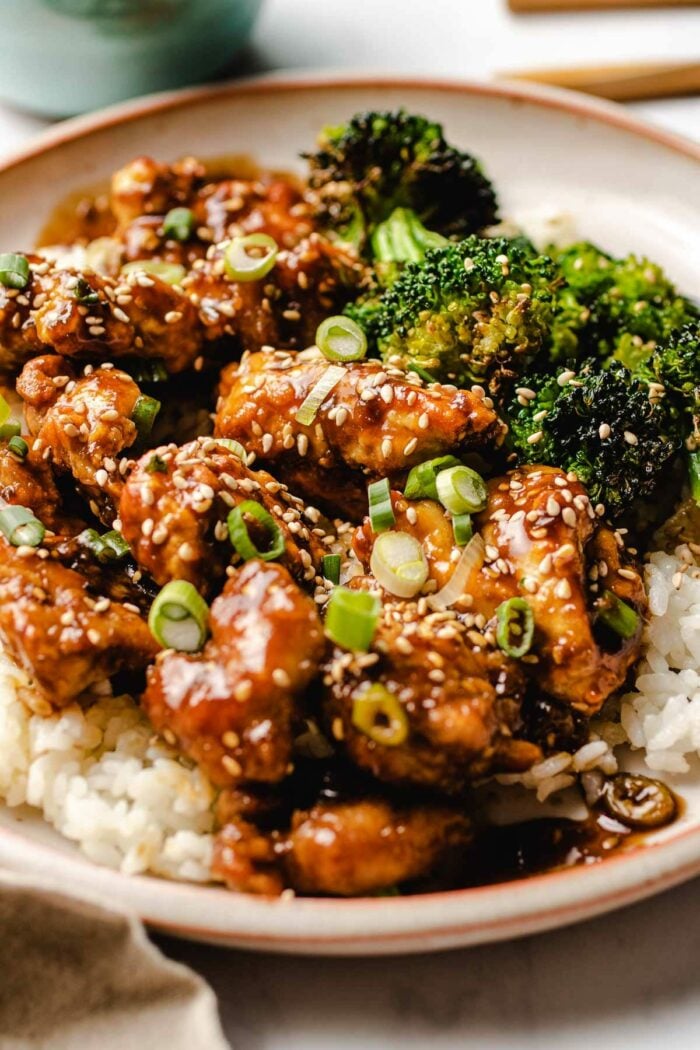 Air fryer teriyaki chicken recipe
Air fryer teriyaki chicken with crispy chicken nuggets, tossed in homemade sugar free teriyaki sauce. Easy, healthy, and full of flavor!
Print
Pin
Rate
Ingredients
1.25 lb chicken thighs, skinless and boneless
0.5 tsp coarse sea salt
0.5 tsp garlic powder
6-8 tbsp Tapioca starch, arrowroot, potato starch, or whey protein isolate for keto
0.5 cup keto teriyaki sauce
2 bulb spring onions, diced
Sprinkle toasted white sesame seeds
Instructions
Preheat the air fryer to 400°F (204°C) for 5 minutes. In the meantime, dice the chicken into 1-1.5 inches (2.54-3.8cm) chunks.

In a large ziplock bag, add the chicken, salt, garlic powder, and starch. Seal the bag and shake it to coat the chicken pieces evenly.

Spray the air fryer basket with avocado oil and place the chicken in a single layer into the basket with a little space between each piece. Spray more oil on top of the chicken.

Air fry for 8 minutes on the first side, open the basket, shake, spray with more oil, and cook another 2 to 4 minutes.

In the meantime, prepare the teriyaki sauce. Set it aside to cool to room temperature.

When cooking time is done, transfer the chicken to a large serving plate. Combine and toss with teriyaki sauce. Garnish with spring onions and sesame seeds. Serve hot.
Notes
Whey protein isolate: The chicken color is more golden orange than using starch. However, the chicken pieces tend to stick to the air fryer basket more than using starch.
Cook in 2 separate batches. Leave a little space between each piece.
Because the Teriyaki sauce adds extra salty flavor to the chicken, we intentionally season the chicken on the less salty side.
The nutritional label is estimated using keto teriyaki sauce and the chicken is dusted with tapioca starch. 
Nutrition
Serving: 1serving, Calories: 285kcal, Carbohydrates: 10g, Protein: 18g, Fat: 19g, Saturated Fat: 5g, Polyunsaturated Fat: 4g, Monounsaturated Fat: 8g, Trans Fat: 0.1g, Cholesterol: 111mg, Sodium: 320mg, Potassium: 239mg, Fiber: 0.04g, Sugar: 0.02g, Vitamin A: 92IU, Vitamin C: 0.1mg, Calcium: 10mg, Iron: 1mg
Made a dish and love it? Please remember to rate the recipe and leave a comment in the comment section below! It helps my blog grow organically so I can continue sharing free and awesome content with you. Thank you!