Keto Chicken Katsu Ramen Bowl
Meet your new favorite ramen bowl recipe – Keto Chicken Katsu Ramen! Simple, tasty, Whole30, low carb, and Paleo. A dream comes true for crispy chicken + ramen bowl lovers! 😀
You can make the katsu stovetop or air fried and with or without an egg wash. This post is a part of my low carb ramen series – Whole30 Ramen Tantanmen, Whole30 cup noodles, and Paleo cold ramen (Hiyashi chuka) which have rapidly become readers favorites!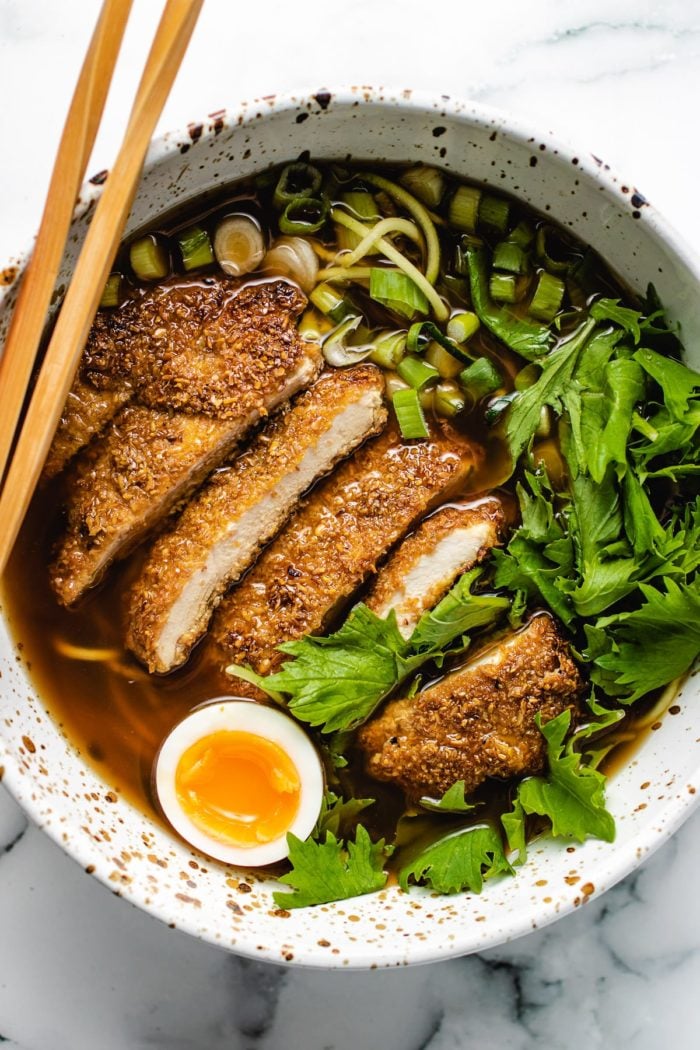 Who can resist the pleasure of crispy chicken cutlets and ramen noodles? These two have basically everything I want in a bowl – crispy juicy fried chicken and umai-rich savory ramen broth. The bottom line is I have to watch my waistline and also satisfy my cravings so hence I went on a hunt for making the best and easiest Keto Katsu Chicken Ramen Bowl!
While this is not an authentic Katsu ramen recipe, it is an excellent solution for people who want a simple way to make homemade ramen quickly while keeping it low carb.
What is Chicken Katsu?
Chicken Katsu (チキンカツ) is basically a Japanese version of fried chicken cutlets. The crust is extra crispy because of the panko breadcrumbs. The cutlets are dip in flour, egg wash, breadcrumbs, and then deep-fried to golden brown.
It's best to enjoy hot and fresh out of the fryer. Today's version is gluten-free, low carb, not deep-fried, and absolutely delicious!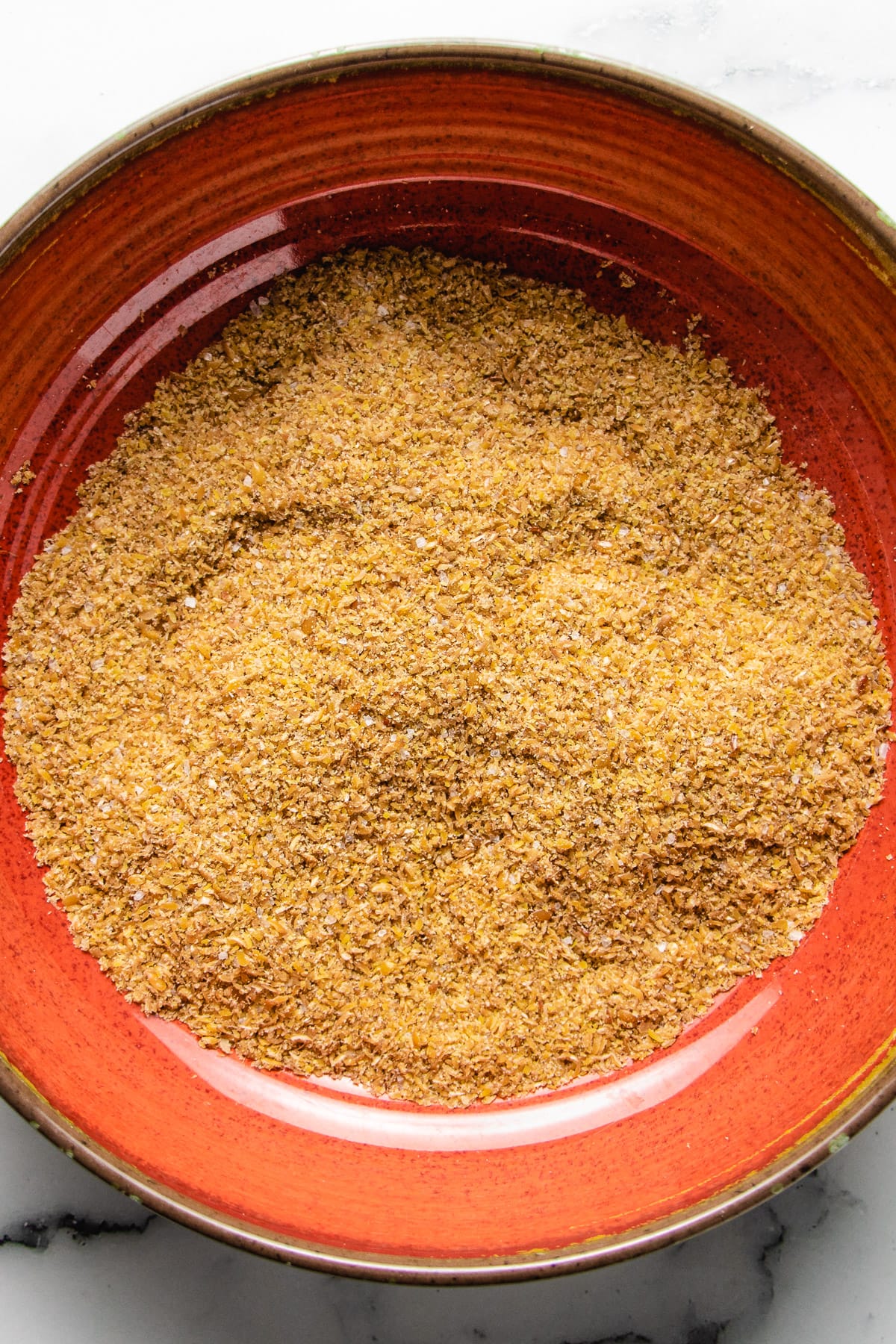 Ingredients for Chicken Katsu Ramen Bowl
There are two parts of this recipe – Chicken Katsu and Ramen Bowl.
For the keto katsu chicken –
Chicken breasts, egg or unsweetened yogurt, golden and ground flaxseed meal.
For the ramen bowl and ramen broth –
Really good homemade chicken bone broth (or I use kettle and fire chicken bone broth), zucchini noodles, rice vinegar, and coconut aminos.
I pair my ramen bowl with tatsoi and mizuna baby greens or use any peppery leafy greens such as dandelions. The soft boiled jammy eggs are completely optional but highly recommended!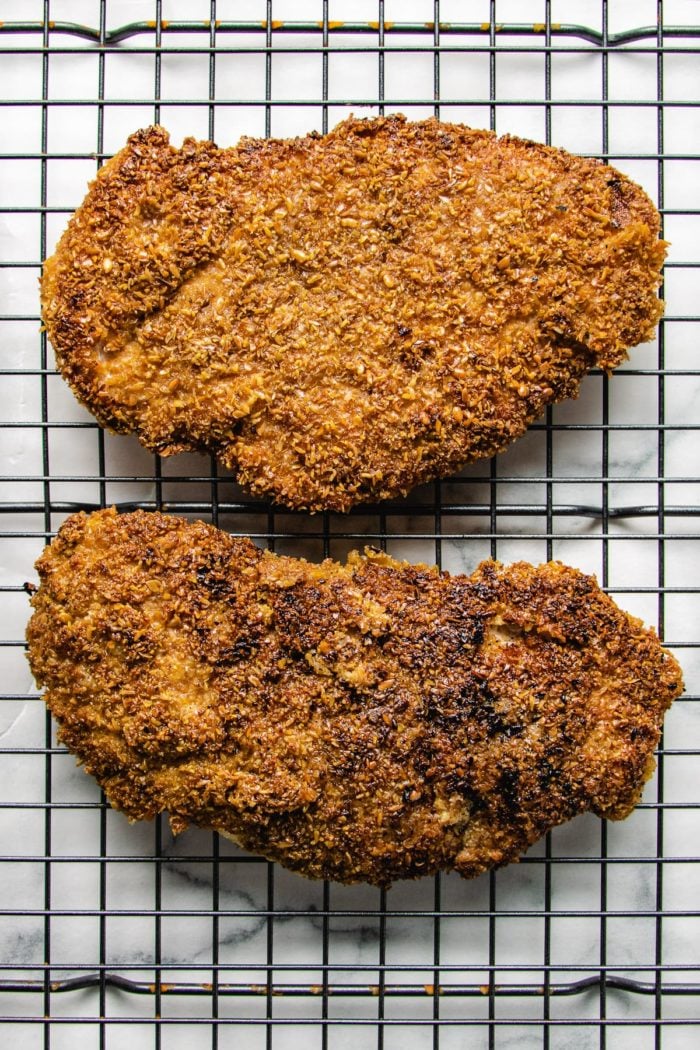 How to make the best Chicken Katsu Low Carb/Paleo/Whole30
Here are the 3 things you need to know about making the low carb katsu chicken at home –
Chicken – use thin cut chicken breasts, the thinner cut the better. My cutlets were about ¼-inch thin.
Panko substitute – To make our breadcrumbs gluten-free, soy-free, and low carb. I use Bob's Red Mill's golden ground flaxseed meal. I'm almost certain that you can also use almond flour.
Egg wash or no eggs – You can absolutely dip the cutlets in an egg-wash (1 large whisked eggs with 1-2 tbsp water) or if you are allergic to eggs, check out my latest discovery…use unsweetened yogurt! This stuff is great glute for the breadcrumbs! 😀
Pan Fry or Air Fry Katsu?
I know you are going to ask me this question. I just know it. 😀
Good answer is you can do both! I'm old school so I still prefer shallow fry the katsu cutlets stove top but if you really want to air fry them, you can definitely do that, too!
The only thing I tried and failed was baking them in the oven. It did not work at all despite turning the oven temperature up to 450F …let's just say they were a gooey mess. Not recommended for this low carb version.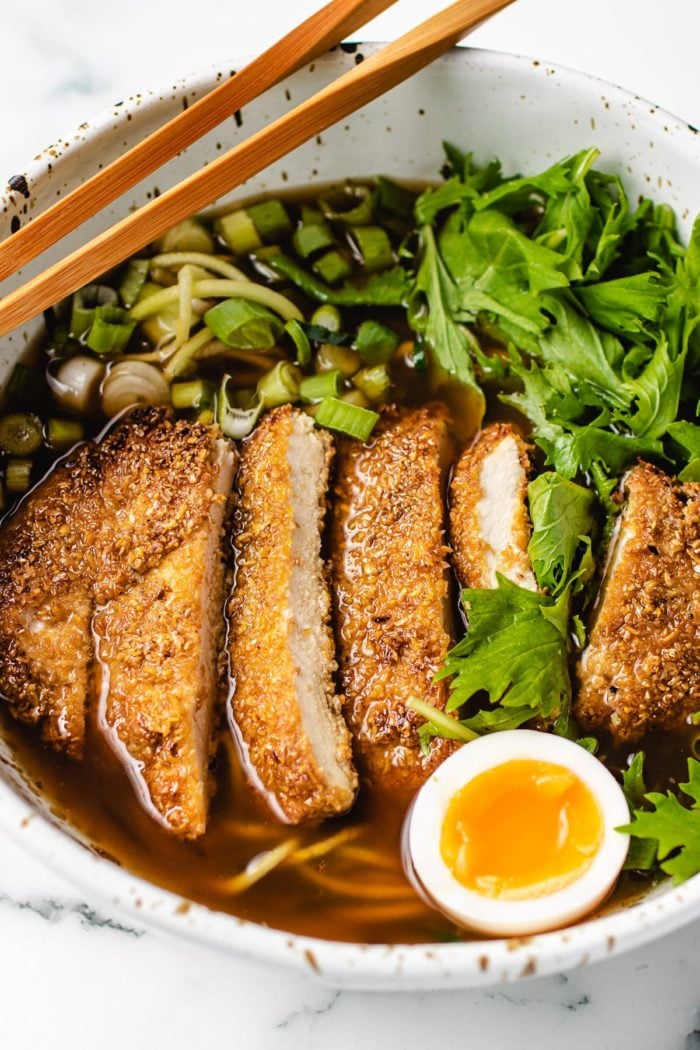 Can You Make Ahead Chicken Katsu and Ramen Bowl?
Yes but with some tips and tricks.
You can spiralize the zucchini noodles 2 days ahead. Store the zoodles in a large container lined with a paper towel to absorb moisture.
Butterfly and slice the chicken breasts in half, if your chicken is not thin cut. You can marinate them in unsweetened yogurt for 15 minutes or up to 24 hours.
I use Kettle and Fire chicken bone broth. It's the quickest way to make instant ramen broth and you can put it together in minutes. Or make your own instant pot Chinese chicken soup!
I have yet to try freezing the "breaded" chicken cutlets. Based on my research, for the traditional panko breaded katsu, it looks like you can cook the chicken katsu first then freeze it and reheat in the oven. I don't know if this low carb version will work the same. It needs testing. I'll update my post here once I have a chance to test it and if you get to it before me, let me know!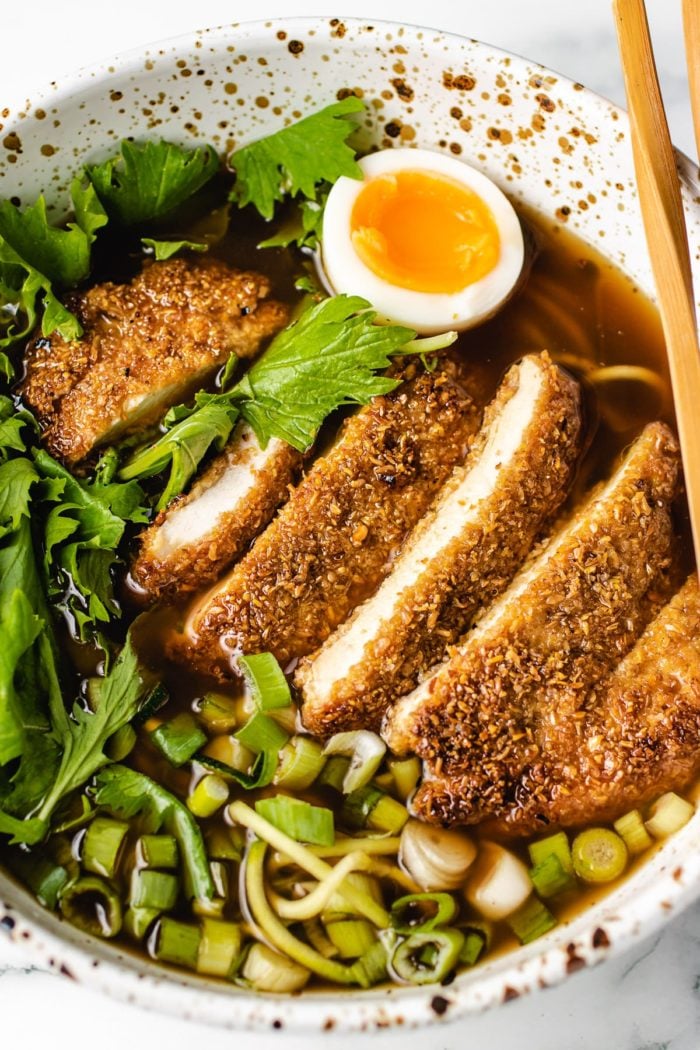 What to serve with a Katsu chicken ramen bowl?
There are so many! I'm thinking along the line of party finger food like keto egg rolls, keto scallion pancakes, Daikon potstickers, or bang bang shrimp! But seriously if you want more veggies or a side dish that goes well with the ramen recipe, bok choy dim sum, chopped Thai style bok choy salad, shrimp avocado salad, chicken apple salad, chinese garlic broccoli, or Asian chicken lettuce wraps are all great choices!
More great low carb recipes
Friends! If you love chicken katsu and ramen noodle bowls as much as I do, this homemade low carb version will satisfy your cravings! The recipe is versatile. You can serve the katsu cutlets separately from the ramen noodle soup and feel free to add extra toppings you like! Be sure to read the recipes first before you start and I can't wait to see your lovely creations! Happy eating! 😀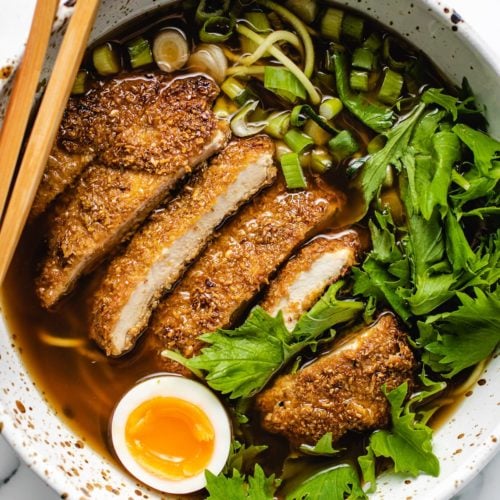 Chicken Katsu Ramen Bowl (Keto/Paleo/Whole30)
Chicken Katsu Ramen Bowl Recipe made keto/whole30/paleo! Air fried katsu chicken with keto ramen noodles are the best combo for ramen lovers!
Print
Pin
Rate
Ingredients
For the keto chicken katsu:
0.5 lb thin cut chicken breasts, about ¼-inch thin
2 tbsp plain unsweetened yogurt, dairy-free. See notes
6-8 tbsp golden ground flaxseed meal
1 tsp coarse sea salt
¼ tsp garlic powder
¼ tsp onion powder
4 tbsp avocado oil
For the instant ramen broth (please see notes):
Others:
2 medium zucchinis, spiralized
Handful peppery baby greens such as dandelions, I use tatsoi and mizuna
2 whole soft boiled jammy eggs, optional
2 bulbs scallions, chopped
Instructions
For the chicken katsu:
If your chicken breast is not thin cut, butterfly and cut it in half. Cover it with parchment and use a mallet to pound the chicken to equal thickness, ¼-inch thin pieces.

In a shallow bowl, coat the yogurt all over the chicken. Cover and store it in the fridge for 10-15 minutes or up to 24 hours.

In a separate shallow bowl, combine flaxseed meal, salt, garlic and onion powder. Preheat a large stainless steel or cast iron skillet over medium heat until it feels too hot to place your palm near the surface, about 2-3 inches away. Add the oil.

Shake off excess yogurt and dip the cutlet into the flaxseed meal bowl, pressing firmly to adhere to the chicken.
Pan-Fry:
Pan fry about 2 minutes per side over medium heat or until golden brown and the chicken is cooked through. Use a spatula to help you flip the chicken. Be gentle or the coating might fall apart.
Air-Fry
Preheat the fryer at 400F (204C) for 5 minutes. Spray avocado oil into the basket. Place the cutlet in a single layer with some gap between. Spray the oil again over the cutlet. Air fryer at 400F (204C) for 8 minutes or until cooked through.

In the meantime, prepare the zoodles, scallions, and jammy eggs, if using.

Transfer the chicken to a wire rack so the bottom doesn't get soggy from the moisture.
For the ramen broth:
Before serving, heat up the bone broth in a medium size soup pot with coconut aminos and vinegar. Taste and adjust the seasoning.

To serve, divide the zoodles to two ramen bowls, pour the broth over. Slice the eggs in half, if using. Add a handful of baby greens to each bowl. Slice the chicken cutlets to 1-1.5 inch pieces. Add on top of the zoodles. Sprinkle with scallions. Serve immediately.
Notes
You can also egg wash to replace yogurt. Use 1 large whisked egg with 1 tbsp water.
The ramen broth seasoning is based on the Kettle and Fire chicken bone broth flavor. If you use a different brand, please make seasoning adjustments.
The cutlets are most crisp when fresh hot. I recommend enjoying them right away. Once they are in touch with the broth, they turn soft quickly because they are not deep fried.
This chicken katsu cutlet recipe does not work well in an oven.
In traditional ramen shops, chefs pour hot boiling water over the ramen bowl to warm up the bowl before adding the hot broth. This keeps the broth hot for longer.
Nutrition
Serving: 1serving, Calories: 476kcal, Carbohydrates: 11g, Protein: 36g, Fat: 32g, Saturated Fat: 4g, Cholesterol: 79mg, Sodium: 1684mg, Potassium: 962mg, Fiber: 2g, Sugar: 6g, Vitamin A: 426IU, Vitamin C: 36mg, Calcium: 61mg, Iron: 1mg
Want More Variety, More Yum, and Less Time Cooking?