Keto Shirataki Fried Rice With Garlic Chips
The Best Keto Shirataki Garlic Fried Rice recipe tastes just like your favorite fried rice in the restaurants! With 5 ingredients only, this keto fried rice is garlicky, buttery, and full of flavors. It looks and tastes just like real fried rice and with 194 calories and 4 carbs, this is the best easy fried rice recipe for Keto low carb lovers!
The Best Keto Fried Rice (not cauliflower!)
My love for Asian style fried rice goes way back when I was a little girl growing up in Taiwan. Whenever we eat out, fried rice is a must-order item because it's just so delicious and a family meal without a big plate of fried rice just doesn't feel right. Fried rice means happiness to me and if mom orders fried rice that means today's meal is going to be GREAT! 🙂
Years later my love for fried rice still hasn't diminished a single bit. I mean how can you not love fried rice? My relationship with traditional fried rice is complicated. I want to devour it as much as I can but my waistline is telling me maybe I should put some restraint orders to my seemingly never-ending appetite for stir-fried rice.
Well, the good news is I've finally found the solution! With my Keto easy fried rice recipe topped with crispy garlic chips we can finally make it taste just like the real take-out style fried rice .. it is the BEST!…and you no longer need to debate whether to enjoy it or not.
Shirataki Rice Made Keto Fried Rice
I wrote the recipe because one of the very top questions I receive has been pairing and side dish recommendations. My answers have always been rice because that's to be honest, most Asian-influenced dishes almost always work perfectly with rice! I can't think of a dish on this blog that doesn't work well with fried rice. For example: Cumin beef, Mongolian beef, Mongolian chicken, Sesame chicken, Chicken and broccoli, Shrimp and broccoli…etc. The list goes on-and-on. 🙂
Low carb shirataki fried rice recipe that tastes like real fried rice
I've shared a fair amount of cauliflower fried rice recipes on the blog and I love them all but when I discovered a new type of low carb rice made from Konjac roots and that looks similar to rice grains I couldn't help but have to give it a try. I follow the same procedures as if using shirataki noodles – rinse and drain well – and saute over stovetop. Boy I have to tell you that this is by far the best keto fried rice I've ever experienced!
Not to mention it's much easier to make and my husband, Nate, went back for the second and third rounds just for the fried rice! We absolutely love this new discovery and agree that it tasted straight from a restaurant!
Also find more information about what is shirataki rice blog post.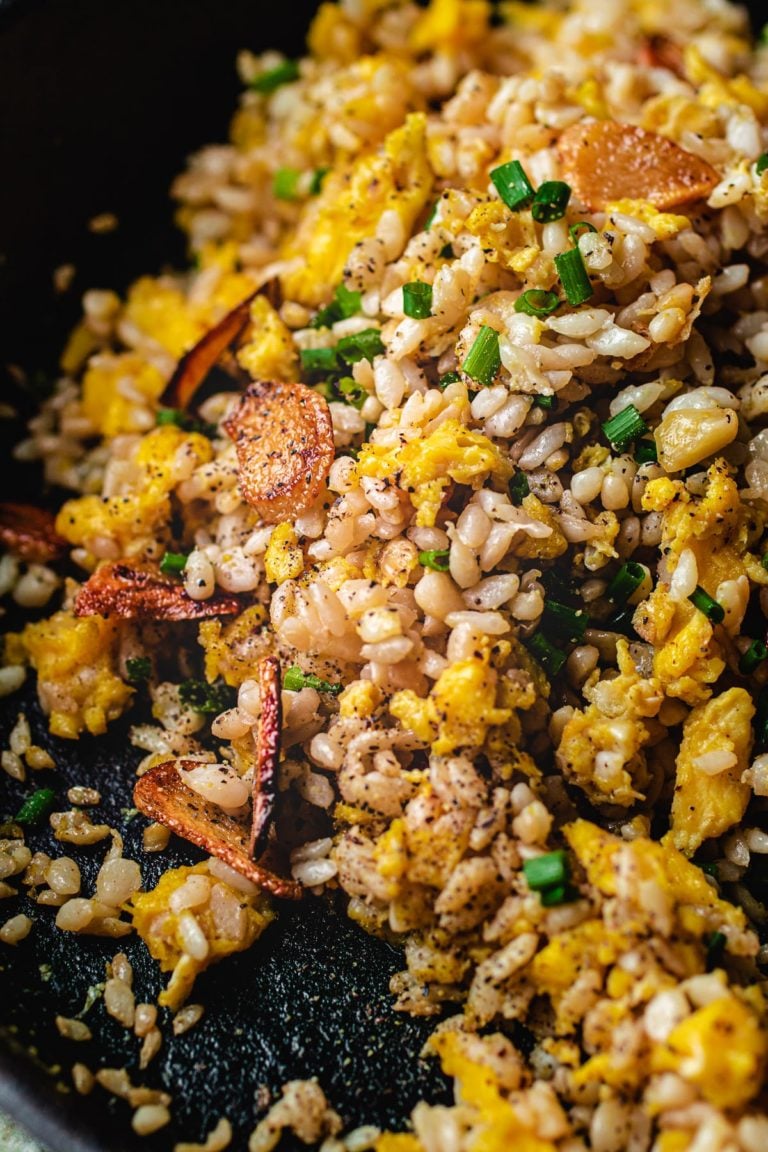 What is Konjac rice (AKA Shirataki rice)?
Most of us to some degree are probably quite familiar with shirataki noodles and konjac rice basically is made of the same ingredients as shirataki noodles but in rice grain like shape. It is the perfect rice substitute on keto and low carb diets. The rice is made from 97% water and 3% fiber from the konjac plant and is naturally low in calories.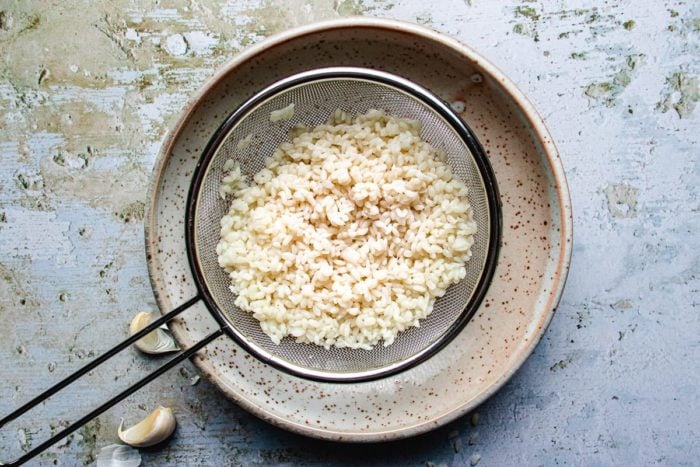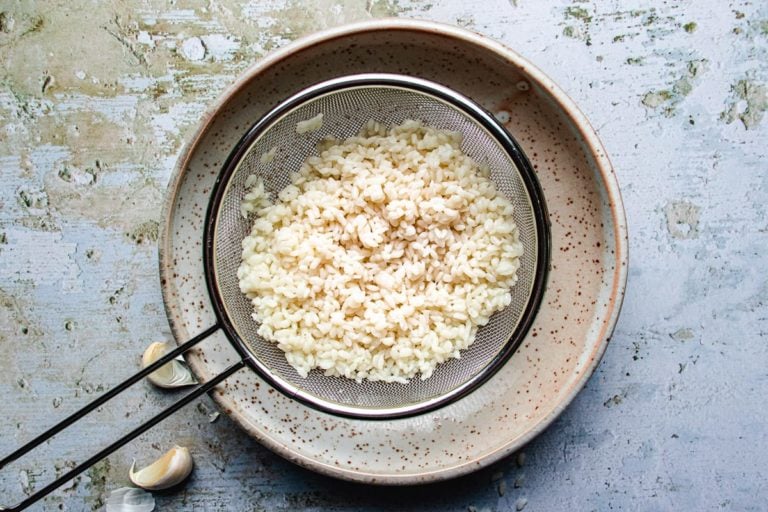 Regular rice vs. Cauliflower rice vs. Konjac Shirataki rice
For 1 cup rice (uncooked without oil and seasonings) –
Regular rice – 37 grams of carbs
Cauliflower rice – 5 grams of carbs
Konjac rice – 1 gram of carb
Konjac rice has even lower carb than cauliflower rice. I personally love them both but do find that it's easier to manage konjac rice as it's less messy in the kitchen. For taste wise, konjac rice absorbs flavors and seasonings well and that makes it an excellent choice for people who love real fried rice but want fewer carbs.
Tips for making the best keto fried rice with Shirataki rice
Making garlic fried rice is incredibly easy. It only really involves three steps.
Make your garlic oil
Fry the rice
Add-in the eggs
Garlic Oil
Thinly sliced the garlic cloves and saute them with a neutral flavor oil such as avocado oil. Saute the garlic slices with oil over low heat and you want to flip garlic slices often and as soon as they turn light golden brown color, remove them and set over paper towels to keep dry. Over fried garlic slices have a bitter taste so take care not to burn them. The remaining oil becomes the fragrant garlic oil.
Low carb rice – Konjac rice
Follow the package instructions – rinse under cold water and drain well. You might notice a fishy or unpleasant smell when you first open the packet but since we are sauteing and seasoning the rice further you will not smell or taste it.
To make fried rice, konjac rice is much more delicate than regular rice. Carefully saute them over medium heat with a wooden spoon to remove as much moisture as you can. As soon as you hear and see the rice starts popping, you have achieved the right texture for low carb fried rice!
The seasonings
A char and smoky flavor: salt, black pepper, and coconut aminos are the basic seasonings. The coconut aminos is not only used to season the fried rice but also to create a char flavor. You will see in the recipe instructions that it is poured directly on the hot skillet as opposed to pour over the rice.
Not overpowering: A little garlic goes a long way. The goal is to keep the rice lightly fragrant with garlicky flavor but not overpowering.
Ingredients for easy garlic keto fried rice
Garlic cloves, thinly sliced and minced
Shirataki or konjac rice
Eggs
Coconut aminos (or gluten-free low sodium tamari)
Chives or scallions
Avocado oil, Ghee, Salt, and Pepper
How to make Keto Fried Rice Recipe With Garlic Chips
Lightly fry the garlic slices with avocado oil until they turn just light golden brown
Set the garlic oil aside, leaving only 0.5 tbsp in the skillet with ghee clarified butter.
Saute the low carb shirataki rice with salt and pepper until the rice starts popping
Push the rice aside and add coconut aminos then coat the rice over the sauce.
Push the rice aside and add whisked eggs to make soft scrambled eggs
Toss and coat the eggs over until it's no longer runny.
Garnish with chives, fried garlic chips, and serve the garlic oil on the side!
Easy Keto Fried Rice Variations
Swap coconut aminos for gluten-free tamari
Make it spicy with my Whole30 gochujang sauce, hot sauce, your favorite sriracha, or red pepper flakes
Try a small dash of fish sauce for a hint of Thai flavor.
Add veggies: frozen peas and carrots, broccoli florets
Proteins – diced and cooked chicken, ham, cooked sausages are all great choices.
Make it vegan – vegan butter or use more infused garlic oil from the recipe.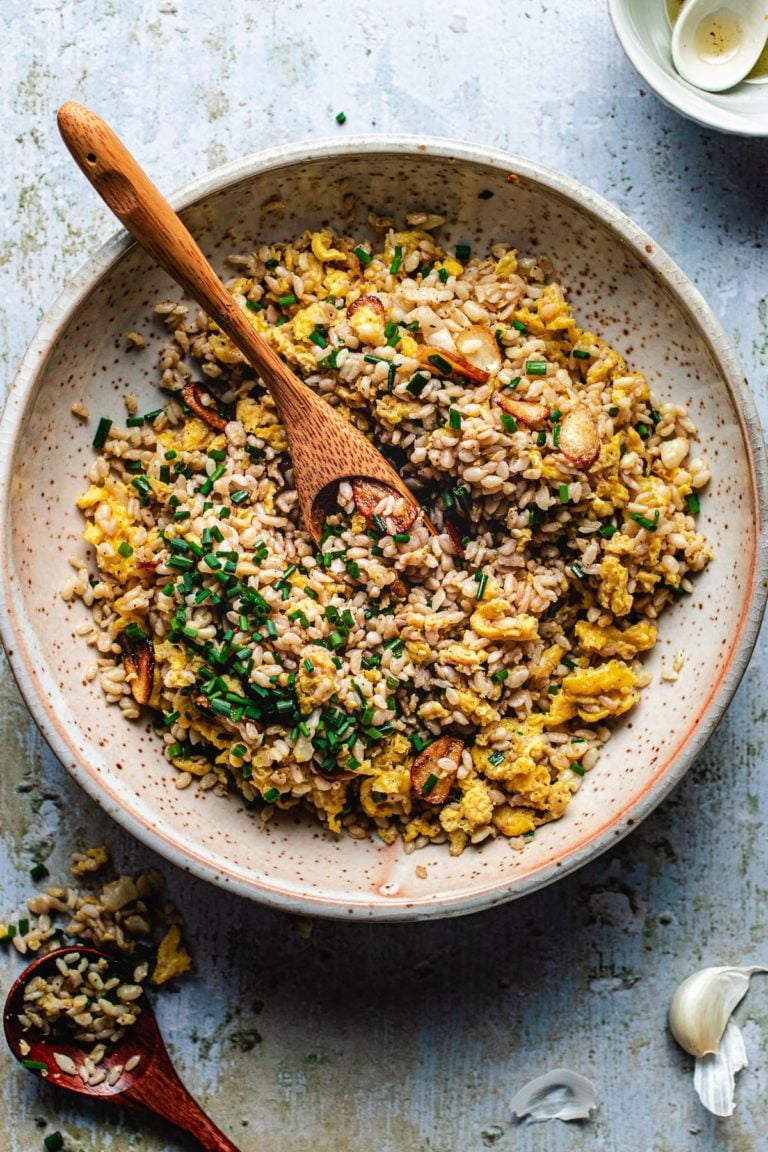 What to serve with keto shirataki fried rice recipe
More low carb keto fried rice recipes
If you love fried rice as much as I do, give my Keto garlic fried shirataki rice recipe a try! It's easy and quick to prepare with 5 ingredients only and packed with loads of deliciousness. The infused garlic oil gives a robust flavor that turns plain rice into magic wonders! Pair this everyday go-to side dish with a salad, meat, seafood, or any protein dish on the side for the most aromatic low carb easy fried rice better than the restaurants!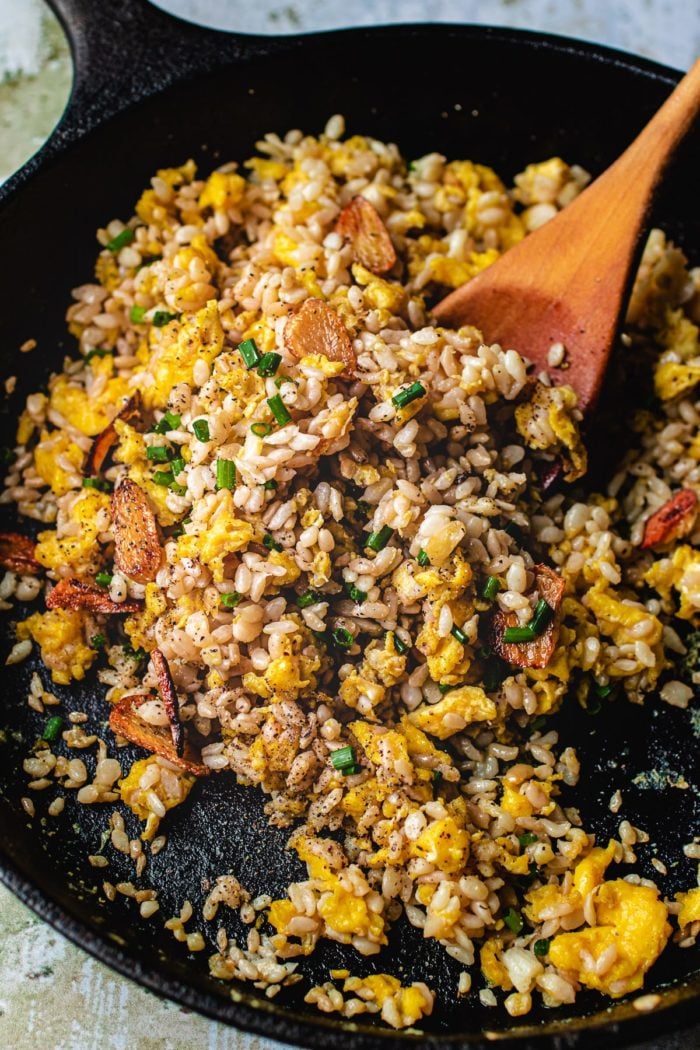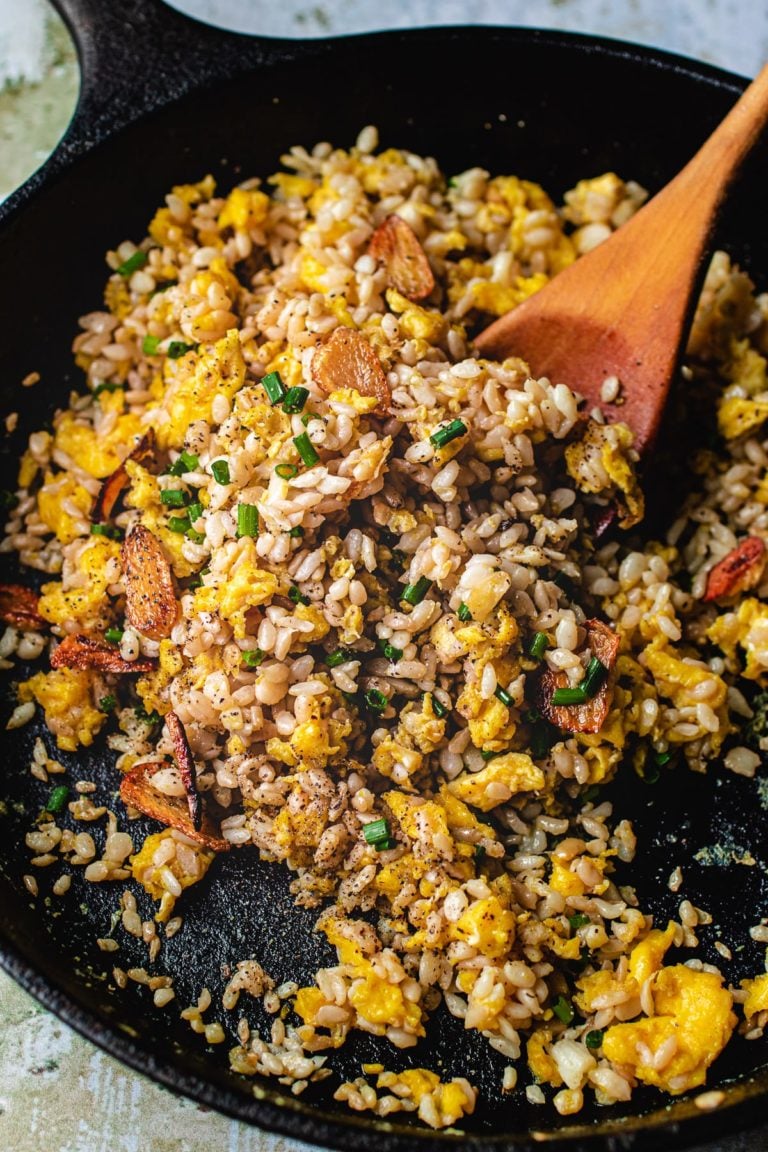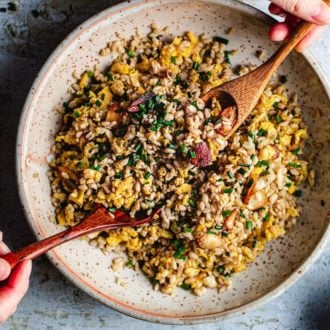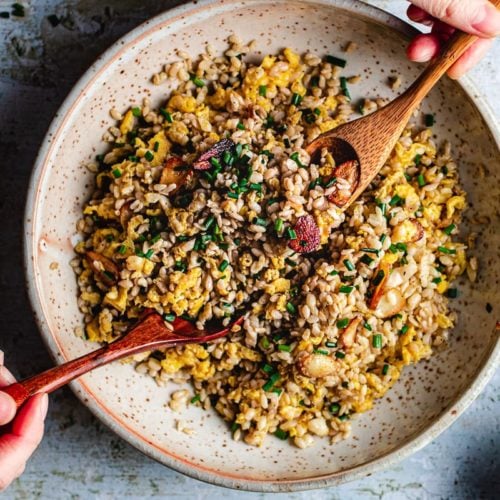 Keto Shirataki Fried Rice Recipe with Garlic Chips
The best keto garlic fried rice is easy to make and full of flavors. This low carb fried rice tastes just like real fried rice and is Paleo friendly!
Print
Pin
Rate
Ingredients
400 grams konjac rice, or shirataki rice, about 2 packets after drained
0.4 oz garlic cloves, thinly sliced, about 3 cloves
1 tbsp chopped garlic, about 2 small cloves
4 large eggs, whisked
2 tbsp avocado oil
1 tbsp ghee
Salt and pepper to taste
3 tbsp coconut aminos
large handful chives, chopped
Instructions
Rinse and drain the shirataki or konjac rice, following the package instructions. Set aside ready to use.

Put the thinly sliced garlic in one bowl and the minced cloves in another bowl. Set aside whisked eggs.

In a well-heated large cast iron skillet, add avocado oil. Fry the garlic slices over medium-low heat for about 30 seconds or as soon as they turn light golden brown. Flip the garlic often and take care not to burn them or it will turn bitter taste.

Use a slotted spoon, transfer garlic chips to paper towels to drain. Season with a small pinch of salt.

Pour the garlic infused oil into a bowl for serving use and leave only a thin layer of oil in the skillet. Add ghee butter.

Saute the minced garlic with a pinch of salt over medium heat for about 5 seconds.

Add rice and season with 2 pinches of salt and black pepper. Gently saute with a wooden spoon for about 3 minutes or until the liquid evaporates and you can see and hear the rice grains start making popping sound.

Push the rice to the side of the skillet to make a circle and leave space in the center. Add coconut aminos. You will see the sauce immediately starts bubbling the moment it hits the bottom of the skillet. This creates a char and smoky flavor. Then quickly mix the rice and the sauce together and to coat it evenly, about 30 seconds to 1 minute.

Push the rice to the side of the skillet again to make empty space in the center. Pour the whisked eggs in the center of the skillet and scramble until small curds form. Gently mix and fold in the rice until the eggs are cooked through and each rice grain is distinct (slightly on the drier side not mushy in texture).

Off heat, garnish with chives and top with garlic chips. Serve the infused garlic oil on the side for guests to pass along the table or for anyone who enjoys extra garlicky flavor.
Notes
Can you freeze konjac low carb rice?
No. Please do not freeze konjac low carb rice as this will make the rice inedible.
How long do cooked konjac shirataki rice last in the fridge?
Consume cooked shirataki rice within 3 days when stored in the fridge. You can reheat it by lightly sauteing over stovetop or microwave.
The konjac rice I use is blended with oat fibers and therefore the color is more white than translucent.
konjac rice is much more delicate than regular rice. Carefully saute them over medium heat with a wooden spoon to remove as much moisture as you can. As soon as you hear and see the rice starts popping, you have achieved the right texture for low carb fried rice!
There might be a fishy smell when you first open the packet. Rinse and drain well, following the instructions. Once you saute and season them, you'll not smell or taste the flavor anymore.
Nutrition
Serving: 1cup, Calories: 194kcal, Carbohydrates: 4g, Protein: 7g, Fat: 16g, Saturated Fat: 5g, Cholesterol: 221mg, Sodium: 284mg, Potassium: 90mg, Sugar: 1g, Vitamin A: 306IU, Vitamin C: 2mg, Calcium: 41mg, Iron: 3mg