Tomato Egg Drop Soup (Vegetarian)
Tomato Egg Drop Soup (or egg flower soup) with the prettiest egg flower ribbons and the silkiest and smoothest texture. This iconic Chinese soup is soothing and utterly comforting, especially on a chilly day. With bright tomato flavor and silky threads of egg ribbons in every spoon, you are 15 minutes away from the best homemade soup!
If you are a soup girl like me, my keto egg drop soup or Paleo egg drop soup will be sure to delight you. For a stir-fry version, the shrimp egg tomato stir-fry recipe is another great quick lunch option!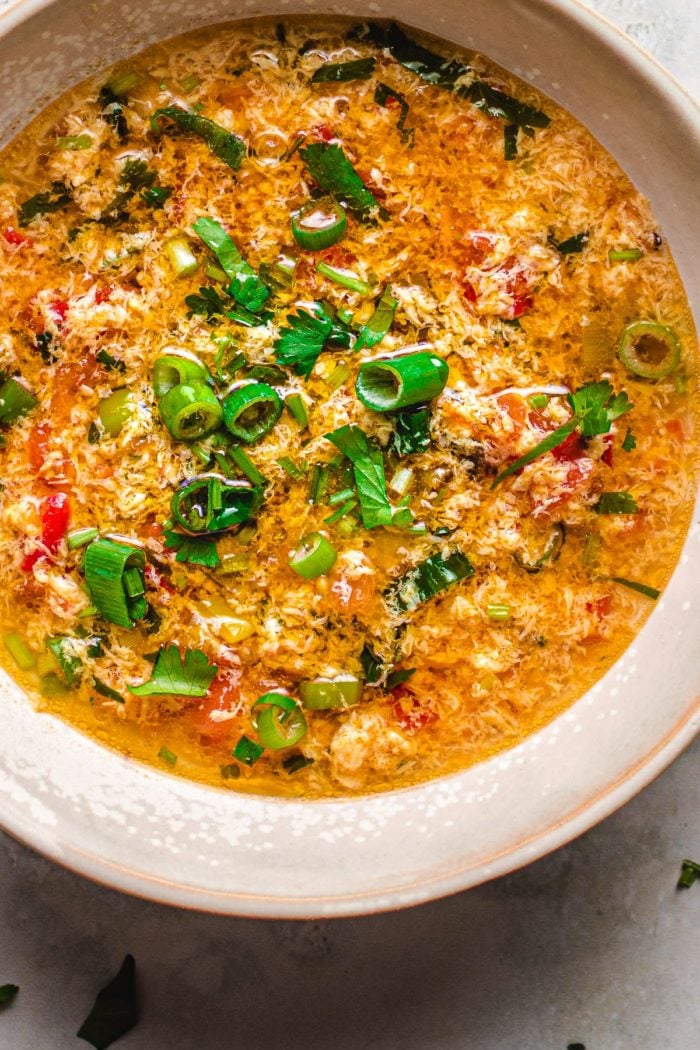 Why you will fall in love with this soup
Tomato and egg soup is one of the most popular soups in Chinese households. Every mom knows how to make this soup for their children. The soup is not only nutritious but also an easy recipe. Here is why we love it so much:
Utterly comforting and delicious: It's filled with silky threads of eggs in every spoon that will warm you from the inside out!
Fast to make: From start to finish, it takes about 15 minutes to make.
Healthy and nutritious: the mixture of broth and egg gives you both protein and nutrients.
Ingredients
This Chinese tomato soup calls for simple ingredients you probably already have in your pantry. It will not only wow your taste buds but also is vegetarian friendly. The key ingredients are:
Main ingredients: Tomatoes, eggs, scallions, vegetable stock, or chicken broth
Seasonings: Toasted sesame oil, salt, starch, avocado oil
Optional: cilantro
Ingredients substitutions
If you don't have some of the actual ingredients for our tomato egg drop soup recipe, do not worry. Here are some substitutions:
If you do not have arrowroot starch, you can use tapioca starch.
To make the recipe low-carb and keto-friendly, skip the starch slurry.
If you can't find fresh tomatoes on the vine, use good quality Roma tomatoes or heirloom tomatoes. See this resource guide.
How to make the soup
Maybe you've heard of tomato soup bon appetit, woks of life tomato egg, or nytimes tomato egg soup, I guarantee you my simple homemade version tastes just as delicious, if not even better!
First step – chop the green onions and finely dice the tomatoes, In a separate bowl, prepare the flurry and the beaten egg in a measuring cup with a spout.
Preheat a medium pot over medium heat, add the oil and saute the white scallion parts for a few seconds until fragrant.
Add the tomatoes and salt. Saute for 2-3 minutes until the tomatoes become softer.
Add the broth and cover with a lid. Bring the stove down to medium low heat and simmer for 8-10 minutes.
Once the soup enters a gentle boil, slowly drizzle the slurry into the hot soup, and stir for around 30 seconds.
From an angle, slowly drizzle the whisked egg from higher up, and with your other hand quickly stir the egg mixture with boiling soup constantly with chopsticks in the same circular motion to form fine egg flower ribbons.
Turn off the heat, drizzle with toasted sesame oil, and garnish with a little bit of cilantro and green scallion parts. Serve hot or warm.
Tips for fluffy eggs in the soup
In order to form egg ribbons, the broth must be almost boiling but not quite.
Use a measuring cup with a spout to control the flow of the whisked eggs.
Slowly drizzle the eggs from high up to prevent clumping.
Use the other hand to slowly whisk at the same time and in the same direction to form fine egg ribbons.
Variations
Egg with tomato soup is an incredibly versatile dish that can be enjoyed in many different ways. If you prefer noodles in tomato soup, go ahead and get creative! Be sure to try some of these variations to make your meal even more interesting and tasty.
Make it a complete meal – add noodles to make a tomato noodle soup recipe.
Want an extra hearty meal? Try adding ramen to turn it into tomato ramen noodles.
Add extra protein – try adding tofu and turn this dish into egg drop soup with tofu.
A dash of white pepper or black pepper to the soup for extra flavor!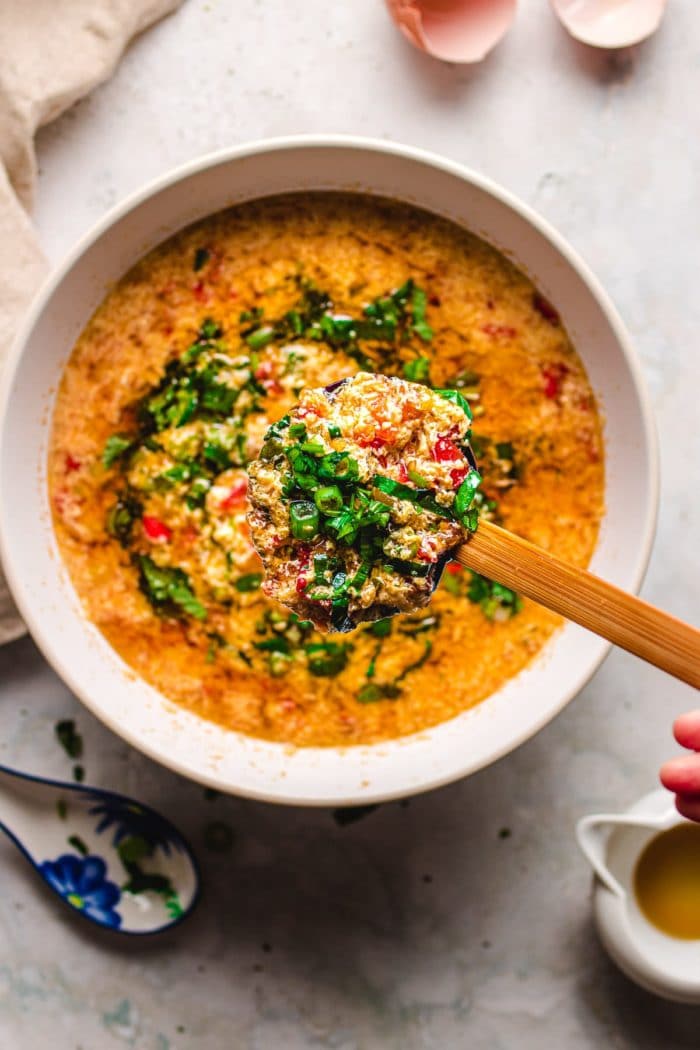 Serving suggestions
There are many ways to serve tomato egg drop soup with any main course and side dish you prefer. Pair the soup with my Crispy Rice Sushi, Keto Kimchi Pancake, or Honey Sriracha Chicken with an extra crunchy texture on the side.
Or keep the meals low carb with Thai cashew chicken, paleo egg rolls, or seaweed wraps. You can also browse more of my healthy Chinese dinner recipes!
FAQ
Is egg drop soup healthy?
Yes. Egg drop soup is nutritious, hydrating, healthy, and eases digestion. The tomatoes provide vitamins while the eggs are a good source of protein.
Is egg drop soup actually Chinese?
Yes, this is an everyday soup in Chinese cuisine. A more authentic version does not contain as much starch as the takeout version.
How to store egg drop soup?
You can store it in a glass container in the fridge for up to 5 days.
Can you freeze egg drop soup?
I do not recommend it. The egg flower ribbon texture will change and not be as fluffy.
Related recipes
If you are looking for more Chinese soup recipes, you are at the right place! My hot and sour soup, Asian chicken noodle soup, and Asian chicken meatball soup are all fans' favorites!
Umami tips
Here are some tips to help make sure your soup tastes as good as mine!
Saute the tomatoes to release the flavor.
Use a measuring cup with a spout to control the flow of the whisked eggs.
Slowly drizzle the eggs from higher up to prevent clumping.
Add the starch flurry before the eggs to prevent them from sinking.
Use ripe tomatoes on the vine that are generally firm but give a little when you squeeze them.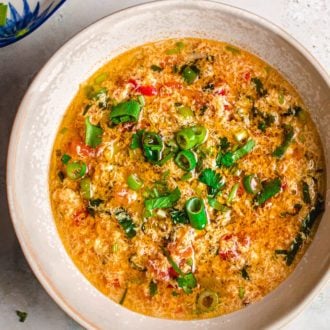 Tomato Egg Drop Soup Reicpe
Easy Tomato Egg Drop Soup Recipe (egg flower soup) is silky smooth. This homemade Chinese egg drop soup has no cornstarch and is Keto, Paleo, Whole30.
Print
Pin
Rate
Ingredients
3 bulbs scallion, chopped and separate white and green parts
8 oz. ripe vine tomatoes, about 2 medium and finely chopped
1 tbsp avocado oil
to taste Coarse sea salt
2 to 2 ¼ cups chicken bone broth, store bought, or vegetable stock
2 large eggs
1.5 tsp arrowroot starch, skip if on keto
Drizzle Toasted sesame oil
Small handful chopped cilantro, optional
Instructions
Chop the scallion and separate white and green parts. Finely dice the tomatoes and set them aside in a bowl.

Preheat a medium size soup pot over medium heat, add oil. Saute white scallion parts with two pinches of salt until fragrant, about 8-10 seconds. Take care not to burn them.

Add tomatoes and 2 pinches of salt. Saute for 2 to 3 minutes or until the tomatoes turn quite soft in texture.

Add broth and cover with a lid. Lower the heat to medium-low. Bring it to a gentle simmer and cook about 8 to 10 minutes total to extract more flavor from the tomatoes.

In the meantime, whisk the eggs in a measuring cup with spout until you can see small bubbles form. In a separate small bowl, mix well arrowroot and 2 tbsp water to make a slurry. If you are on keto, skip the slurry step.

Remove the lid and taste test the soup to adjust salt seasoning. Aim on the less salty side as the soup will taste saltier once it comes to room temperature.

Bring the soup to hot simmering and almost to a gentle boiling state. Stir the starch mixture one more time then slowly drizzle it into the broth, stir for about 30 seconds.

With one hand slowly drizzle in the eggs from higher up and the other hand quickly stir the soup constantly with chopsticks in the same circular motion to form fine egg flower ribbons.

Off heat, drizzle with toasted sesame oil and garnish with cilantro, if using, and green scallion parts. Serve hot or warm.
Notes
Use Takii's umami mushroom powder seasoning to replace salt for even more flavor, especially if you use vegetable stock. 
The exact salt quantity will depend on your personal taste preference and the salty level of your bone broth.
In Asia, it's common to serve homemade egg drop soup without the starch thickener. Feel free to skip the starch to make the soup even lower in carb.
Try it with shiitake or organic tofu to create variety.
To make this soup vegetarian friendly, swap the chicken bone broth for vegetable broth, I recommend using Takii's umami powder to season the broth for best flavor.
Nutrition
Serving: 1serving, Calories: 125kcal, Carbohydrates: 5g, Protein: 7g, Fat: 9g, Saturated Fat: 2g, Polyunsaturated Fat: 1g, Monounsaturated Fat: 1g, Trans Fat: 1g, Cholesterol: 105mg, Sodium: 83mg, Potassium: 288mg, Fiber: 1g, Sugar: 2g, Vitamin A: 625IU, Vitamin C: 8mg, Calcium: 27mg, Iron: 1mg
Made a dish and love it? Please remember to rate the recipe and leave a comment in the comment section below! It helps my blog grow organically so I can continue sharing free and awesome content with you. Thank you!