Bok Choy Dim Sum
Bok Choy Dim Sum recipe with crunchy baby bok choy in a garlicky Paleo dim sum sauce. Every bite is burst with flavor, just like the dim sum you get at your favorite Chinese restaurants. This simple Paleo side dish is easy to make and you'll find yourself wanting for more bite after bite.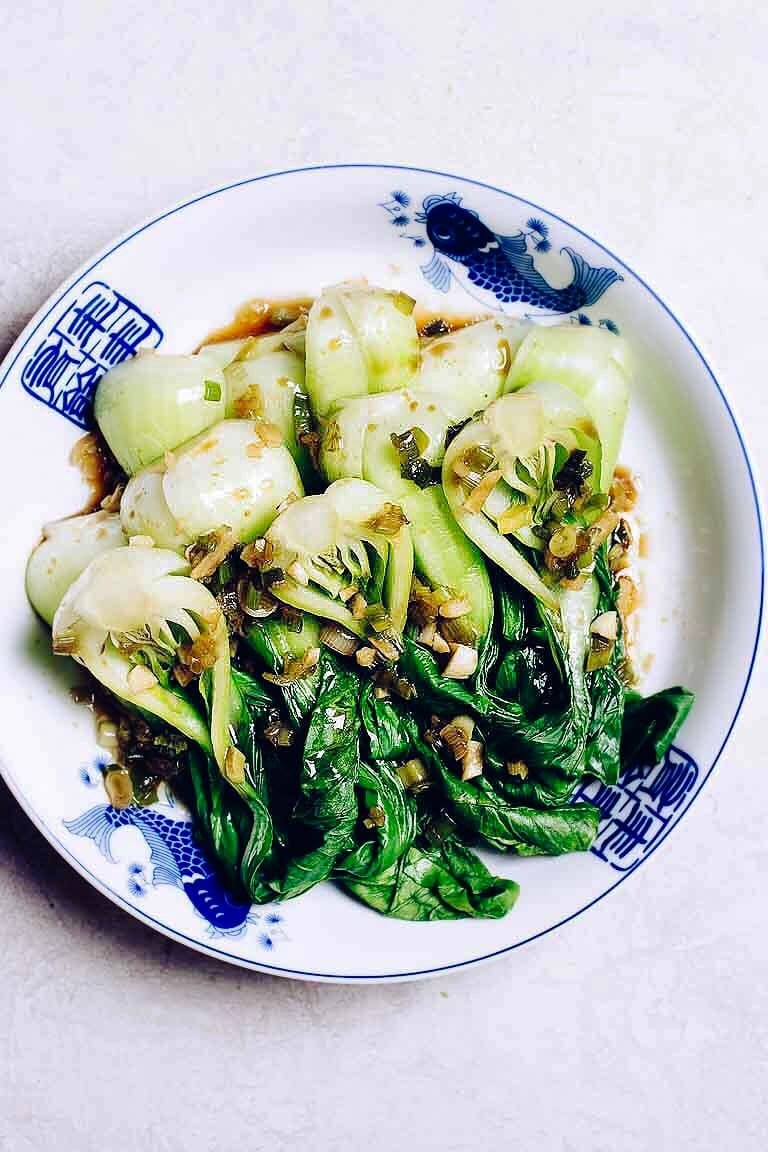 What is Bok Choy?
Bok Choy in Mandarin is 青菜 [qīng cài]. Some people also call it 白菜 [bái cà] in Mandarin. It's a vague and very general term and simply means blue-green colored vegetables. Bok Choy is a Cantonese pronunciation. Since the term – Bok Choy – could mean a wide variety of Chinese vegetables, a more specific name for the type of bok choy that we are referring to in the West should be Shanghai Bok Choy 上海青菜 [Shànghǎi qīng cài]. See more variety of bok choy with my Chinese leafy greens guide.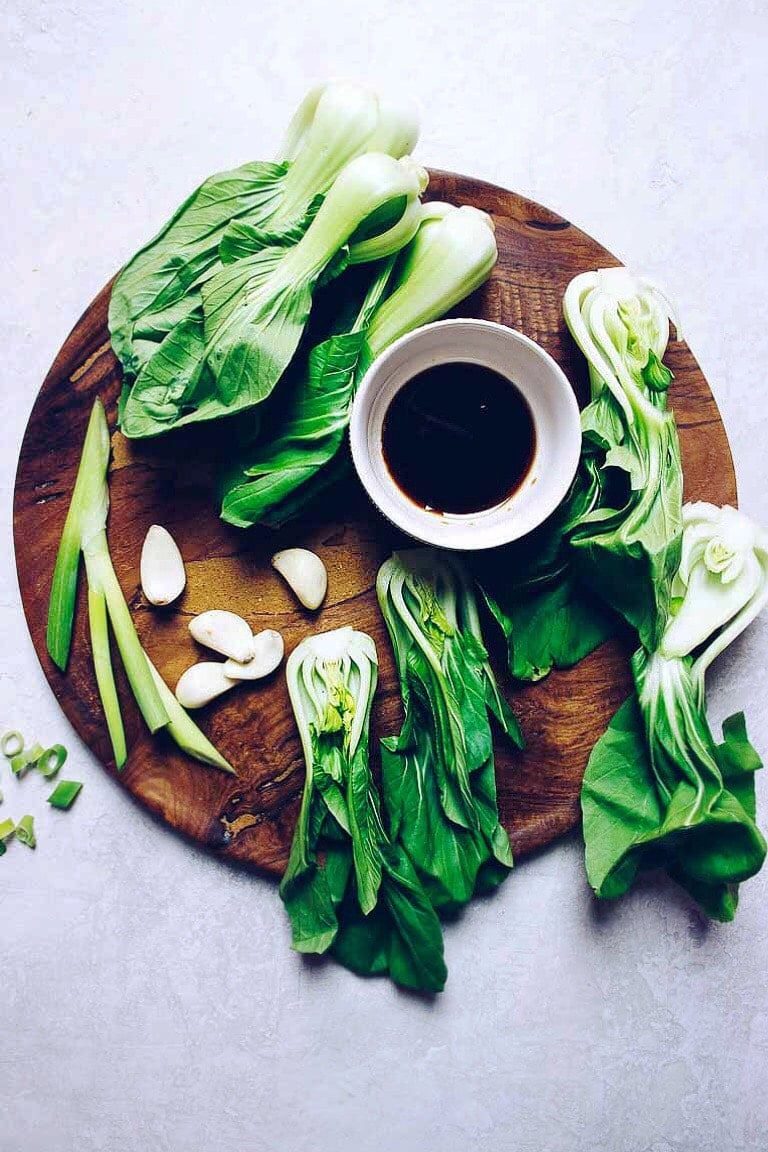 Regular Bok Choy vs. Shanghai Bok Choy
Regular bok choy in Mandarin is 奶白菜 [Nǎi báicài] and it literally means milky color vegetable. Regular bok choy has white stalks and dark green leaves with a crinkled texture like the picture below. In my opinion, regular bok choy has a slightly stronger peppery taste than Shanghai bok choy. The stalks are less crunchy than Shanghai bok choy after cooked.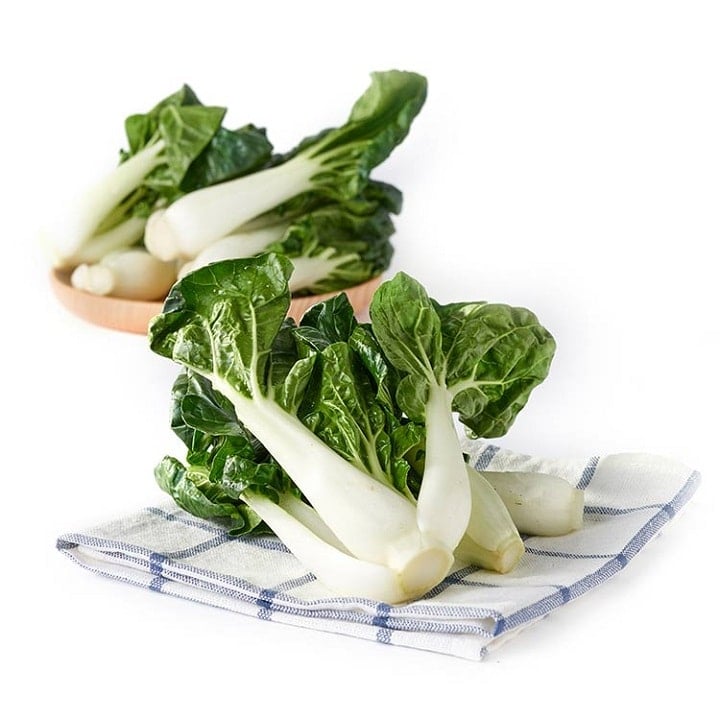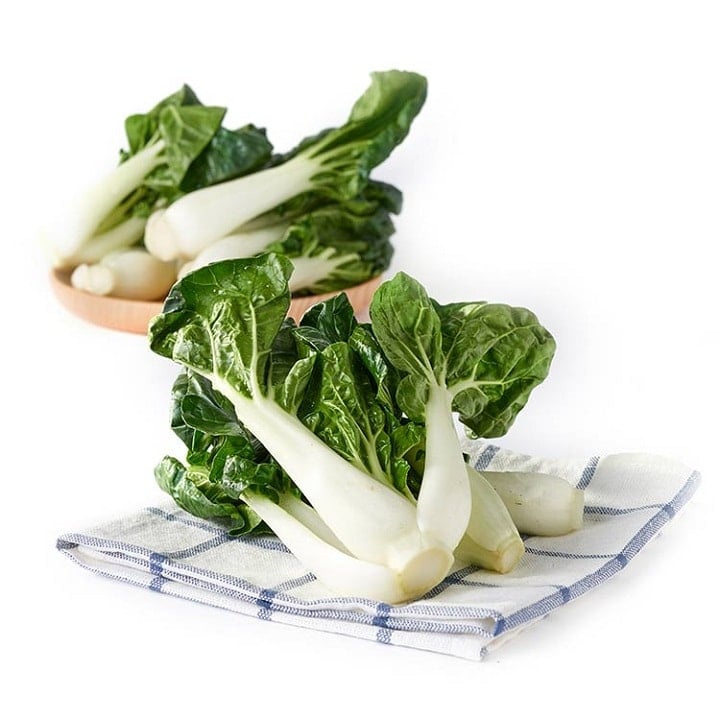 Shanghai bok choy is the most common type that we see in the Western markets. The stalks are in gorgeous green color and the shapes look like soup spoons once you halve them in half. We use Shanghai bok choy for today's dim sum bok choy recipe.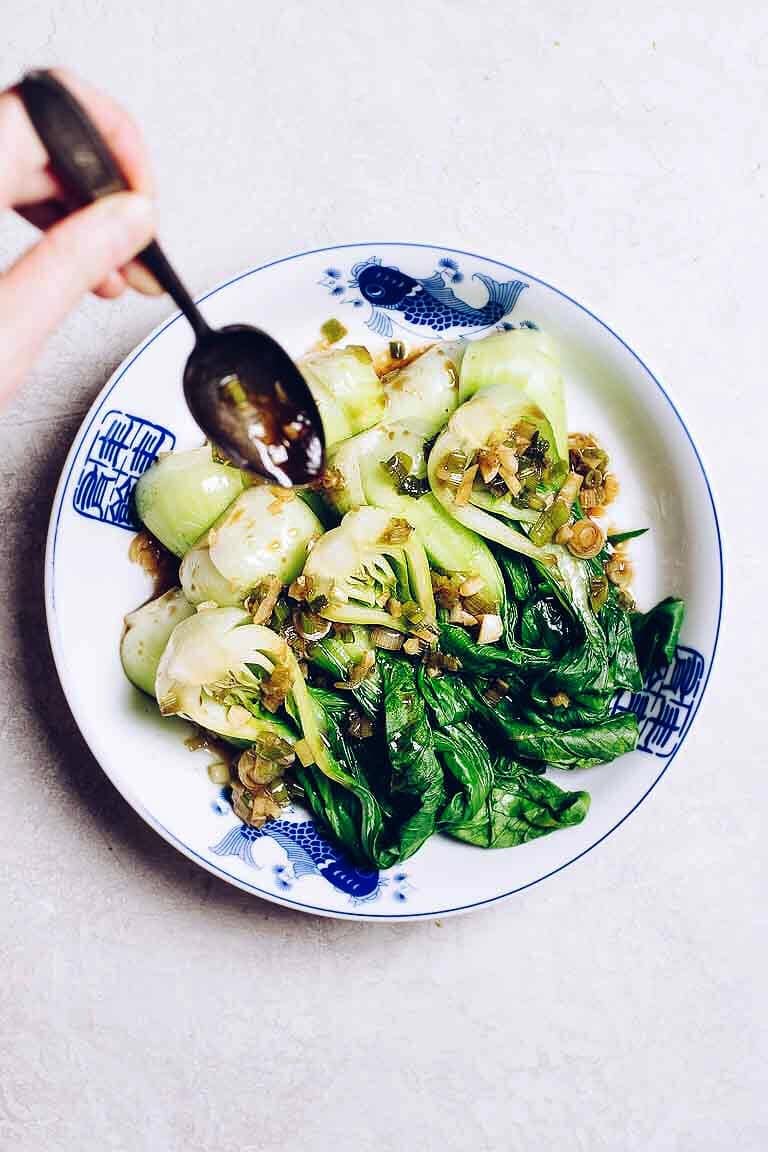 How to prepare Bok Choy
You can stir-fry Bok Choy or quickly blanch them and season with sauce to make Bok Choy Dim Sum. You can also add Bok Choy to Noodle soup. The best way to clean Bok Choy is to halve or quarter them first then rinse under clean room temperature water. Read my comprehensive guide on how to cut bok choy and prepare it based on the sizes of your pak choi.
Baby Bok Choy should be no longer than 6-inch lengthwise. For larger size Bok Choy it's best to dice them into 2-3 inch sections before washing.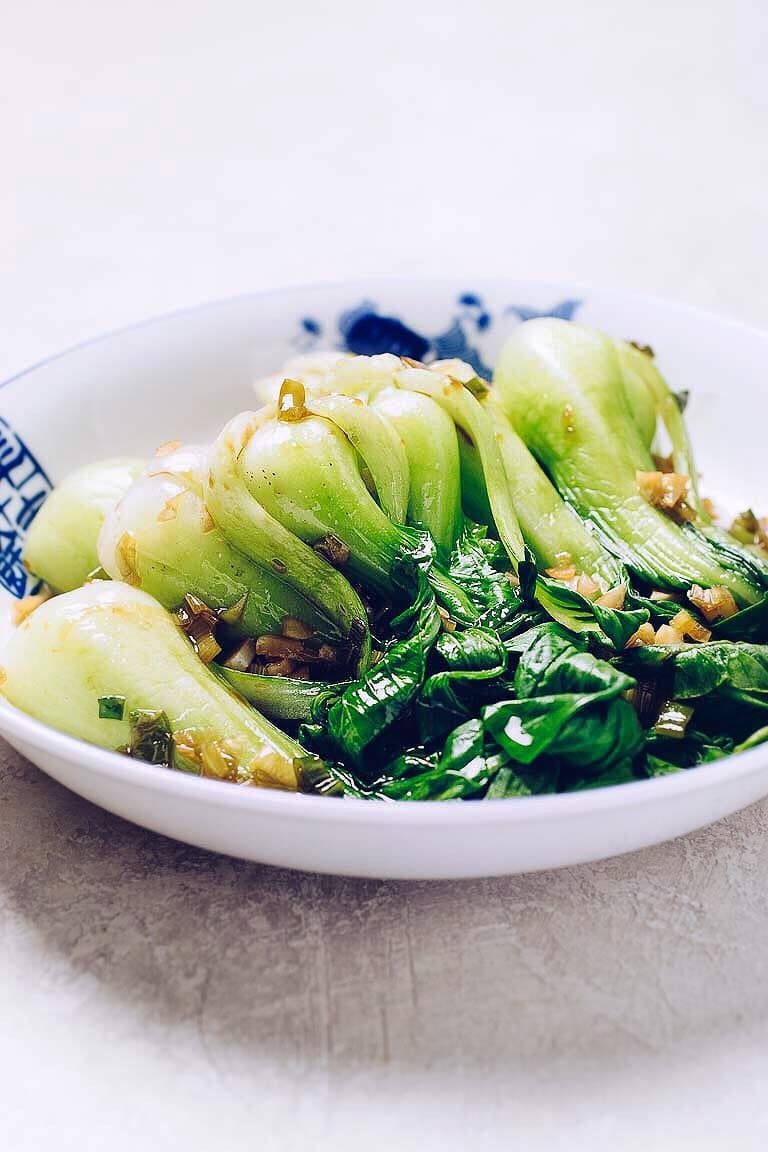 Bok Choy Recipes
Today's Bok Choy Dim Sum is a perfect way to enjoy Bok Choy in a whole new way. It's a wonderful side dish that goes well with many savory mains or any of my stir-fry and stew recipes.
You can also add them to noodle soup for example my Whole30 tantanmen ramen for winter months or my Paleo Japanese cold ramen for summer.
For stir-fry, try my Chinese broccoli stir-fry with garlic sauce recipe and simply swap the Chinese Broccoli for Bok Choy and you'll have a lovely plate of garlicky delicious bok choy stir-fry in no time.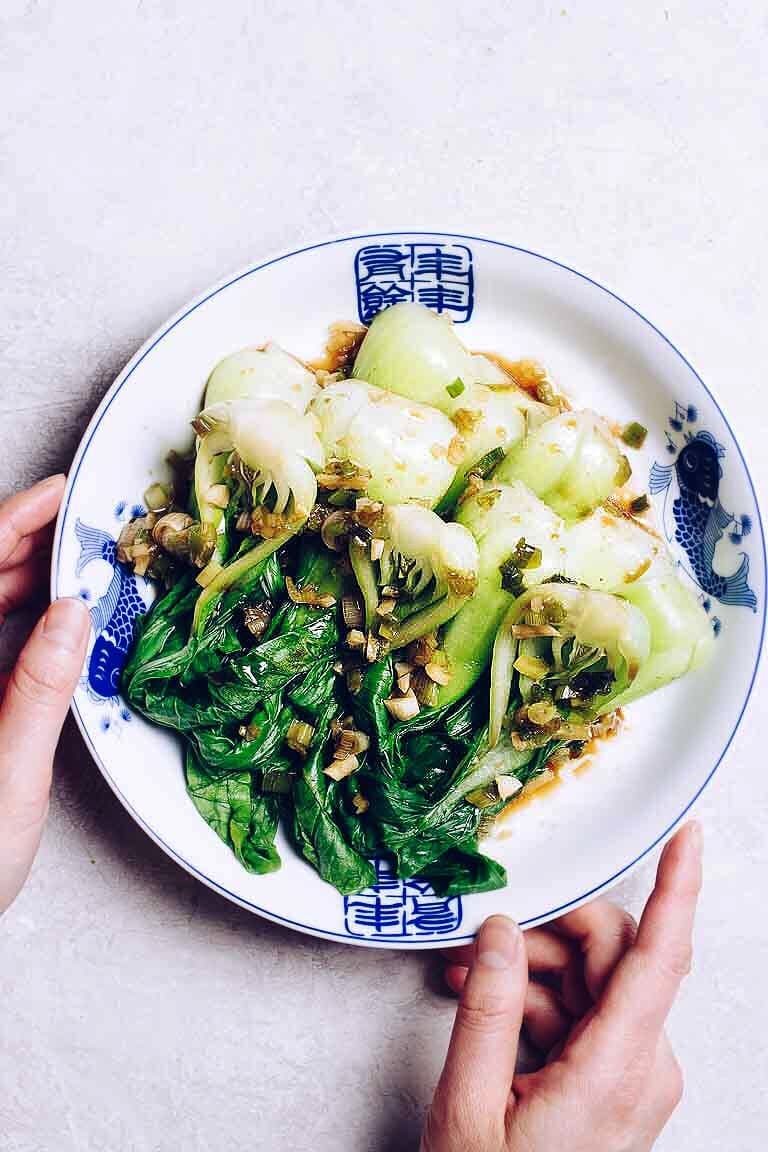 This Bok Choy Dim Sum recipe is a wonderful side dish for the whole family to enjoy. It's Paleo, Whole30, Keto, and Vegan. If you've been looking for a new way to enjoy bok choy, give this lovely vegetable dim sum a try. You are going to love it!
Bok Choy Dim Sum
Bok Choy Dim Sum with crunchy baby bok choy in a garlicky Paleo dim sum sauce. Every bite is burst with flavor, just like the dim sum you get at you favorite Chinese restaurants.
Print
Pin
Rate
Instructions
Bring a large pot of water to boil. Halve or quarter baby bok choy and rinse under cold water until clean. Prepare garlic and scallions in one bowl. Combine coconut aminos and sesame oil, if using, in a second bowl. Set them aside ready to use.

Bok choy: Hot water blanch bok choy for about 1 to 1.5 minutes. The vegetables should still be very crunchy. Plunge them in cold water to stop cooking. Set them aside to drain then place on a serving plate.

Dim Sum Sauce: In a well-heated skillet, add 2.5 tbsp oil. Saute garlic and scallions with 1/4-1/2 tsp salt until fragrant, about 1 minute. While the oil is still hot, pour the fragrant oil with garlic/scallions into the bowl with coconut aminos and sesame oil. Stir the bowl to combine the sauce.

Serve: Spoon the sauce over bok choy 1 tbsp a time until your desired flavor intensity level. Serve in room temperature or chilled.
Notes
For best results, select bok choy around 6-inch in length or smaller. For larger size Bok Choy, chop them to 2-3 inch sections before blanching.
Nutrition
Serving: 1serving, Calories: 75kcal, Carbohydrates: 3g, Fat: 6g, Sodium: 261mg, Potassium: 8mg, Vitamin A: 3365IU, Vitamin C: 34.7mg, Calcium: 87mg, Iron: 0.6mg
What to serve with Bok Choy Dim Sum? Check out my Paleo Orange Chicken, Paleo Shumai, Chinese pepper steak, Paleo broccoli fired rice, Chicken stir-fry with zucchini, Chinese jumbo shrimp and ketchup stir-fry, seafood dim sum, and Chicken broccoli!
More bok choy recipes!
Bok choy soup, Thai bok choy salad, Shiitake stir-fry with baby bok choy, and Bok choy salad with Japanese sesame dressing.