Thai Bok Choy Salad
Get your taste buds dancing with this bright and crunchy Thai Bok Choy Salad recipe! The zesty Whole30 Thai chili lime dressing is sweet-tart-savory and a little heat from chili will make any salad exciting!
Looking for more ways to enjoy bok choy? my Bok choy dim sum and Bok choy salad are all great choices, plus a whole entire glossary guide on Chinese vegetables to pick and choose from!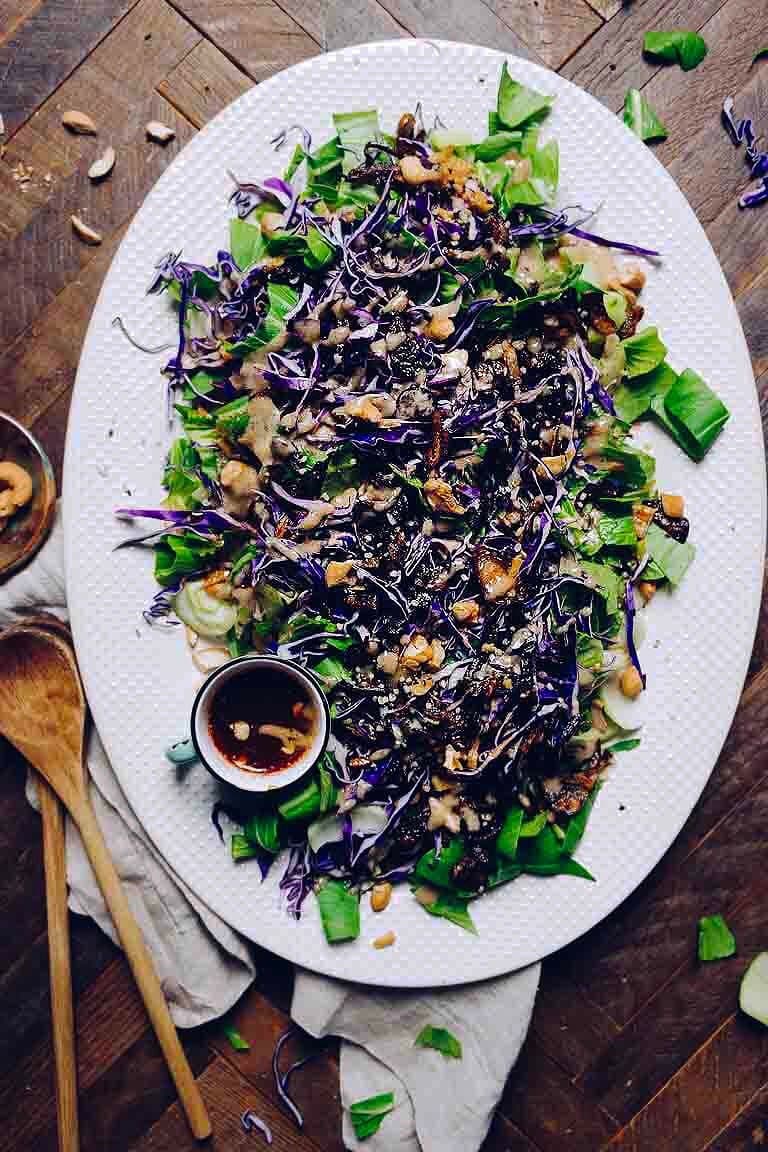 LA's Night + Market Song
Inspired by our recent trip to LA, I recreated this Paleo Thai Bok Choy Salad that Nate and I both fell in love with while visiting LA. This bok choy salad is not a traditional salad recipe you'll find in Thailand but nonetheless it's a representation of Chef Yenbamroong's invention and it tastes amazing! Both Nate and I agree this chopped Bok Choy Salad was the highlight of the meal out of all the dishes we sampled that evening. Totally worth the time to share.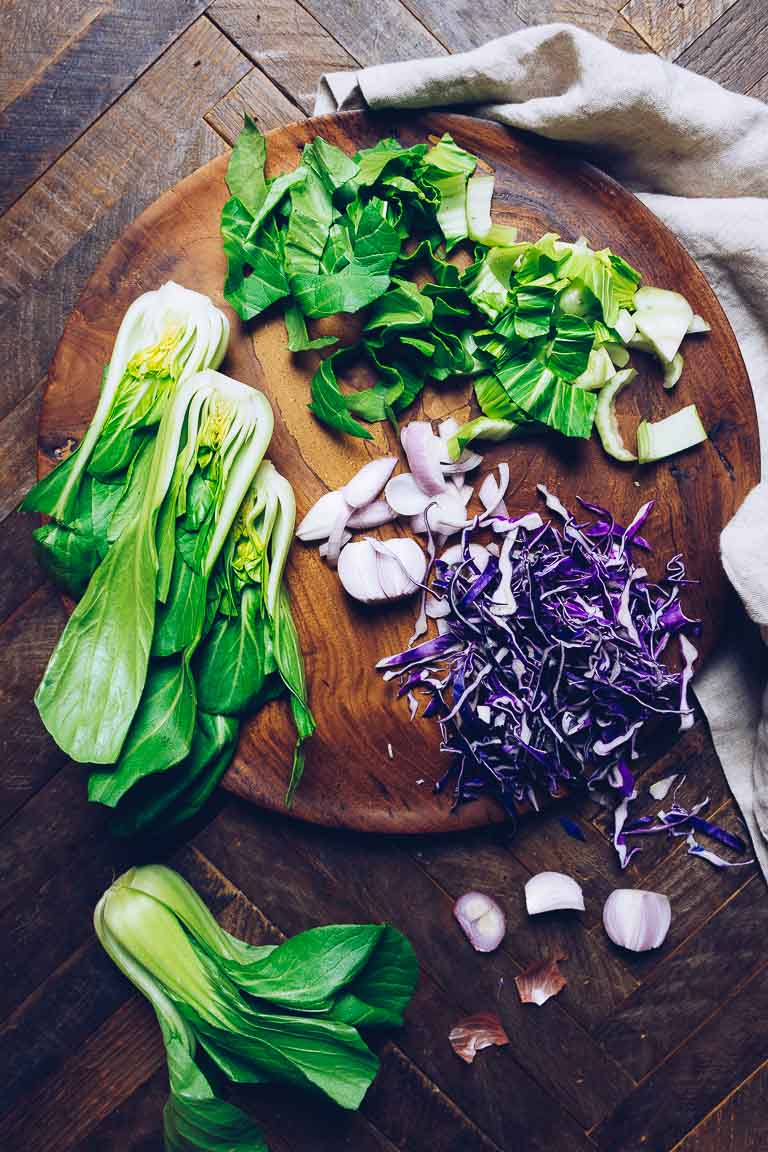 Simple ingredients
The ingredients for Paleo Thai Bok Choy Salad are simple. Besides crunchy shredded cabbage and baby bok choy, crispy fried shallots and Thai salad dressing are the focus that makes this salad so special. Learn how to cut bok choy for soup, salad, or stir-fry!
Healthy Paleo and Whole30 Thai Salad Dressing
I added a little sweetness to balance the spicy and tart flavor that usually finds in Thai salad dressing. Traditionally people use sugar but here I use apple juice instead. I also found that if we warm up the dressing slightly and let it cool down before using, it helps the dressing to taste naturally sweeter and less pungent.
I use the same dressing for my Whole30 Crispy Thai Chicken Apple Salad and Whole30 Thai steak salad. The zesty Whole30 Thai chili lime dressing is sweet, tart, and savory. In the Night Market, the chef decorated the salad with a few tablespoons of Caesar dressing. You might think Thai salad with western dressing is weird but in my opinion this is totally a genius approach. A few tablespoonful of Caesar dressing actually helps cool the palate and it provides a nice balance to the spicy and tart Thai salad dressing. I totally love it!
A Must Have – Fried Shallots
The crispy fried shallots are a must-have item for the Paleo Thai Bok Choy Salad. The shallots are pan-fried to golden crispy with just a slightly charred flavor. Without it there won't be enough bite and character to make the salad really sing. You can see I intentionally increase the shallot quantity to make it almost a major part of the recipe as opposed to garnish.
Fried shallots are also commonly used In Taiwan. For example my Instant Pot Taiwanese meat sauce. You can also add the crispy shallots to any noodle soup to add extra flavor.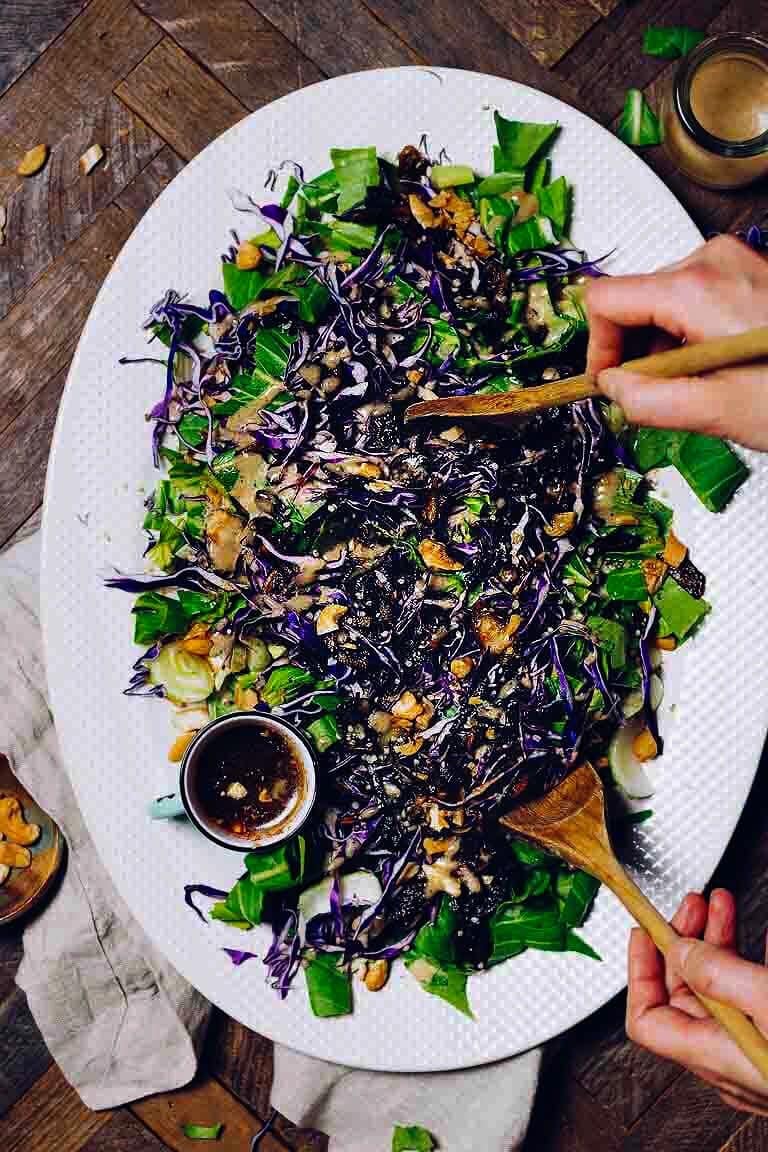 New Way to Enjoy Bok Choy
If you are a Bok Choy lover, you are totally in a treat! My Chinese Bok Choy Dim Sum recipe and this Paleo Thai Bok Choy Salad are two wildly different recipes yet both of them taste equally delicious. The Thai bok choy salad is raw and the Chinese bok choy is lightly blanched so either way they are all crunchy and delicious.
If you give this Paleo Thai Bok Choy Salad a try, please rate the recipe and leave a comment below. It'll help me and my blog tremendously and I'd love to hear what you think!
Love what you see so far? Subscribe to my blog I Heart Umami to get mouthwatering recipes for Free weekly!
Paleo Thai Bok Choy Salad (Whole30, Easy)
Paleo Thai bok choy salad with zesty Whole30 Thai salad dressing. It's sweet-tart-savory and a little heat from the chili will bring new flavor to any salad!
Print
Pin
Rate
Ingredients
Paleo Whole30 Thai salad dressing:
3 cloves small garlic, , finely chopped
1 whole fresno or serrano chili pepper, , seeds removed and finely chopped (alt. ¼ tsp Thai bird's eye chili pepper powder)
4 tbsp coconut aminos
1 to 1.5 tbsp fish sauce
Half one whole lime juice
2-3 tbsp apple or pineapple juice
2 tsp red pepper hot sauce
¼ tsp grated ginger, (alt. Thai ginger galangal)
Crispy Fried Shallots:
3 tbsp avocado oil
2 whole large shallots, , thinly sliced to strips
1 tsp coarse salt
Other:
6 cups baby bok choy, , chopped
2 cups shredded purple cabbage
1 tbsp Hemp seeds
Unsalted cashew nuts, , chopped, small handful
3-4 tbsp caesar or ranch dressing, , Whole30-compliant preferred
Instructions
In a small saucepan, combine ingredients from garlic to ginger, slightly warm up the dressing over medium-low heat for about 2-3 minutes. Stir-often and set aside to cool.

In a well-heated saute skillet, add 3 tbsp avocado oil. When hot, lower the heat to medium. Pan-fry the shallots with salt for about 5 minutes or until golden brown. Stir-often so they won't get burnt. Set the shallots and oil aside ready to use.

In a large salad mixing bowl, combine bok choy and cabbage and add 1 tbsp Paleo Whole30 Thai salad dressing a time until your desired salty level. Toss well. Garnish with fried shallots, hemp seeds, cashews, and drizzle with Caesar dressing. Serve in room temperature or slightly chilled.
Nutrition
Serving: 1serving, Calories: 253kcal, Carbohydrates: 10g, Protein: 5g, Fat: 20g, Saturated Fat: 2g, Cholesterol: 4mg, Sodium: 625mg, Potassium: 150mg, Fiber: 2g, Sugar: 4g, Vitamin A: 8060IU, Vitamin C: 102.6mg, Calcium: 221mg, Iron: 2.6mg
What to pair with Thai Bok Choy Salad? Check out my Thai basil beef stir-fry keto shrimp avocado salad, and Thai sweet chili salad tabbouleh.
Love Thai food? 16 Best tried and true Whole30 Thai recipes and Whole30 meal prep recipes.
More Bok Choy Recipes