Paleo Chicken Katsu
Paleo Chicken Katsu is a Japanese-inspired baked or pan-fried chicken cutlet recipe with thinly shredded cabbage slaw in light Asian sesame ginger dressing. This chicken katsu is not only paleo but also Whole30 and gluten-free!
---
Ever wonder how to make a Paleo version of the Chicken Katsu ?
What is Katsu ?
Katsu is short for katsuretsu, the Japanese transliteration of the word cutlet.
Katsu = cutlet
Katsu is reserved for ingredients that are pounded or filleted thin, like tonkatsu (ton=pork), chicken-katsu, beef katsu, and menchi-katsu (menchi, transliteration for minced, as in minced meat, a fried patty of ground meat).
In my numerous attempts to make Paleo version of katsu, the best method I found without 1) deep frying and 2) still trying to stay within Whole30 is to lightly dust chicken cutlets with a combination of shredded coconut and almond or cassava flour to replace panko bread crumbs.
The shredded coconut gives a crispy texture and when dusted lightly with almond or cassava, it gives a nice but not overwhelmingly coconut flavor to the chicken.
Now, will it taste 100% the same as the real Japanese Katsu breaded with panko? Not 100%, but I think it has its own very delicious flavor. Besides, if you are looking for an alternative to deep fried food, the recipe below provides an alternative work around, without sailing too far away from the authentic Japanese katsu flavor served in a restaurant. :))
Baked vs. Pan-fried Paleo Chicken Katsu
If you opt for the pan-frying method, please pay a little attention to the stovetop temperature. Shredded coconuts tend to get burnt fairly easily under direct heat and on the other hand chicken breasts need to be completely cooked through so it's a delicate balancing act that you'll need to pay a bit more attention to and take all elements into consideration. Watch the cutlets and the skillet temperature like a hawk to prevent it from burning.
If you are looking for hassle-free and if you aren't too picky about the golden crispy crust color, baking might be a good choice for you. Follow the instructions below or test both methods like I did to find the best way for you and the family. :))
To Make It Authentic … Enter The Super Thin Shredded Cabbage
Shred the cabbage with a mandolin slicer and soak them in ice cold water so that they will remain crunchy and fresh.
The ridiculously thin shredded cabbage goes perfectly with the rich golden crust cutlets. It's a must-have to keep this dish light and refreshing.
A minor change to the traditional katsu sauce
The most common sauce for katsu (i.e. katsu sauce) is a combination of Worcestershire, ketchup, mirin (a Japanese sweet rice wine), and many other ingredients such as mustard, garlic powder …etc. If you are familiar with my recipe, my Paleo Worcestershire Sauce hamburger steak comes with a wholesome delicious homemade Worcestershire sauce you can easily make at home and that resembles the character of katsu sauce. it'll go perfectly with Paleo Chicken Katsu.
Here I share a second sauce – Sesame Ginger Dressing – that can be used doubled for the thin shredded cabbage and chicken cutlets. It gives a lighter and refreshing taste for warmer weather.
Pour the Asian sesame ginger dressing over and serve it over cauliflower rice or simply eat them alone. Either way protein, veggie, plus sauce …we've got you covered ! 😀
Give this lovely Paleo Chicken Katsu a try and you'll be pleasantly surprised how family friendly this dish is for both adults and kids to enjoy.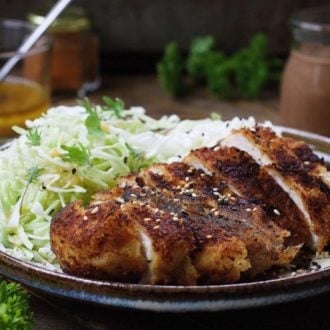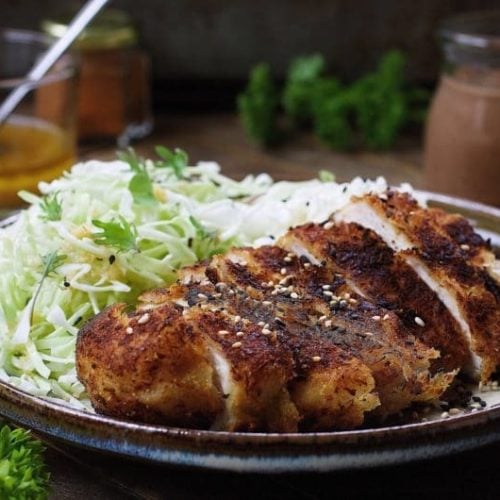 Paleo Chicken Katsu (Whole30, Gluten-Free)
Paleo Chicken Katsu with thin shredded cabbage noodles in light Asian sesame ginger dressing. Paleo and Whole30 friendly Japanese-inspired chicken katsu cutlets!
Print
Pin
Rate
Ingredients
1 ¼ to 1 ½ lbs chicken thighs or breasts, (skinless/boneless)
Quarter to half of one whole green cabbage
Coarse sea salt and black pepper to taste
4 tbsp arrowroot/sweet potato flour/powder
2 medium chicken eggs + 2-3 tbsp water*
6 tbsp shredded coconut, (unsweetened)
⅓ cup almond flour, (alt. ¼ cup cassava flour)
You can also use my Paleo Worcestershire Sauce as an optional sauce for chicken cutlets *
Asian Sesame Ginger Dressing :
¾ tbsp grated ginger
2 ½ – 3 tbsp rice vinegar
2 tbsp extra virgin olive oil
1-2 tsp toasted sesame oil
3 tsp coconut aminos
¼ tsp garlic granules
¼ tsp onion granules
Instructions
Cabbage: Slice one whole green cabbage in half then cut into 4 quarter wedges. Use a mandolin slicer to thinly slice them into thin/long shreds. Submerge the cabbage in ice cold water. Set aside in the fridge. Drain before serving.

Chicken: If the breast is too thick, butterfly and pound it to an even thickness (about ¼ inch thick) with the bottom of a wide jar. Lightly season both sides with coarse sea salt + black pepper.

Prepare 3 large shallow dishes: Season with a little bit salt in all 3 dishes – 1) arrowroot flour, 2) 2 whisked eggs with 2 -3 tbsp water, 3) shredded coconut and almond flour.

To pan-fry: Heat 1 ½ tbsp ghee over medium-high heat. When hot, lower the heat to medium. Lightly coat chicken with arrowroot. Shake of the excess. Then dip into the egg* mixture and finally coat with shredded coconut and almond flour. Press and make sure the coconut & almond flour stick to the chicken breast well. Pan-fry over medium-high heat until both sides are golden brown then lower the heat to medium and continue to cook for a few additional minutes until the chicken is completely cooked through. Flip the breasts often and watch it carefully to prevent from burning. Set aside over a cooling rack.

Serve: Carefully slice the cutlets and serve immediate with finely shredded cabbage, sesame ginger dressing and cauliflower rice.*
Notes
*Link to – Paleo Worcestershire Sauce
* If allergic to egg, swap the egg batter (2 eggs + water) to olive oil and a bit lemon juice.
* For baked chicken cutlets, preheat oven to 425 F/218C. Lightly spray olive or coconut oil over coated chicken breasts and the baking sheet pan. Bake 1st side about 12 minutes and flip side about 10 minutes. Flip the breast over one more time to give a few additional minutes to ensure the breasts are completely cooked through.
*I personally prefer using cooked cauliflower rice – quick saute with a little bit olive oil, salt, and pepper.
Nutrition
Serving: 246g, Calories: 404kcal, Carbohydrates: 18g, Protein: 32g, Fat: 23.3g, Saturated Fat: 7.2g, Trans Fat: 0.2g, Cholesterol: 160mg, Sodium: 509mg, Fiber: 4g, Sugar: 3g, Vitamin A: 350IU, Vitamin C: 36.3mg, Calcium: 80mg, Iron: 1.8mg