Chinese Chicken Soup
Homemade Chinese Chicken Soup tastes just like what you get in high-end Chinese restaurants. It really is that easy – simply add a whole chicken with an herbal packet into an Instant Pot, slow cooker, or stovetop, press the button and forget it. In an hour, you'll have a pot of super nourishing easy Asian chicken soup that's super out of this world delicious and will keep you healthy throughout the winter!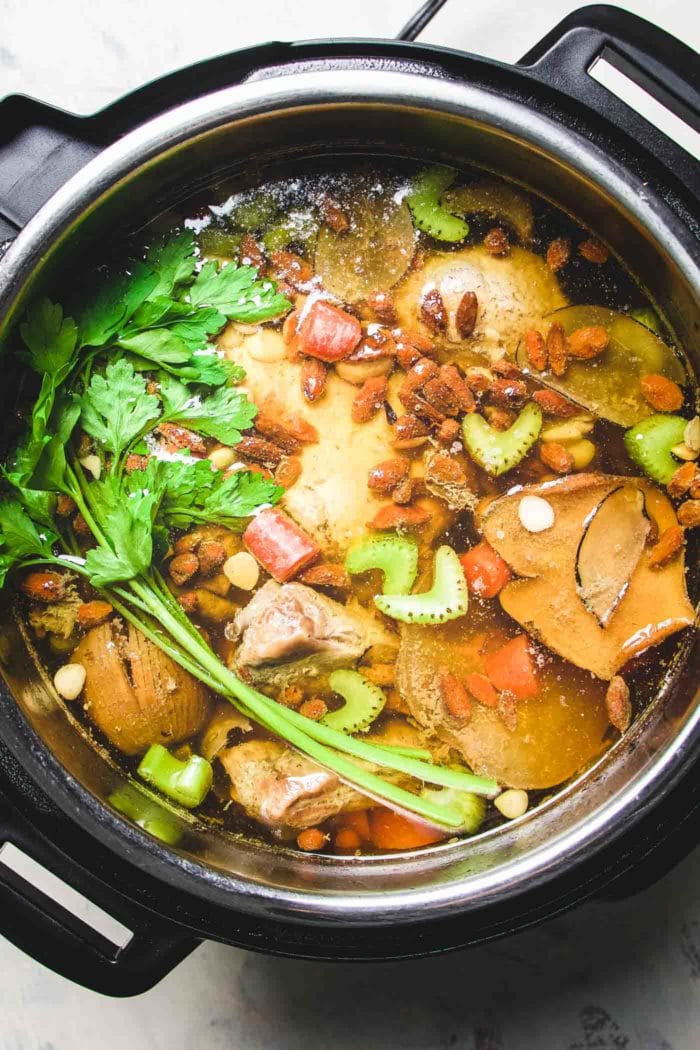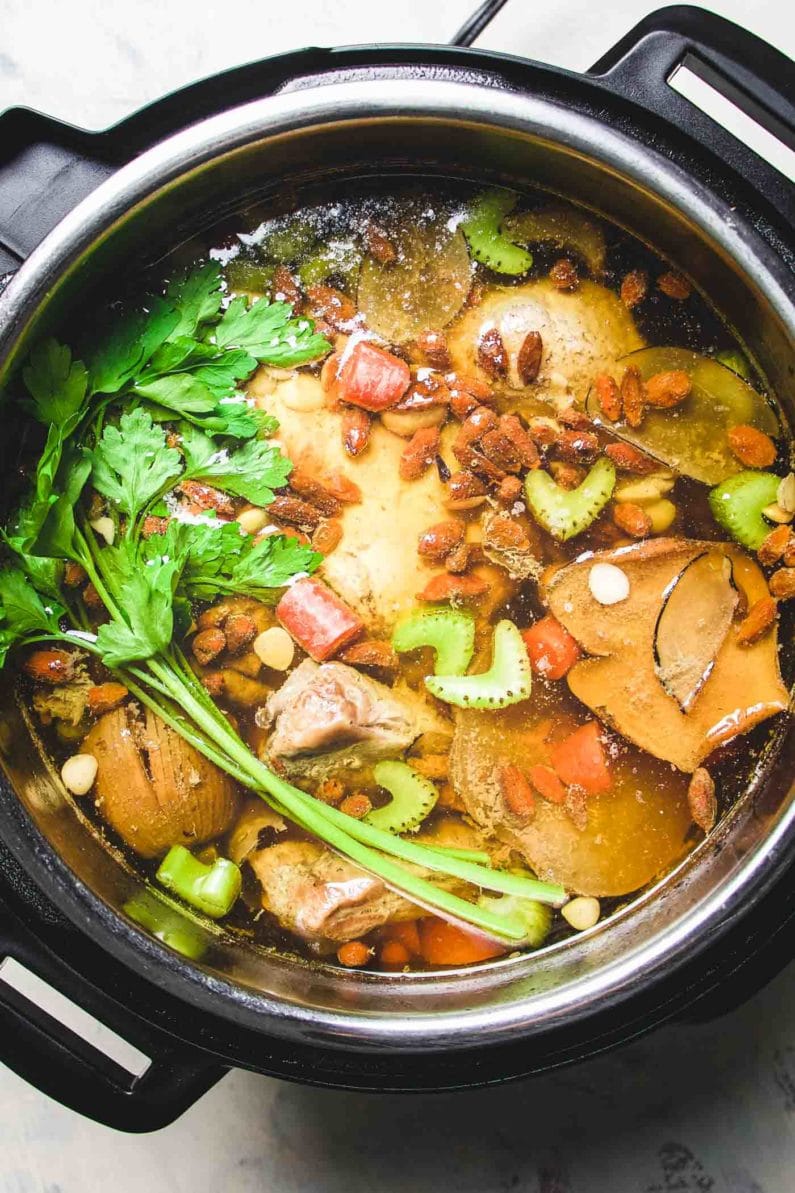 Homemade Chicken Soup
Growing up in a Chinese family, homemade Chinese chicken soup is a must-have every winter. I remember mom would come back from the market with a whole fresh chicken and packets of Chinese dried herbs to make chicken soup. Back then we don't have pressure cooker or slow cooker so she would spend hours in the kitchen making the soup.
The herbs she and my grandmothers used in the soup vary from time to time so even to me it's hard to tell the right flavor combo and quantity to add to the soup. However, what makes Chinese chicken soup so special and in my opinion the best chicken soup in the world the secret ingredients lie on Chinese dried herbal packets. I had to find a way to make it work and keep it simple if we want to make it myself in the U.S.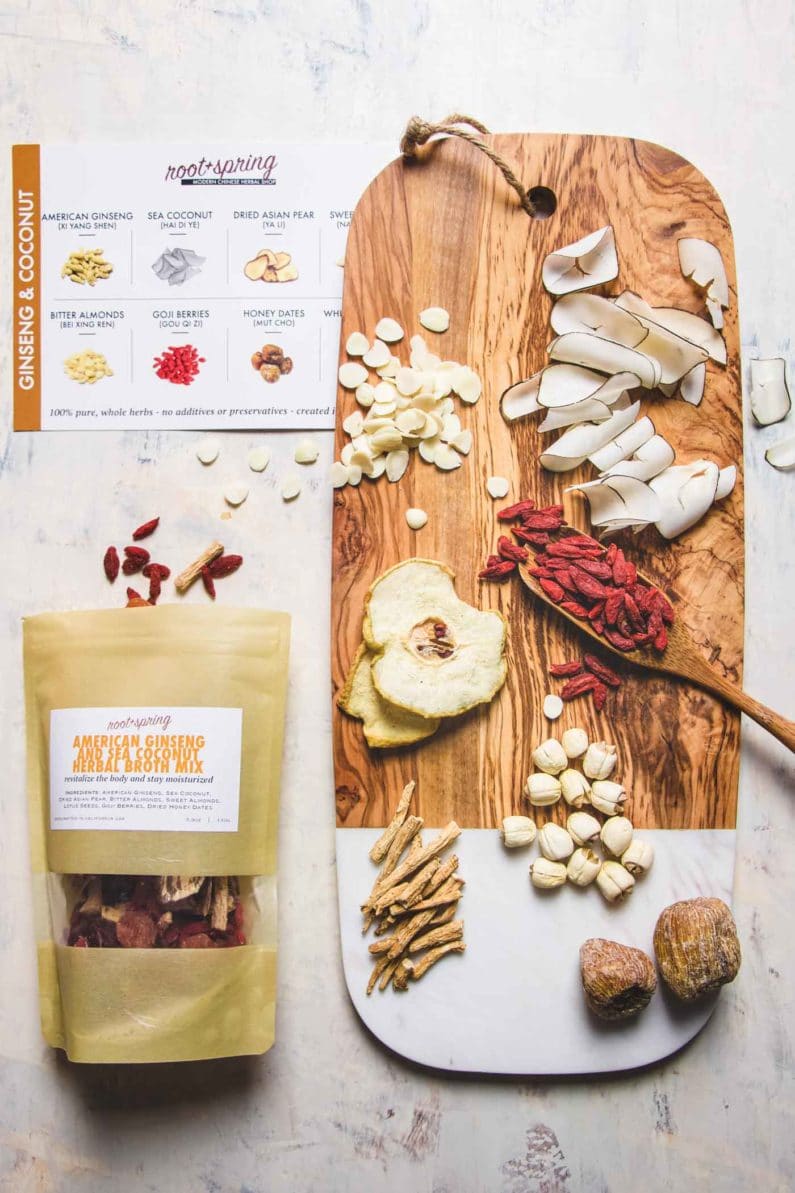 More than a year ago I discovered Root and Spring, a LA based online Chinese herbal company, that provides the highest quality of Chinese herbs for cooking. I reached out to them and decided to give their herbal packets a try. I immediately fall in love with their products and ordered a dozen right away.
The herbs from Root and Spring are so fragrant and each ingredient is in high quality. The moment you open the packet you can smell the difference. I also appreciate that each packet comes with the pre-measured flavor and quantity so it saves me time to figure out what to do.
Just open the packet, add it to the soup pot with a whole chicken and water. An hour or so later I'll have a pot of authentic Chinese chicken soup that tastes just like my mom's Chinese chicken soup. Each packet also comes with instructions for slow cooker, instant pot, and stovetop and benefits of each ingredient. See, easy!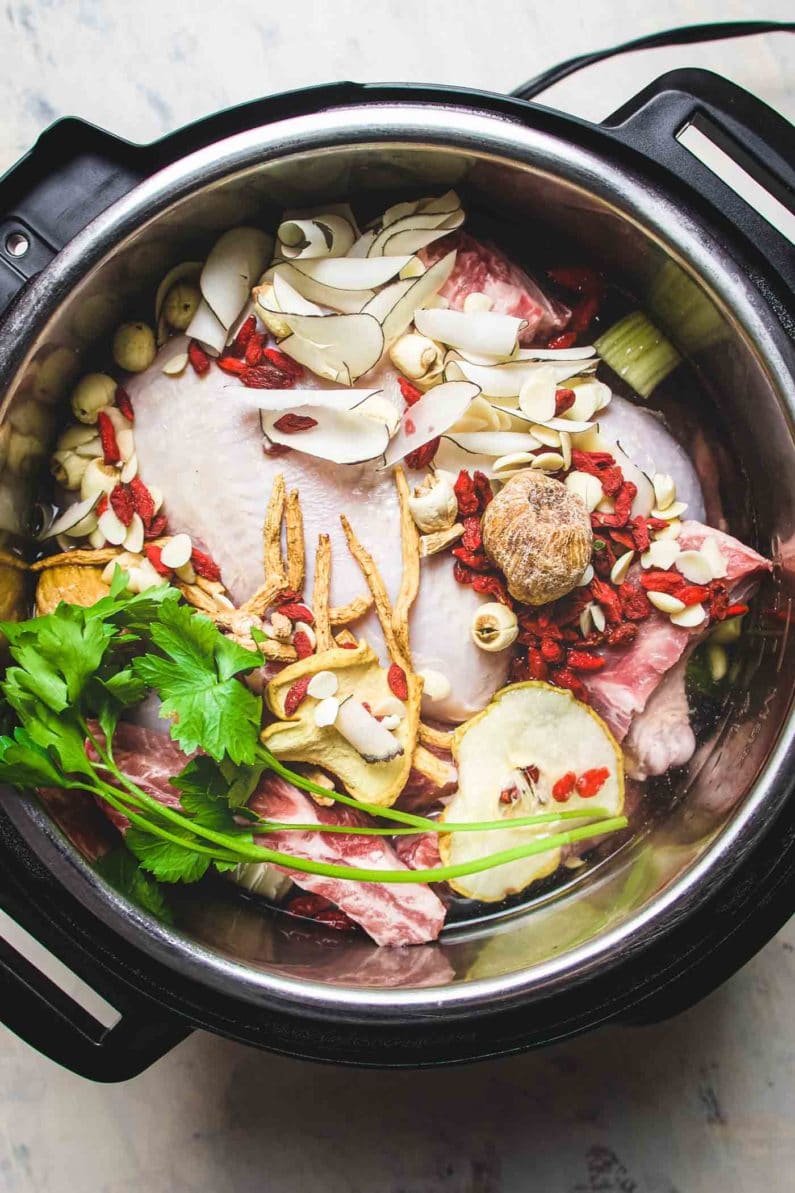 Asian Herbal Packet …just add water!
Making Chinese herbal chicken soup doesn't need to be complicated. There are many Chinese herbal soup flavors with various health benefits. Ginseng, goji berries, and red dates are all common ingredients in Asian chicken soup. These dried herbs make the homemade chicken soup so healthy and delicious.
If this is your first time trying Chinese dried herbs, think of it as the flavor base. They are super easy to use, basically fail proof. Just add a whole chicken, one herbal packet of choice, and water. Set it and forget it with your Instant Pot or slow cooker, once it's done season with salt to taste and that's it!
If you are okay with a little alcohol made with rice grains, add 1-2 tablespoons of Chinese Shaoxing cooking wine or Taiwanese rice cooking wine (Michiu) in the end and simmer the broth for an additional minute before seasoning with salt to taste. The soup flavor will taste even more authentic.
I once made this homemade chicken soup when I was really sick last winter. I was feeling so weak and had no energy to cook and this soup with the herbal packet really saved me. Place a whole chicken in the pot, add one herbal packet, and water. Season with salt after it's done cooking. That's it!
The soup is light, fragrant, umami-rich, and super nourishing, it's the best chicken soup that will keep the cold at bay!
How To Make Chinese Chicken Soup The Simple Way!
Add a whole chicken with giblets removed to the pot.
Open one dried herbal packet from Root and Spring.
Add the water to your Instant Pot, slow cooker, or stovetop.
Follow the recipe card instruction from the herbal packet to set the cook time.
Season with salt to taste before serving.
Pair The Soup With –
More Soul-Satisfying Soups/Broth –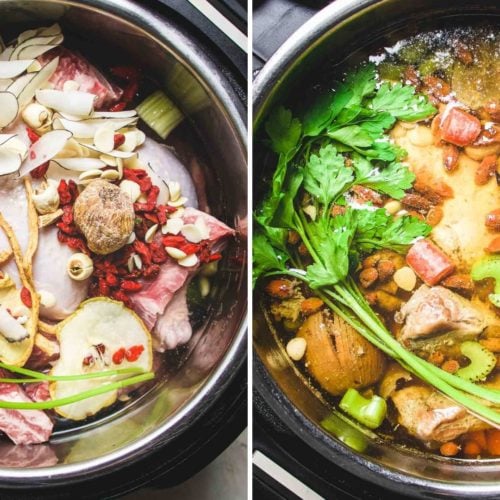 Chinese Chicken Soup Recipe
Homemade Chinese Chicken Soup tastes just like what you get in Chinese restaurants. Enjoy a pot of easy Asian chicken soup made Paleo and gluten-free!
Print
Pin
Rate
Ingredients
3-4.5 lbs whole chicken, giblets removed (see notes)
1.5 cups diced carrots, optional
1.5 cups diced celery, optional
1 lb. baby spareribs, dice up or whole, optional
1 packet Root and Spring American Ginseng and Sea Coconut Herbal Packet, see notes for discount code
6-8 cups water
Salt to taste, after the soup is finished cooking
Cilantro and chopped scallions, optional
Instructions
In a 6-quart Instant Pot, add chicken, carrots, celery, spareribs, if using, and one Chinese herbal packet.

Fill the pot with enough water to just cover the entire chicken, 8 to 10 cups. The pressure cooker should not be more than two-thirds full.

Seal the lid and valve. Set for high pressure for 50 minutes. Allow the soup to come to natural pressure release. Please Do Not use quick release.

For slow cooker, cook on low for 8 to 10 hours or up to 24 hours.

For stovetop, bring the ingredients to a boil in a soup pot, then lower the heat and simmer for 1 ½ to 2 hours. You may need to add a bit more water to compensate for evaporation.

Season with salt to taste. Add garnish before serving if desired.
Notes
You can also use whole chicken legs or drumsticks instead of a whole chicken.
Get 10% off from Root and Spring with my discount code "IHeartUmami"
Storage/Reheat/What to do with the cooked herbs
To store, allow the soup to come to room temperature and is no longer hot. Leave the herbs in the broth. They flavor will deepen after you reheat the soup the next day.
In general, you can debone chicken and remove the herbs after it's done cooking, the flavor will be much lighter. However, I recommend that you leave the herbs in the pot and reheat with ½ to 1 cup water the next day to fully experience the flavor. Season with more salt to taste.
Personally, I leave the herbs in the pot until I finish the entire broth. The broth will turn golden dark amber color and herbal flavor will become even stronger.
Okay with Chinese Cooking Wine?
What to do with the cooked chicken?
I usually leave the whole chicken (without deboning) until after I reheat the soup the next day. I found that I'm able to extract even more flavor from the bones and the herbs after first reheat. However, this is my personal preference. You can absolutely de-bone it after it's done cooking. 
To store the chicken breast, I recommend shredding and storing it separately from the soup. This way, it won't turn dry and tough when you reheat the broth. 
For chicken thighs, I leave them in the soup pot and reheat it with the broth together.
More About Chinese Dried Herbs for Cooking
There are hundreds and thousands of Chinese herb variety. Some are edible – for example goji berries, Chinese almonds – and others are for flavor and to balance the yin and yan in Chinese cooking. The best way to tell is to take a small bite after all the ingredients are cooked. You'll know the difference right away.
Root and spring has many more Chinese soup herbal packets. They have different Chinese medicinal purposes. For example: good for chi, good for lung, good for preventing colds and flues…etc. In general, you can follow the same recipe cooking time and methods for all of their packets.
Nutrition
Serving: 1serving, Calories: 345kcal, Carbohydrates: 3g, Protein: 24g, Fat: 26g, Saturated Fat: 8g, Cholesterol: 107mg, Sodium: 144mg, Potassium: 418mg, Fiber: 1g, Sugar: 1g, Vitamin A: 4209IU, Vitamin C: 3mg, Calcium: 39mg, Iron: 1mg
Made a dish and love it? Please remember to rate the recipe and leave a comment in the comment section below! It helps my blog grow organically so I can continue sharing free and awesome content with you. Thank you!