Easy Chinese Broccoli Stir Fry with Garlic Sauce
Easy Chinese Broccoli stir fry (gai lan) with garlicky sauce is an easy way to add dark leafy greens to your dinner table! This simple Chinese Broccoli Stir fry recipe is Vegan, Paleo, Whole30, Keto, and low carb! You can swap Chinese kai lan for broccolini or any vegetable stir-fry you like, using the same recipe!
Good for you dark leafy green – Easy Chinese Broccoli Stir Fry Recipe
Gai Lan (or Kai Lan) 芥蘭 is probably one of my favorite vegetables out of many Asian greens. It's a great way to add dark leafy greens to our meal and goes well with any savory main dishes. Today I'm sharing a simple and easy way to enjoy this healthy vegetable, especially if you are sensitive to gluten, wheat, or soy. You can still enjoy Chinese broccoli with a delicious "soy-flavored" garlic sauce.
How to stir fry Chinese Broccoli (AKA Gai Lan or Kai Lan)
There are 2 methods to make this dish:
1. Hot water blanch and shock in cold water first or
2. Sauté directly without blanching.
The blanch method (before stir-frying) helps remove bitter taste that some Chinese Broccoli might have. Sauté directly without blanching, which is what I did in the recipe below, is quick but if you aren't used to having Gai Lan (or Kai Lan) I recommend blanching the vegetables first.
Simple garlicky sauce – 2 ways
There are 2 ways to make a simple garlicky sauce for stir fry vegetables. You can use the same method for almost all Asian greens. How amazing, right?
Method 1
You can thin slice the garlic cloves and sauté them with oil to make a fragrant garlicky oil first then add the vegetables.
Method 2
If you use crushed or grated garlic cloves, which is the method I use below, you will add the garlic after sauteing the broccoli stems and before adding the leafy parts.
The first method requires a bit extra care with your stove top temperature so that your garlic won't get burnt. The second method gives stronger garlic flavor because the garlic cloves are finely grated or minced.
Where to find or buy Chinese Broccoli?
You can use the same stir fry method for almost any Asian leafy greens. I highly encourage you to try out new vegetables in your local Asian grocery stores. H-mart, a Korean chain grocery stores, often carry Chinese broccoli. If you live in NYC, NJ, or Long Island, Asian Veggies, an online wholesale vegetable shop, can deliver Asian vegetables, seasonings, and many specialty ingredients to your door steps.
Gluten-free, Easy, No MSG
To people who are sensitive to gluten, wheat, or soy, you'll notice that my recipes are tailored to your needs. I use coconut aminos to replace soy sauce. Coconut aminos (Product link in my recipe card) is made with sea salt and coconut blossom. It tastes salty, naturally sweet, and umami-rich. It's a wonderful bottle of seasoning if you love Asian food as much as I do and would like to cut back on added sugar in your diet. Please note that Coconut aminos is different from Bragg's Liquid Aminos. Though the names sound similar the ingredient components are very different. They also taste different. Check out my Youtube video to learn more about coconut aminos.
My Asian-Inspired Paleo Pantry Guide
So my readers, this Easy Chinese Broccoli Stir Fry (kai pan stir fry) is –
Easy
Garlicky
Paleo, Whole30, Keto, Gluten-Free, Soy-Free
& a great way to add dark leafy greens to your meal!
Want more of my simple and super delicious Asian-inspired Paleo, Whole30 and Keto recipes? Be sure to subscribe to my blog to make 10 healthy meals in under 10 minutes each.
More ways to use Chinese Broccoli Recipes and Asian vegetable recipes
On a mobile? Check out my recipe web stories on how to make this dish!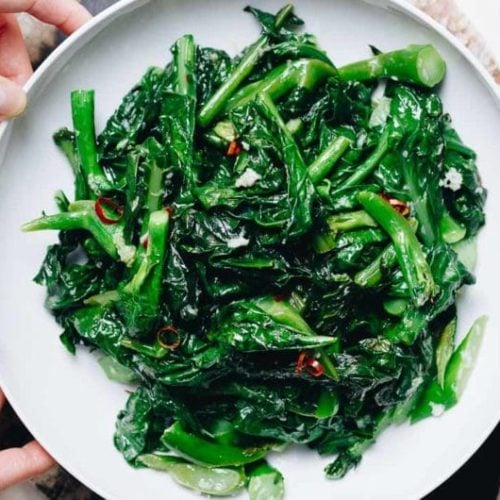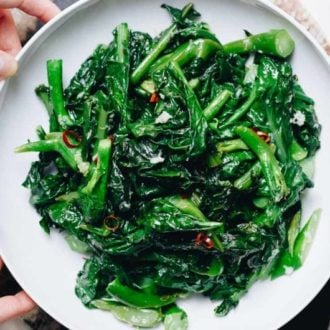 Easy Chinese Broccoli Stir-Fry with Garlic Sauce
Easy Chinese Broccoli stir fry (gai lan) with garlicky sauce is Vegan, Paleo, Whole30, Keto, and low carb. A great way to add dark leafy greens to your meal.
Print
Pin
Rate
Ingredients
3 to 4 lbs Chinese broccoli, , about 6-8 tightly packed cups (alt. Broccolini, see notes)
2 tbsp cooking fat, , avocado oil or ghee
2 tsp grated garlic cloves
¼ + ¼ tsp coarse salt
1-2 tsp toasted sesame oil, , garnish
1 tbsp coconut aminos, , garnish
Instructions
Cut off the Chinese broccoli bottom stems (about 1-inch) away and discard. Make another cut to separate stems from leafy parts. The stem parts should be roughly about 2 to 2-½ inch length. Slice the stems in diagonal shape. If desired, cut the leafy parts in half or leave them as a whole. Wash and rinse the stems and leafy parts separately. Set them aside to drain in separate bowls.

In a well heated large skillet (or wok), add 2 tbsp cooking fat. Statue the stems over medium-high heat until they turn bright green color (about 2 minutes). Season with ¼ tsp coarse salt. Add grated garlic and use a wooden spoon to break and coat the garlic over the vegetables.

Add leafy parts. Quickly toss and scoop the stems and garlic over the leaves. Cover with a lid. Lower the heat to medium. Cook for about 3 minutes until the leaves turn dark green color. Season with ¼ tsp coarse salt. Give a quick toss. Off heat, transfer to a large plate.

Season with toasted sesame oil and coconut aminos. Serve hot or cold.
Notes
You can substitute Chinese broccoli for broccolini. You can also use the same ingredients and sauce for almost all Asian vegetable stir-fries, for example, yu choy. The same seasonings also work for spinach and broccoli.
Hot water blanch method to remove bitter taste: Chinese broccoli has a slightly stronger bitter flavor than broccolini. If desired, after dice and rinse the vegetables quickly blanch the stems in hot boiling water for 1 minute and leafy parts for 10-15 seconds then shock the veggies in cold water to stop cooking. Drain well before sauteing.
The nutritional label is for 1 serving, calculated out of 3 lbs vegetable total and divided by 6. 
Nutrition
Serving: 1serving, Calories: 86kcal, Carbohydrates: 4g, Protein: 1g, Fat: 7g, Polyunsaturated Fat: 1g, Monounsaturated Fat: 1g, Sodium: 148mg, Potassium: 236mg, Fiber: 2g, Vitamin A: 1450IU, Vitamin C: 34.3mg, Calcium: 71mg, Iron: 0.5mg
What goes well with this healthy vegetable dish? Check out my Chinese Zucchini and Olive Stir-Fry, Paleo Sweet and Sour Chicken, Paleo Beef With Broccoli, Instant Pot Taiwanese Meat Sauce with crispy shallots, Whole30 Mongolian Beef, Chicken and Broccoli Shrimp and Broccoli, Chinese broccoli with oyster sauce, Vietnamese garlic shrimp, and Thai Basil Beef Steak Stir Fry.