Whole30 Tantanmen Ramen
Whole30 Tantanmen Ramen with creamy rich bone broth and juicy caramelized chicken. This healthy low carb Whole30 ramen noodles come with loads of fresh vegetables and ramen toppings. It's a super quick dinner idea for tantanmen ramen lovers!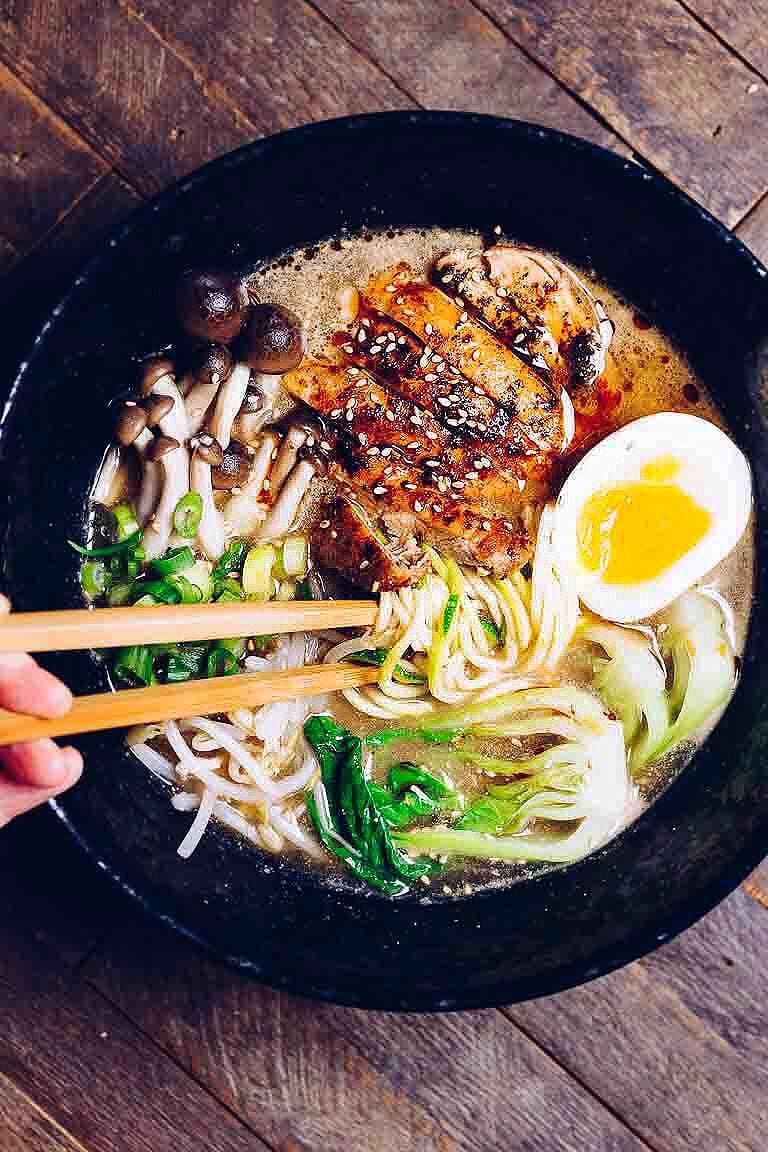 Whole30 Tantanmen Ramen
Are you a ramen lover? I remember when I was in my 20's and early 30's Japanese ramen is one of my favorite go-to winter comfort food. My favorite flavors are Japanese miso ramen and tantanmen ramen (also known as dan dan ramen). Found this recipe in hot summer? Check out my chilled summer version – Chinese dan dan noodles here.
I love the creamy and umami rich bone broth and the toppings that come with the ramen noodles are always great additions to have. Imagine how fabulous it would be for a low-carb tantanmen ramen that tastes just as delicious yet without the carb, plus much easier to make!
How to Make Easy Tantanmen Ramen (short cut version)
You'll need a really flavorful chicken bone broth in order to make this shortcut version truly delicious. I tried a few store-bought chicken bone broth from WholeFoods' to Trader Joe's and the results are not as spectacular. I recommend either using homemade chicken bone broth if you have it at home or my favorite store-bought version from Kettles & Fires for a rich flavorful broth in no time. I want to emphasize that this is not a sponsored post.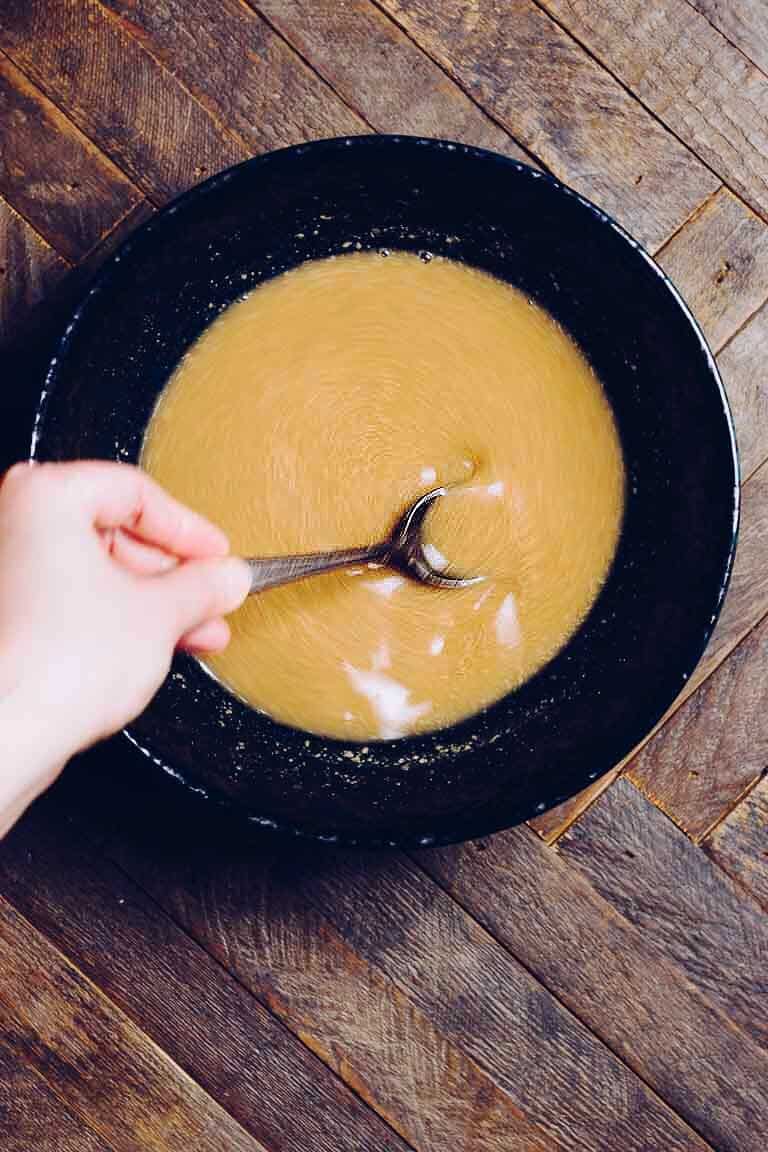 Whole30 Tantanmen Ramen Paste (soy-free, easy, low-carb)
To make Japanese tantanmen ramen paste you'll need tahini paste (or Japanese white sesame paste). The coconut aminos will replace soy sauce and add extra umami flavor. Tantanmen is originated from China so it's common to see the usage of cumin and five spice powder in the recipe. The cashew butter or macadamia butter adds a smooth and naturally creamy taste to the paste.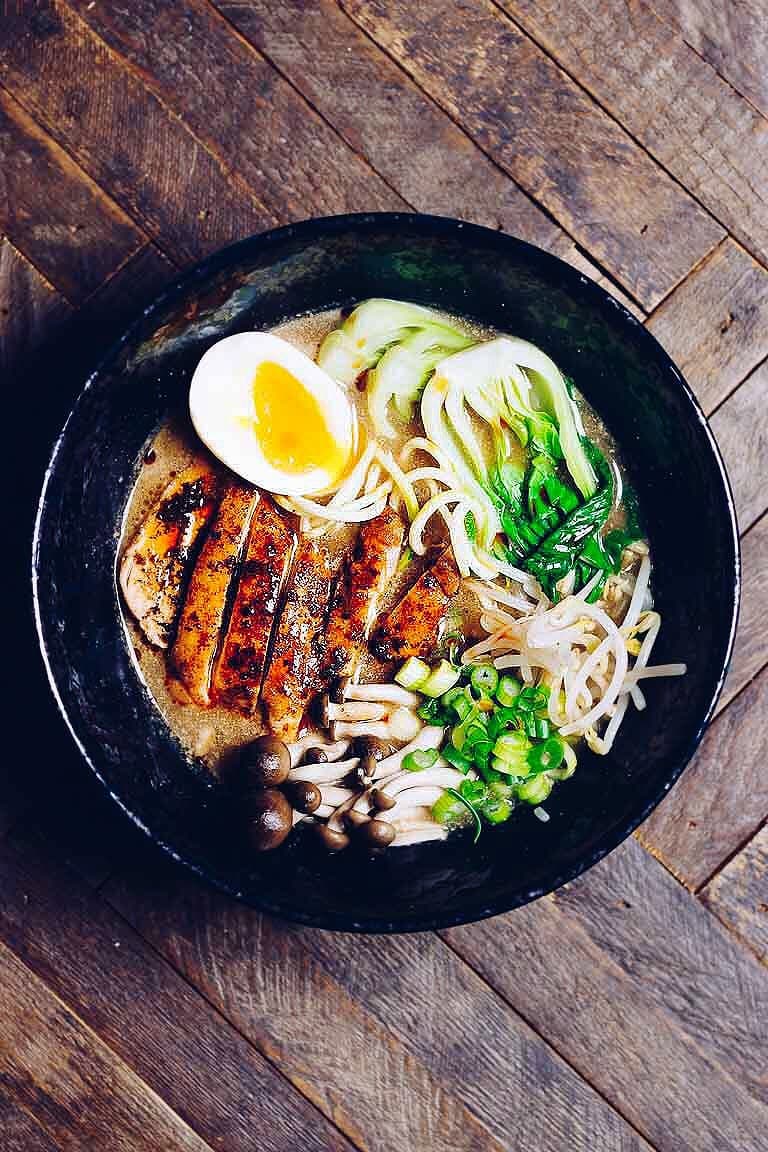 Be sure to sip the tantan ramen broth as you enjoy this low carb chicken tantanmen ramen. It is out-of-this world creamy delicious and even I can't believe this shortcut version would taste so good!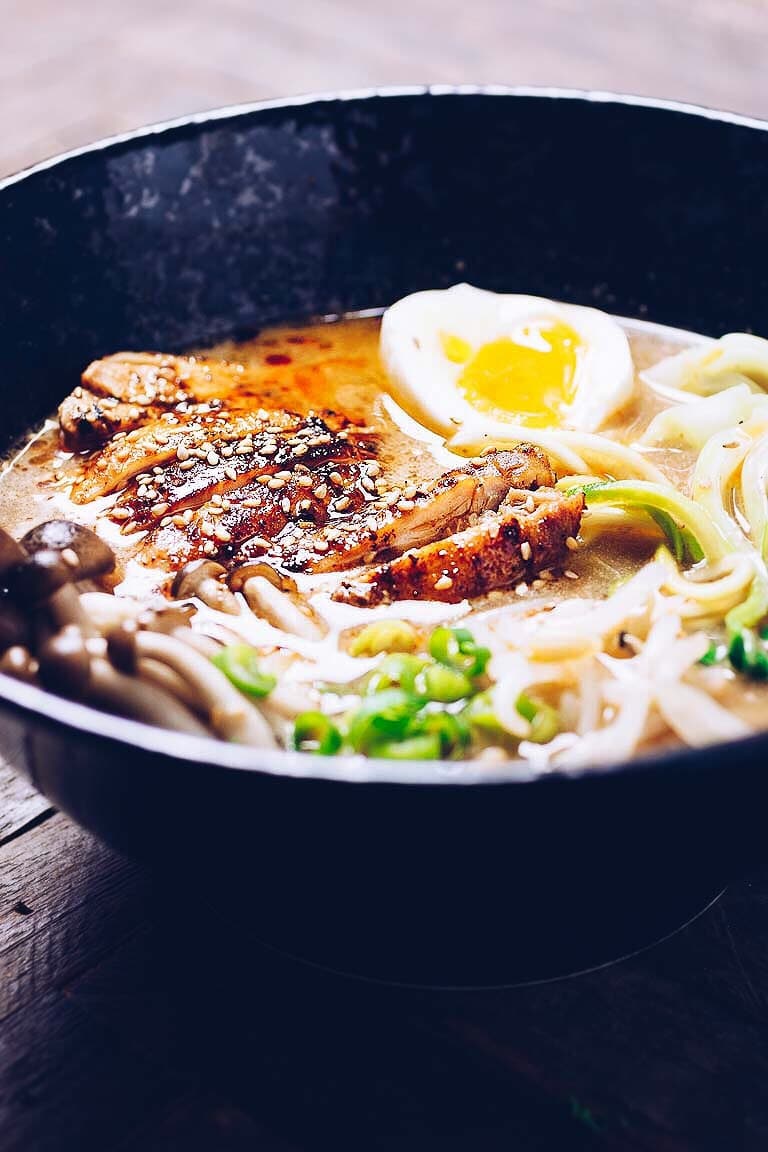 If you give this Whole30 Tantanmen Ramen a try, be sure to rate the recipe and leave a comment below. It'll help me and my blog tremendously. Also hit the share button and pin it to your pinterest boards if you want to make it for later. Thanks in advance!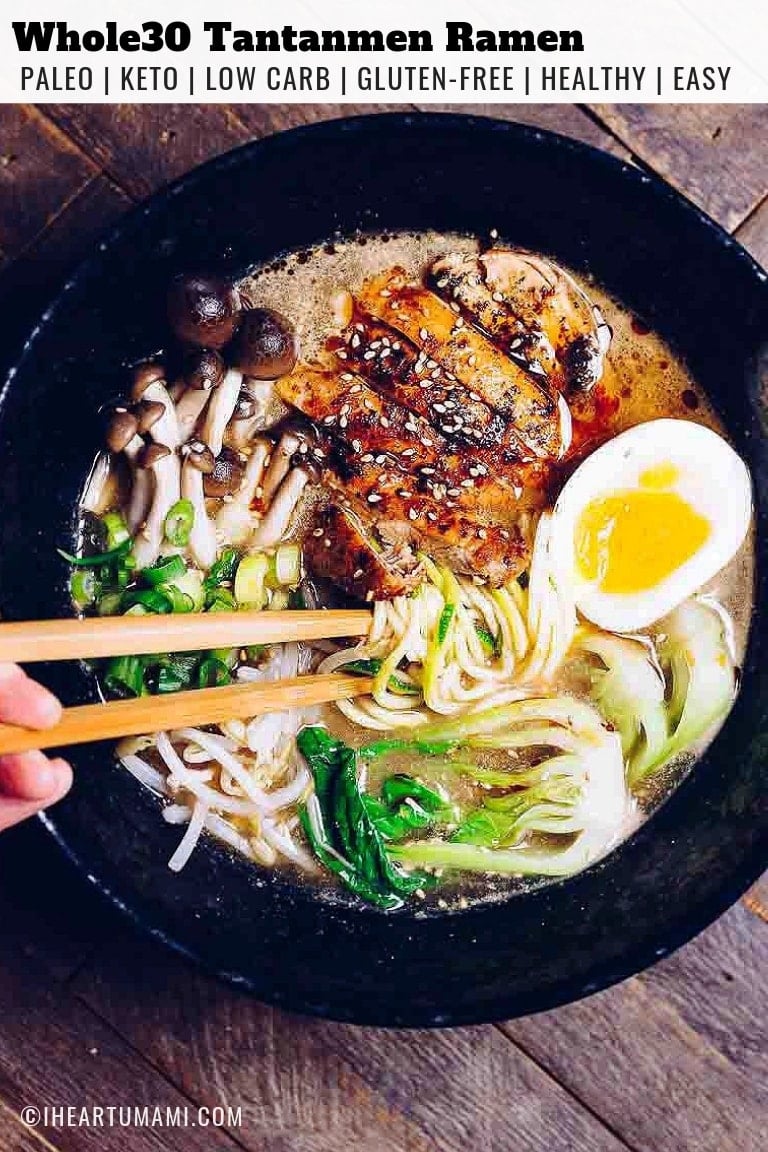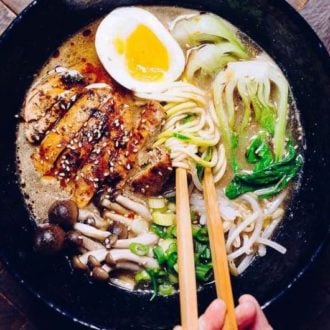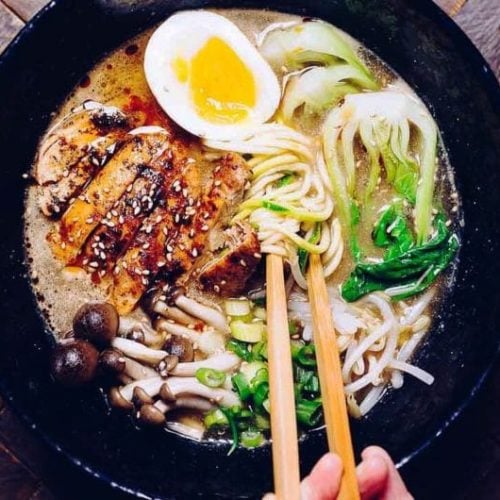 Whole30 Tantanmen Ramen (Paleo, Keto, Easy)
Whole30 Tantanmen Ramen with creamy rich bone broth and juicy caramelized chicken. This healthy low carb ramen noodles come with loads of fresh vegetables and ramen toppings. It's easy and quick to enjoy a bowl of hot ramen noodle soup!
Print
Pin
Rate
Ingredients
4 pieces chicken thighs, , boneless
your favorite chicken/poultry seasonings, (see notes)
1 tbsp avocado or olive oil
Ramen Toppings of choice:
2 large soft boiled eggs
3-4 bundles baby bok choy, , quartered (or baby spinach)
5 oz. brown beech mushrooms, or enoki mushrooms
1 cup bean sprouts, (optional)
2 medium size zucchinis, , spiralized
2 bulbs scallions, , chopped
Whole30 Tantanmen Ramen paste (divided for 2 ramen bowls):
Instructions
Chicken: Season chicken with poultry seasonings. See notes section for my recommendation. Grill them in a well-heated skillet with 1 tbsp oil until the chicken is completely cooked through, about 8-10 minutes. Set the chicken aside. Deglaze the skillet with 3-4 tbsp chicken stock and scrap off the brown bits. Pour the sauce over chicken. Cover the bowl and keep it warm.

Toppings: In the meantime, bring a large pot of water to boil. Lower the heat to simmering. Carefully and slowly add the eggs and low simmer for 6-7 minutes. Soak in cold water to stop cooking. Use the same water to blanch bok choy for 30 seconds and mushrooms and sprouts for 5-10 seconds. Soak them in cold water to stop cooking then set aside to drain well.

Paste and Broth: Prepare two large noodle bowls. Combine and stir-well Whole30 Tantanmen Ramen paste and divide the paste evenly over two bowls. Preheat chicken bone broth in a soup pot until it's nice warm and hot ready to use.

Assemble: Add 1 cup chicken bone broth to each noodle bowl. Gently stir with a spoon or whisk to combine the paste and broth well. Add zucchini noodles, chicken, ramen toppings, and scallions. Drizzle the pan juice from the grilled chicken over the noodle bowl. Sprinkle with toasted sesame seeds, if using. Serve hot and immediately.
Notes
My favorite grilled chicken seasonings are a mixed combination of coarse salt, garlic, onion, and chili powder. Sprinkle them all over the chicken, grill or pan fry over a skillet until cooked through and you are good to go!
Amazon affiliate link for Kettle and Fire Chicken Bone Broth.
Nutrition
Serving: 1serving, Calories: 388kcal, Carbohydrates: 10g, Protein: 23g, Fat: 26g, Saturated Fat: 4g, Cholesterol: 198mg, Sodium: 300mg, Potassium: 453mg, Fiber: 3g, Vitamin A: 325IU, Vitamin C: 1.7mg, Calcium: 57mg, Iron: 3.4mg
Also check out my Paleo Asian Chicken Cabbage Salad, Paleo Chicken Katsu, Keto Bulgogi Beef Sushi Rolls, and Paleo Soy-Free Cashew 'Tofu' Salad.