Oyako Donburi – Japanese Chicken, Egg, and Rice Bowl
There's a reason Oyakondon (chicken and egg rice bowl) is Japanese's favorite comfort food. Juicy chicken and caramelized onions simmered in a sweet and savory sauce. With 10 ingredients or less and ready in 30 minutes! Pair Oyako Donburi with cauliflower rice or mashed potatoes, this is the ultimate one pot meal oyako donburi you'll make again and again!
Oyako Donburi (Japanese Chicken Rice Bowl with Eggs)
I Heart Umami fans have probably guessed how much I adore Japanese food. So much so that I have a collection of low carb Japanese recipes to satisfy my cravings. Growing up in Taiwan, because Taiwan was Japan's colony for over 50 years, Taiwanese people enjoy Japanese food and travel to Japan often and Oyako Donburi is one of the meals that we like to order in Japanese restaurants!
Nothing beats a one bowl meal with juicy chicken, sweet onions, and soft eggs. Part of the charm is watching the oyakodon broth seeps through layers of fluffy rice. Take a big spoon and deep through the layers of delicious goodness – a little bit of everything plus the sweet broth – every bite is full of flavor.
Oyako Donburi is one of those meals that satisfies your soul and it warms your body inside out. No wonder it's loved by both adults and kids.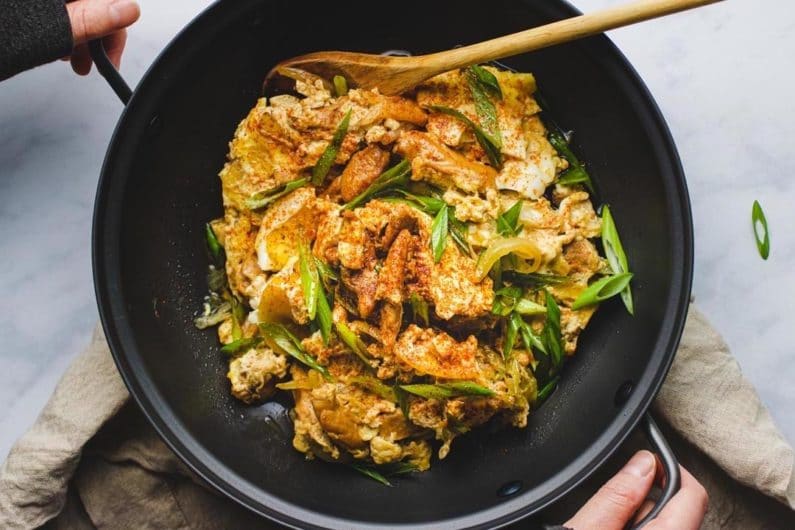 What Does Oyakodon Mean?
Oyakodon (親子丼), literally means "parent and child bowl". It's a Japanese rice bowl dish with chicken, eggs, and scallions, simmered in chicken and dashi broth, and served on top of a bowl of steamed white rice. The name of the dish is cute and romantic because chicken and eggs are related just like parents and a child.
What Does Donburi Mean?
Donburi (丼) literally is a Japanese rice bowl dish usually consists of fish or meat with vegetables simmered together and served over rice.
Oyako Donburi means chicken and eggs in rice bowls.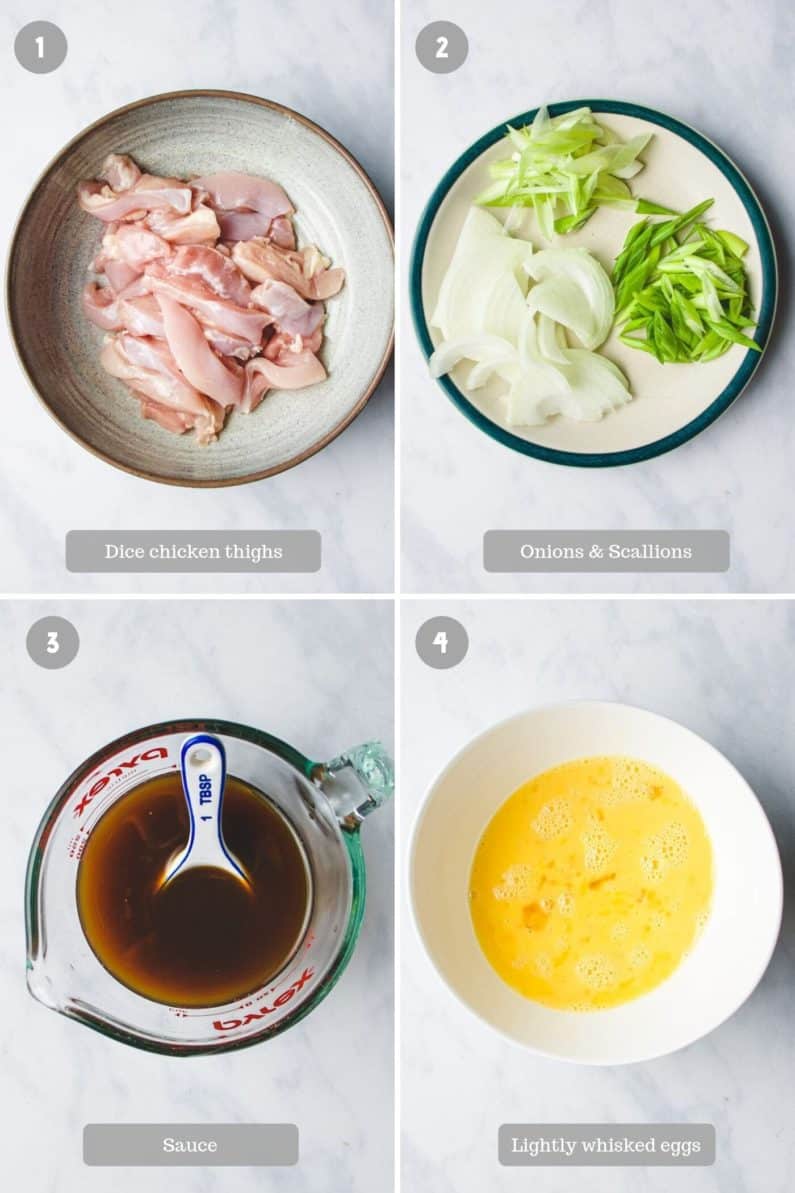 What Does Oyakodon Taste Like?
Oyakodon (or Oyako Donburi) tastes sweet and savoy. The sweet flavor comes from the onion and chicken thighs, simmered in a savory dashi broth. To keep the sauce simple and gluten, soy-free, I modified the original recipe. I have to say that from my years of eating Japanese Oyakodon my Paleo version is just as delicious. One bite, you'll taste all the delicious flavor without knowing it's made Paleo friendlyl
How To Make Oyakodon?
Traditionally, oyakodon recipe starts with simmering chicken in dashi broth. Once the broth simmers, add sliced chicken thighs, onion slices, and scallions. There's no oil in Oyako Donburi. The eggs are lightly whisked but the egg white and yolk are still distinct.
To make Paleo Oyakodon without soy and gluten, here are my workaround:
Saute the onion slices to add flavor base to the broth.
Add the sliced chicken thighs and scallions.
Add chicken stock with rice vinegar, balsamic vinegar, and coconut aminos to mimic the sweet, savory, and a little tart flavor from the mirin and the dashi broth.
Once simmers, allow the pot to cool to room temperature before re-boiling it again. (see my reasons below).
Lightly whisk the eggs and slowly drizzle it into the pot.
Once the eggs become firmer, serve it over a bowl of cauliflower rice (low carb) or steamed white rice (gluten-free).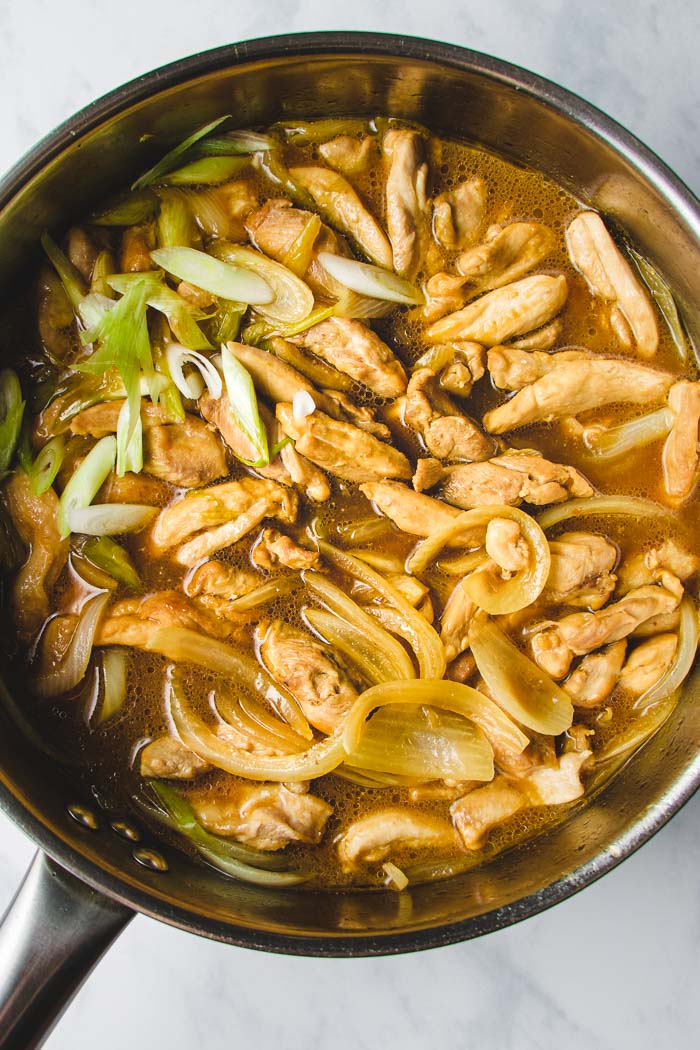 My workaround Paleo method to make Oyakodon recipe is different than most traditional Japanese recipe and here's why:
First, I saute the onions as opposed to simmering it.
Second, I include resting time (cooling time) to allow the chicken absorb more flavor before bringing the broth to boil again.
This is because the traditional recipes on the internet use dashi broth (or dashi powder) and soy sauce. Both ingredients have much stronger and intense flavor therefore it doesn't need resting time.
My workaround uses all simple ingredients like rice vinegar, balsamic vinegar, and coconut aminos (soy-free soy sauce substitute). The flavor intensity is not as strong so a quick resting (cooling) time will help deepen the flavor.
My workaround ingredients are also common for my readers to find in the States, especially for people who are gluten-free, grain-free, and prefer low carb.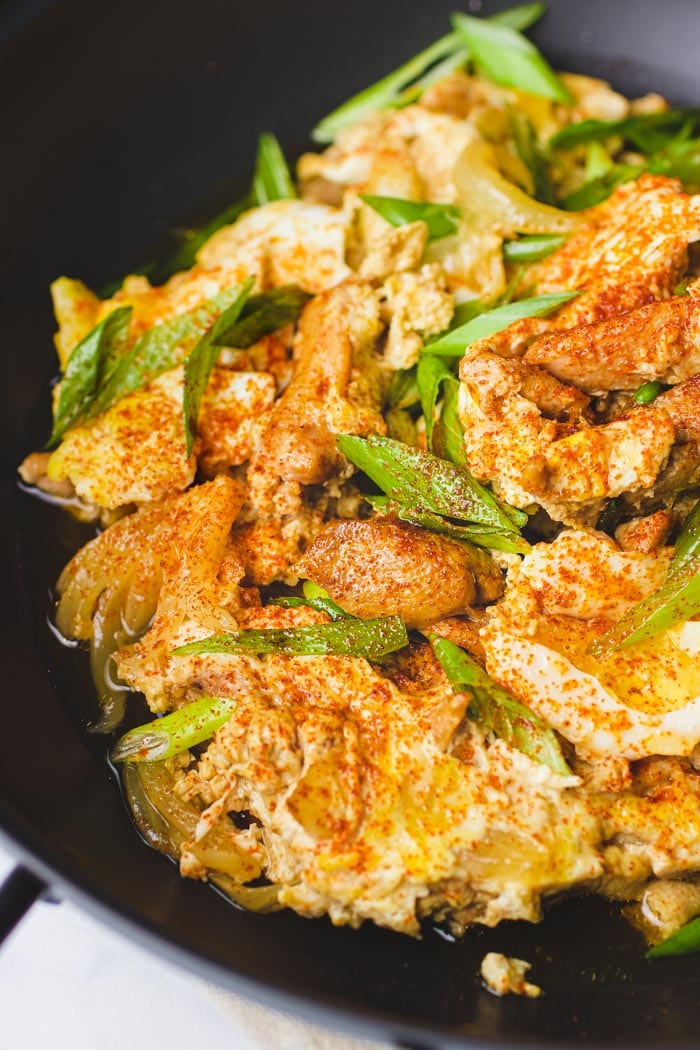 Serve the Oyakodon Recipe Chicken Rice Bowl with –
More Japanese-inspired Paleo Recipes –
Watch How To Make Oyako Donburi!
Friends! This Japanese Chicken Rice Bowl (Oyakodon recipe) is absolutely delicious and super easy to make. With 10 ingredients or less, this is the ultimate Japanese one pot meal. Pair it with a simple side dish or pick a Whole30 salad dressing. For people who don't mind little carb, serve over steamed white rice, for people who want to keep it low carb, serve with cauliflower fired rice or mashed sweet potatoes. See…It's very versatile!
Oyakodon Chicken Rice Bowl (Gluten-Free, Paleo)
Low carb Oyakodon (Chicken rice bowl) with 10 ingredients or less and ready in 30 mins! This Oyako Donburi is the ultimate one pot meal for busy weeknights!
Print
Pin
Rate
Ingredients
1 medium yellow onion, sliced
4 bulbs scallions, diced diagonally. Separate white & green parts
2 lbs chicken thighs, skinless boneless, slice to bite-size small chunks or thin strips
4-5 large eggs, lightly whisked with yolk and white are still distinct
Oyakodon Broth Seasonings:
Other:
Coarse salt
Japanese red chili powder, Shichi-mi tōgarash(optional)
Instructions
Prepare the onions, scallions, chicken, and eggs. In a bowl, combine chicken broth, coconut aminos, aged balsamic and rice vinegar.

Cook: In a well-heated skillet, preferably 10-12 inch skillet, add 2 tbsp oil. Lower the heat to medium. Add sliced onion. Season with a pinch of salt and saute until the onion turns slightly translucent, about 1 minute.

Add chicken and white scallion parts. Season with 2 pinches of salt. Give a quick saute then add the broth. Distribute the chicken in a single layer so it's in touch with the broth. Half cover the skillet with a lid so that the steam can escape. Let the broth simmer over medium/ medium-low heat until it reaches a gentle boiling state, about 4-5 mins. Use chopsticks or tong to move/flip around the chicken pieces to ensure even cooking.

Resting/cooling: Once the broth come to a gentle boiling state, turn off the heat. Set the whole skillet aside, uncovered to let cool for 15-20 minutes. Make sure the meat is in contact with the broth in order to absorb more flavor.

Eggs: After resting, reheat the skillet to bring it back to a gentle boiling state. Use chopsticks or a fork against one end of the bowl and slowly and evenly drizzle in eggs. Let the eggs stand for a few seconds until they are cooked to desired doneness (1 minute for runny eggs, 3 minutes for medium-firm eggs).

Serve: Ladle a few spoonfuls of chicken, eggs, and the broth over cauliflower rice. Allow the broth to sip through the rice for extra flavor. Top with green scallion parts and dash of Japanese red chili powder, if using.
Notes
The 15-20-minute rest (or even longer if you have time) allows the chicken to soak up more flavor from the delicious broth.
This is a slightly more soupy-ish dish. The broth will become thicker (will gel) after refrigerated the next day.
To keep the chicken pieces tender (cooked through but not tough/dry), I recommend using chicken thighs and pay attention to the stovetop temperature. Cook in medium steady heat to keep the meat tender.
Nutrition
Serving: 1serving, Calories: 385kcal, Carbohydrates: 7g, Protein: 52g, Fat: 15g, Saturated Fat: 4g, Cholesterol: 426mg, Sodium: 566mg, Potassium: 708mg, Fiber: 1g, Sugar: 2g, Vitamin A: 361IU, Vitamin C: 2mg, Calcium: 58mg, Iron: 3mg