Instant Pot Bone Broth
Whole Chicken Chinese Herbal Instant Pot Bone Broth Recipe. This simple and nourishing pressure cooker chicken bone broth recipe is easy and quick to make with slow cooker instructions. Nourish your body and keep you healthy throughout the year !
Disclosure: This is not a sponsored post. I received the herbal mix from the owner of the shop for recipe testing. I was very happy when I came upon Cindy's Chinese herbal shop – Root and Spring. I love the quality and fragrant of the herbs very much and wanted to share with you as well.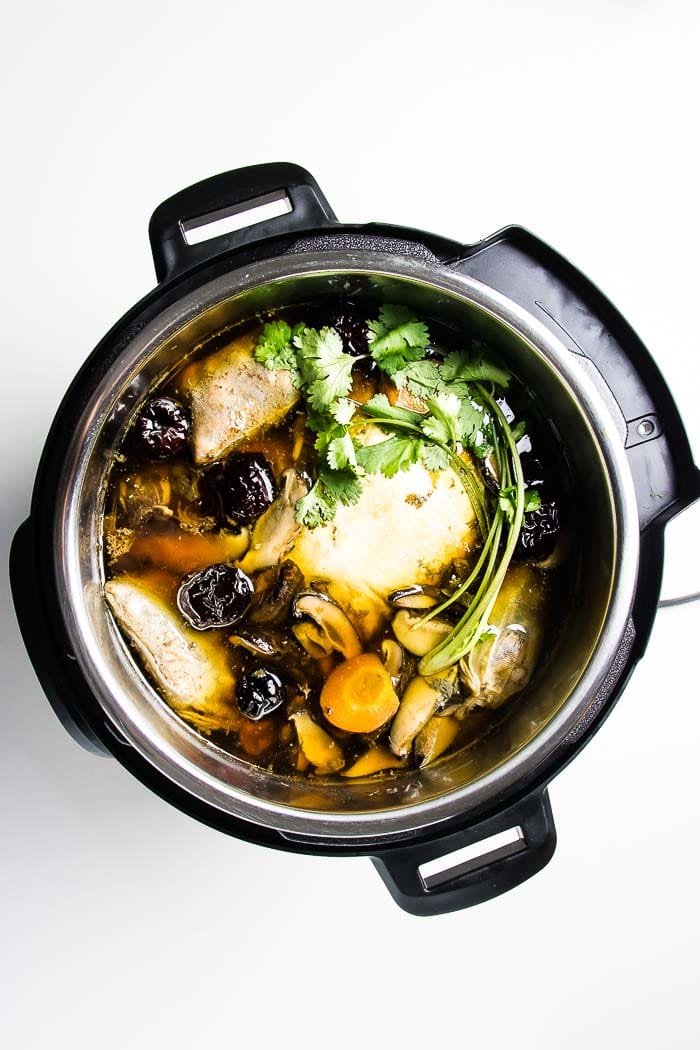 In my opinion there's nothing better than a bowl of Chinese chicken bone broth. If you haven't had them, you are missing out ! Today I'm going to show you how easy it is to make a pot of golden delicious Instant Pot Bone Broth with whole chicken and natural herbs. That's just say it is OUT OF THIS WORLD !
There are many different flavor combos for Chinese Instant Pot bone broth, depending on the type of herbs you use and with various natural healing purposes. Different herbs promote different health benefits and depends on the season, some herbs are for winter use while others are great for summer months. People in Asia (especially women) use it to relieve menstruation cramps and help with perimenopause, and ease menopause symptoms.
How to make Chinese Instant Pot Bone Broth
To make a pot of golden delicious Chinese Instant Pot Bone Broth at the bare minimum you'll need –
One whole chicken with skin-on and bone-in
Chinese dry herbal packs (I use an online company based in LA called Root and Spring).
Water/liquid
To add extra umami flavor boost, I added other optional items such as carrots, daikon (a Chinese radish), re-hydrated shiitake mushrooms, and the liquid from soaking the mushrooms.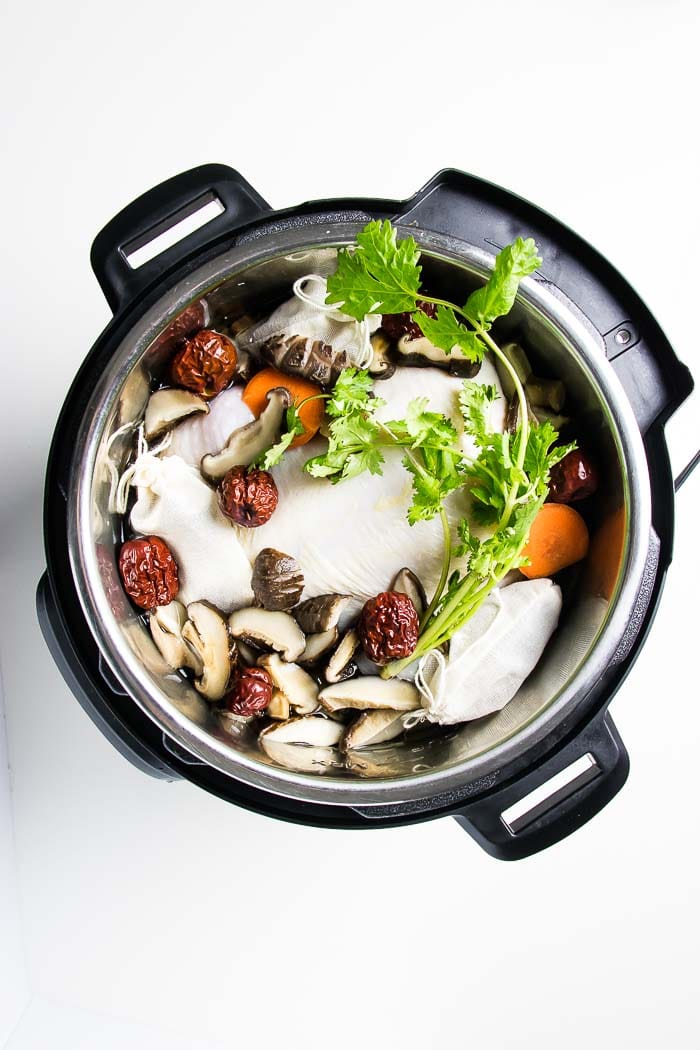 Where to find and how to use Chinese dry herbal packs:
I was so happy when I discover a LA based Hong Kongese Chinese dry herbal store – Root and Spring – that ships very high quality Chinese dry herbs both US domestic and international. The herbs were so fragrant, clean, and in excellent quality. Best of all each packet comes with a beautifully designed card, explaining the benefits of each ingredient and with recipes anyone can follow easily.
They are pre-portioned so all you need to do is to add the chicken, herbal packets, and water (no other seasonings required except seasoning with salt before serving). And that my friend is my type of instant meal – Instant Pot Bone Broth – that couldn't get any simpler.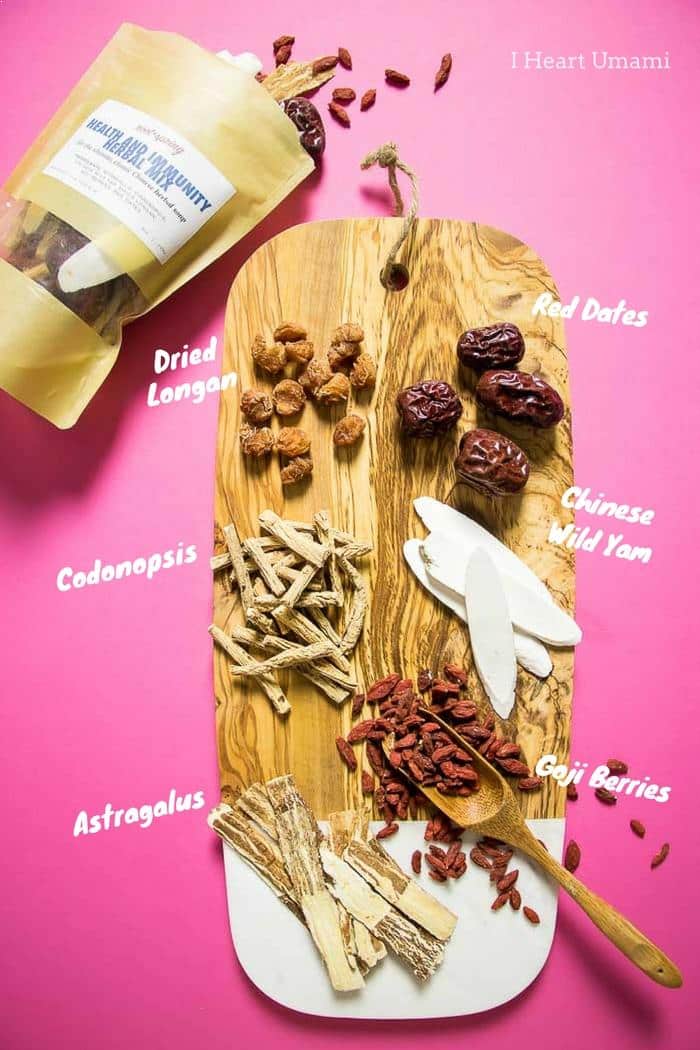 I used Health and Immunity packet for my Instant Pot Bone Broth. The packet has –
Astragalus Root (Huang Qi) – Strengthens the inner energy of the body and boosts the immune system and increases energy levels. Astragalus is one of only 13 herbs in the world that's labeled as scientifically "adaptogenic", which means that it has the unique capability to reduce the levels of stress hormones in your blood, helping you to "adapt" more easily to difficult environments, such as cold, a stressful work situation, or fatigue.
Codonopsis Root (Dang Shen) – An excellent anti-aging herb that helps combat tiredness, chronic fatigue, stress, adrenal fatigue and digestive problems. Also assists in immune functions, digestive and urinary health, and brain function.
Dried Chinese Yam (Huai Shan) – Long been credited with tons of health benefits because of its effectiveness at tonifying kidney and spleen. This herb enhances energy, aids digestion and absorption, repairs worn-out tissue, and helps alleviate bodily weakness.
Dried Goji Berries (Gou Qi Zi) – Benefits the liver, which manifests in improving eyesight especially if poor eyesight is caused by malnutrition, vessel expansion, inflammation or eye strain from staring at computer screens and documents for long periods of time.
Longan (Longyan) – High nutritional value, full of vitamins and contains active anti-aging ingredients. Helps to promote restful sleep, replenishing blood and Qi.
Red Dates (Hong Zao) – Also known as jujubes, red dates are widely considered as the "living vitamin pill" by the Chinese. It contains Vitamin B, C, E, P, phosphorus, calcium, iron and more. It helps calm the central nervous system, protects the liver, inhibits cell mutation, and improves strength of muscles.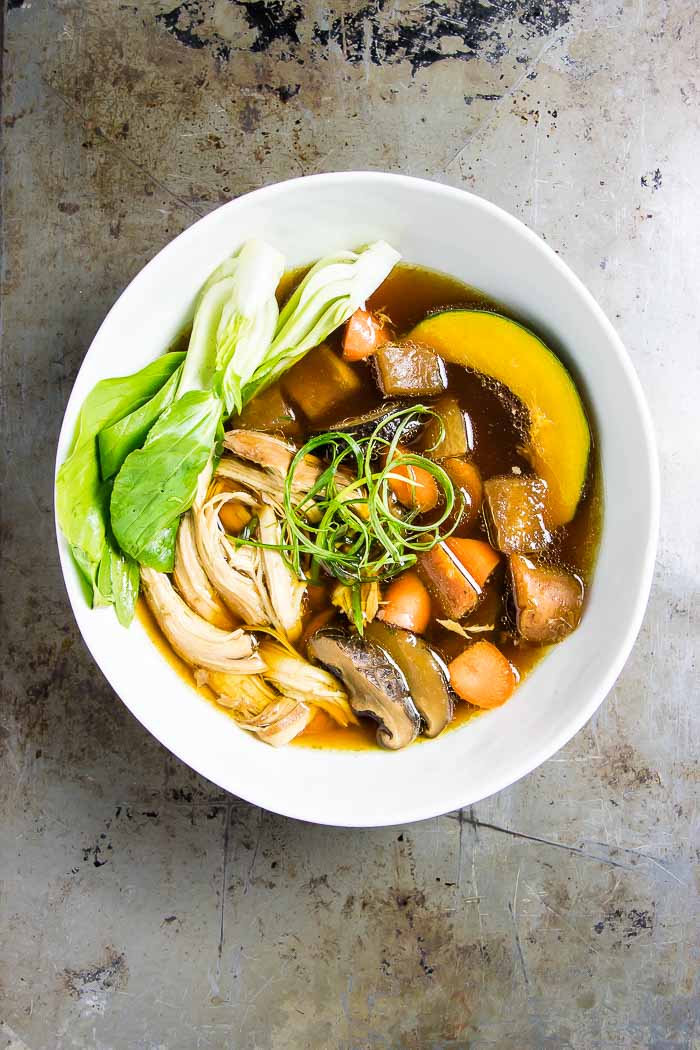 The result is a golden delicious and gorgeous chicken bone broth. It nourishes our body and keep our skin supple. And with Instant Pot, it takes very little hands-on time and 30 mins later you'll enjoy a pot of out of this world Instant Pot Bone Broth.
So my friends you'll have no excuse not to make Chinese Instant Pot Bone Broth. It's –
Nourishing
Healing
Super easy
Little hands on time
Out of this world delicious
You'll never make a pot of chicken bone broth without these herbs again
If you give this Chinese Instant Pot Bone Broth a try, let me know ! Leave a comment and rate the recipe. And don't forget to take a picture and tag it #IHeartUmami on Instagram. I'd love to see what you come up with. XOXO !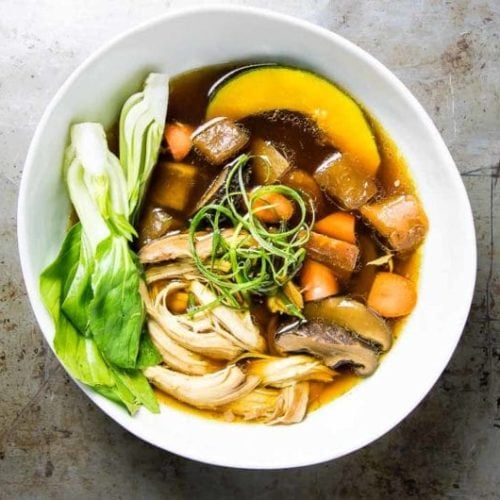 Instant Pot Bone Borth
Whole Chicken Chinese Herbal Instant Pot Bone Broth Recipe. This simple and nourishing pressure cooker | Instant Pot chicken bone broth recipe is easy and quick to make with slow cooker and stovetop instructions. Nourish your body and keep you healthy throughout the year !
Print
Pin
Rate
Ingredients
1 whole chicken, about 3 to 3.75 lbs, skin-on and bone-in (giblets removed)
3-4 cups carrots, cubed
Water*
Other optional add-ons:
2 ½ cup daikon, Chinese radish, outer skin peeled then cubed
1 cup rehydrated shiitake mushrooms, sliced (rehydrate the mushrooms overnight & keep the mushroom water)
Instructions
Lightly rinse the dry Chinese herbs under cool running water. In a 6 qt. Instant Pot add cubed carrots, 1 whole chicken, 1 packet of Healthy and Immunity Chinese herbal soup mix. Fill the pot with water that's just enough to cover the entire chicken (about 8 to 10 cups). Optional: you may also add daikon, rehydrated shiitake mushrooms, and fill the pot with mushroom water.
Instant Pot:
Seal the valve, press Manual for 30 minutes (for 3.75 lbs chicken). Allow it to come to natural pressure release. See Notes Section for Slow Cooker and Stovetop methods.
Serve:
Season with coarse sea salt to taste. The flavor will become stronger once the soup becomes slightly cooler. If preferred, you may strain the broth with a sieve. The goji berries, Chinese yam, and Logan are edible. You can serve them with the soup or discard with the rest of the herbs.* You may also set the chicken aside and shred the meat and then add them back to the soup pot.

Serve with a side salad and roasted squash/potatoes. Please try not to stir-in/add other leafy greens to the soup pot as it might change the flavor of the broth. It's best to serve the salad aside or add a handful leafy greens (ex. baby spinach) to individual serving bowls.
Notes
*The herbal flavor will become richer the longer you cook them. For me, I usually leave the herbs in the pot and reheat the entire broth again with the herbs the next day for a deeper flavor. The broth will become darker (dark amber color like the photos in the blog post and with stronger herb flavor. However if this is your first time trying Chinese herbal soup mix, you can scoop out the herbs. Store them in glass container in the fridge. If you decide for a more herby flavor the next day, reheat them with the broth. Discard the used/cooked herbs if not using them after 3 days.
* In the video demo above, I put the non-edible herbs (i.e. roots and un-pitted dates) in spice bags. It'll be easier to discard them this way. The goji berries, Chinese yam, and Logan are all edible.
MORE INFO –
Slow Cooker: Cook on low for 8 to 10 hours or up to 24 hours, depending on the richness of the herbal flavor you prefer.
Stovetop: Once bring the pot to boil. Allow it to simmer for 1.5 to 2 hrs. You may need to add more liquid to compensate the moisture evaporation during cooking.
If use re-hydrated shiitake mushrooms, check out this video. 
The nutritional label is calculated without the herbal pack and without optional add-on items (shiitake, daikon).
Nutrition
Serving: 14.1g, Calories: 192kcal, Carbohydrates: 4g, Protein: 15g, Fat: 12g, Saturated Fat: 3g, Cholesterol: 60mg, Sodium: 101mg, Potassium: 305mg, Fiber: 1g, Sugar: 2g, Vitamin A: 8130IU, Vitamin C: 4.1mg, Calcium: 32mg, Iron: 0.9mg
Want MORE Instant Pot Recipes ? Check out these awesome dishes below !