Tatsoi Asian Greens Salad Recipe
Tatsoi is the new spinach in town? Crisp and sweet Tatsoi recipe with Asian greens, carrot and cucumber noodles tossed with a lip-smackingly delicious Whole30 ranch yogurt dressing. If you crave more veggies and new exciting flavors, this Tatsoi side salad is going to knock your socks off. It's my summer new favorite!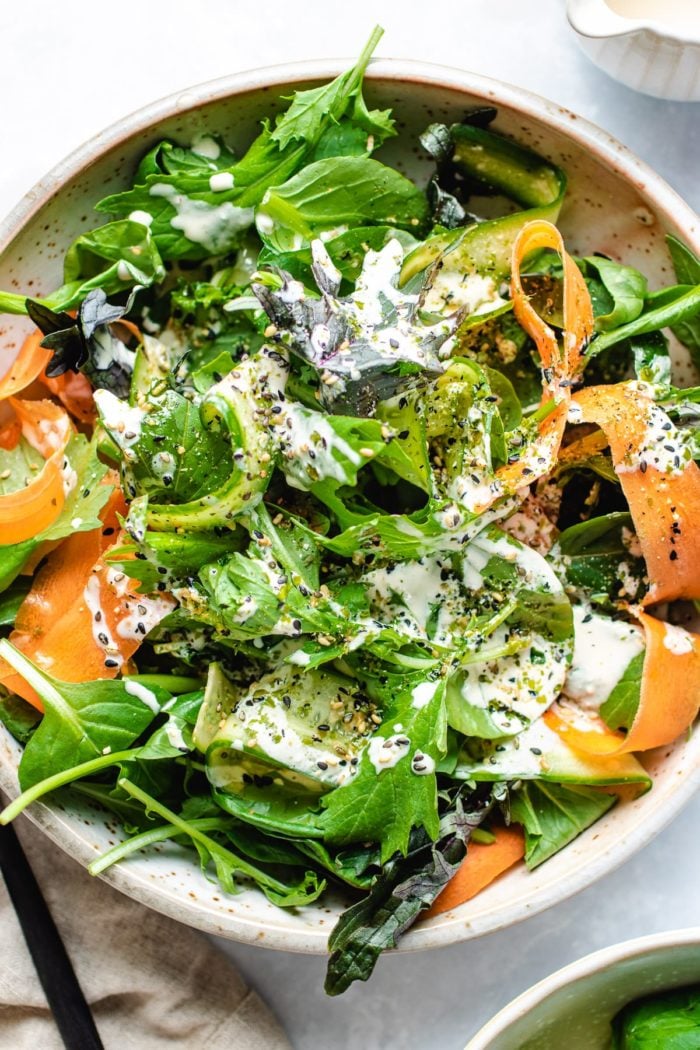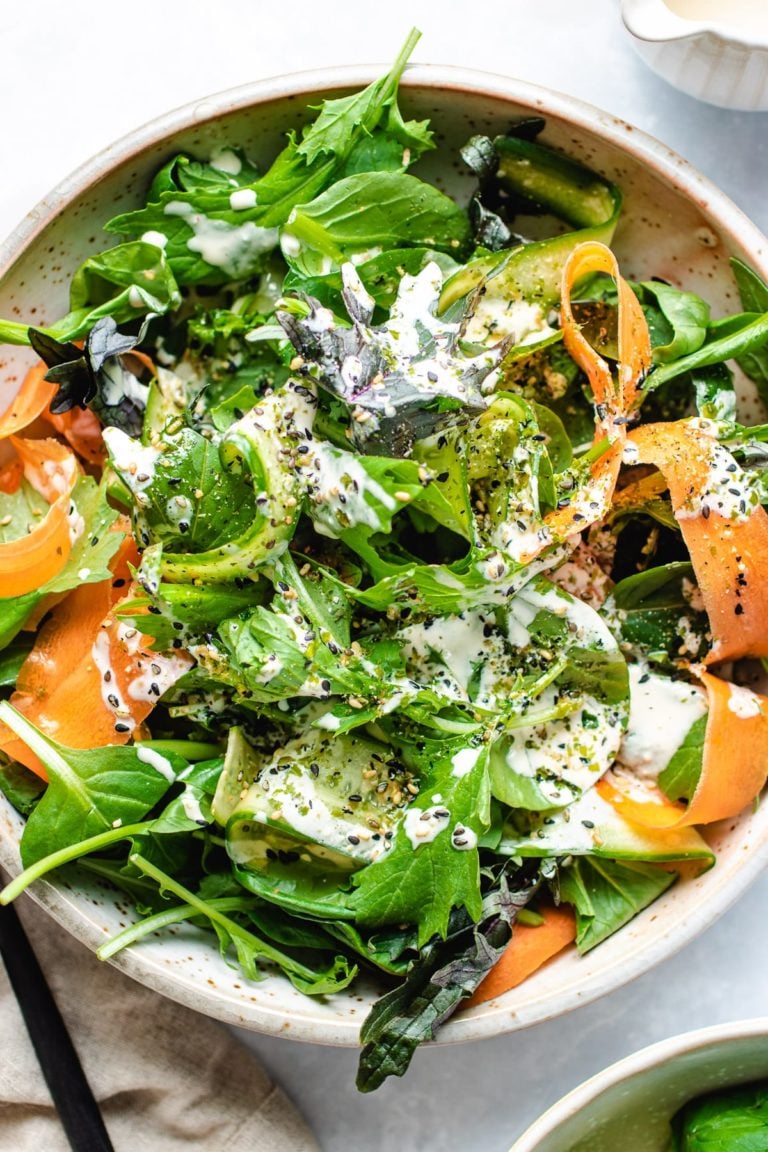 The Best Kept Secret – Tatsoi
Before you wonder what tatsoi is let me tell you that you might already have had this Asian green before but just didn't realize it. Tatsoi is a very versatile vegetable that can be used in salads, saute dishes, or in soups. Quite often Tatsoi shows up in mixed salad greens or sold in bundles at farmers' markets.
This Asian veggie is not only nutritious but also tastes milder than bok choy and is somewhat similar to spinach but more crisp and tender. Today I'm going to show you a simple way to enjoy it as a side salad. It pairs beautifully with any main dishes from Western to Asian!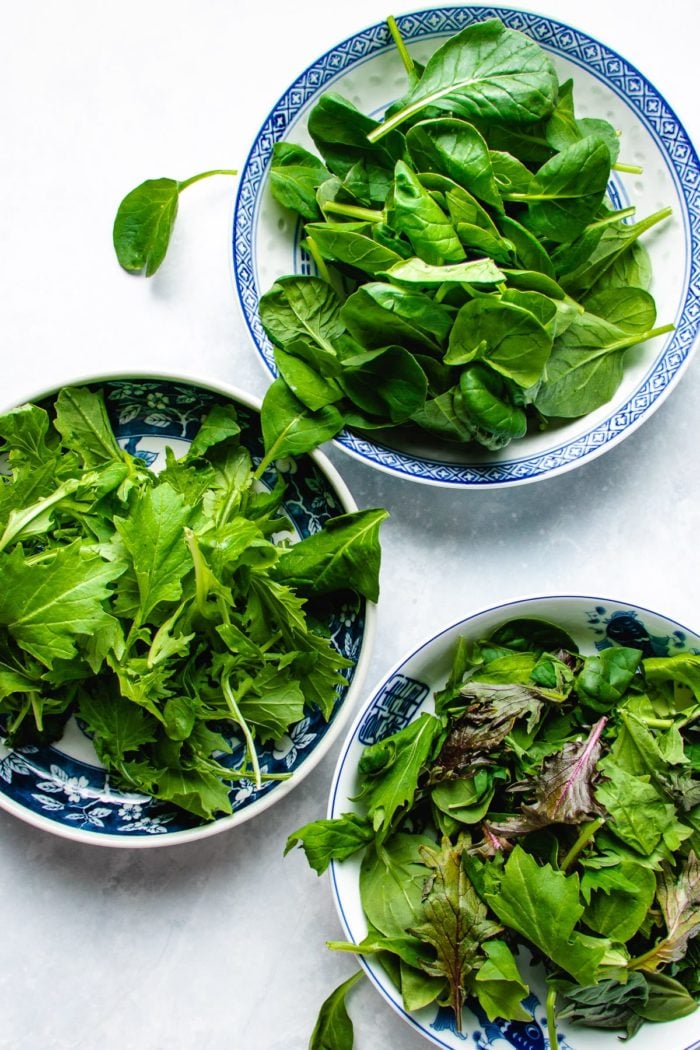 What is tatsoi?
Tatsoi or Pak Choi (Cantonese 塌菜) is a variety of Chinese cabbage that's commonly known as spinach mustard or rosette bok choy. The shape of the leaves looks similar to small spoons so some people also call it spoon mustard.
This Asian green belongs in the Brassicaceae, or mustard, family. In the farmer's markets they are often sold in small bundles (with stems and leaves) and in my local grocery stores, they are sold in boxed greens with leafy parts only. Learn more about Chinese vegetables here.
Tatsoi flavor
Tatsoi is a very versatile Asian green. You can enjoy it raw or cooked. Think of it like spinach but with a crisp and sweet flavor that's milder than baby bok choy.
You can enjoy the whole plant raw or saute it with minced garlic and olive oil with some salt. You can also add it to a bowl of hot ramen soup as a garnish before serving.
The leaves are soft and buttery and the stems are crisp and tender. Once you taste it you might have a hard time going back to spinach and I'm not exaggerating it!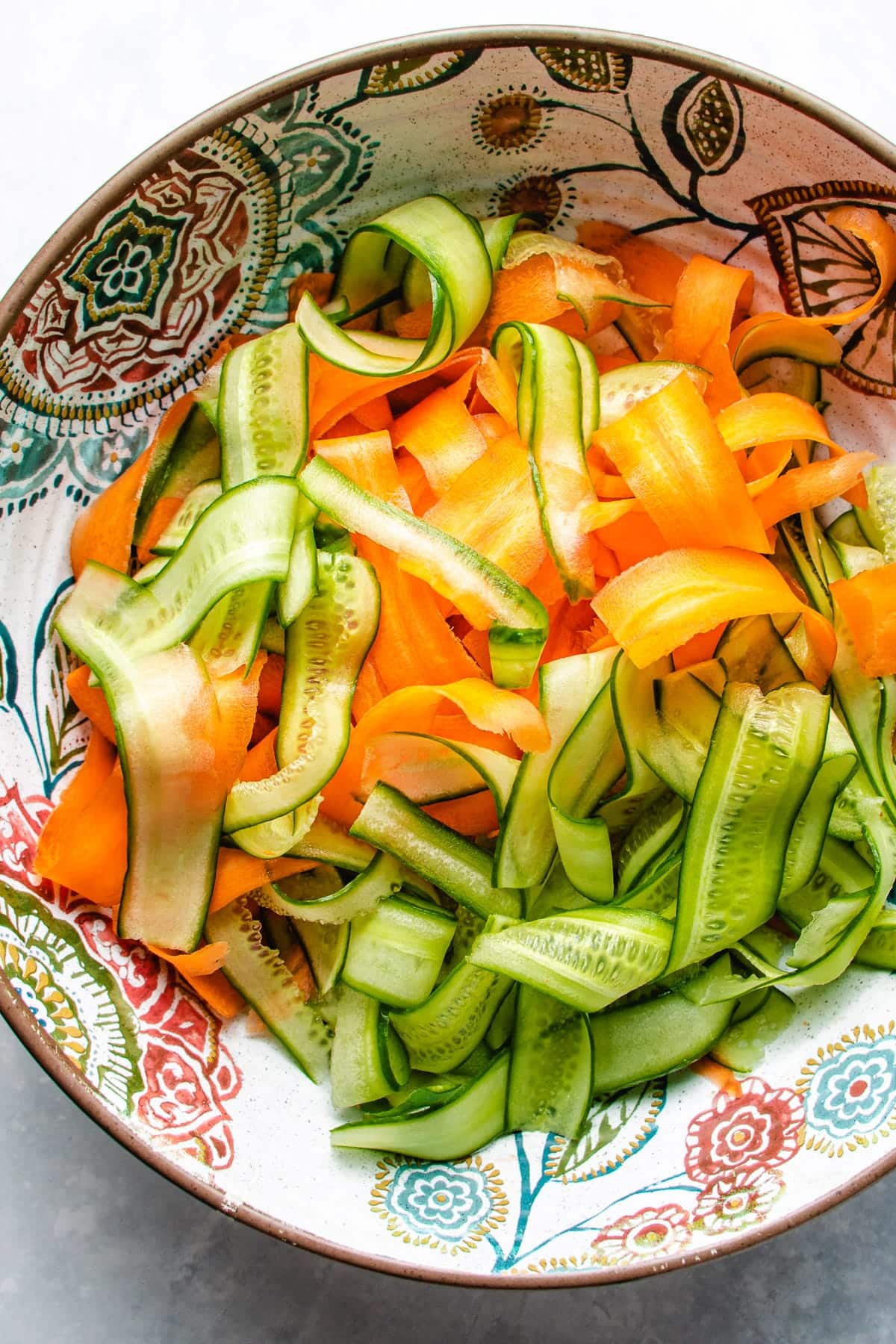 Where do you find Tatsoi?
Your local farmers markets or Asian grocery stores will be the best place to find this Asian vegetable. They are likely to come in small bundles with leaves and stems. Satur Farms, a NY based producer, sells them in boxes with tatsoi leaves only. I've seen them in local WholeFoods and some large grocery stores.
If you can't find Tatsoi, I recommend using baby spinach and arugula.
What goes in the Tatsoi Salad Recipe
This is what I put in the salad though in all honesty, you can literally put any raw salads with the dressing and it'll be fantastic!
Tatsoi
Mixed greens (For example: Mizuna, a peppery Japanese green)
Cucumber
Carrots
A salad dressing of choice (creamy mayo-based or light non mayo-based dressing)
Tatsoi nutrition
Great source of Vitamins A, C, & K
Good source of potassium and calcium
Good source of beta-carotene, folate, phosphorous, and iron
This article says that Tatsoi is packed 2 times as much vitamin C as that of an orange and loaded with minerals and health-promoting compounds. More Tatsoi recipes please!
How to cook tatsoi
Tatsoi is very versatile. Think of it like spinach. You can enjoy it raw, steamed, sauteed, braised, or stir fried. It pairs well with mild or peppery greens for example: spinach, arugula, mizuna, and baby romaine.
In hot summer, I like to enjoy Tatsoi raw with a big bowl of salad and with cucumber and carrot noodles. The crunchy carrots and cucumbers pair really well with a creamy and tangy Whole30 ranch dressing.
In the winter, I saute it with garlic, olive oil, and salt or add them to chicken meatball soup.
Recipe variation
Add extra crunchy and nutty flavor with toasted walnuts, almonds, or cashews.
For a sweeter flavor, try fresh berries – blueberries, blackberries, or strawberries.
Try a different salad dressing. This tatsoi salad bowl with carrots and cucumber pairs well with all kinds of salad dressings. Try Roasted Sesame Dressing, Carrot Ginger Dressing, Creamy Ginger Dressing, Thai "Peanut" Sauce, Asian "Peanut" Sauce, or check out more of my Paleo Salad Dressings!
What to serve with Tatsoi Salad?
This is a terrific salad that will pair really well with all savory main dishes from Western to Asian! I can't think of any dishes that I wouldn't serve this salad with. Here are a few suggestions –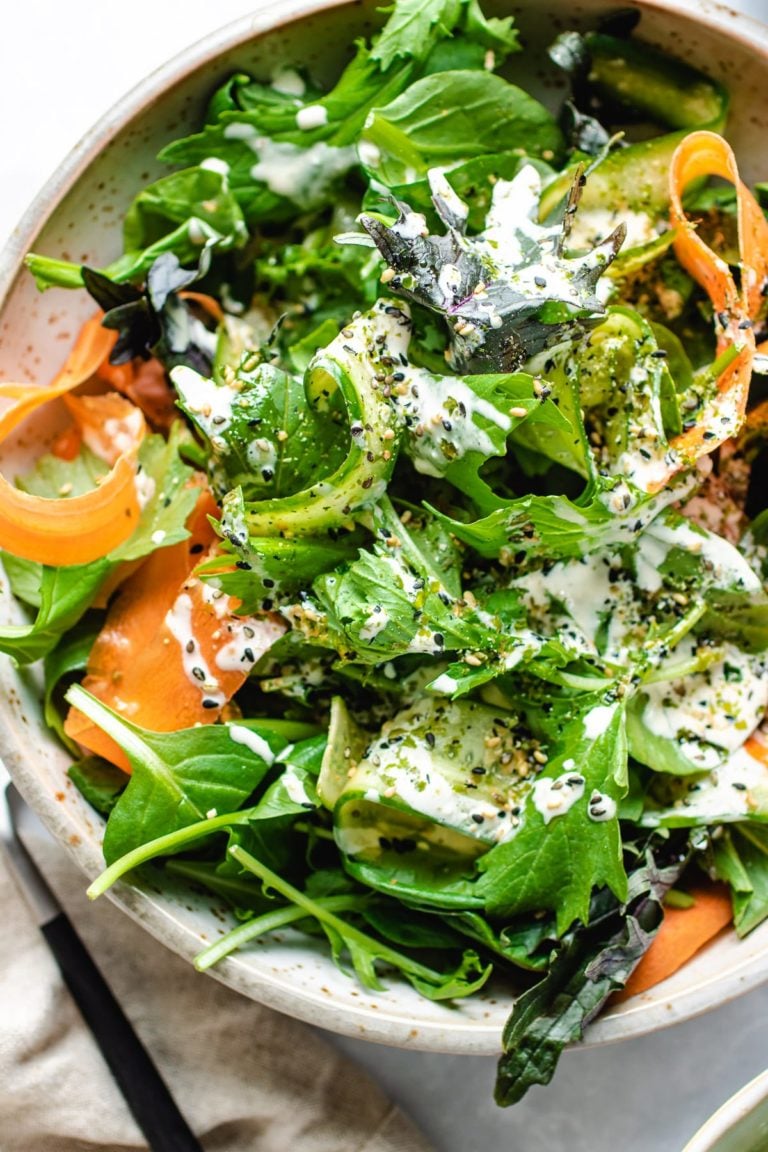 Friends! If you love a simple way to add more leafy greens to your meals this Tatsoi and Asian Green Salad Recipe is a great one! It's a terrific fresh side salad that will pair with any savory dishes, including BBQ recipes! The salad tastes bright, refreshing, and peppery delicious! No more boring salads!
If you give this recipe a try, please leave a comment and rate the recipe below. Let us know your favorite way to enjoy tatsoi or any salad greens!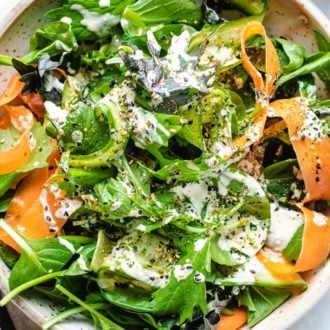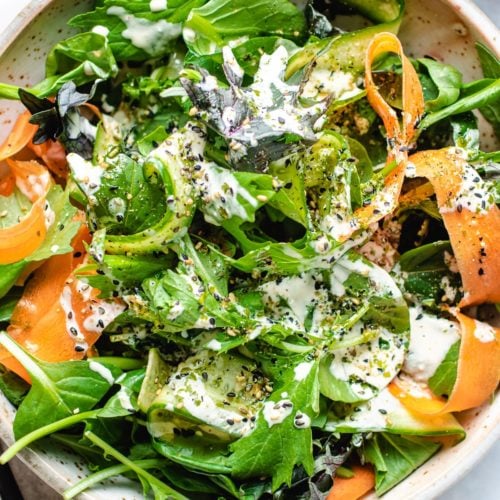 Tatsoi Asian Greens Salad Recipe
Tatsoi Recipe with Asian Salad Greens tossed in a tangy Whole30 ranch dressing. This tatsoi salad will bring new flavor to the dinner table!
Print
Pin
Rate
Ingredients
For the Whole30 ranch yogurt dressing:
3 tbsp mayo, I use tessemae's
1 tbsp dairy-free milk, unsweetened
3 tbsp coconut yogurt or dairy-free yogurt, thick texture. unsweetened. I use Anita's
1 tbsp coconut aminos
coarse sea salt and black pepper, to taste
For the Tatsoi salad:
7 oz carrots, about 2 large
7 oz English cucumber, or mini cucumbers
2.5 oz tatsoi, or baby spinach
2 oz mizuna, or baby arugula
2 oz mixed greens of choice, I use Satur Farm boxed Spicy Asian Greens
1 tbsp olive oil
Furikake, or toasted sesame seeds, optional
Coarse sea salt to taste, or Takii Umami mushroom powder to replace salt
Instructions
Mix well Whole30 ranch yogurt dressing. You can follow the instructions in this post for more details. Set it aside in the fridge until ready to use.

Use a vegetable peeler. Shave the carrots and cucumber to ribbons.

Add the carrot and cucumber ribbons to a large salad bowl with tatsoi, mizuna, and more mixed baby greens.

Drizzle with olive oil and the salad dressing. Start with 3 tbsp dressing first and add more, if desired. Sprinkle with furikake, if using. Toss and season with salt to taste.

Serve cold and enjoy it right away.
Notes
This salad is very versatile. If you can't find tatsoi, use a combination of baby spinach and baby arugula.
To make the salad taste more Asian flavor, try Takii's shiitake made mushroom powder seasoning to replace salt.
The nutritional label does not include dressing. You can find the salad dressing info here – https://iheartumami.com/whole30-ranch-yogurt-salad-dressing/
To make this recipe extra low carb, skip the carrots and use more cucumbers. 
Nutrition
Serving: 1serving, Calories: 48kcal, Carbohydrates: 6g, Protein: 1g, Fat: 3g, Saturated Fat: 1g, Sodium: 82mg, Potassium: 273mg, Fiber: 2g, Sugar: 2g, Vitamin A: 7061IU, Vitamin C: 15mg, Calcium: 39mg, Iron: 1mg
Love more refreshing salad greens?
Check out my Mandarin Orange Salad, Asian Chicken Cabbage Salad, Keto Smoked Salmon Salad, Japanese Potato Salad, Broccoli Pesto Pasta Salad, Grilled Peach Salad, and Thai Beef Salad. More Paleo Salad Recipes.