Tatsoi Asian Greens Salad Recipe
Could the Chinese vegetable – Tatsoi compare to the ever-popular spinach? This Tatsoi recipe is crisp and sweet with Asian baby greens, shaved carrot, and cucumber noodles tossed in a lip-smackingly delicious Whole30 ranch yogurt dressing. If you crave fresh leafy greens and new exciting flavors, this Tatsoi salad recipe will knock your socks off. It's my new summer favorite!
Considering pairing your tatsoi salad with a side dish? These healthy sides for bbq chicken might be just what you want.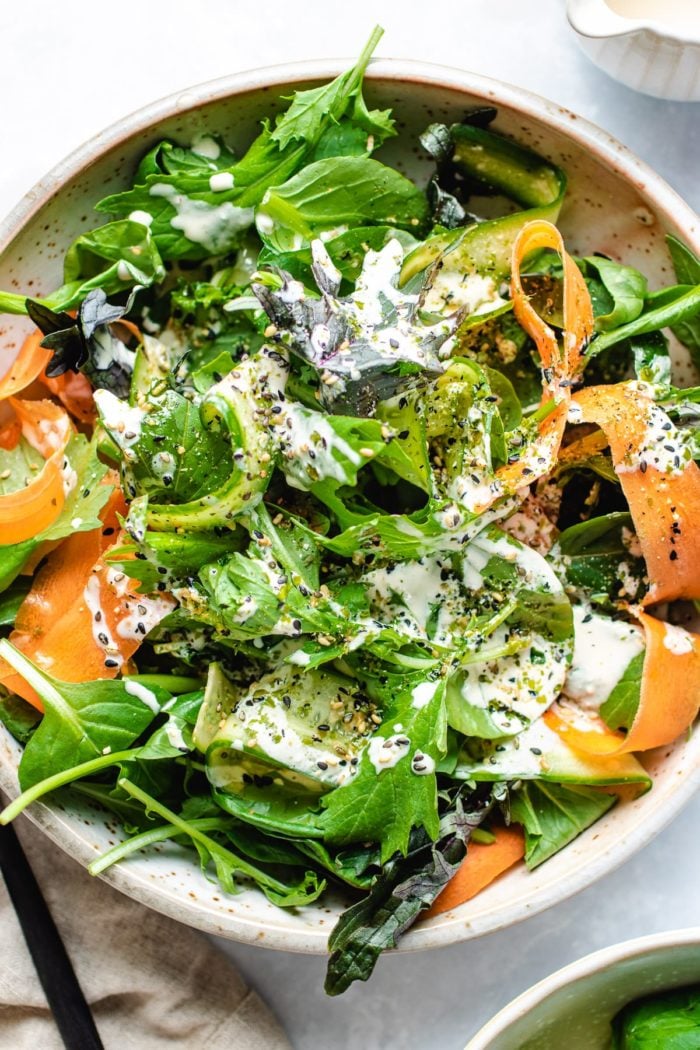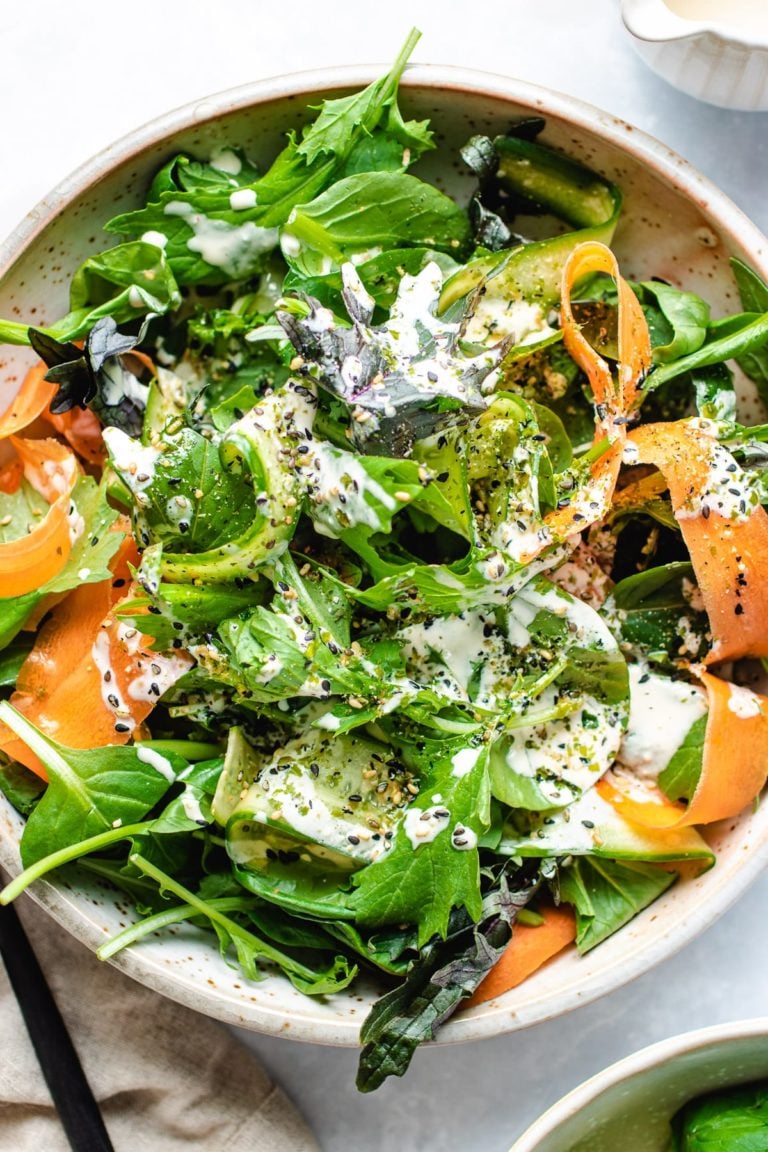 What is tatsoi
Tatsoi (sometimes spelled tat soi) or Pak Choi (Cantonese 塌菜) is a variety of Chinese cabbage commonly known as spinach mustard or rosette bok choy. The leaves resemble small spoons, so some call them spoon mustard. It comes in varieties such as green tatsoi, red tatsoi, and purple tatsoi.
This Asian green belongs to the Brassicaceae, or mustard, family and is closely related to bok choy. In the farmer's markets, they are often sold in small bundles (with stems and leaves) and in my local grocery stores, they are sold in boxed greens with leafy parts only. Learn more about the Chinese vegetable -tatsoi.
Tatsoi Flavor
Tatsoi lettuce is a very versatile Asian green. You can enjoy it raw or cooked. Think of it like spinach but with a crisp, sweet flavor milder than baby bok choy.
You can enjoy the whole plant raw or saute it with minced garlic and olive oil with some salt. You can add it to a bowl of hot ramen soup as a garnish before serving.
The leaves are soft and buttery, and the stems are crisp and tender. Once you taste it you might have a hard time returning to spinach, and I'm not exaggerating it!
This Asian veggie is nutritious, tastes milder than bok choy, and is somewhat similar to spinach but more crisp and tender.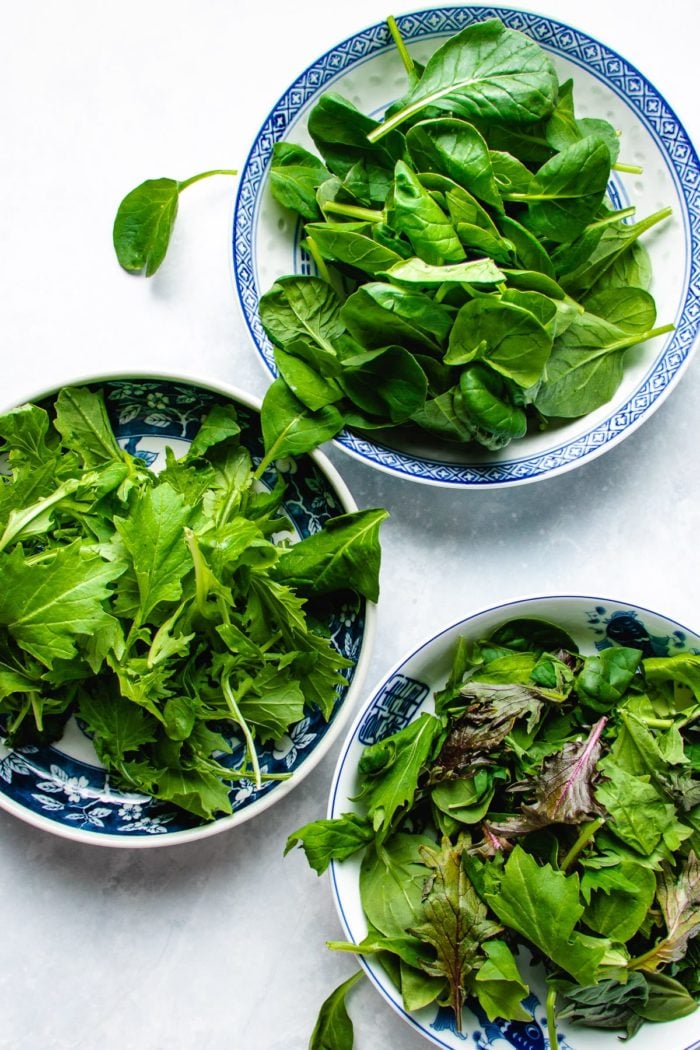 Ingredients
Explore the vibrant flavors of tatsoi with this simple salad recipe. A harmonious blend of Asian greens, it's the perfect introduction to the versatility of tatsoi recipes. Get ready to be enchanted by this standout Asian greens salad.
For the salad:
Tatsoi: Try either baby tatsoi leafy greens or chop up the whole bundle
Mixed greens of your choice: I use Mizuna (a peppery Japanese green) and mixed spicy Asian greens.
English Cucumber
Loose Carrots
For the dressing:
(Ranch) Mayo, dairy-free milk, unsweetened coconut yogurt, coconut aminos, and salt and pepper.
Substitutions and variations
Different baby greens: diced up baby bok choy, fresh baby greens, baby kales, spinach, or arugula.
Add fruits: blueberries, blackberries, or strawberries.
Crunchy toppings: toasted walnuts, peanuts, almonds, toasted sesame seeds, or cashews
Use soy sauce (as opposed to coconut aminos)
Add a tiny zest of ginger to the salad for a pop of refreshing flavor.
Dressing choices: You can also use other types of dressing that have a creamy texture. For Asian-inspired dressings with a crunch, try Whole30 peanut sauce or Roasted sesame dressing. For non-dairy and allergen-friendly options, consider Paleo Thai peanut sauce or check out the options in my Whole30 salad dressing recipes article, which has five delicious and healthy options.
How to make tatsoi salad
Try this Tatsoi recipe for a scrumptious salad, a symphony of Asian greens elevated with a zesty Whole30 ranch dressing. Experience a burst of flavor at your dinner table!
Prepare the dressing. To make the Whole30 yogurt dressing, mix mayo, dairy-free milk, coconut yogurt, coconut aminos, sea salt, and black pepper. You can serve it right away or store it for later use.
Prepare the carrots and cucumbers. Get out your carrots and cucumbers, and peel them into ribbons with a vegetable peeler.
Mix in all the vegetables. Prepare a large salad bowl with the tatsoi, mizuna, and mixed baby greens, and add the ribbons of carrots and cucumbers.
Add the oil and dressing. Mix in olive oil and the salad dressing. It is recommended to start with 3 tablespoons of dressing and add more if desired.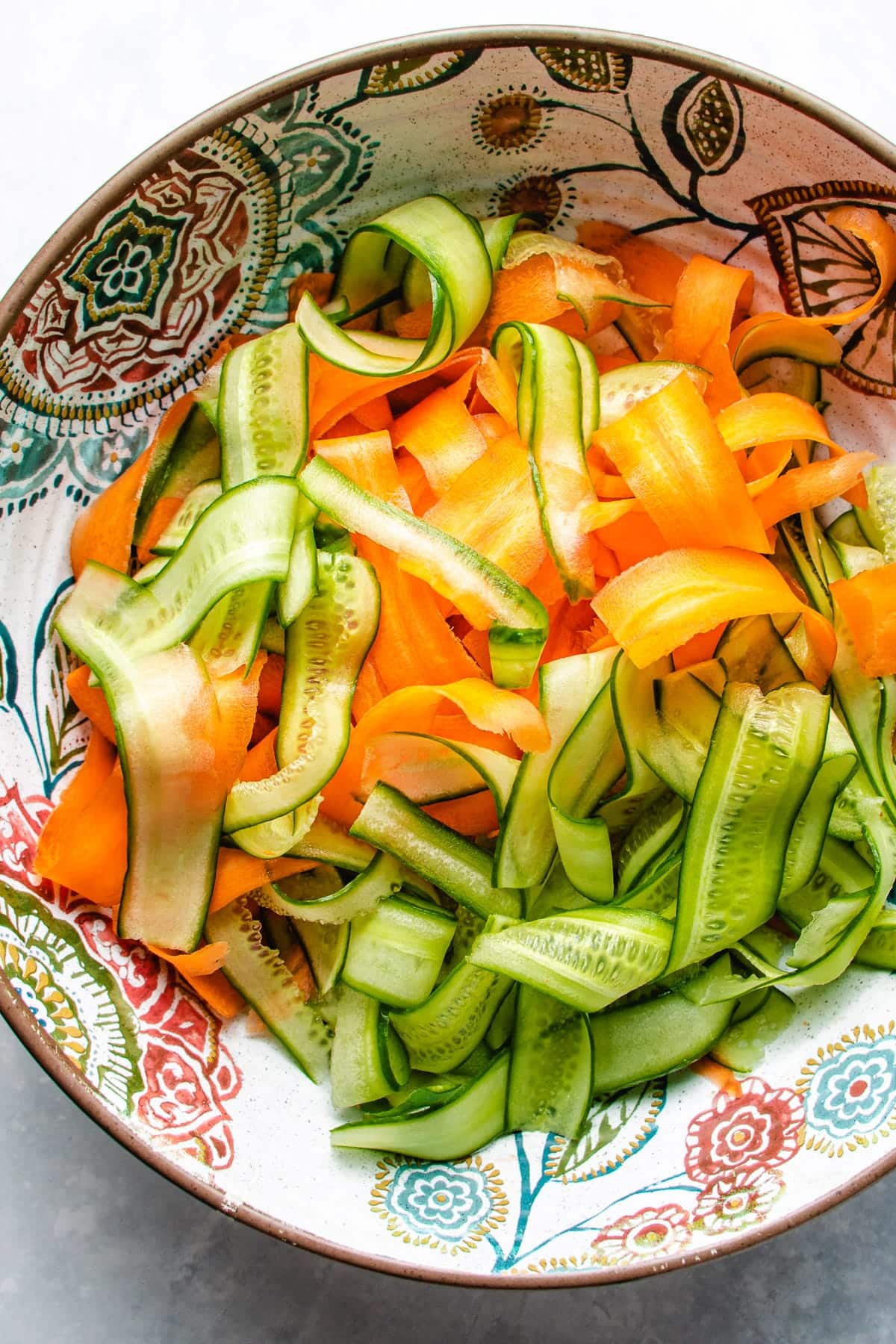 Different ways to cook tatsoi
Tatsoi is a very versatile vegetable. Think of it like spinach or bok choy. You can enjoy it raw, steamed, sauteed, braised, roasted, stir-fried, or add it to soups. If you are wondering how to cook tatsoi, here are some ideas:
Stir-fry: Use garlic and soy sauce for a savory touch.
Sauté: Opt for olive oil, garlic, and salt, and finish with a splash of lemon.
In Soups: Add it to soups or broths, letting it wilt as you would with spinach.
Steam: Lightly steam and drizzle with sesame oil for a subtle flavor.
Eggs: Incorporate into omelets or scrambles for added texture.
Raw salads: Tatsoi pairs well with mild or peppery greens such as spinach, arugula, mizuna, and baby romaine. Add tatsoi to a recipe such as the smoked salmon salad.
Warm Salads: Serve as a base, pairing with proteins like chicken or tofu.
Braise: Given its similarity to bok choy, braise tatsoi with broth and seasonings for a deeper flavor.
Pesto: Blend tatsoi leaves with garlic, nuts, olive oil, Parmesan, and lemon for a twist on the classic pesto. Adjust to taste.
How to make-ahead and store
If you want to prep ahead and store your salad, follow these simple guidelines.
Make-ahead: Start with a whole bundle of tatsoi – chop, rinse, and pat them dry. You can also make the dressing ahead.
Storage: Store in an airtight glass container in the fridge (salad box). Make the dressing ahead – fridge up to 3-4 days in advance.
What to serve with Tatsoi salad
The tatsoi salad is a delicious and healthy starter, but what should you pair it with? Consider these suggestions to find dishes that harmonize perfectly with its zest.
Umami Tips
Freshness Matters: Choose tatsoi with vibrant green leaves and crisp stems. Avoid those with wilted leaves or signs of yellowing.
Washing: Tatsoi tends to collect grit in its leaves. If you buy a whole bundle, dice it up and rinse it in cold water before using it – similar to how to cut bok choy. A salad spinner can be handy for drying the leaves after washing.
Simple Dressing: Due to its delicate flavor, tatsoi pairs well with light and creamy dressings. You can pair it with Asian-flavored or creamy textured Western salad dressing.
Pairings: Include ingredients that complement its mild flavor:Fruits: Pears, apples, and citrus fruits. Nuts: Toasted almonds, walnuts, or pine nuts. Cheese: Goat cheese, feta, or shaved Parmesan. Proteins: Grilled chicken, salmon, tofu, or shrimp.
Quick Cooking: If you choose to sauté or stir-fry tatsoi, do it briefly. The leaves wilt quickly, similar to spinach. For the whole bundle of tatsoi, stir fry the stems first before adding the leaves since stems take a bit longer to cook.
Raw or Cooked: While many enjoy tatsoi raw in salads, it can also be steamed, stir-fried, or added to soups. If adding to soups, such as the Asian chicken meatball soup, do it towards the end of cooking to maintain its color and texture.
Storage: Store tatsoi in the refrigerator in a plastic bag with a paper towel to absorb any excess moisture. Consume within a few days for the best freshness.
Seasoning Complements: Garlic, ginger, and sesame oil are great flavors to pair with tatsoi, especially in Asian-inspired dishes.
Mix with Other Greens: Tatsoi can be mixed with other salad greens like arugula, baby spinach, or mizuna to create a diverse texture and flavor profile.
Taste Test: If you're new to tatsoi, taste a leaf raw first to familiarize yourself with its unique flavor. This can guide you in deciding what ingredients and dressings pair best with them.
FAQs
Is tatsoi raw or cooked?
Tatsoi can be both raw and cooked. Raw, its tender leaves are often used in salads for their mild, slightly mustardy flavor. You can also saute, stir-fry, or add it to soups like spinach or bok choy. Cooking softens the leaves and stems while intensifying their flavor. Think of it like bok choy you can enjoy it raw or cooked.
How do you eat tatsoi?
Tatsoi is versatile. You can stir-fry it with garlic and soy sauce, enjoy sauteed tatsoi with olive oil with lemon, or add it to soups like spinach. It's great, steamed with sesame oil, in omelets, or in warm salads with proteins. Braising it, similar to bok choy, enhances its flavor. Alternatively, make a unique pesto by blending tatsoi with garlic, nuts, olive oil, Parmesan, and lemon.
Do you eat the stems of tatsoi?
Yes, the stems of tatsoi are edible and delicious. They have a crunchy texture similar to bok choy stems. When preparing tatsoi, the leaves and stems can be consumed, whether you're eating them raw in salads or cooking them. If you're cooking tatsoi, saute the stems first because they take slightly longer than tatsoi leaves.
Is tatsoi healthier than spinach?
Tatsoi and spinach are nutrient-rich greens, offering vitamins, minerals, and antioxidants. While tatsoi contains higher vitamin C, calcium, and potassium levels, spinach provides more vitamin K and iron. Both of them are healthy leafy greens and can bring a variety of nutrients to the health benefits. (source)
More Asian leafy green recipes you might like
Once you've given these recipes for tatsoi a try and discovered the joys and enriching flavors of tatsoi greens, check out these other Asian salad recipes: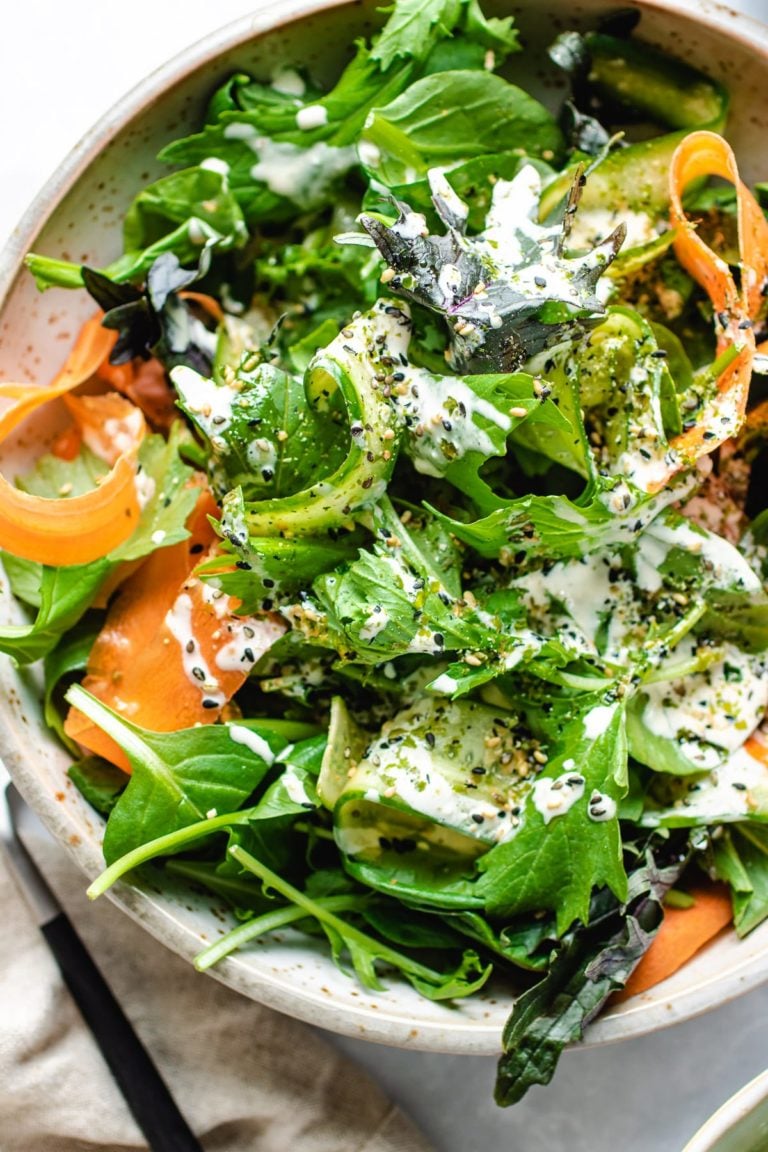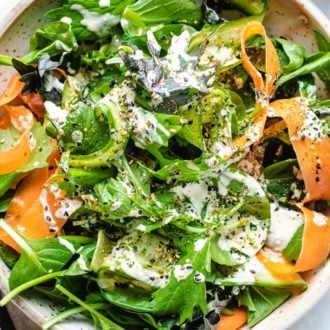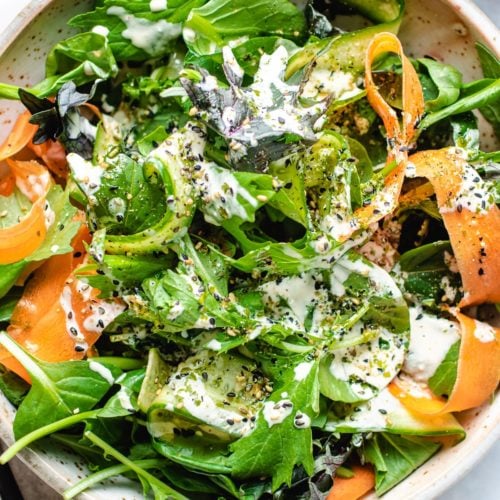 Tatsoi Asian Greens Salad Recipe
Tatsoi Recipe with Asian Salad Greens and lettuce with Whole30 ranch dressing. This tatsoi salad will bring a new flavor to the dinner table!
Print
Pin
Rate
Ingredients
For the Whole30 ranch yogurt dressing:
3 tbsp mayo, I use tessemae's
1 tbsp dairy-free milk, unsweetened
3 tbsp coconut yogurt or dairy-free yogurt, thick texture. unsweetened. I use Anita's
1 tbsp coconut aminos
coarse sea salt and black pepper, to taste
For the Tatsoi salad:
7 oz carrots, about 2 large
7 oz English cucumber, or mini cucumbers
2.5 oz tatsoi, or baby spinach
2 oz mizuna, or baby arugula
2 oz mixed greens of choice, I use Satur Farm boxed Spicy Asian Greens
1 tbsp olive oil
Furikake, or toasted sesame seeds, optional
Coarse sea salt to taste, or Takii Umami mushroom powder to replace salt
Instructions
Mix well the Whole30 ranch yogurt dressing from mayo to sallt and pepper. You can also follow the instructions in this post for more details. Set it aside in the fridge until ready to use.

Use a vegetable peeler. Shave the carrots and cucumber to ribbons.

Add the carrot and cucumber ribbons to a large salad bowl with tatsoi, mizuna, and more mixed baby greens.

Drizzle in olive oil and the salad dressing. Start with 3 tbsp dressing first and add more, if desired. Sprinkle with furikake, if using. Toss and season with salt to taste.

Serve cold and enjoy it right away.
Notes
This salad is very versatile. If you can't find tatsoi, use a combination of baby spinach and baby arugula.
To make the salad taste more Asian flavor, try Takii's shiitake-made mushroom powder seasoning to replace salt.
The nutritional label does not include dressing. You can find the salad dressing info here – https://iheartumami.com/whole30-ranch-yogurt-salad-dressing/
To make this recipe extra low carb, skip the carrots and use more cucumbers. 
Nutrition
Serving: 1serving, Calories: 48kcal, Carbohydrates: 6g, Protein: 1g, Fat: 3g, Saturated Fat: 1g, Sodium: 82mg, Potassium: 273mg, Fiber: 2g, Sugar: 2g, Vitamin A: 7061IU, Vitamin C: 15mg, Calcium: 39mg, Iron: 1mg
Made a dish and love it? Please remember to rate the recipe and leave a comment in the comment section below! It helps my blog grow organically so I can continue sharing free and awesome content with you. Thank you!