Whole30 Meal Plan Guide with Shopping List
My Whole30 Meal Plan Guide includes consolidated shopping lists for easy Whole30 meals. With simple meal prep instructions and storage suggestions, you'll be amazed how simple it is to make your Whole30 a success!
Even if you aren't on Whole30, these scrumptious meals will make your healthy eating a breeze!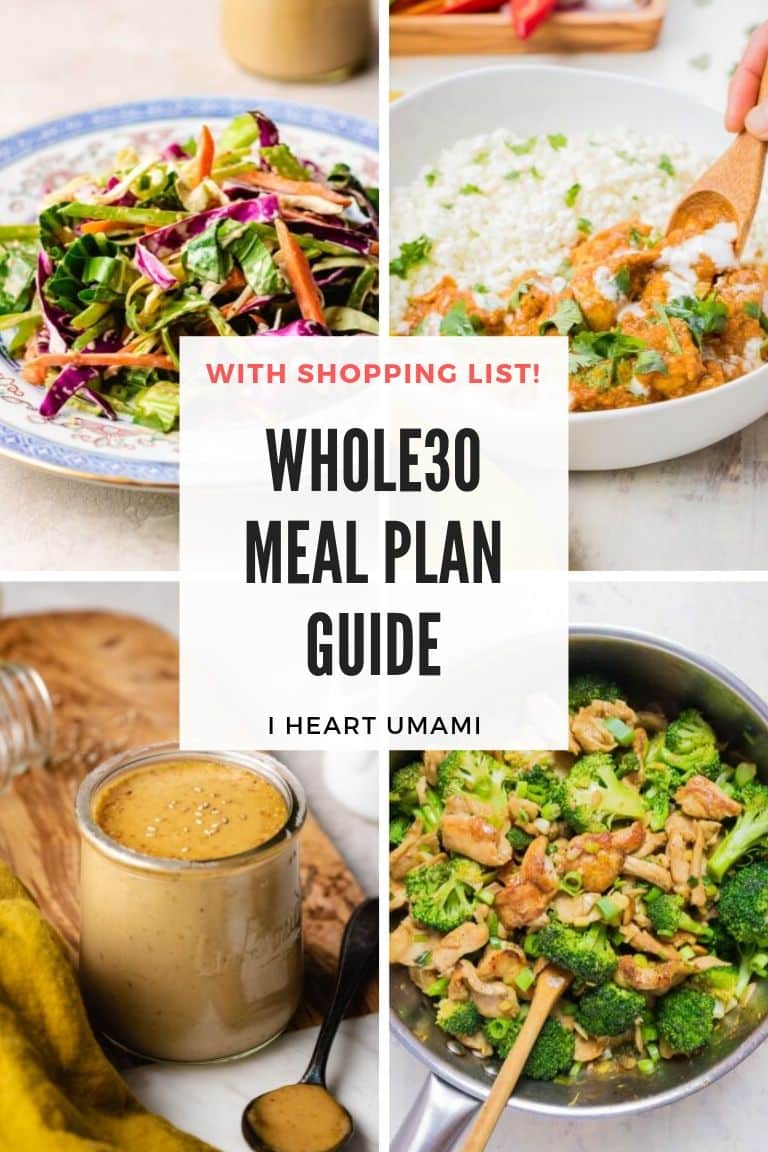 Easy Whole30 Meal Plan Guide with Consolidated Shopping Lists
My Whole30 meal plan guide is not just a roundup Whole30 recipes. I carefully selected a few of my most popular Whole30 recipes on the blog, particularly the ones that are great for meal prep and reheat well!
In today's Whole30 meal plan guide I select chicken as the main source of protein because it's the most common ingredient that people can have and chances are you might already have a pound or two in the fridge or freezer. It's a good standby protein for making stir-fries, curries/stews, soups, salads, and more.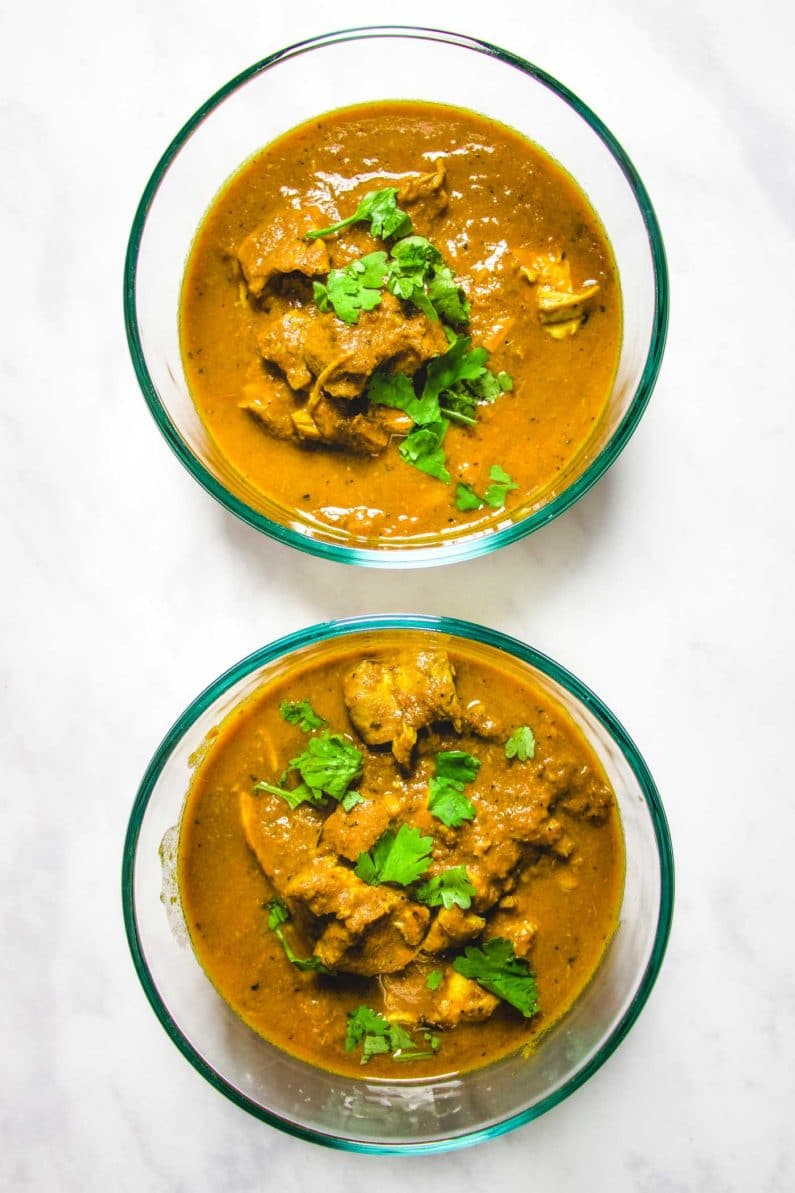 Whole30 Meals: My Must-Have Shopping List Items
Whenever I look for meal prep ideas for Whole30 or just general weekly meal planning, I almost always focus on these few key items – proteins, vegetables, and aromatics (garlic, ginger, scallions…etc.). These are my must-have items on the shopping lists. Once I have these items nailed down, I expand my menu based on how much time I have for the prep and the coming week.
Whole30 Meal Ideas + Planning Ahead
Knowing how to plan ahead, how to shop efficiently, and which ingredients to prep first (or last) sometimes can be a daunting experience.
In my online meal planning programs, each week we plan meals based on commonality (dishes that share similar ingredients) and based on preparation methods (dishes that share similar cooking methods) so that no ingredients go to waste and the process is simplified.
The enrollment to join my meal planning programs for the new season will be coming soon! Use this Free Whole30 Meal Plan + Shopping List to make some meals and see if you like my style of meal prepping! When the doors open for enrollment you'll be the first to get notified so you won't be missing out!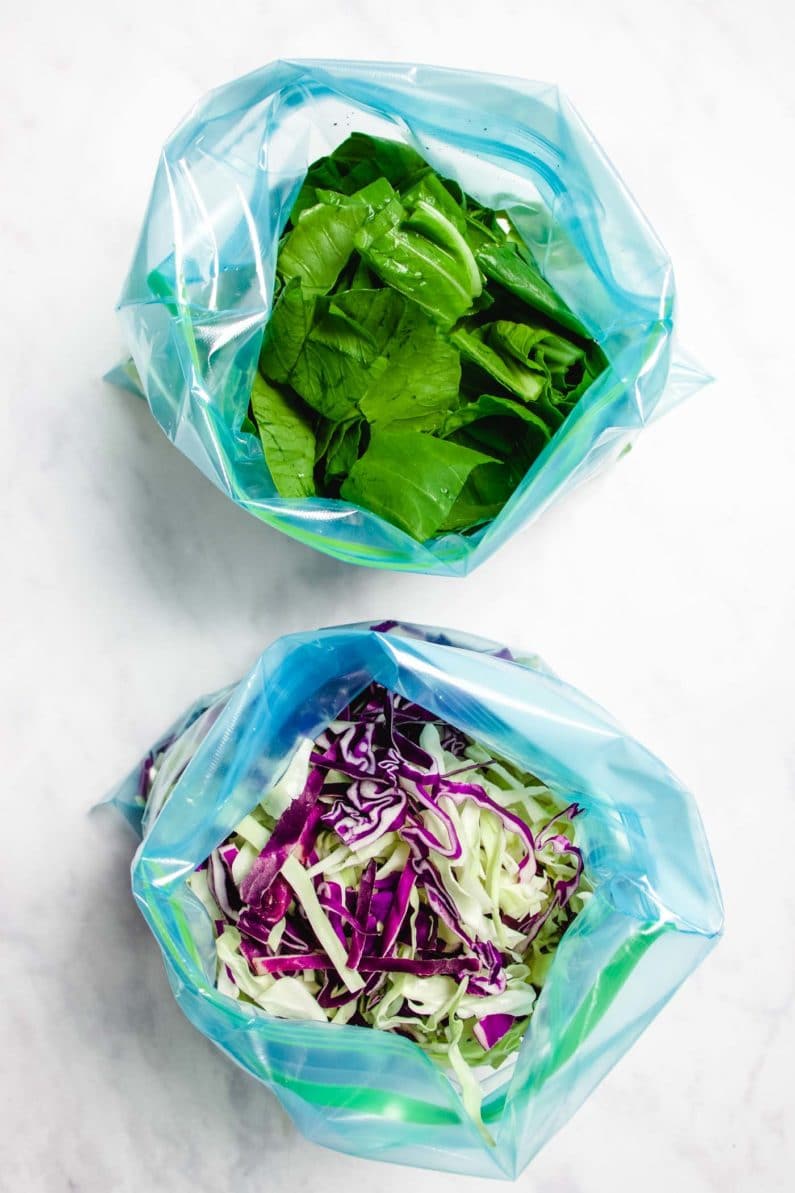 To create meal variety, I often like to pick one protein and focus on different ways to make the texture interesting. For example, the two main dishes we have in today's Whole30 Meal Plan guide, we have Instant Pot butter chicken and chicken broccoli stir-fry. Both dishes share common a protein – chicken – so you can buy them in bulk to save money. Not only does the Instant Pot help simplify the meal prep process, we have texture contrasts between the two dishes – one creamy and smooth and the other crisp and tender.
Whole30 Meal Prep Tips For Flavorful Meals
Flavorful meals are so important to me because it makes me feel excited to eat at home and I know that my homemade meals are so much better than takeout.
For proteins: In general, I like to slice and marinate the proteins during meal prep. You can do this in bulk and create variety by changing the marinate for different flavors.
For veggies: To keep the meal prep process short, for vegetables, I prefer not to cook them in advance. In general, I'll wash and dice them first. This works great for hearty vegetables that store well in the fridge for example, cabbage, carrots, celery…etc. This way you can either stir-fry them with little garlic and salt similar to my Chinese broccoli recipe or pair them with a creamy texture salad dressing for quick slaw.
I almost always have a boxed leafy greens in my fridge. These delicate greens don't store well in the fridge so
you'll want to use them within 3 days but they are great for quick salads and they pair well with the main dishes in today's Whole30 meal plan guide.

Whole30 Pantry Guide For Asian-Inspired Recipes!
If you are new to Whole30, check out my Asian-inspired Whole30 pantry guide. The pantry guide includes links to amazon so if you can't find the items in stores, online delivery will work, too!
MORE Whole30 Recipes for Breakfast, Lunch, Dinner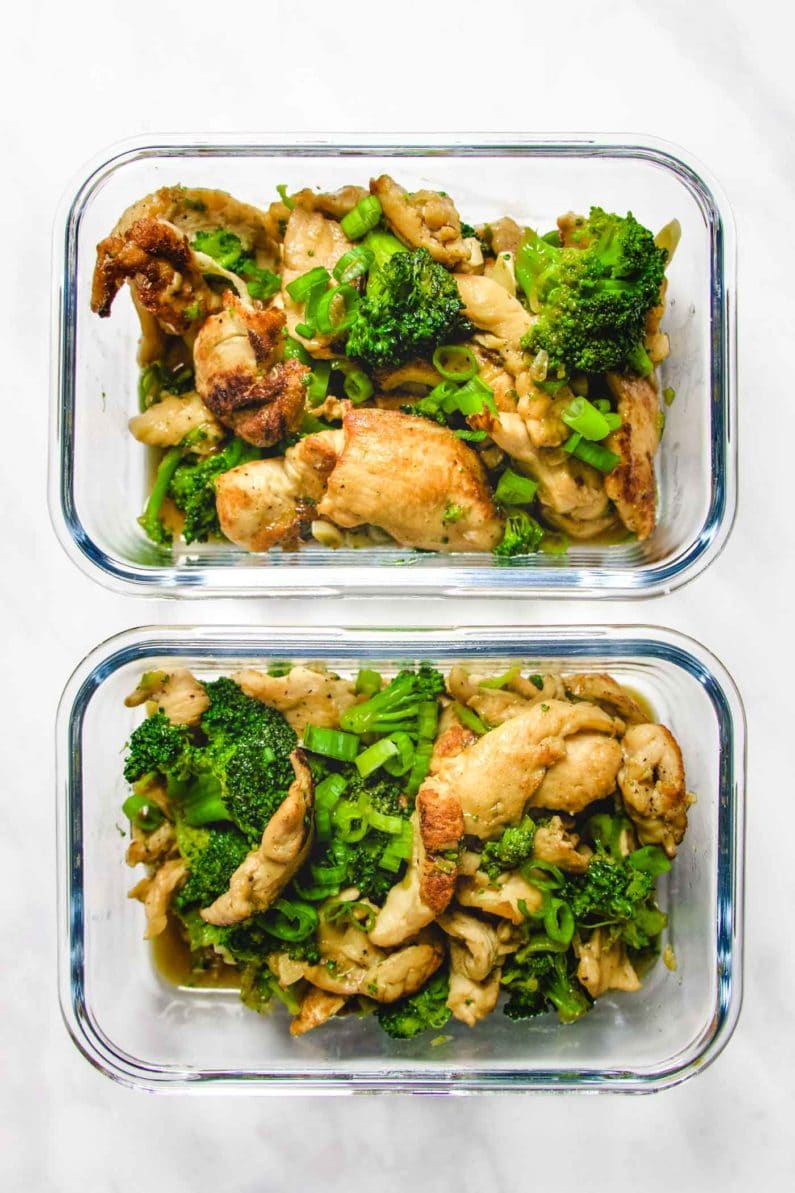 Watch How I Meal Prep For Whole30
And subscribe to my YouTube Channel for weekly cooking videos!
I hope you enjoyed the blog post and the video. If you'd like to see more meal prep ideas, please let me know in the comments below. Click the text links in this blog post to receive a beautifully designed Whole30 Meal Prep Guide with Shopping List, meal prep tips, and storage. Subscribers are always the first to be notified of new recipes, videos, and other goodies.