Asian Carrot-Celery Slaw
This is a terrific Asian Carrot-Celery Slaw that pairs brilliantly with light dishes like fish and seafood, as well as rich hearty meals like roasted chicken and beef stews. Can't stop eating crunchy delicious. Add this great Asian carrot-celery salad to everything!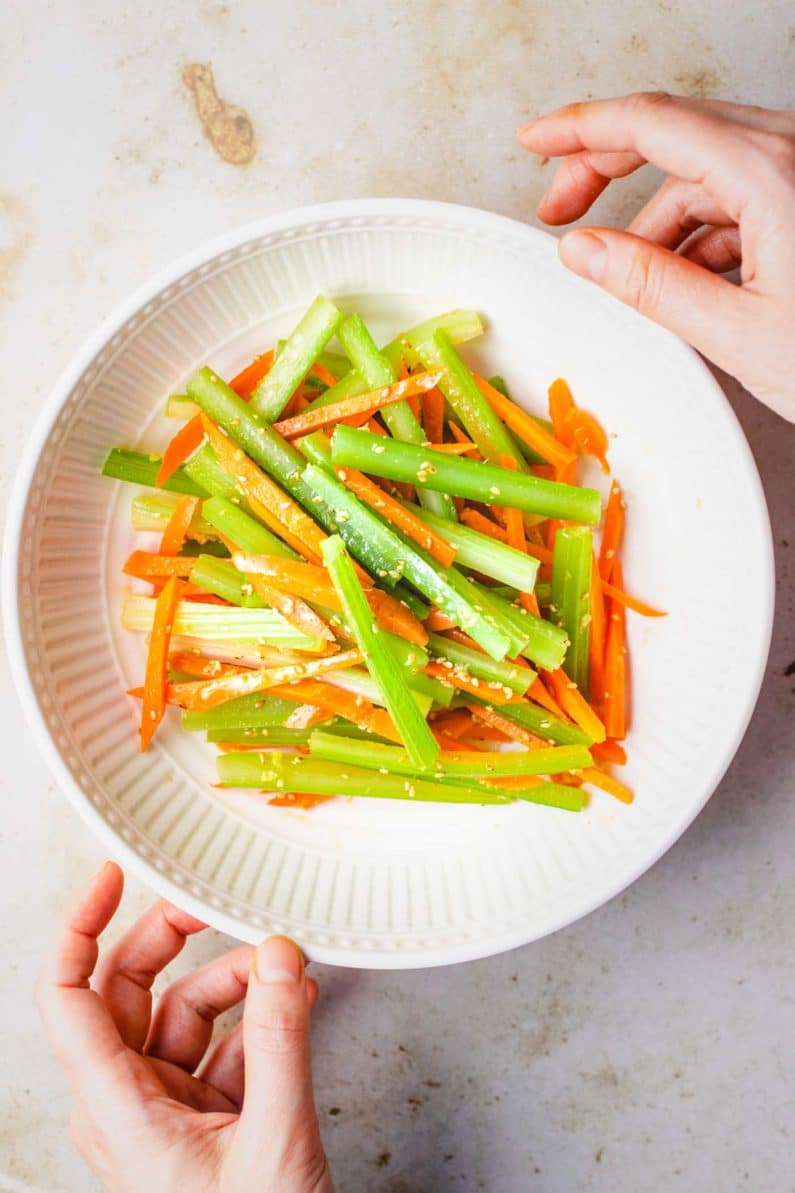 Everyday Asian Celery-Carrot Slaw (Paleo, Whole30, Gluten-Free)
This is part III of the 3-part Asian Side Dish series. For Part I, we made Chinese Garlicky Smashed Cucumbers that's fantastic for hot summer. In part II, I shared one of my favorite Japanese side dishes – Japanese Spinach Salad with Sesame Goma Dressing. In this post, we return to a popular Taiwanese side dish that's often found in beef noodle shops – Asian Carrot-Celery Slaw.
This Chinese style Celery and carrot slaw is an excellent salad because the carrots and celery hold up so well and they taste even more flavorful the day after. It's a terrific side salad for meal prep!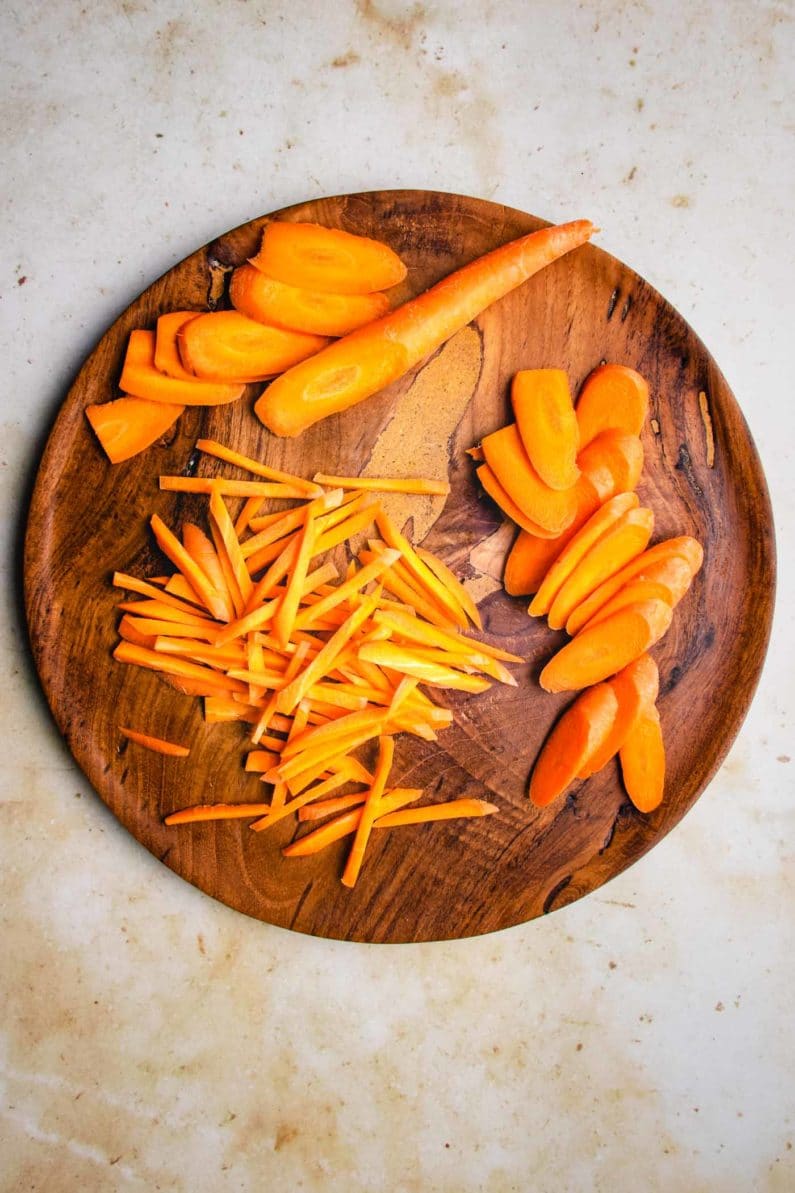 This celery and carrot salad is so popular in Taiwan because it's easy to prepare and tastes crunchy delicious in hot summer. It is also a terrific side dish that helps to cut down on the greasiness in rich hearty meals. What I also love about this dish is that carrots and celery are year-round vegetables and economical.
What I put in Asian Carrot-Celery Slaw
I first dice and julienne carrots and celery to matchstick shape about 2.5 to 3-inch length wise. Hot water blanch them for 1 minute will help soften the texture and remove the raw flavor. A quick blanch and shock them in cold water will also bring out the gorgeous vibrant color.
Because this Asian slaw salad comes with a light ginger dressing, season them with salt, little white pepper, toasted sesame oil, and grated ginger. Give a good toss and allow it to marinate at least 30 minutes or overnight, I guarantee this Carrot-Celery Salad Asian Style will bring new flavor to your dinner table!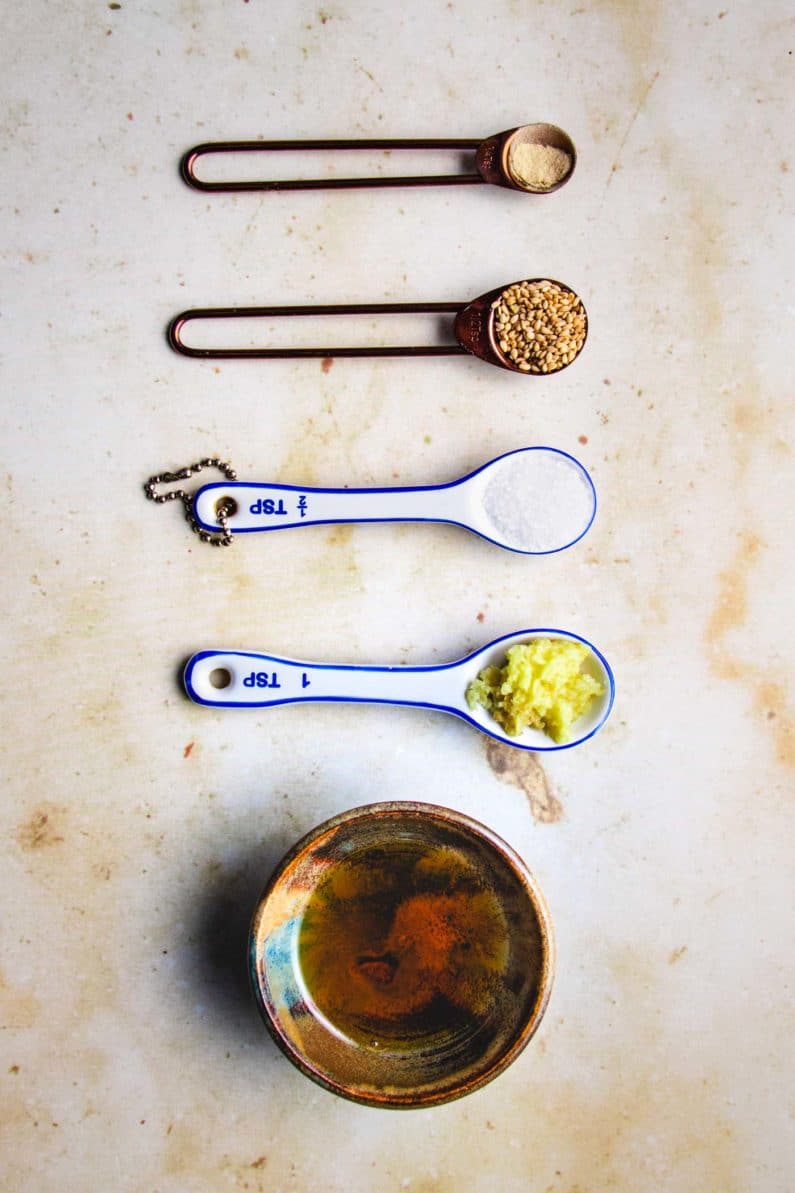 What this Celery-Carrot Salad goes with –
I call this my everyday Celery-Carrot Slaw because it literally goes well with everything from Thai Style Paleo Fish en Papillote to Taiwanese beef stew, Paleo beef and broccoli to roasted Chinese orange chicken. Try it with these delicious Paleo beef stir-fry in oyster sauce, Chicken and broccoli, Instant Pot Taiwanese meat sauce, or these Whole30 Chinese chicken wings.
You can also easily swap the seasoning dressing for any salad dressing in my archive to instantly create variety!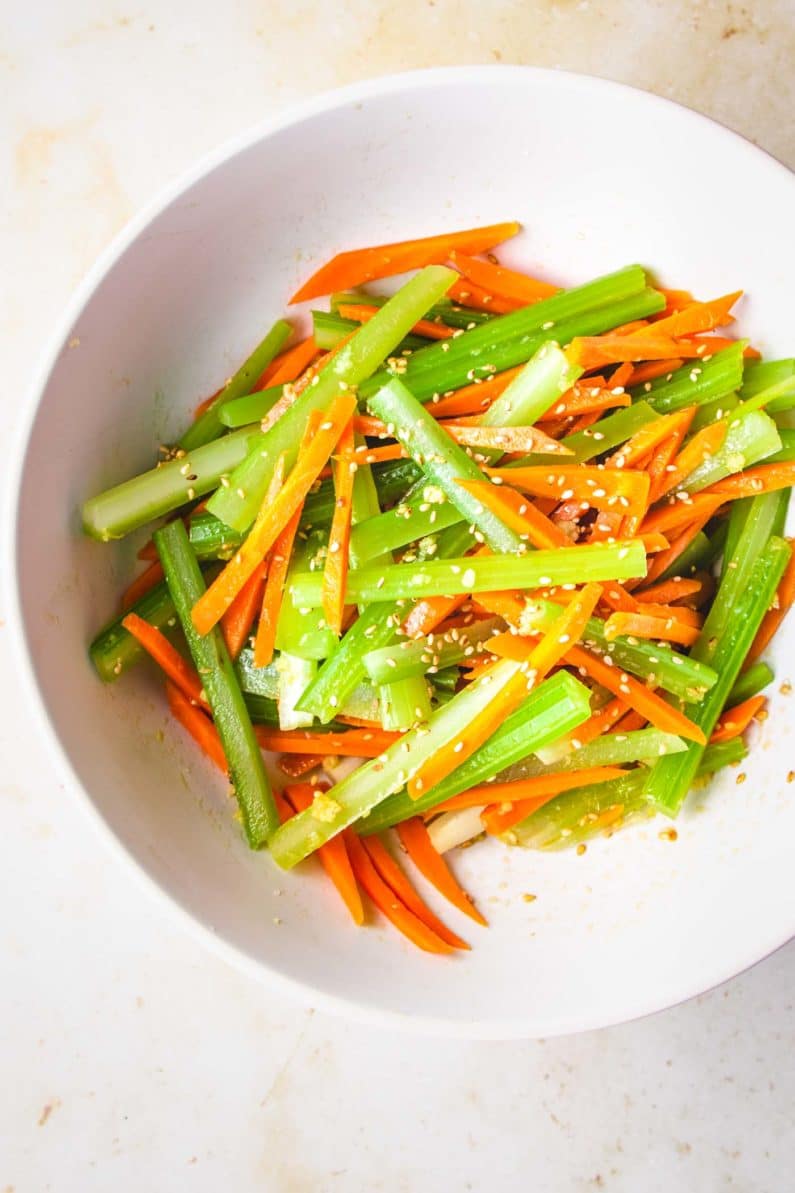 If you give this Asian Carrot-Celery Slaw a try, please rate the recipe and leave a comment below so that others can learn from you, too! I read all your comments. They will help me and my blog grow so I can continue writing free recipes for you! Thanks in advance!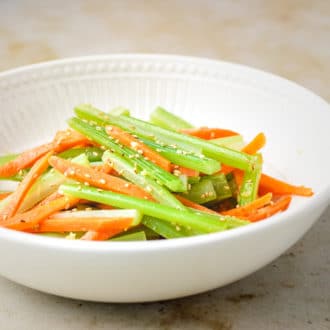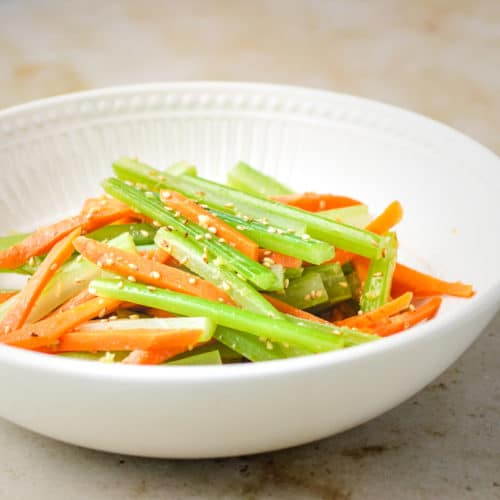 Paleo Asian Side Dishes
Delicious and easy to make Paleo Asian style side dishes that are all healthy and low carb like this Asian carrot-celery slaw. They taste even better after chilling.
Print
Pin
Rate
Ingredients
5-6 stalks celery
2 medium carrots
Asian Carrot-Celery Slaw Seasonings:
¼ to ½ tsp coarse sea salt
1 tsp grated ginger
1 tbsp sesame oil
Small pinch white pepper
Sprinkle toasted sesame seeds
Instructions
Bring a large pot of water to boil. Season the water with a pinch of salt.

In the meantime, prepare celery and carrots.

For celery, cut off the base and leaves, then wash the stalks under running water. Use a peeler to remove any fibrous and tough strings. Dice them to about 2.5 to 3-inch length sections then slice lengthwise to matchstick shape.

For carrots, slice them diagonally into thin slices (a little thicker than 1/8-inch thick). Stack 2-3 slices a time on top of each other, then cut through the layers to create matchsticks.

Blanch celery and carrot matchsticks in hot boiling water for about 1 minute.

Quickly rinse them under cold or ice cold water to stop cooking and preserve the vibrant color.

Drain and shake excess water from the vegetables before adding them to a large bowl.

Stir to coat seasonings from salt to white pepper.

Toss well and set aside for 30 minutes to develop the flavor or best marinate overnight. Sprinkle with toasted sesame seeds before serving. Best serve chilled.
Nutrition
Serving: 1serving, Calories: 52kcal, Carbohydrates: 4g, Protein: 1g, Fat: 4g, Saturated Fat: 1g, Sodium: 206mg, Potassium: 228mg, Fiber: 2g, Sugar: 2g, Vitamin A: 5320IU, Vitamin C: 3.4mg, Calcium: 30mg, Iron: 0.2mg
More Delicious and Easy Asian Side Dishes/Salads: