Paleo Meal Prep Gyoza Meatballs
Paleo Meal Prep Gyoza Meatballs with juicy chicken loads of fresh vegetables. These meatballs are freezer friendly and perfect for healthy low carb and high protein meal prep on the go!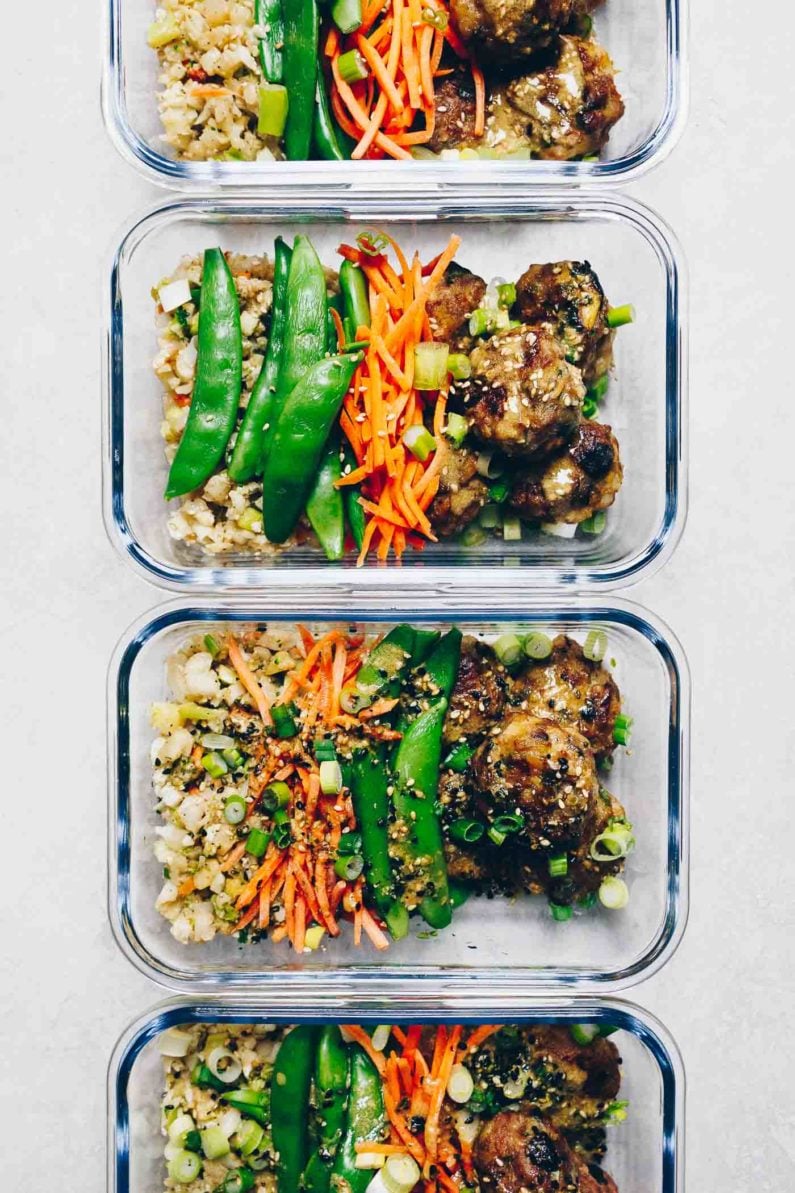 Paleo Meal Prep Gyoza Meatballs
Meatballs are probably one of my favorite foods to prepare for meal prep. They freeze well and easy to make a large batch for later use. In today's recipe, I share a low carb meal prep recipe that's also high in protein. You can easily pair the meatballs with various side dishes to create variety.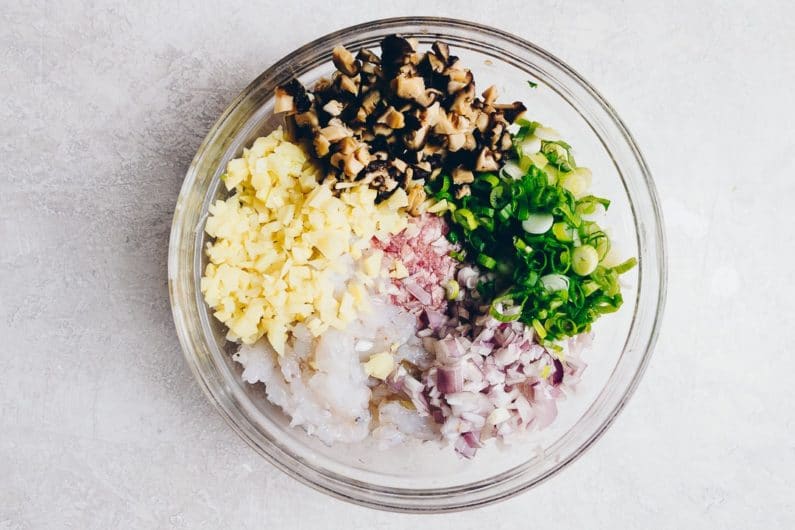 What is gyoza?
A Japanese potsticker dish usually consists of ground pork with shredded cabbage and shiitake, wrapped in thin wonton wrappers.
What's the difference between Japanese gyoza and Chinese jiaozi (potstickers)?
Japanese gyoza is closely related to Chinese jiaozi. Jiaozi, Mandarin 餃子, is a type of dumplings that are one of the major foods in China and Taiwan eaten all year-round and especially during the Chinese New Year.
Both Japanese gyoza and Chinese jiaozi share similar ingredients – small amount of ground meat with load of finely minced vegetables, wrapped in thin dumpling wrappers.
Since there are so many jiaozi varieties, you'll find that some jiaozi use thicker dumpling skins and others with thinner dumpling wrappers.
In general, Japanese gyoza dumplings are smaller and with thinner dumpling wrappers than Chinese jiaozi. The fillings inside are almost identical and they come with various variety, too.
To keep our Paleo jiaozi or gyoza low carb, we are making the meat filling only.
More Chinese Dumpling recipes
Tips for easy meal prep
Keep the menu selections simple. New recipes takes longer time to learn and to figure out the process. Keep a few familiar go-tos and add 1 new dish to the menu, if you want a change.
Select recipes that freeze well and/or easy to create variety.  Some recipes are great to be cooked in advance (for example: Vietnamese beef stew) and others are more suitable for partially prepared and they require a quick assemble on serving days (for example: Keto sushi rolls). They both have pros and cons. I like to have both types of meals in my weekly meal plan so I can keep my prep time more balanced.
Items take longer time to cook and cool, do that first. Make the slow cooker dish or the oven dish first so when you are done meal prepping these dishes are ready for you.
Batch chop and prep. Chop garlic, ginger, shallots, onions, scallions…etc in batch quality and divide them for each recipe to save time.
Multi-tasking. I like to include 1 slow cooker or 1 instant pot recipe and an oven dish in my meal planning. Let these cookwares do the work so I only need to chop and make healthy salad dressings!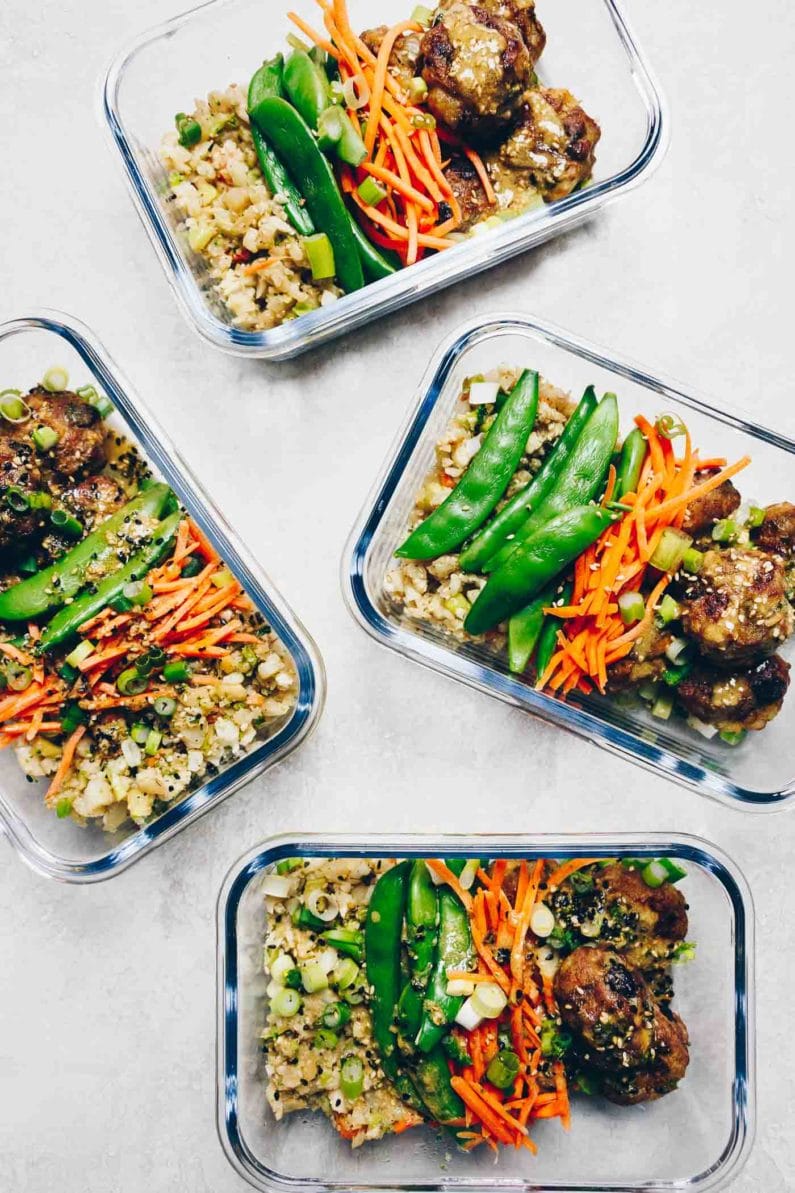 So my friends, I hope you find this Paleo Meal Prep Gyoza Meatballs recipe helpful. If you give these meatballs a try, leave a comment and rate the recipe below. Use my hashtag #IHeartUmami if sharing on Instagram. I'd love to see your creations!
Subscribe to my blog I Heart Umami for more simple and healthy Asian-inspired recipes for free weekly!
Paleo Meal Prep Gyoza Meatballs (Keto, Whole30)
Paleo Meal Prep Gyoza Meatballs with juicy chicken loads of fresh vegetables. These meatballs are freezer friendly and perfect for healthy low carb and high protein meal prep on the go! Makes about 18 meatballs at 1.5 oz. each)
Print
Pin
Rate
Ingredients
Gyoza meatballs (makes about 18 meatballs at 1.5 oz. each)
½ lb. shrimp, peeled and deveined (see notes if can't have shellfish)
1.2 oz. dried shiitake (rehydrated), or 4 oz. fresh shiitake
3-4 bulbs scallions, finely chopped
2.5 oz. shallots, finely chopped
½ cup bamboo shoots, minced
½ lb. ground chicken, turkey, or pork
1 egg white, lightly whisked or 1 tbsp olive oil
1 tsp coarse sea salt
2 tbsp coconut aminos
2 tsp toasted sesame oil
¼ tsp white pepper
1 tbsp arrowroot starch
Meal Prep Dressing:
Instructions
Preheat oven to 400F.

In a bowl combine shrimp with ½ tsp salt and 1 ¼ cup water. Stir well and set it aside for 5-10 minutes. This will remove the slimy texture and keep it crunchy. Dump the water and rinse the shrimp a few times then finely mince them.

In the meantime, finely chop shiitake, scallions, shallots, and bamboo shoots, if using.

In a large mixing bowl, combine all ingredients from shrimp to arrowroot starch. Stir the mixture in 1 direction for about 2 minutes until the mixture becomes a bit sticky.

Line a large sheet pan with parchment. Lightly grease your palm with olive oil. This will help the meat less sticky to your hands. Form about 18 meatballs that weight around 1.5 oz. per meatball.

To bake from fresh, Bake at 400F for 20 minutes total. Flip the meatballs after 15 minutes.

To assemble: Divide cauliflower rice, blanched snow peas, carrots into 4 equal size meal prep containers with 4-5 cooked meatballs to each container. Pack dressing on the side. Drizzle before serving.
Notes
Use 1 lb. ground meat if allergic to shellfish.
You can freeze the raw meatballs up to 2 months. From raw & frozen, bake at 400F for 25-30 minutes total. Flip the meatballs after 20 minutes.
Assembled meal prep boxes storage: Store the boxes in the fridge for up to 3 days or in the freezer for 2 months. To reheat from frozen, saute the rice and vegetables over stovetop. Bake the frozen but cooked meatballs at 400F for 20 minutes. Flip after 15 minutes.
The nutritional label is for one serving with 4-5 meatballs and without dressing and side toppings.
Nutrition
Serving: 1serving, Calories: 222kcal, Carbohydrates: 12g, Protein: 24g, Fat: 7g, Saturated Fat: 1g, Polyunsaturated Fat: 1g, Monounsaturated Fat: 1g, Cholesterol: 191mg, Sodium: 809mg, Potassium: 583mg, Fiber: 2g, Sugar: 2g, Vitamin A: 90IU, Vitamin C: 5.9mg, Calcium: 99mg, Iron: 2.2mg
Want more healthy meal prep recipes?