Whole30 Plant Based Dinner Curry
Sheet pan roasted Whole30 Plant Based Dinner Curry that's loaded with flavor, and is vegan and vegetarian friendly! With sweet carrots, cauliflower, zucchini, and yellow squash, this Vegan Whole30 dinner curry recipe is easy to make and super versatile even if you aren't following a plant-based lifestyle.

Regardless what experience you've had in the past with curry recipes, this roasted vegetable curry will change your mind! I love it so much that it has become one of my quick go-to meals!
If you like vegetables, you'll also love my Vegan hot pot!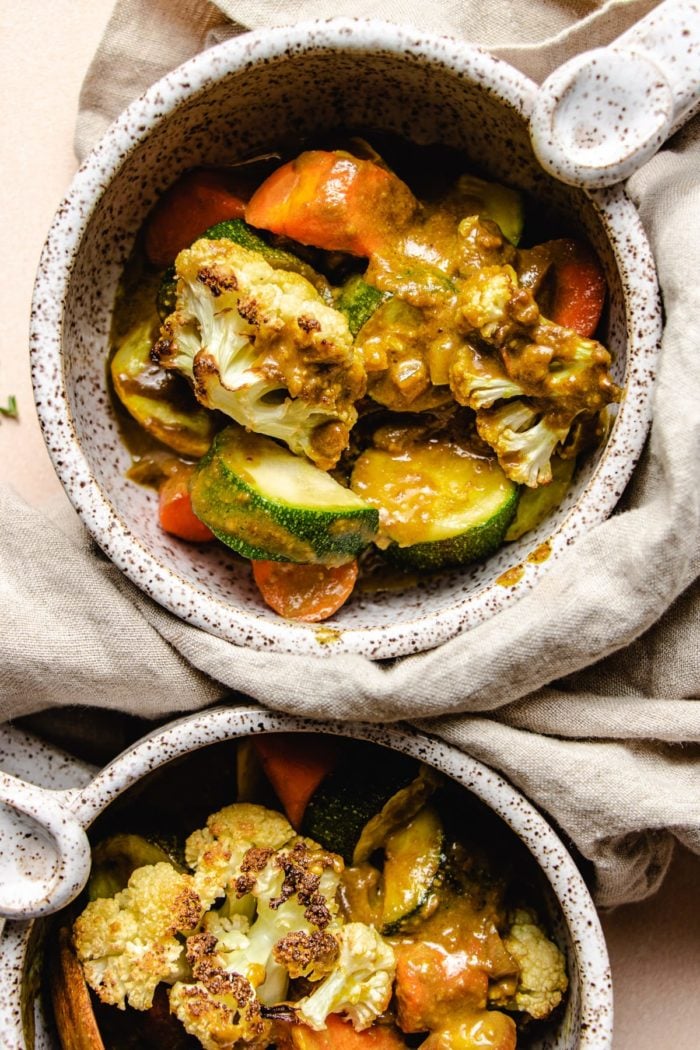 Whole30 Plant-Based Dinner Curry (vegan or vegetarian)
Did you know Whole30 now has a new program for plant-based users? Whether you are omnivore or pescatarian, we all need more vegetables and fibers in our daily meals! And this sheet pan roasted vegetable curry is easy to make and packed with loads of flavor!
Why I love this Whole30 dinner curry recipe
Sheet pan meal that's easy to prepare…just roast!
Endless variety – use any vegetables you like!
Creamy and flavorful – the curry sauce tastes little tangy, tart, sweet, and savory. SO GOOD!
This dish is not only plant-based but also contains high quality plant-based good fat. If you are a vegan or vegetarian trying out Whole30, this creamy curry will keep you full without feeling deprived.
Ingredients to make this sheet pan roasted whole30 vegetable meal
You can use any vegetables you prefer and here are my favorites:
Cauliflower
Carrots
Zucchini
Yellow squash
For the creamy curry sauce:
Olive oil
Garlic
Shallot
Ginger
Turmeric, coriander, and cumin powder
Full fat coconut cream
Almond butter, or cashew butter or sunbutter
Tamarind concentrate (unsweetened), or lime juice
Plant-based Good fat and fiber
The full fat coconut milk and nut butter give this Whole30 Dinner Vegan Curry a rich and luscious sauce base. The caramelized onions and warming Indian spices add depth and flavor complexity.
The fat content from the coconut milk and nut butter not only add extra flavor to the roasted vegetables but also give your body the fat content that you need to keep you full longer.
Even if you aren't vegan or vegetarian, you can serve this dish as a side and pair it with simple grilled/roasted chicken or shrimp/fish for a healthy and delicious meal. The curry reheats well so it's perfect for meal prep, too!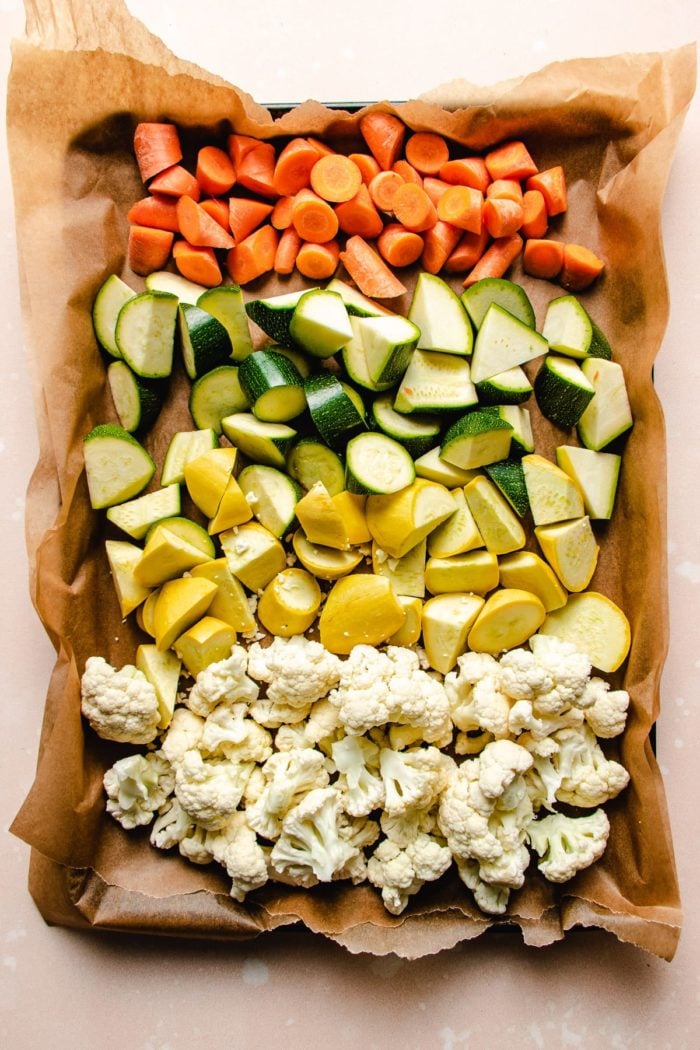 Can you do Whole30 as a vegan or vegetarian?
Yes. Whole30 launched a brand new plant-based program in 2022 for people who are vegan. In this brand new track, vegan people can not only have vegetables but also obtain proteins from soy proteins – mainly organic and fermented soy products such as tofu, tempeh, miso, and edamame. If you are an omnivore, these soy items aren't allowed during a Whole30 reset as omnivores can obtain proteins from meat.
Click here for Whole30 Plant-Based Shopping List.
I also put together an Asian-inspired Whole30 pantry guide with many plant-based ingredients and seasonings. Scroll down to the page where you'll find links to Whole30 shopping lists that also include vegan and vegetarian plant-based information.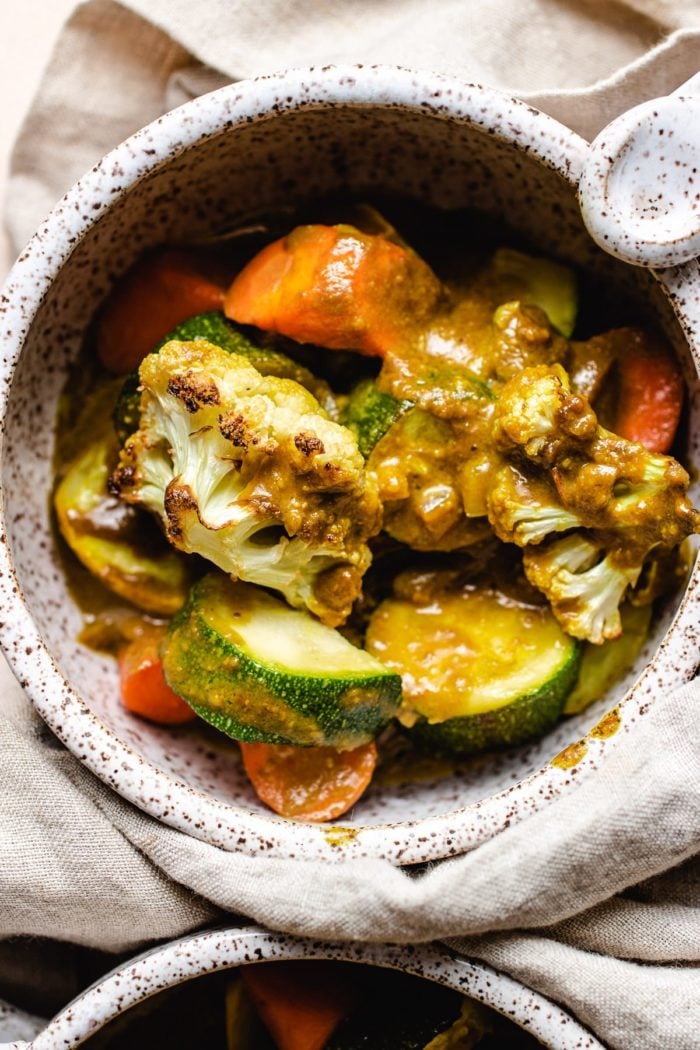 Ingredients tips and notes
Tamarind concentrate adds a nice citrus tone to the rich and creamy sauce. For Tamarind concentrate substitute: use fresh lime juice or unsweetened sour plum sauce.
The real tamarind concentrate tastes fruity, tart, and with hint of natural sweetness. It is used as a sour agent in Southeast Asian and Indian cooking. It shouldn't taste sweet like a fruit jam at all. In my opinion, tamarind concentrate tastes quite similar to unsweetened sour plum sauce.
Storage and reheat
This Whole30 plant-based roasted vegetable dinner curry is perfect for make-ahead meals. Store the extra in the refrigerator in a sealed glass container for up to 3-4 days. Reheat in a microwave.
More Plant-based Whole30 dinner meal inspiration
For more of my Vegan and Vegetarian friendly recipes check out my 60+ Whole30 Vegetarian Vegan Dinner Recipes, Chinese Cabbage Stir-Fry, Thai not peanut Peanut Sauce Cucumber Noodles, Skillet Roasted Brussels Sprouts, Sri Lankan Pumpkin Soup, Detox Green Soup, Baked Paleo Crispy Sesame Egg Custard Tofu (vegetarian), Instant Pot Keto Egg Custard Tofu, Chilled Soy-Free Summer Tofu Salad, and many more!
If you give this Plant-Based Whole30 Dinner Curry a try, please rate the recipe and leave a comment below. It'll help me and my blog tremendously. Thanks in advance!
Whole30 Plant-Based Dinner Curry Recipe
Whole30 Plant-Based Dinner Curry is vegan vegetarian friendly. This Whole30 vegan dinner tastes creamy and made in a sheet pan delicious! Active cook time: about 25-30 mins.
Print
Pin
Rate
Ingredients
12 oz. cauliflower florets
8.5 oz carrots, about 3 medium size
16.5 oz zucchini, about 2 large
12 oz. yellow squash, about 2 large
¼ cup olive oil
1 tsp coarse sea salt, plus more to taste
¼ tsp ground black pepper
For the sauce:
2-3 tbsp olive oil
0.5 oz garlic clove, chopped, about 3 large cloves
3 oz. shallot, chopped, bout 2 large
0.6 oz. ginger, chopped
1 tsp EACH turmeric, coriander, and cumin powder
14 oz. full fat coconut milk cream
1.5 tbsp almond butter, or sunbutter, cashew butter
1 to 1.5 tbsp tamarind concentrate, or lime juice to taste
Instructions
Preheat the oven to 400F (204C). Dice the vegetables to similar bite size chunks.

Roast: Place vegetables in one layer over a large sheet pan lined with parchment. Season with olive oil, salt, and pepper. Toss to combine. Bake for 20 minutes, middle rack.

Sauce: In the last 10 minutes before the vegetables are out of the oven, make the sauce. Add 2-3 tbsp olive oil to a well-heated 12-inch large skillet or dutch oven. Saute the garlic, shallot, and ginger over medium heat with a pinch of salt until fragrant, about 2 minutes.

Turn the heat down to low. Stir-in turmeric, coriander, and cumin powder, saute for 30 seconds. Add coconut cream, almond butter, and tamarind concentrate. Stir often until the almond butter is completely dissolved, about 2-3 minutes. Taste and adjust. The sauce should taste savory, earthy, a little sweet and tart.

Combine: Add the roasted vegetables to the curry sauce. Gently toss to combine. Serve hot or warm.
Notes
For a thinner sauce, add more milk or vegetable/chicken stock 1 tbsp a time until your desired consistency.
Tamarind concentrate substitute: The real tamarind concentrate tastes fruity, tart, and with a hint of natural sweetness. It is used often in Southeast Asian and Indian cooking. In my opinion, tamarind concentrate tastes quite similar to unsweetened sour plum. I have yet to find an unsweetened sour plum sauce or concentrate on the market. For the simplicity and purpose of the dish, I recommend adding lime juice to taste. If I find a better substitute, I'll update the record here. 🙂
Nutrition
Serving: 1serving, Calories: 354kcal, Carbohydrates: 20g, Protein: 6g, Fat: 31g, Saturated Fat: 15g, Polyunsaturated Fat: 2g, Monounsaturated Fat: 12g, Sodium: 452mg, Potassium: 933mg, Fiber: 5g, Sugar: 9g, Vitamin A: 6981IU, Vitamin C: 56mg, Calcium: 87mg, Iron: 4mg