Asian-inspired Whole30 Pantry Guide
One of the questions I receive most often from readers is 'what pantry items do I need if I want to make super yummy Paleo and Whole30 Asian-inspired recipes'.
Whether you are new or have been around my blog for quite some time (xoxo!), every recipes that I share has one simple goal in mind – make it as umami and delicious as possible with much as simple steps as possible. And this Whole30 Pantry Guide has everything you need to make super delicious Asian-inspired Whole30 recipes. Plus complete Whole30 shopping lists.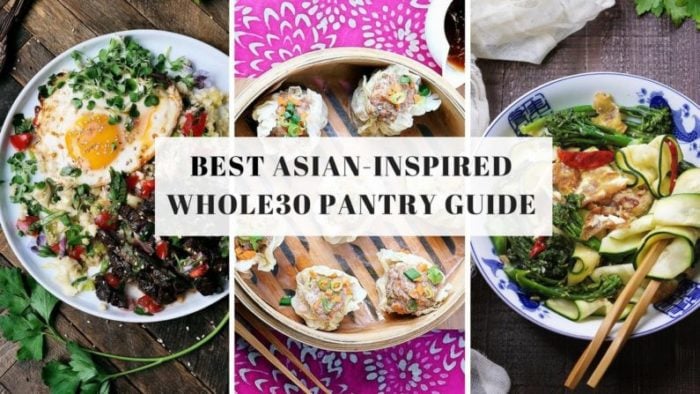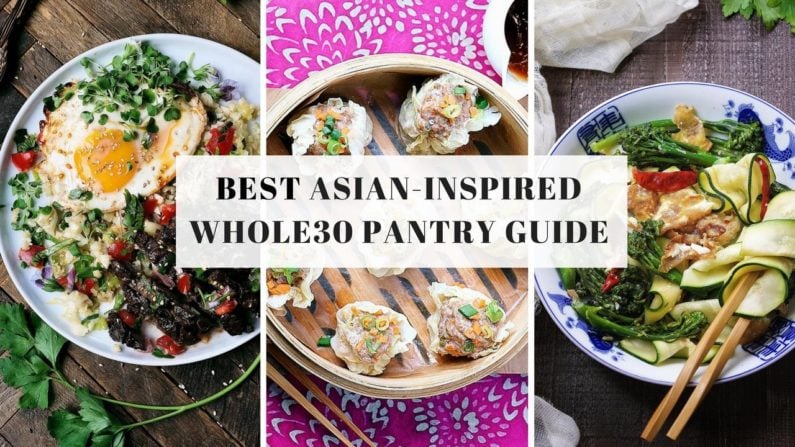 Throughout the years I've learned how to make Asian-inspired Paleo and Whole30 meals (quite a lot of them are Keto too) and in this post I'm going to share with you some of the most staple ingredients, seasonings, and sauces/bottles that I use in my pantry and fridge with links to help you find them online.
You'll also find reference links to Whole30 shopping lists on the Whole30 website. These are the links that I visit quite often whenever I have question about an ingredient. I will update this page as I discover new kitchen staples that I love using so be sure to save/share this Whole30 Pantry Guide post and pin it to Pinterest for easy reference !
Disclosure: I Heart Umami is a participant with Amazon. This post may contain affiliate links that earn me a small commission, at no additional cost to you. I only recommend products I personally use, or think my readers will find useful.
Seasonings/ sauce bottles I use the most often – Whole30 Pantry Guide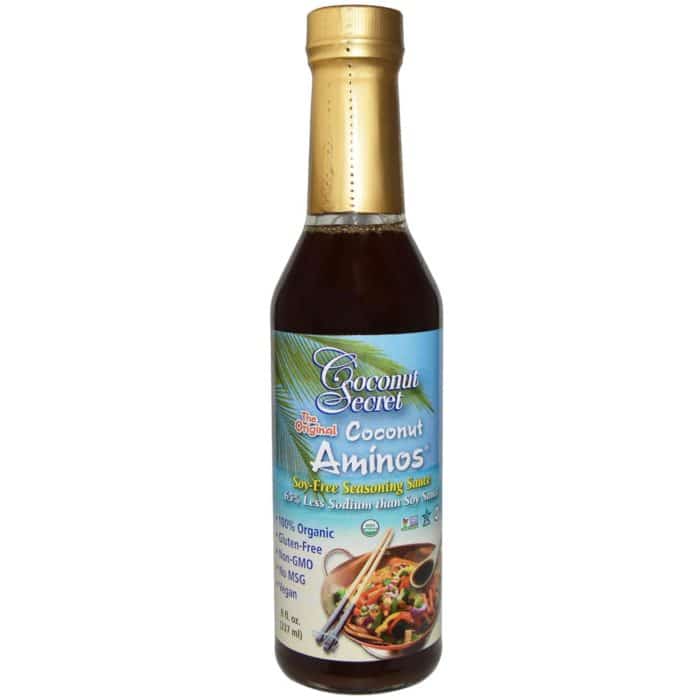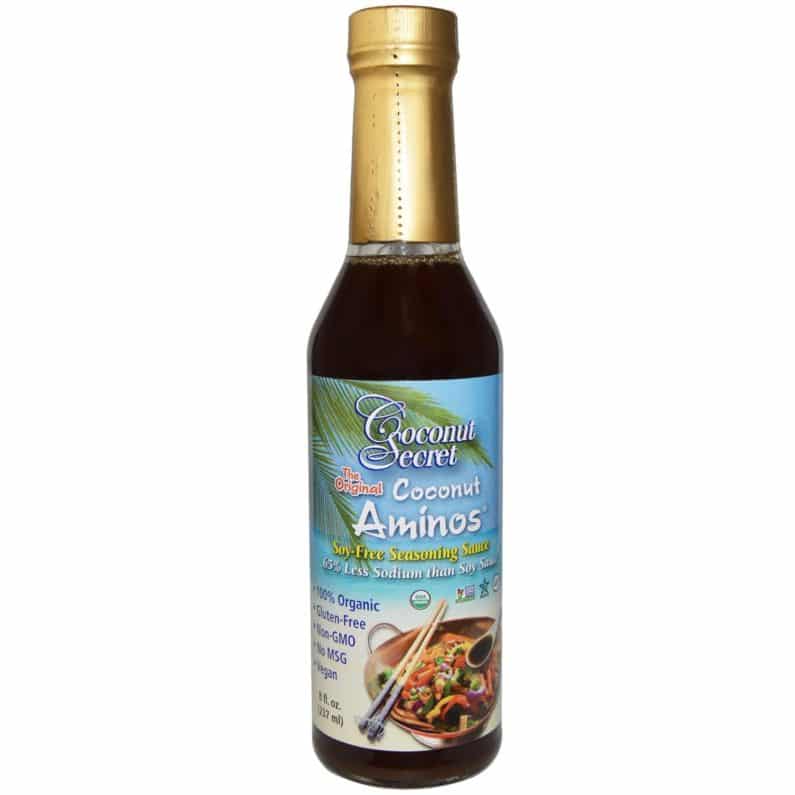 Coconut aminos is a great substitute for soy sauce. It's made from coconut sap that comes from the coconut blossom. It's gluten and soy free and has a lighter taste than soy sauce or tamari. I like to use it for marinade, add it to stir-fry dishes, season soup, or practically anywhere you'd like to boost a little umami.
Check out this article on the Whole30 website to learn more about Coconut aminos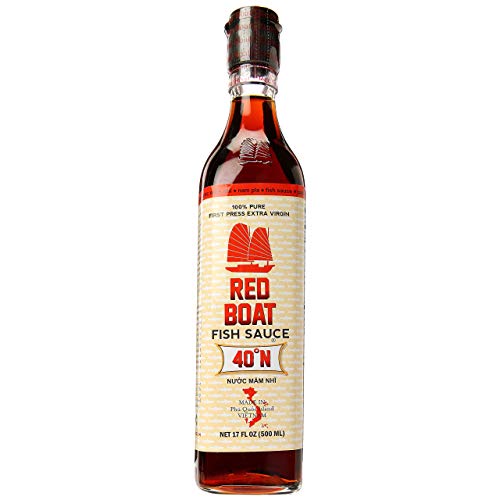 Fish sauce is made from salted and fermented anchovies. A good bottle of fish sauce – such as Red Boat – is a light to medium amber color and has a longer fermentation process so it tastes less fishy. Fish sauce is a staple in Thai, Vietnamese, and Malaysian cuisine. It is used almost like salt. If you use fish sauce, I'd recommend you reduce the amount of salt as fish sauce can be quite salty.
Use it sparingly: a few drops will go a long way. Store it in the fridge once opened. Fish sauce is great for Vietnamese dipping sauce, noodles, or stir-fry and curry dishes. Personally I also like to use it as a beef marinade.
Growing up in Asia I've never seen 'Un-toasted' sesame oil so when I first saw it in the states I was very intrigued. That said, whenever I refer to sesame oil in my recipes 100% of the time I'm referring to toasted sesame oil because that's how people use it – in toasted form – back home. Look for clarity in the oil bottle. Dark amber color has a stronger fragrance than the lighter version. Use sparingly; a little goes a long way. Use for seasoning, salad dressing, dumpling dipping sauce, or to marinate meats.
I fell in love with avocado oil because of its high smoke point and neutral flavor. It's great for stir-fry and is vegetarian and vegan friendly.
There are a few types of rice vinegar. The most common one is the white rice vinegar with clear to light yellow-ish color. Rice vinegar is made from fermented rice and has a milder (less acidity) and naturally sweeter taste than other vinegars. Look for vinegar that has no added sulfites or other forbidden additives. Rice vinegar is common in Asian cuisine. I personally like to use it sparingly in salads, dressing, and dipping sauce for dumplings.
Check out this article on the Whole30 website to learn more about vinegar under Whole30 program rules.
Balsamic & Aged balsamic vinegar
By complete coincidence, I discovered that balsamic & aged balsamic are great substitutes for Chinese black vinegar, which is made from wheat, millet, and sorghum. These ingredients aren't compliant for Paleo or Whole30. Black vinegar also has too many processed additives.
While balsamic and aged balsamic vinegar do not taste the same as black vinegar, they're a much better and healthier choice and, when used correctly (combined with other seasonings and aromatics), they taste just as good as the traditional black vinegar.
Check out this forum on the Whole30 website to learn more about balsamic vinegar.
I discovered Entube harissa paste while I was looking for a substitute for Sichuan black bean sauce. It does not taste the same as the real black bean sauce but again when you use them in the right context along with aromatics and cooking methods, this harissa paste is an awesome substitute for anyone who's on Paleo and Whole30.
Entube's harissa has Paprika, Cayenne, Sea salt, Olive Oil, Acerola Berry, Cumin, Sumac, Garlic, Coriander and Spices.
Check out this recipe where I created a faux Sichuan-inspired chili paste/sauce using Entube
I used to love both Thai kitchen red and green curry pastes but lately discovered that green curry paste from Thai kitchen does not taste as good as the red one. So now I only use the red one.
How do I use it ? I rarely make curry just by using store-bought curry paste. It's not as fragrant, fresh, or lively. What's the solution? I blend my own spices using fresh shallots, garlic, cilantro (or parsley), chili peppers, ginger….etc. I called it my curry flavor enhancer.   Search curry recipes on my site.  You'll almost always find that I make my own curry flavor enhancer to make curry more flavorful !
Other staples in my Whole30 pantry guide kitchen
I tasted several brands of coconut milk and by far WholeFoods 365 tastes the best to me. Stir (or blend) it well before using. Highly recommended !
Check out this super easy and yummy recipe – Creamy Chicken Mushroom Casserole 
Tahini is pure sesame paste. It should not have any added sugar in the bottle so look at not only the label but also the ingredients. I love using it to recreate Asian-inspired creamy "noodle" sauce and/or salad dressing. So creamy delicious !
Almond butter, Cashew butter (Sunbutter for nut-free choice)
Same as above. Most often I use them in conjunction with tahini to create a more complex flavor of Chinese-inspired faux peanut sauce. Sunbutter is made from sunflower seeds. It's a great nut-free choice if you are allergic to nuts. And, it goes without saying, please read both the label and ingredients for no added sugar.
Are they too spicy ? They can be if you use a lot but I usually use them sparingly. Most often I sprinkle them on chicken breasts for grilling. It gives the meat a nice lovely color.
Spices/Dry herbs
Star anise is used to flavor curries and beef stews. Its name originated from its star like shape and its flavor is compared to that of the magnolia seed pod. It has a stronger flavor than fennel, so use it sparingly. I often use it for stock and stew especially with beef – use only a few pieces (1-2) and discard before serving.
Sichuan flower peppercorns have a lemony flavor and a gently/pleasantly numbing mouthfeel. The closest way I can describe it is as if lemon and black pepper had a baby together. It's used in Sichuan style cuisine and sometimes I grind the corns (using coffee grinder) to make meatballs.
What to look for – select red peppercorns that are bright in color. How to use – Use sparingly; the peppercorn delivers a lemony, floral, and woody flavor. It's commonly used for chicken stir-fry dishes.
Dried shiitake mushroom can keep for a long time in the fridge, or when stored in a dark/dry area in a sealed container. Select whole mushrooms, not pre-sliced ones. Also select thick mushrooms with white fissures – the more fissures the better. Check out this video I made on how to select dried shiitake mushrooms.
How to use – dried shiitake mushrooms require soaking before cooking. Soak the mushrooms in room temperature water in the morning and you'll be able to slice and use them by the afternoon. You can also soak them in hot water to cut time in half. The shiitake soaking water contains tons of umami flavor too! Just filter the water with a sieve before using it. You can freeze the stock in cubes for soup stock use and vegetarian people can use shiitake water to make vegetarian stock/broth.
Recipes using dried shiitake mushrooms – Instant Pot Vietnamese Beef Brisket Pho, Baby bok choy & shiitake mushroom stir-fry.
I love goji berries ! They are adorable and delicious. How do I use them ? Well, I learned from my mother and she adds them to Chinese Chicken Soup or bone broth. They add a little natural sweetness and are a wonderful addition to the kitchen.
Chinese/Korean red dates (dried)
Same as goji berries. These are much larger dates, in dried form. We add them to chicken, beef, or pork bone stew or broth to add natural sweetness and fragrance. Discard them before serving. There's no need to re-hydrate them before adding them to the soup pot.
Doing Whole30 but looking for an easy and guaranteed delicious Whole30 Meal Plan ?
Check out my Whole30 Meal Plan Guide with Shopping List!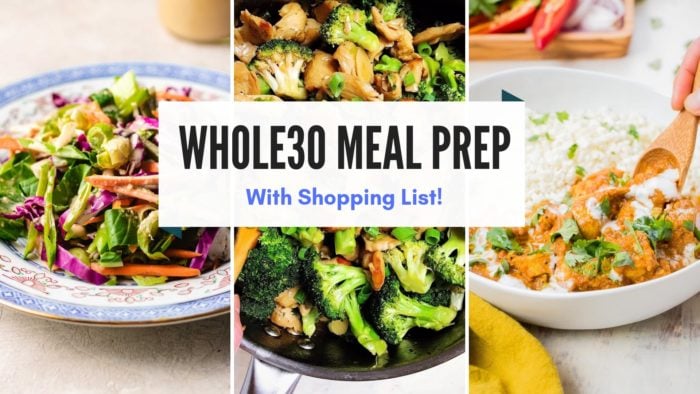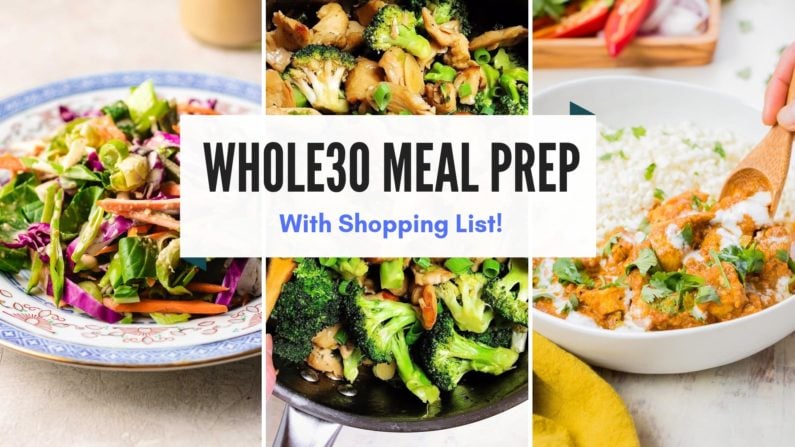 Links to Whole30 Shopping Lists
Be sure to share this Whole30 Pantry Guide and pin it to Pinterest boards for reference later !
You can also search for more Whole30 friendly recipes by using the filter drop down menu on My Recipes Page. 
The Ultimate Whole30 Pantry Guide For Asian-Inspired Cuisine
Seasonings/Sauce Bottles
Coconut Aminos
Red Boat Fish Sauce
Toasted Sesame Oil
Avocado Oil
Ghee (Clarified Butter)
Rice Vinegar
Balsamic and Aged Balsamic Vinegar
Entube's Harissa Chili Paste
Thai Kitchen Red Curry Paste
Other Good To Have Staples
Canned Full-Fat Coconut Milk
Unsweetened Apple Sauce
Tomato Paste
Tahini Sauce (pure sesame paste)
Almond Butter, Cashew Butter, SunButter For Nut-Free Version
Korean Red Chili Pepper Powder/Flakes
Spices/Dry Herbs
Whole Star Anise
Sichuan Flower Peppercorns
Dried Shiitake Mushrooms
Goji Berries
Chinese/Korean Dried Red Dates