Paleo Mongolian Beef
Paleo Mongolian Beef with juicy sizzling tender steak stir-fried in a savory and naturally sweet sauce. Better than PF Chang's and much healthier, lower in carbs, and with no added sugar. Guarantee everyone will love in the family!
If you love authentic Taiwanese cuisine, you'll also love my Mongolian chicken and Mongolian shrimp!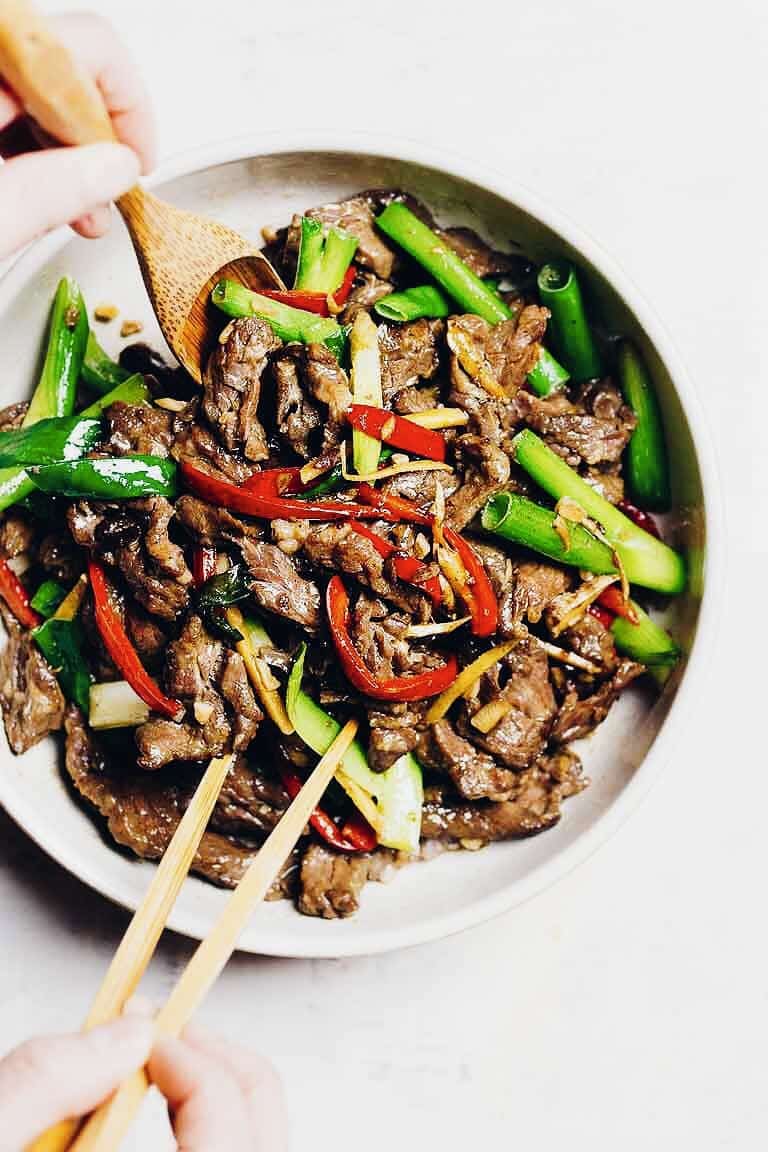 What is Mongolian Beef?
Mongolian Beef is the western translation for 葱爆牛肉 Cōng bào niúròu in Mandarin. It literally means beef with scallion and ginger stir fry. Originally Mongolian beef was a BBQ dish, created by chef Wu Zhaonan in Taiwan. The dish features sizzling hot and tender beef, stir-fried with garlic, ginger, chili peppers, and scallions in a light and sweet soy sauce.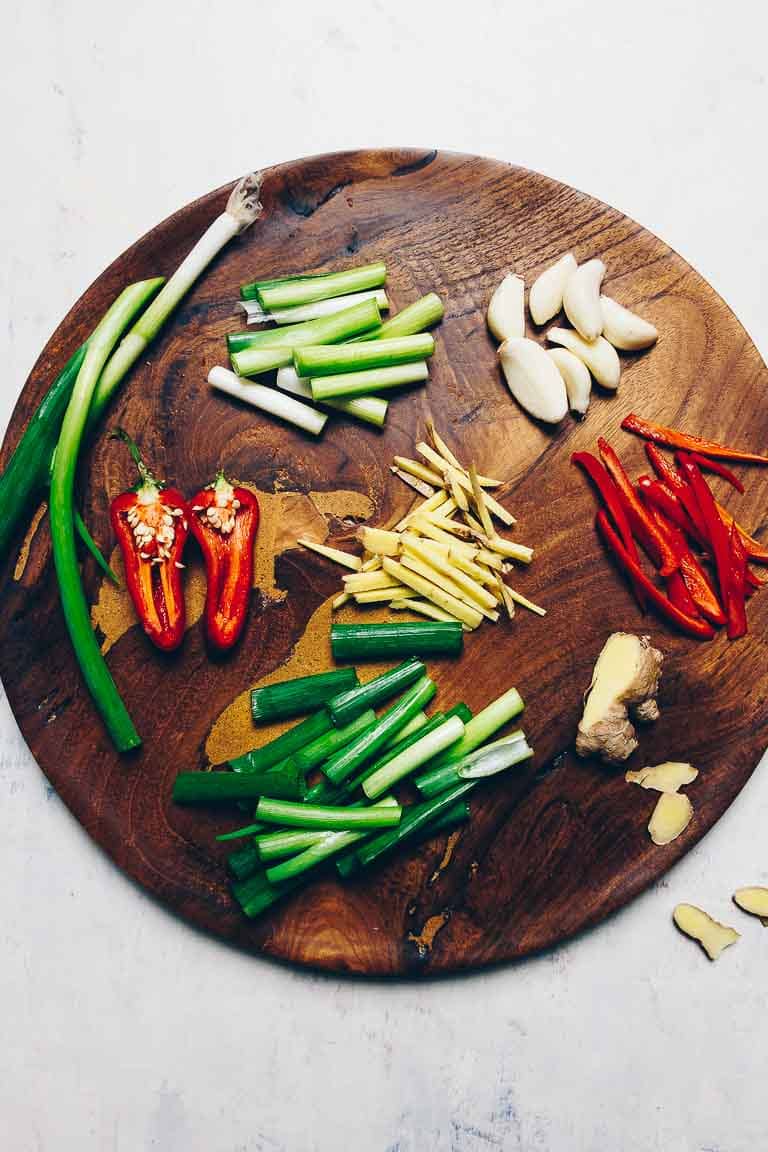 Is Mongolian beef spicy
Mongolian beef is not a spicy dish. Although chili peppers are often included in the recipe, it's mainly used to fragrant the oil and to add color contrast. You can use fresh or Chinese dry red chilies. If use fresh chilies, remove the seeds will make the dish less spicy. If use whole dry red chilies, leave them in whole and don't slice or dice them open or otherwise it will be too spicy.
Is Mongolian beef healthy
In Chinese-American style cooking, Mongolian beef is often made with hoisin and soy sauce, and it's often thickened with cornstarch. The starch in the sauce adds extra calorie and carbs to the dish. Store bought hoisin sauce often contains added sugar. If you want to lose weight or maintain your blood sugar level, you'll need to pay closer attention.
Be that as it may, there are many healthy version of Mongolian beef stir-fries has no added sugar and no cornstarch, and is gluten-free. The dish tastes super flavorful because of the aromatics (ginger, scallions, and chili peppers) and I guarantee you'll love it the first bite!
Is Mongolian beef gluten-free
Mongolian beef can be made gluten-free with special seasonings such as gluten-free soy sauce or coconut aminos (gluten-free and soy-free soy sauce substitute). Although it's not difficult to find gluten-free hoisin sauce – an ingredient often found in Chinese-American style dish – it's often made with high content of sugar, cornstarch, and other additives. You can try adding my homemade gluten free hoisin sauce.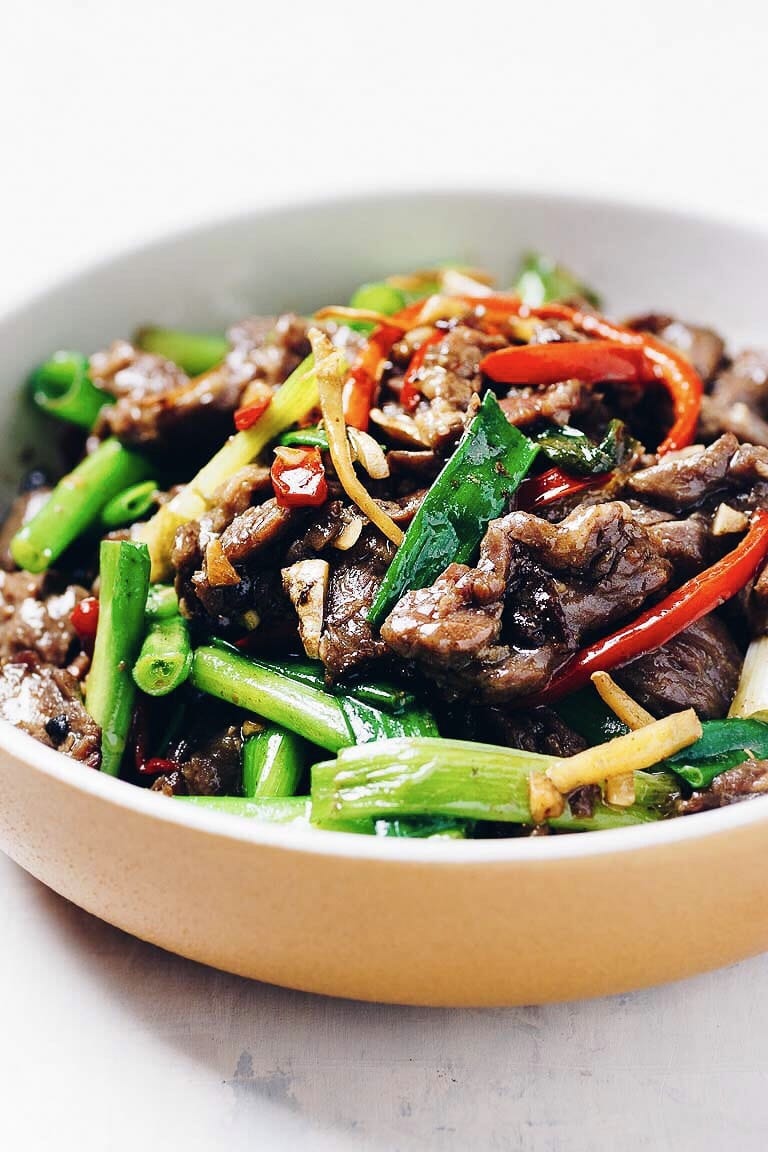 Pairing suggestions
Mongolian beef is often served with steamed or fried rice. For a lighter and lower in carb version, serve with cauliflower or broccoli fried rice. It also goes well with creamy mashed sweet potatoes.
To add more vegetables, I recommend serving them on the side. Here are some great recommendations – Chinese broccoli stir-fry in garlic sauce, Sauteed snow pea leaves, lemon garlic broccoli, baby bok choy dim sum, and Chinese cabbage stir-fry.
If you give this dish a try, be sure to rate the recipe and leave a comment below.
Use the share button to spread the love with your friends and family so that more people can join our tribe to learn healthy cooking! Thanks in advance. I appreciate it! XOXO!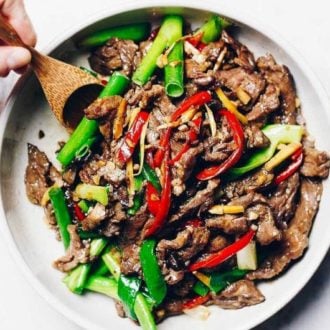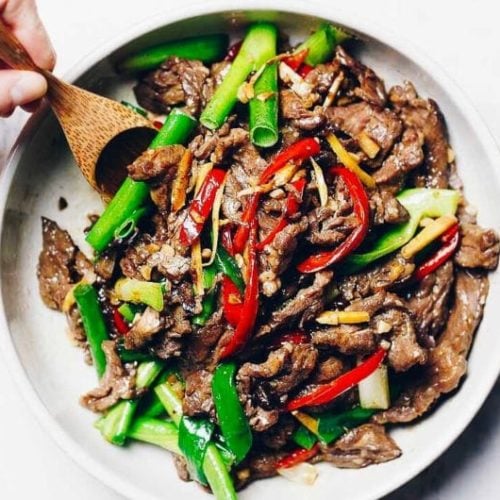 Paleo Mongolian Beef (Whole30, Keto, Gluten-Free)
Paleo Mongolian Beef with juicy sizzling hot beef steak is gluten-free, Whole30 and Keto friendly from I Heart Umami.
Print
Pin
Rate
Ingredients
Aromatics:
3 large cloves garlic, , finely minced
3-inch length thinly sliced ginger, , from index through ring finger quantity
2 whole red chili peppers (fresno or serrano), , remove seeds, slice to thin strips
3 bulbs scallions, , cut into 3-inch length. Separate white and green parts.
Instructions
Thin slice beef against the grain. Add ingredients from coconut aminos to baking soda. Mix well and set aside in the fridge.

In the meantime, prepare garlic, ginger, scallions, separate white and green parts, and remove the chili pepper seeds and slice them to thin strips

In a well-heated stainless steel skillet or cast iron, add 2 tbsp cooking fat. Pan fry the beef in one layer without disturbing over medium-high heat until crisp brown, about 2 minutes then quickly sear the flip side, about 30 seconds. Set the beef and the pan juice aside.

Start the skillet dry and add 1 more tbsp cooking oil, saute aromatics with a pinch of salt until fragrant, about 1 minute.

Add beef back to the skillet and green scallion parts. Quickly toss to coat the flavor for another 30 seconds. Serve hot and immediately.
Nutrition
Serving: 172g, Calories: 543kcal, Carbohydrates: 5g, Protein: 50g, Fat: 32g, Saturated Fat: 5g, Polyunsaturated Fat: 2g, Monounsaturated Fat: 2g, Cholesterol: 138mg, Sodium: 729mg, Potassium: 919mg, Fiber: 1g, Sugar: 1g, Vitamin C: 1.8mg, Calcium: 19mg, Iron: 5.4mg
Want to learn how to make beef stir-fry tender? check out this blog post on beef stir-fry technique 101!