Seafood Dim Sum Recipe (Low carb, Easy!)
This Seafood Dim Sum Recipe is like an Asian-style seafood boil that takes only 5 minutes to assemble yet is incredibly delicious! The white fish fillet is buttery tender with juicy shrimp and umami-rich clams, half-steamed and half-basted in their own juices. Best of all, you can use any ingredient combo you like! This show stopping dim sum recipe is a must-have for seafood lovers, you will be blown away!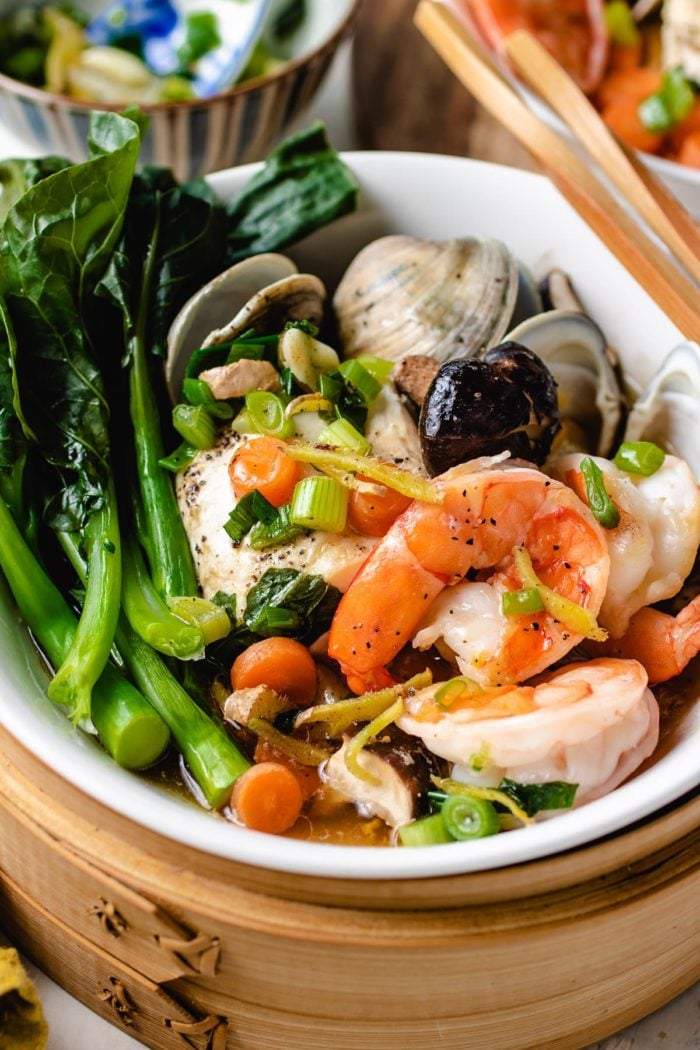 Originally published in 2019. Updated with new photos and simplified recipe steps.
Seafood Dim Sum Recipe (Keto, Paleo, Whole30)
Today's dim sum recipe reminds me of seafood boil. It has the most incredible flavorful broth, incredibly delicious, and super versatile. You can use any type of white (meaty) fish fillets or substitute other seafood that you prefer. You can also adjust the quantity of each ingredient based on your personal preference.
I've made this dish several times with or without a bamboo steamer. All you need is a shallow heat-proof bowl to catch all the delicious juices and place it on a steam rack and you are good to go!
Is dim sum low carb?
Dim Sum originated from Canton province, China and with various varieties from dumplings to shumai, and to steamed buns. Dim sum is usually steamed or deep fried and the fillings can be savory or sweet. Steamed savory dishes are usually low carb however the dumpling wrappers aren't.
The three most common dim sum dipping sauces are soy-chili, white vinegar-ginger, and mustard. The white vinegar-ginger dipping sauce is low carb. The other two depend on how the chili paste and mustard are made.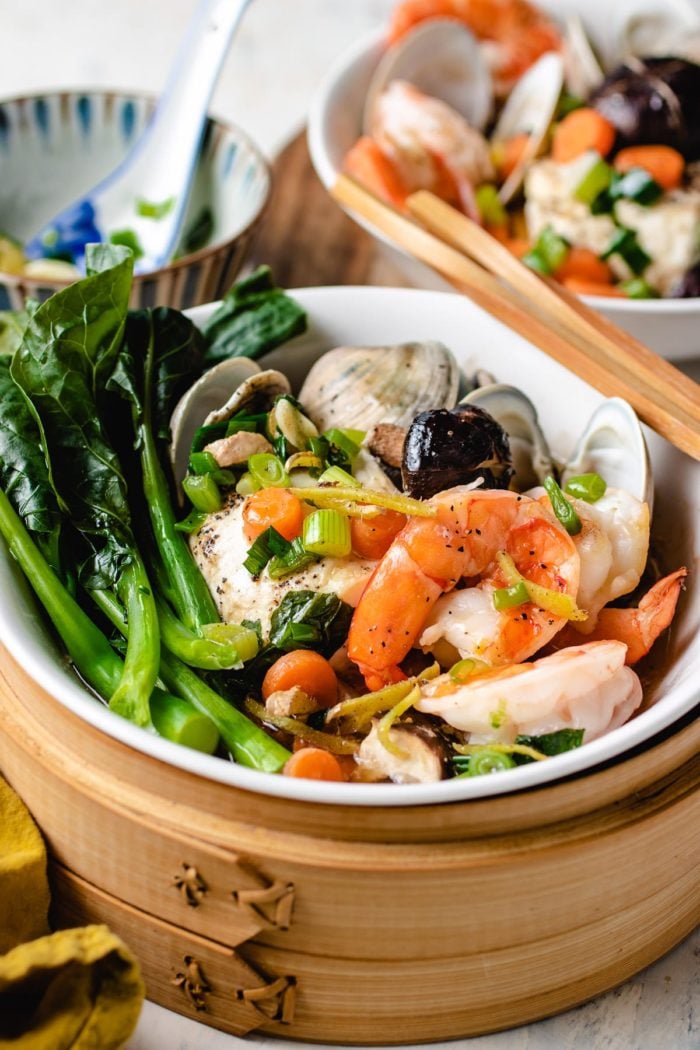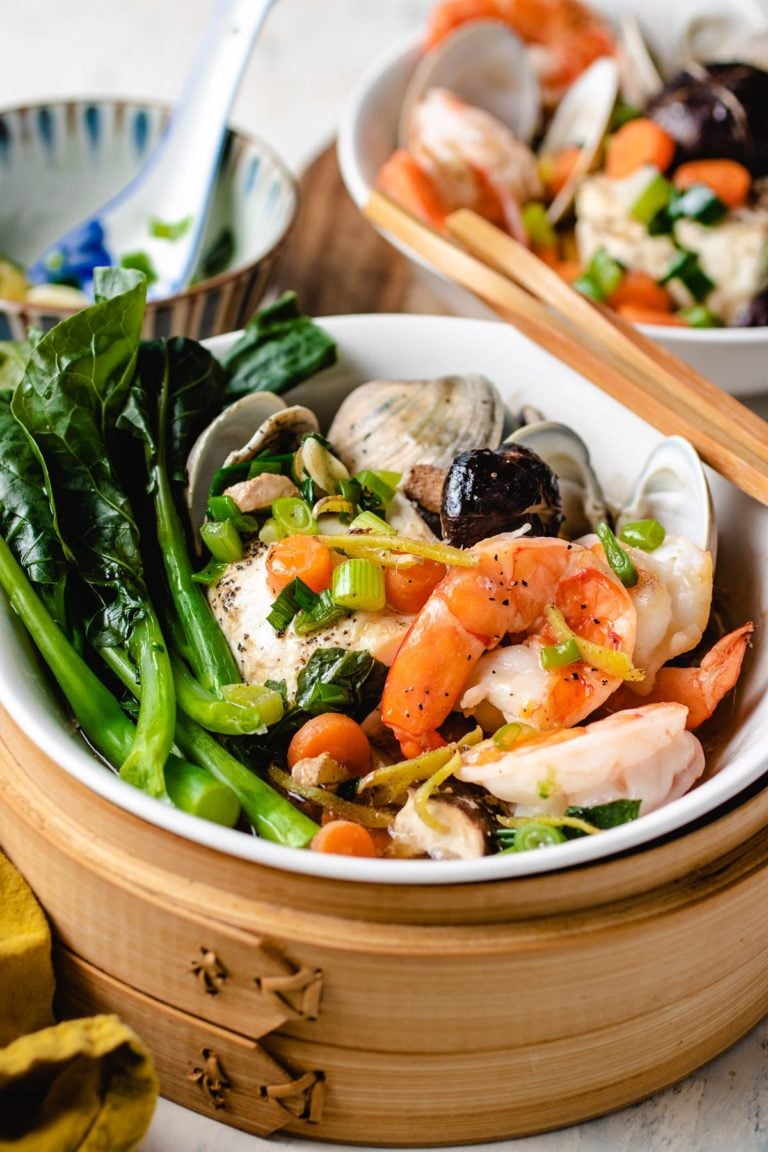 Is dim sum healthy?
Steamed dim sum is lower in carbs and the savory filling has less sugar than sweet filling dumplings. Steamed version is healthier than deep-fried counterparts. Dim sum can also include vegetables for example bok choy dim sum, blanched gai lan with oyster sauce, and Chinese broccoli stir-fry with garlic sauce.
My har gow crystal dumplings are gluten-free and paleo and my Keto shumai is Paleo, Whole30, and low carb.
Ingredients for Keto Seafood Dim Sum Recipe
Dim Sum means touch your heart. Part of the fun is that you get to pick whatever ingredients you want to go into your dim sum basket. No shellfish? No problem. Add more cut-up carrots, broccoli, asparagus, or shiitake to go with chunky white fish fillets. Everyone's dim sum basket can look a little different and that's part of the fun!
For me, I use a chunky cut of halibut fillet, some jumbo wild-caught shrimp, clams, and carrots to pair with Chinese broccoli or asparagus on the side.
You must catch all that incredibly flavorful soy-sesame broth!
The ingredients are half-steamed and half-basted in their own juices so even if you have a bamboo basket place a heat-proof shallow bowl on top to catch all that delicious juice!
How to make dim sum at home easily
Pick and choose what you want in your dim sum basket
Add just enough water to lightly touch the rack and bring the water to boil
Make individual serving bowls and add the seasonings
Cover and steam until the fish is buttery flakey and the clams are opened
Serve with or without the dipping sauce on the side
Two options to enjoy steamed seafood dim sum:
Option 1: Rich umami soy-sesame flavor. No dipping sauce required!
Pick an item from the dim sum bowl and dip it in the seafood juice a few times as if you are doing shabu-shabu and enjoy the most clean and natural flavor. I do this all the time when I am feeling lazy to make a sauce.
Option 2: Flavor punch – Scallion ginger dipping oil
Ladle a few tablespoons of the dipping oil over the seafood. The fragrant oil along with loads of scallions and ginger pair beautifully with super lean protein. This is a great way to make the dish more satiating as you are adding more good fat to the dish.
Also, try dipping the seafood in gluten free hoisin Sauce. It's a common condiment that served on the side of this dish.
What Chinese food can you eat on the Keto diet?
Pairings for steamed seafood dim sum
Download my low carb paleo meal plan to eat flavorful good food without spending hours in the kitchen!
Seafood Dim Sum Recipe (easy, low carb!)
Seafood Dim Sum Recipe is like an Asian-style seafood boil takes 5 minutes to assemble. Incredibly flavorful and keto low carb delicious!
Print
Pin
Rate
Ingredients
¾ lb skinless, boneless sea bass or other meaty fish fillets, cut into 2.5-inch pieces
6 pieces clams, scrubbed
6 pieces shrimp
1 to 2 full cap fresh shiitake mushrooms
1 large carrot, sliced into coins
5 to 6 spears asparagus, trimmed (woody bottoms discarded) or any crunchy vegetables
3 tablespoons coconut aminos
1 tablespoon toasted sesame oil
Coarse salt and freshly ground black pepper
⅓ cup Scallion-Ginger Dipping Oil, see notes
Instructions
Place the fish, clams, shrimp, shiitake, and vegetables in a shallow, heatproof bowl so as to catch the juices. Place the bowl over a steamer basket, if using. Season with the coconut aminos and sesame oil, and salt and pepper.

Steam over medium to medium-low heat for about 10 minutes. Remove from the pot and set aside the shrimp and asparagus as they tend to cook faster than other ingredients. Cover them to keep warm.

Continue steaming the rest of the ingredients further until the fish is buttery and flaky and the clams are open.

Place the steamed ingredients in a serving bowl. You can either enjoy them as they are with the juices in the bowl or strain the seafood juices through a sieve (save this stock for later use) and serve with the dipping oil. Serve hot and immediately.
Notes
I Heart Umami Scallion-Ginger Dipping Oil (Makes about ⅔ cup)
⅓ cup avocado oil
5 garlic cloves, thinly sliced
1 medium shallot, minced
1 tablespoon thinly sliced fresh ginger (matchsticks)
4 scallions, chopped and separated into white and green parts
1.5 teaspoons coarse salt, or to taste
Heat the avocado oil in a small heavy-bottomed saucepan. Test the oil temperature by adding one slice of garlic: if it starts bubbling right away, that means the temperature is correct. If the garlic burns too quickly, that means the temperature is too hot and the heat should be lowered.
Add the garlic, shallot, ginger, and white scallion parts to the oil. Cook until softened, stirring frequently to prevent them from burning. Season with salt to taste. You'll want to aim on the slightly saltier side as this is a dipping sauce meant for plain boiled or steamed chicken, seafood (shrimp, white fish fillets), and/or vegetables (carrots, asparagus).
Once the mixture has softened and you can smell a nice aroma, turn off the heat. Stir in the green scallion parts and remove from the heat to let cool.
Serve the infused oil at room temperature. Store any extra in an airtight glass container in the refrigerator for up to 2 weeks. Allow it to come to room temperature before using.
The nutritional label is calculated without the dipping sauce. You can serve the seafood dim sum with or without the dipping sauce. 
Nutrition
Serving: 1serving, Calories: 379kcal, Carbohydrates: 8g, Protein: 21g, Fat: 28g, Saturated Fat: 6g, Polyunsaturated Fat: 3g, Monounsaturated Fat: 3g, Trans Fat: 1g, Cholesterol: 83mg, Sodium: 555mg, Potassium: 126mg, Fiber: 1g, Sugar: 2g, Vitamin A: 6382IU, Vitamin C: 2mg, Calcium: 18mg, Iron: 1mg
Also check out my 25 Low Carb Meal Prep Recipes , 16 best tried and true paleo Whole30 thai recipes , Top 10 paleo meatball recipes, and thanks for featuring Asian Paleo in the 14 best dietary books!