Chinese Mustard Green Recipe
Crunchy and refreshing Chinese Mustard Green Recipe, stir-fried in a light ginger and garlic sauce. Mustard greens are very nutritious, low carb, and delicious. They make a great side dish and taste great chilled or warm. Let me show you my step-by-step recipe to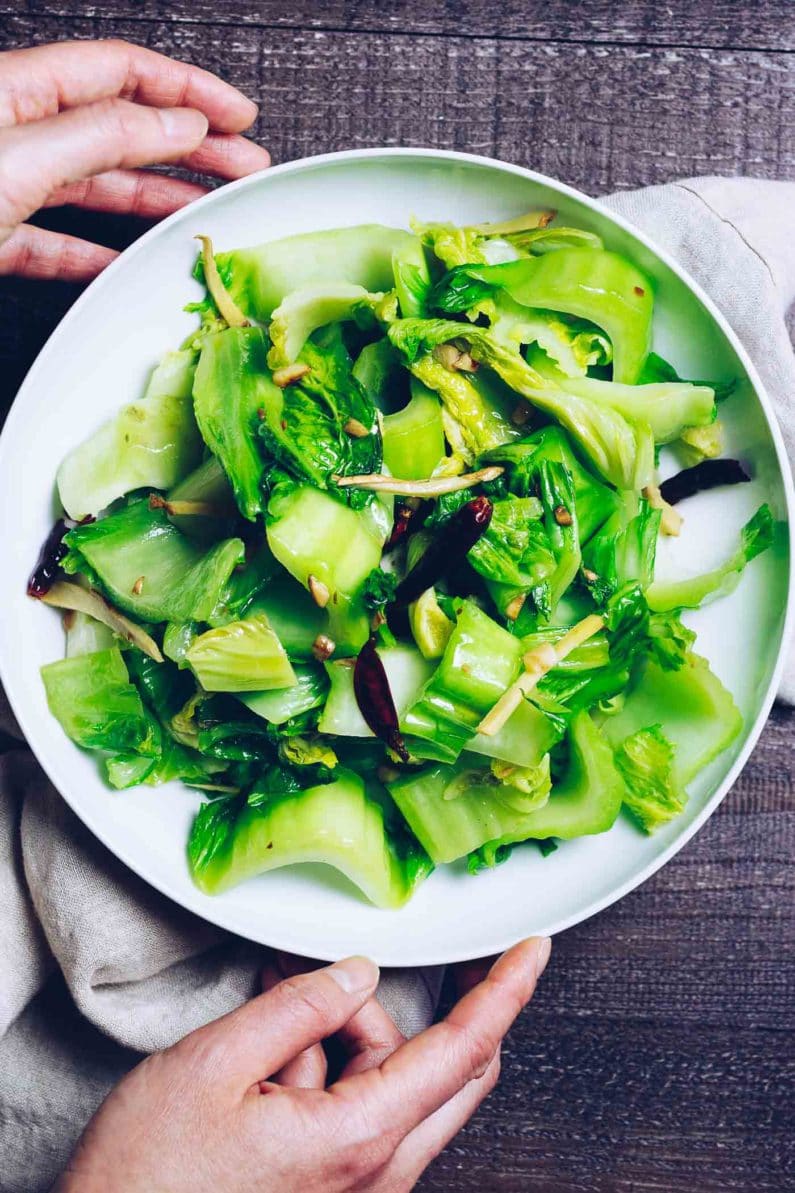 What are Chinese Mustard Greens?
Chinese mustard greens, also known as gai choy in cantonese or 芥菜 [jiè cài] in Mandarin, is a type of mustard plant. It's often served as a side dish or appetizer. They are full of nutrition and low in carb. You can braise, saute, blanch, or pickle them.
Because the mustard greens have a peppery and bitter mustard flavor, quite often they are blanched in hot boiling water first to remove some of the bitter taste.
How To Select The Freshest Mustard Leafy Greens
Chinese mustard greens are often found in Asian grocery stores. Most often, the leafy parts are removed, leaving only the stem bulbs. The mustard leaves are edible but most often they are sold without the leaves. This might be because people prefer the crunchy texture of the big stems.
Select firm texture mustard greens with bright and vibrant green color.
When storing at home, place the greens in a sealed bag or container and store for up to three days. The best way to clean them is to dice them into roughly 1-inch sections first then thoroughly rinse them in running water.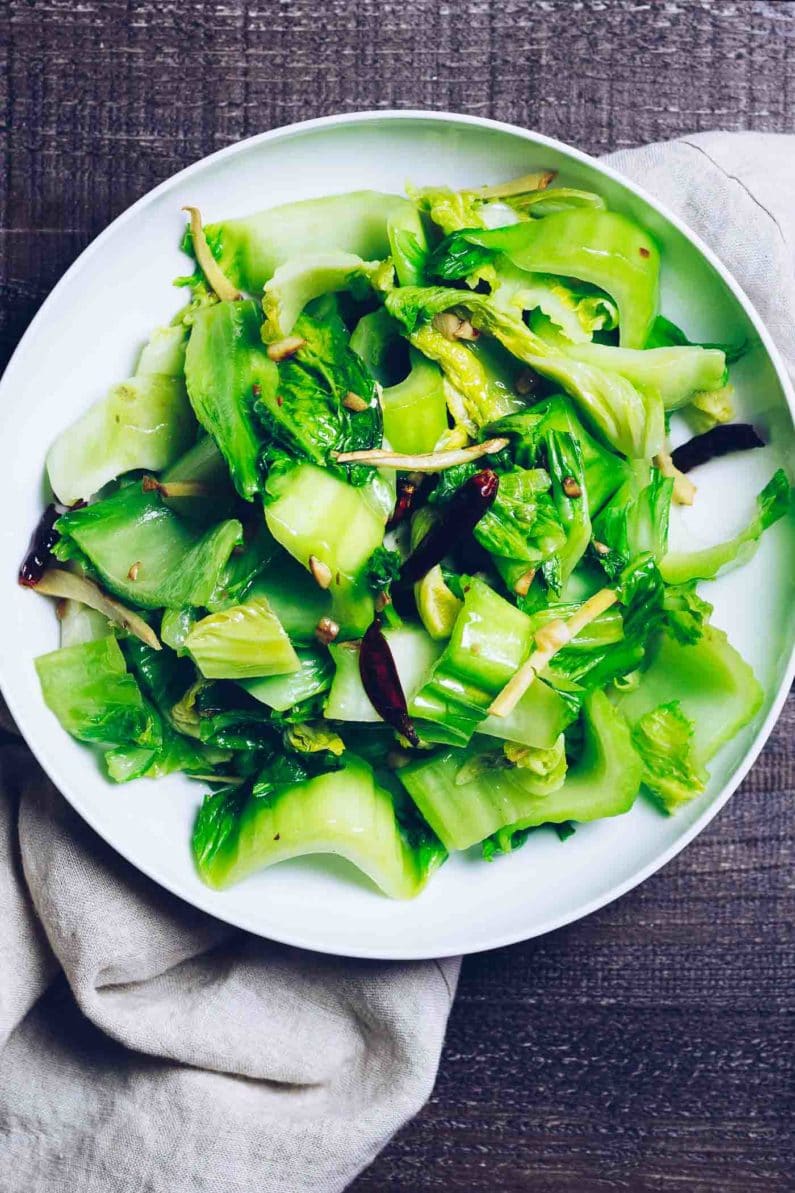 Mustard Greens Nutrition
Chinese mustard greens are an excellent source of vitamins A, C, and K. They are high in antioxidant, help lower cholesterol, detox liver and blood, high in fiber, and packed with phytonutrients. You can read more from this article.
Chinese mustard greens substitute
Because Chinese mustard greens and curled-leaf mustard leaves both belong to the same plant family – Brassica juncea. They have similar flavor and taste. If you can't find Chinese mustard greens, I suggest using curled-leaf mustard leaves as a substitute.
More Chinese Green Vegetables: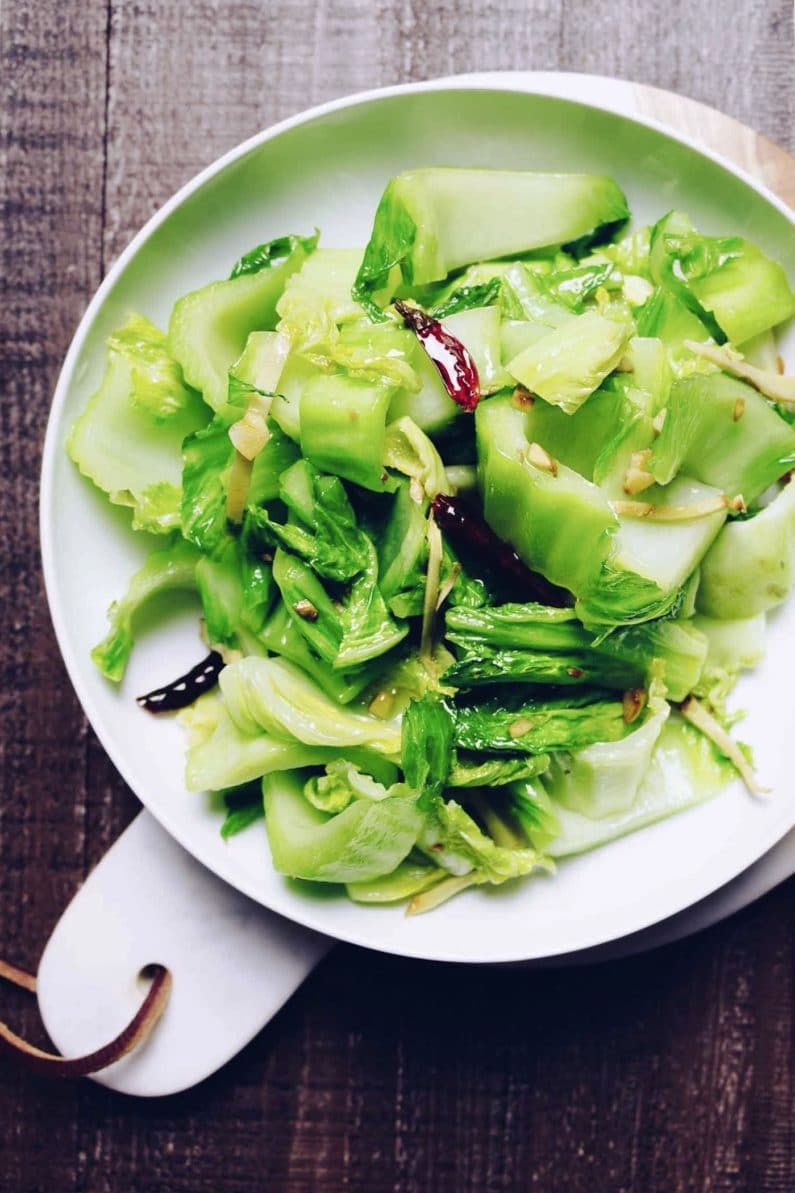 So my friends! Mustard greens are so great for us! It is a required taste because of its peppery and bitter flavor , though we can mitigate it by blanching the greens first. I often think bitter flavor foods are grown-up foods and since they are so healthy and packed with tons of vitamins, I recommend that you give this recipe a try. You might come to learn that not only you love this mustard green recipe but also your kids!
Love what you see and want more healthy delicious food? Subscribe to my blog I Heart Umami for weekly new recipes for free!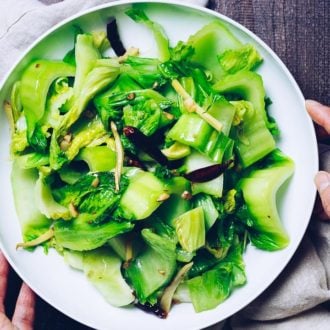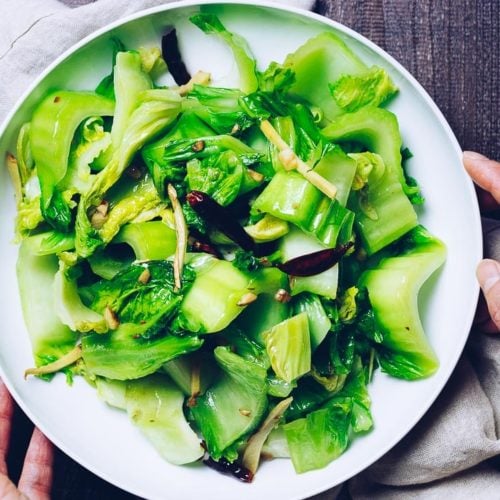 Chinese Mustard Green Recipe
Crunchy and refreshing Chinese Mustard Green Recipe, stir-fried in a light ginger and garlic sauce. They are very nutritious, low carb, and easy to make.
Print
Pin
Rate
Instructions
Bring a large pot of water to boil. In the meantime, dice Chinese mustard greens to roughly about 1-inch sections. Rinse well. If the mustard green comes with leafy parts, separate the stems and the leaves. Prepare garlic and ginger. Set aside ready to use.

Hot water blanch the stems with a pinch of salt for about 30 seconds. If the mustard greens come with leaves, blanch for 10 seconds. Plunge them in cold water to stop cooking. Set aside and drain well.

In a well-heated large saute pan (or wok), add 1.5 tbsp cooking oil, saute garlic, ginger, and chilies with a pinch of salt over medium-heat for 20 seconds.

Add blanched Chinese mustard greens and the remaining ½ tbsp cooking oil. Quickly toss and saute for 30 seconds. Season with salt to taste. The texture of the greens should be crunchy and in vibrant green color.

Off heat, drizzle with sesame oil, if using. Serve warm or cold.
Notes
Substitute curled-leaf mustard greens for Chinese mustard greens. Quickly blanch in hot boiling water for 10-15 seconds only. Substitute 1 fresh serrano or fresno chili with seeds removed for Chinese dry red chilies. 
Nutrition
Serving: 1serving, Calories: 115kcal, Carbohydrates: 6g, Protein: 5g, Fat: 8g, Sodium: 34mg, Potassium: 662mg, Fiber: 5g, Sugar: 2g, Vitamin A: 5275IU, Vitamin C: 119.5mg, Calcium: 198mg, Iron: 2.8mg
Pairing suggestions