Paleo Har Gow Dumplings
Paleo Har Gow Dumplings – shrimp & chive dim sum – with gluten-free har gow dumpling wrappers and dipping sauce! These Paleo dumplings are gluten, grain, and wheat-free. They make the best Chinese crystal dumplings for your Sunday brunch!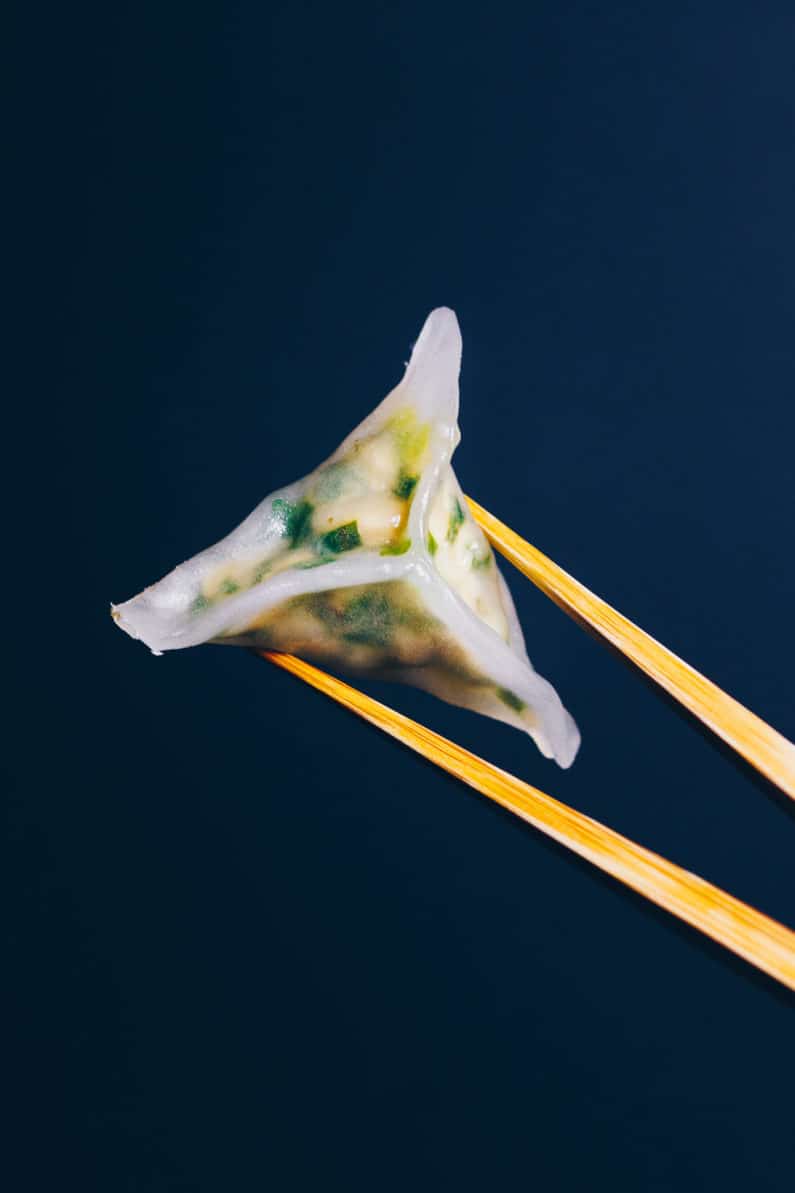 Hey friends! OMG I'm so excited to share today's new recipe – Paleo Har Gow Dumplings (also known as crystal dumplings) ! Har gow is a cantonese pronunciation. In mandarin, it's 蝦餃 [Xiā jiǎo]. Har gow dumplings are famous for their translucent dumpling skins. Because the wrappers are so thin, you can see through the dumplings with gorgeous colors inside crystal clear. How pretty!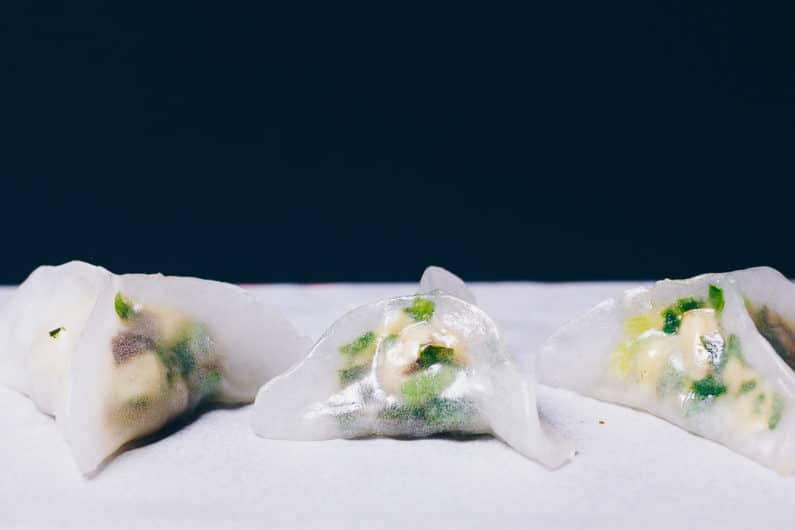 Har Gow Fillings
To add extra flavor and color to my har gow dumplings, I use shiitake, bamboo shoots, and Chinese chives (or scallions). Once you steam the dumplings you can see through them with speckles with green and light pink color. So beautiful.
Most often, har gow is made with shrimp – sometimes with a whole shrimp and most times with minced shrimp paste. In today's recipe, I combin shrimp with chive and ground chicken (or pork). For people who can't have shellfish, skip the shrimp and it'll be just as delicious!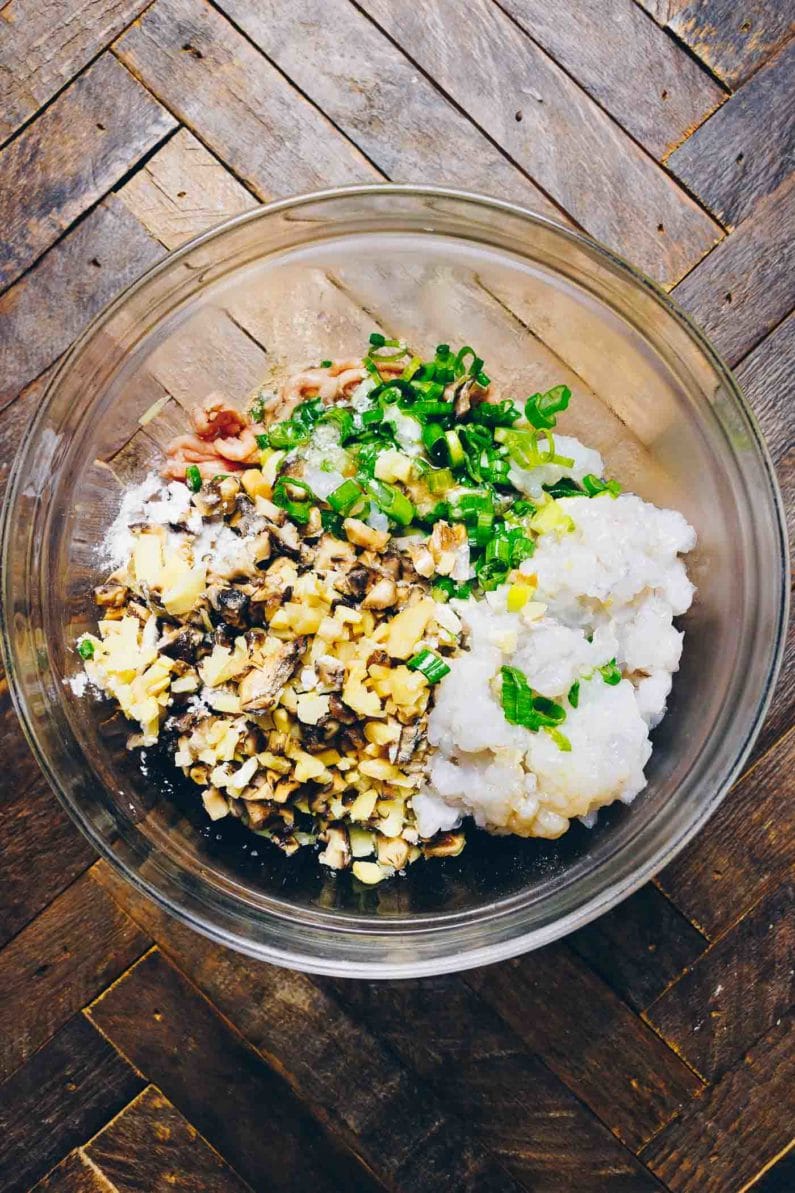 How to make Paleo Har Gow Dumplings
Start by making the dumpling fillings first. Highly recommend that you do this a day in advance and store it in the fridge.
Follow my Paleo gluten-free har gow dumpling wrapper recipe to make the wrappers.
You'll want to use the wrappers right away so wrap them with the fillings that you made a day before.
For here you have 2 choices: steam and eat them right away – who wouldn't want that? Or store them for later.
Store the uncooked dumplings in the freezer. When you are ready, steam from frozen. There's no need to defrost.
It's so much faster if you have extra frozen har gow dumplings handy. If you follow the recipe you should have 24 Paleo Har Gow dumplings. Definitely enough for extras!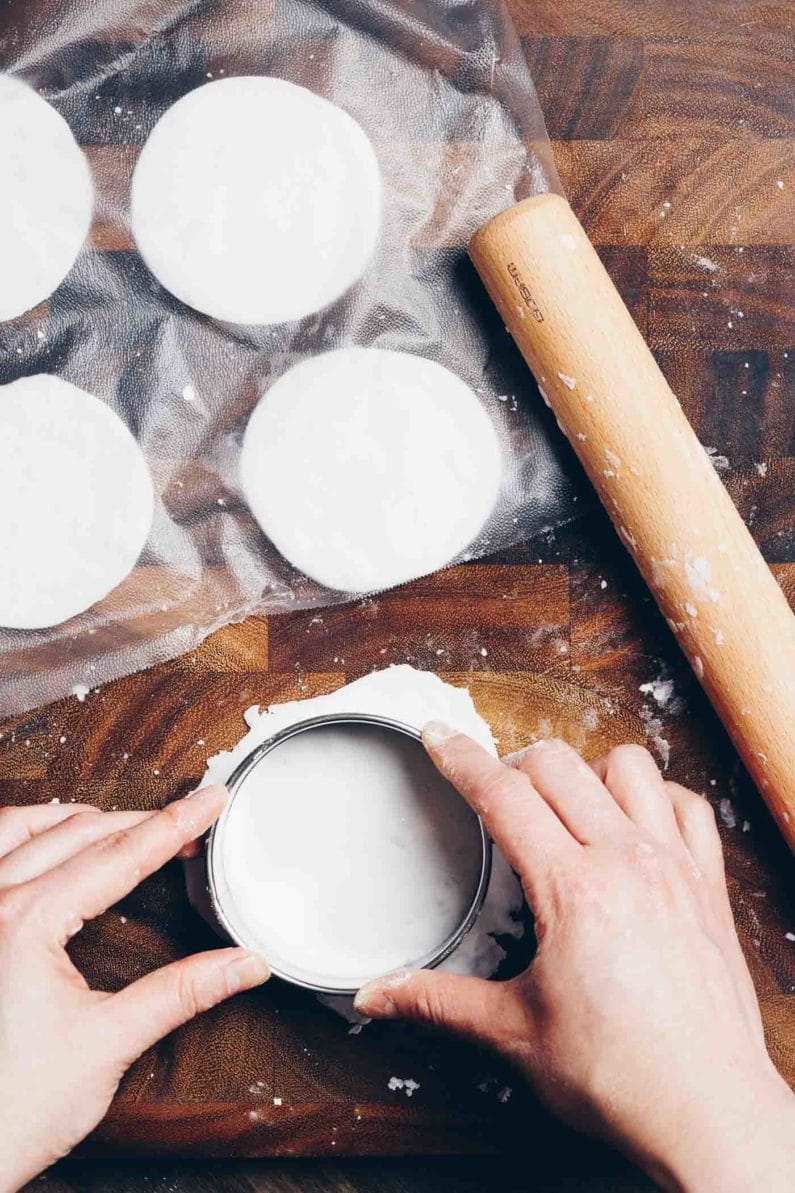 First time making Har Gow? Read this.
Har gow dumpling wrappers are finicky. I'll admit. The wrappers are soft, pliable, and thin. Pay attention to the moisture level and temperature as you wrap the dumplings. You want to keep the wrappers and dumplings moist but not too wet or too dry or they will tear.
Please read through the Paleo Har Gow Dumpling Wrappers recipe before you begin. 🙂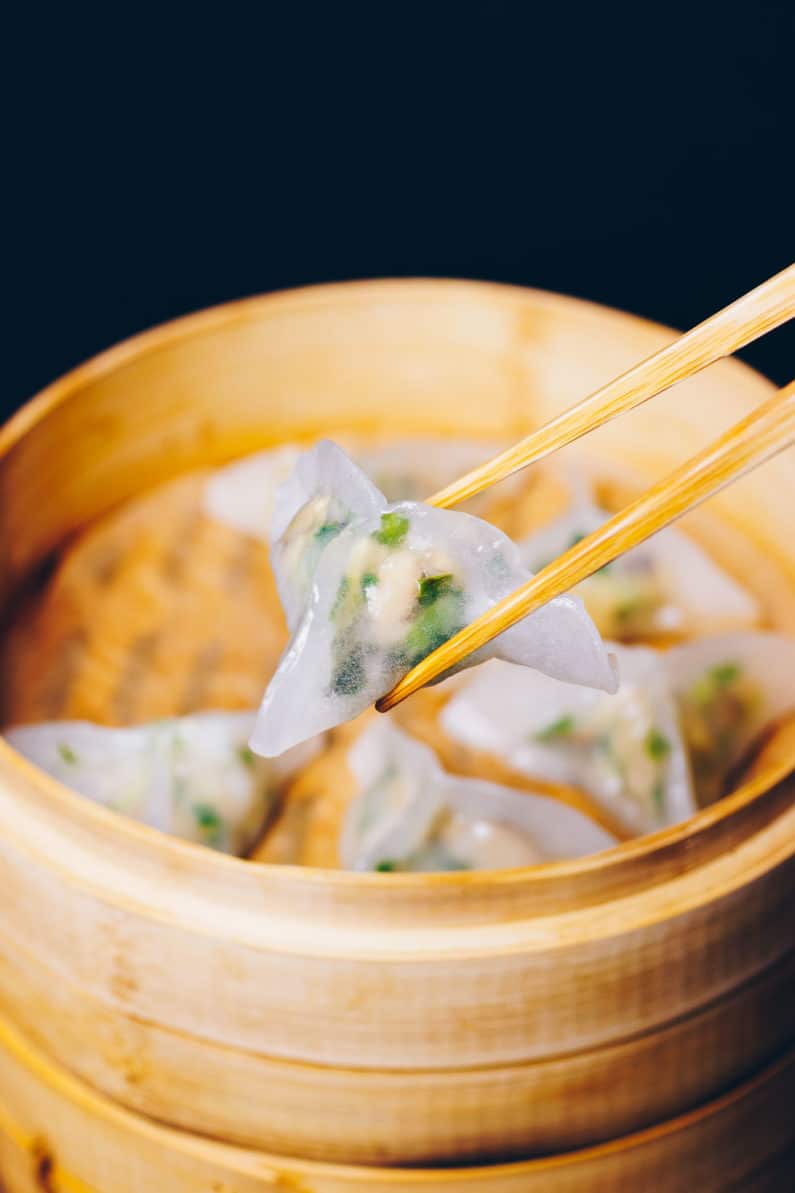 So my friends! Har Gow is one of my favorite hong kong style dim sum dumplings and I'm so glad I'm finally able to share a gluten, grain, and wheat-free version with you! The best way to make these dumplings are with your family and friends! Think the factory assembly line – 2 people make the wrappers and 2 people assemble the dumplings right away. It'll speed up the process so you can enjoy the dim sum dumplings faster, too!
Watch the YouTube tutorial I prepared for you before you begin. Subscribe to my YouTube channel for more healthy cooking tips and meal prep videos.
For a low carb keto shumai dumpling version – check out my Paleo Dim Sum-Shumai OR read the notes in the recipe card to make har gow dumpling meatballs.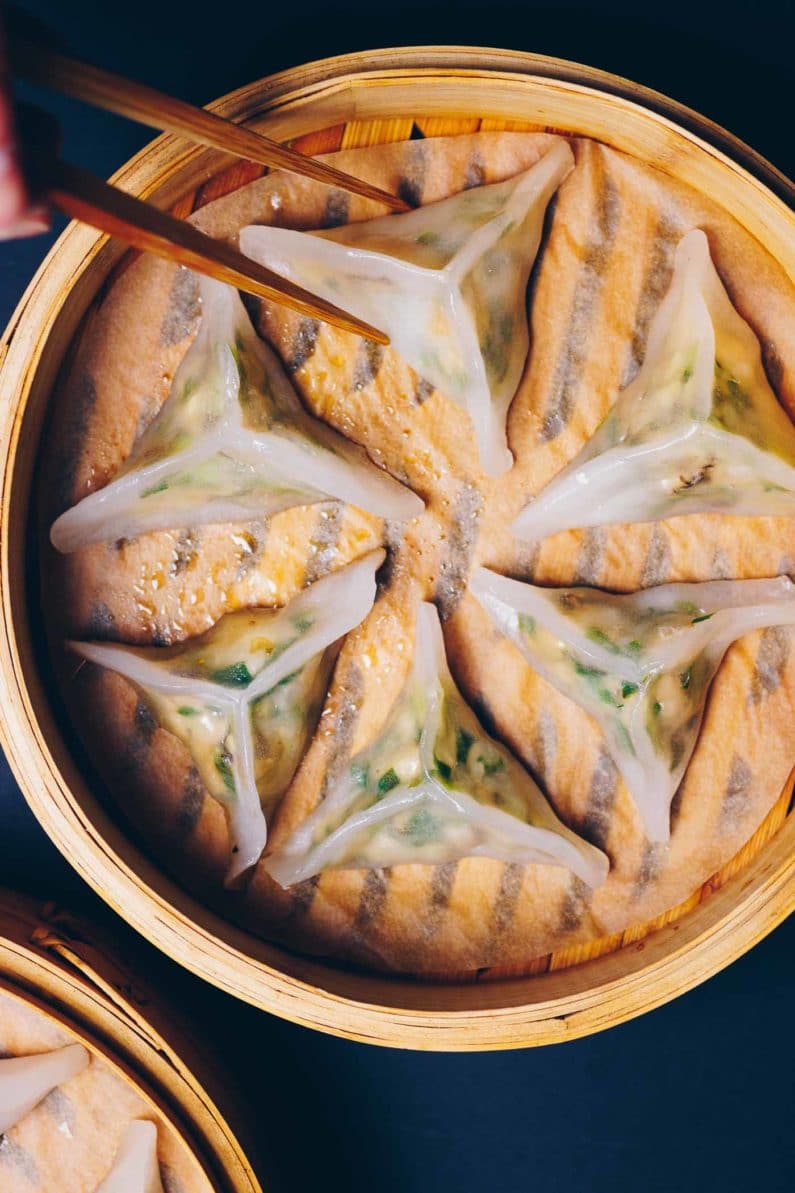 Dumpling Lovers!
Also check out my Daikon-made Jiaozi Potstickers and Crispy Rice Paper Dumplings, and dip them in my chili garlic sauce!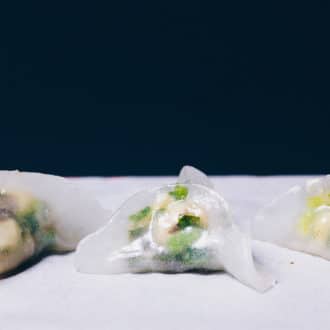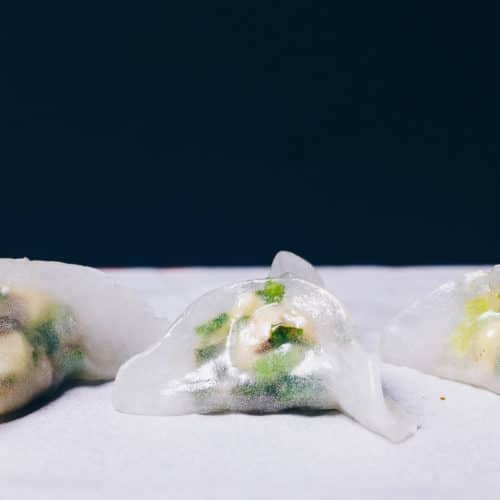 Paleo Har Gow Dumplings
Paleo Har Gow Dumplings with gluten-free har gow dumpling wrappers and dipping sauce! They are gluten, grain, and wheat-free and make the best Chinese crystal dumplings for your sunday brunch!
Print
Pin
Rate
Ingredients
Har gow shrimp and chive dumpling fillings:
My Signature Paleo Dumpling Dipping sauce:
Instructions
Har Gow Dumpling fillings:
Rehydrate shiitake overnight. Finely chop mushrooms, scallions, shallots, and bamboo shoots, if using.

In a bowl combine shrimp with ½ tsp salt and 1 ¼ cup water. Stir well and set it aside for 5-10 minutes. This will remove the slimy texture and keep it crunchy. Dump the water and rinse the shrimp a few times then finely mince them.

In a large mixing bowl, combine ingredients from mushrooms to arrowroot starch. Stir the mixture in 1 direction for about 2 minutes until the mixture becomes a bit sticky.

Wrap the bowl with a cling wrap and store in the fridge for up to 1 day in advance.
Form the dumplings:
Take 1 Paleo har gow dumpling wrapper. Add about 2 tsp dumpling filling in the middle. Bring the edges of the wrapper together toward the center, press the edges together to seal (there will be three sealed edges), pinch the dough to seal the edges well. Place the dumpling over a flat non-stick surface and cover it with a cling wrap so it won't dry out.

Repeat the same process until you finish all the wrappers.
Steam the dumplings:
Place the dumplings over a bamboo steamer lined with parchment. Leave a little space between each dumpling so it won't stick. You can also use a heat-proof plate if you don't have a bamboo steamer.

Place the steamer over a wire rack. Cover with a lid and steam over medium heat for 7-8 minutes. The water should be more than simmering but not quite boiling.
Serve:
Allow the dumplings to cool for a few minutes before removing them from the steamer/plate. When they are fresh out of hot steamer the skin tends to be extra sticky. Serve with my Paleo dumpling dipping sauce.
Notes
You can skip the shrimp and use ½ lb ground chicken thigh or pork instead.
You can lightly grease the parchment paper or the plate before placing the dumplings into the steamer. This will help the dumplings less likely to stick.
For the extra dumpling filling, you can freeze the filling and thaw a night before using. Or form meatballs (1.5 oz per meatball) and bake at 400F for 25-30 minutes for low carb har gow dumpling meatballs.
I highly recommend that you make the dumpling fillings first, store it in the fridge overnight, then make the dumpling wrappers and form the dumplings the next day to save time.
The nutrition label is calculated without the wrappers. You can find the wrapper label here. 
Nutrition
Serving: 1dumpling, Calories: 24kcal, Carbohydrates: 2g, Protein: 2g, Cholesterol: 15mg, Sodium: 124mg, Potassium: 66mg, Vitamin A: 25IU, Vitamin C: 0.8mg, Calcium: 8mg, Iron: 0.2mg