Chinese Broccoli (Gai Lan) with Vegetarian Oyster Sauce
This Chinese Broccoli Oyster Sauce tastes just like your favorite dim sum restaurant style yet soy and gluten-free. Drizzle with sweet and savory vegetarian oyster sauce, and in 1-minute you'll have a plate of healthy Asian broccoli ready in no time!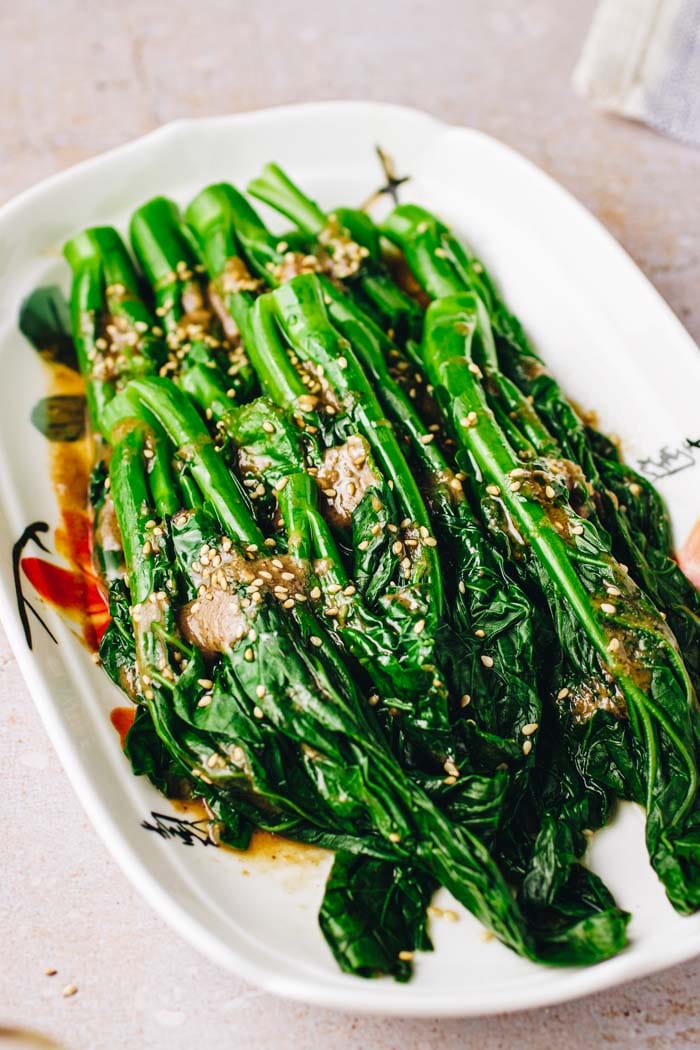 Chinese Broccoli Oyster Sauce (Gai Lan Oyster Sauce)
Chinese Broccoli, some people also call it Gai Lan, Kai Lan, Chinese Kale, or Asian Broccoli, is probably one of my favorite Asian vegetables of all time. The gai lan stems are thick and crunchy and the deep green leaves are soft and tender.
I love stir-frying gai lani with garlic sauce or hot water blanch and drizzle with little vegetarian friendly oyster sauce. Either way, this vegetable brings back wonderful memories of my time with my family when we enjoy dim sum together on Sunday mornings.

What Is Gai Lan (Chinese Broccoli)?
Gai lan (or Kai lan) is Cantonese pronunciation of Chinese broccoli. Jie lan 芥蘭 is the Mandarin character and pronunciation. Some people also refer to it as Chinese kale or Asian broccoli.
Chinese broccoli has thick stems and deep blue-green color leaves. It has a slightly bitter flavor than Western broccoli so to remove the bitter flavor it's quite common to hot water blanch the broccoli first before stir-frying.

How To Cook Gai Lan
There are three common ways to prepare Gai Lan – hot water blanch, stir-fry, or steam. The best way to ensure that your Chinese kale cooks perfectly is to give the stems and the leaves different cooking time because Chinese Broccoli stems are much thicker than the leaves and they need longer time to cook tender.
To make Chinese broccoli with vegetarian oyster sauce, I recommend blanching the broccoli stems first. To make stir-fried gai lan in garlic sauce, I prefer sautéing the stems first before adding the leafy parts. For steaming, separate the stems from the leaves so you can steam the stems separately from the leaves.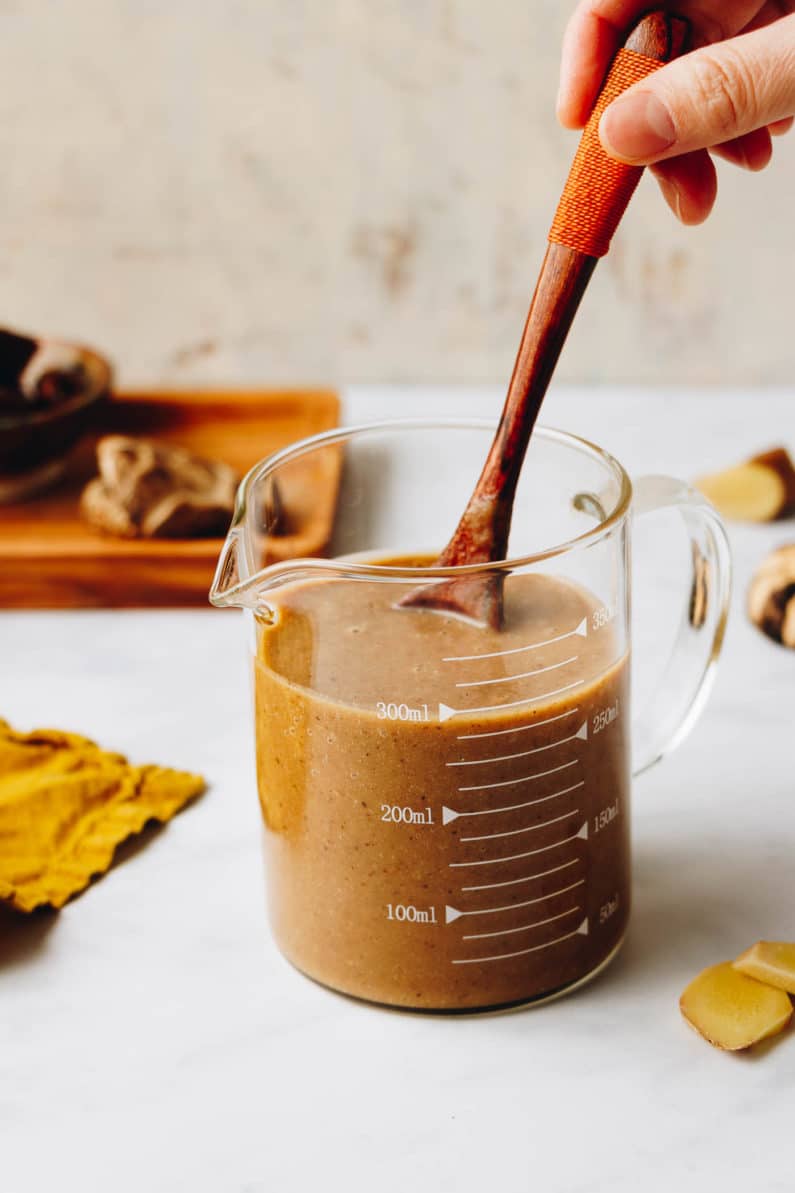 Sauce for vegetables
My homemade vegetarian oyster sauce is a great oyster sauce substitute. It's made with shiitake, ginger, and dates so there's absolutely no additives. It's also Vegan friendly. It's also way less salty than the store-bought version. I've used the sauce numerous times in beef stir-fry with oyster sauce and Thai cauliflower fried rice and both turn out terrific!
You can also use the sauce as vegetable seasonings like today's oyster sauce with Chinese broccoli. It's a terrific Asian sauce to have handy, also a great substitute for oyster sauce because it's shellfish free.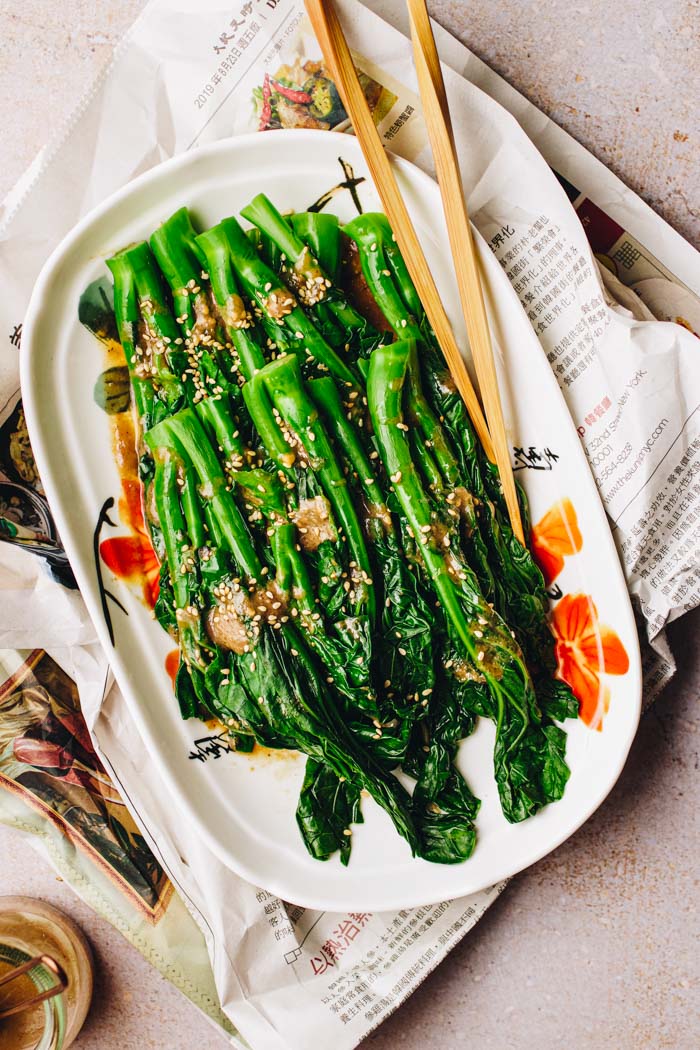 More Good For You Asian Leafy Greens –
Pair Chinese Broccoli Oyster Sauce with –
Chinese broccoli with oyster sauce is probably one of the most iconic Chinese vegetable dishes you can find in Asia. You can find Asian broccoli in Chinese and Korean grocery stores. If there are no stores nearby, I recommend using broccolini or western broccoli. A quick 1-minute blanch and drizzle with my sweet and savory vegetarian oyster sauce, you'll fall in love with this dim sum style Chinese dark leafy greens in no time!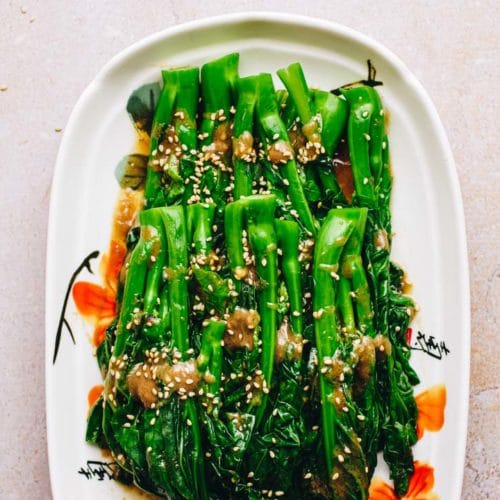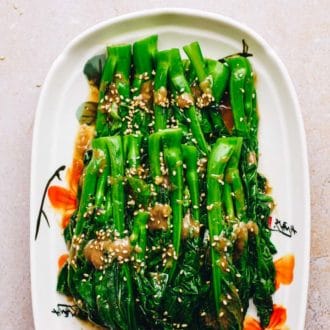 Chinese Broccoli Oyster Sauce (Vegan, Gluten-Free)
Chinese broccoli oyster sauce with soy and gluten-free vegetarian oyster sauce. Ready in 1-minute for the most healthy blanched Asian broccoli!
Print
Pin
Rate
Ingredients
0.75-1 lb. Chinese broccoli, gai lan
Instructions
Bring a large pot of water to boil.

To prepare the Chinese broccoli, slice off about ½ inch of the stems from the bottom end. Rinse them well.

With both of your hands holding the top portion of the leafy parts, carefully dip the stems into the boiling water. Hold your position and blanch the stems for about 45 seconds then release the entire broccoli bundle and blanch for an additional 15 seconds.

Use a large slotted spoon to scoop out the broccoli and shock in cold water. This will keep the broccoli crunchy and in deep green color. Gently squeeze the leafy parts to remove the water. Place them on a serving tray.

Combine homemade vegetarian oyster sauce with sesame oil and coconut aminos. Spoon the sauce over the Chinese broccoli one tablespoon at a time until your desired quantity. The more sauce the stronger flavor and saltier it will be.

Sprinkle with toasted sesame seeds, if using. Serve at room temperature or chilled.
Notes
My vegetarian oyster sauce is made with shiitake, ginger and dates. It has no additives and preservatives. It's a wonderful sauce for Chinese stir-fries, vegetables, and chilled side dishes. I highly recommend you give it a try. It's easy to make!
Note: If you are using store bought vegetarian oyster sauce or the regular oyster sauce (with oyster extract), the store bought version is much saltier than my homemade version. A rough conversion is as follows: 1 tsp store bought oyster sauce = 1 tbsp I Heart Umami homemade vegetarian oyster sauce. 
Alternatively, If you don't have the vegetarian oyster sauce handy, substitute the 2-2.5 vegetarian oyster sauce in the recipe with 2 tbsp coconut aminos plus sea salt to taste.
Nutrition
Serving: 1serving, Calories: 75kcal, Carbohydrates: 8g, Protein: 3g, Fat: 4g, Saturated Fat: 1g, Polyunsaturated Fat: 2g, Monounsaturated Fat: 2g, Trans Fat: 1g, Cholesterol: 1mg, Sodium: 98mg, Potassium: 10mg, Fiber: 1g, Sugar: 2g, Vitamin A: 1501IU, Vitamin C: 78mg, Calcium: 60mg, Iron: 1mg
What part of Chinese broccoli do you eat?
You can eat both the stems and the leafy parts. Slice off the bottom stems about ½ inch. The stems take longer to cook tender than the leafy parts.
What are the health benefits of Chinese broccoli?
Chinese broccoli is one of the world's most nutritious vegetables. It's rich in iron, vitamin A, C, and E and contains high amounts of beta carotene.
Is Bok Choy Chinese broccoli?
No. Bok choy and Chinese broccoli are two different Asian vegetables. Bok Choy is a type of Chinese cabbage and Chinese broccoli (gai lan or Chinese kale) is much more similar to broccoli or broccolini.