Sautéed Taiwanese Cabbage Recipe
There's a reason why people love Taiwanese Sautéed Cabbage. Crunchy and naturally sweet and with 2-ingredients only, you'll not find another cabbage stir-fry recipe that's super simple yet scrumptious. A quick saute and a few sprinkles of seasonings, get ready for tons of flavor in under 15 minutes!
This is not a sponsored post. I purchased the seasoning myself. I love the quality and the flavor of the shiitake powder so much and want to share with you as well.
2-Ingredient Taiwanese Sautéed Cabbage Recipe (Paleo, Gluten-Free)
Today's Sautéed Cabbage recipe came from our recent trip to Japan and Thailand. I bought a bag of Takii's umami shiitake mushroom powder seasoning before hopping on the plane just so that I can make some simple and quick meals – with only one seasoning – when I travel abroad.
I Heart Umami blog readers love Asian-style stir-fried vegetables so when I share the stories on Instagram while we were abroad, people went crazy about the shiitake seasoning and asked that I share a recipe (or recipes) as soon as I'm back home. And you guessed it, I was making cabbage stir-fry and scrambled eggs almost every morning with just one seasoning.
Before you think what's so good about stir-fried cabbage…isn't it boring and bland? Let me tell you…if you haven't given my Sautéed Cabbage recipe a try you are missing out!
You'll be spooning this Sautéed Cabbage right out of the pan, and wondering when you've become that person who loves cabbage stir-fry so much! Just saying ….:)
Cabbage Nutrition
But before we begin, let's talk about why we should eat more cabbage. According to Healthline, green cabbage is a low-calorie vegetable that's rich in Vitamins K, C, and B6, and with minerals and antioxidants and is "one of two vegetable types (the other type was root vegetables) found to prevent type 2 diabetes." (source)
There are many ways to enjoy cabbage and I have taken the time and extra care to share different ways to showcase its delicious flavor – Chinese Cabbage Stir-Fry, an undeniably Chinese-flavored vegetable stir-fry with star anise in a light garlic and ginger sauce, and Asian Coleslaw with thinly shredded raw cabbage tossed in a creamy and rich toasted sesame dressing. Both recipes are tested and loved by thousands of users.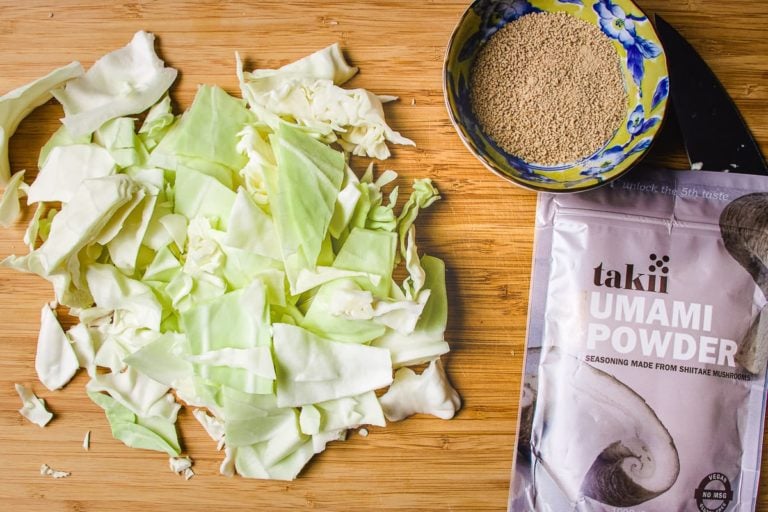 Umami shiitake mushroom powder seasoning
Quite a few of you asked what the difference is between Takii's mushroom powder and TraderJoe's umami powder. I have both bottles and I purchased them with my own money and I can tell you that Takii's flavor is most authentic for Asian food and if you adore Asian food as much as I do this powder will make your dishes even more yummy! You can also learn more about Takii's seasoning here.
Use it to replace salt. It's great for vegetable stir-fry and soup stock seasoning or use it to season chicken, pork, or fish.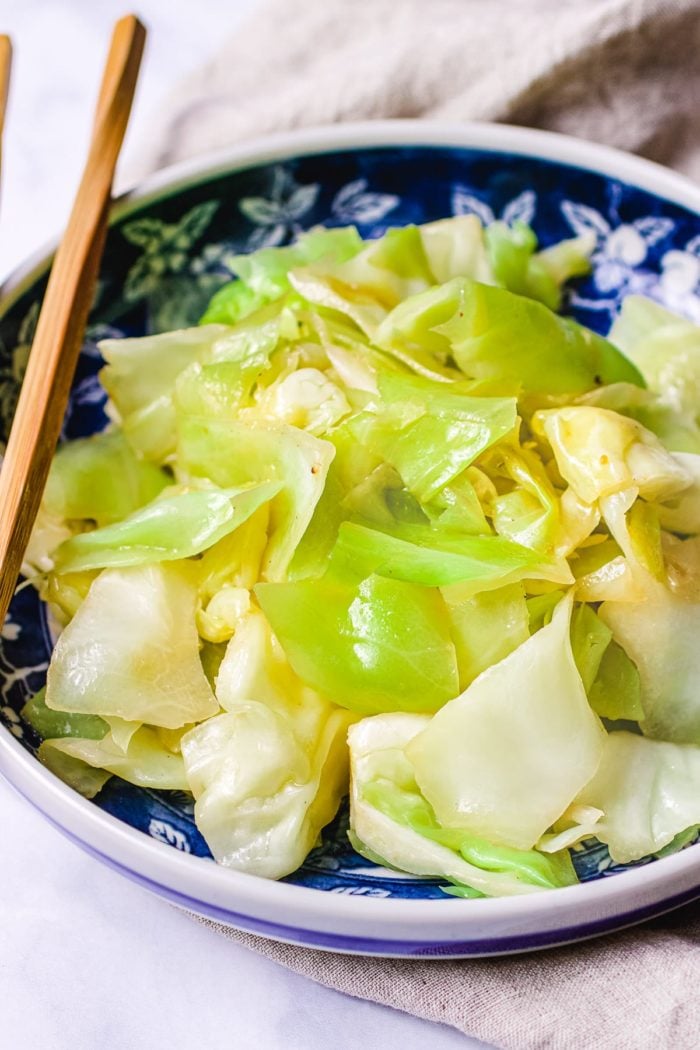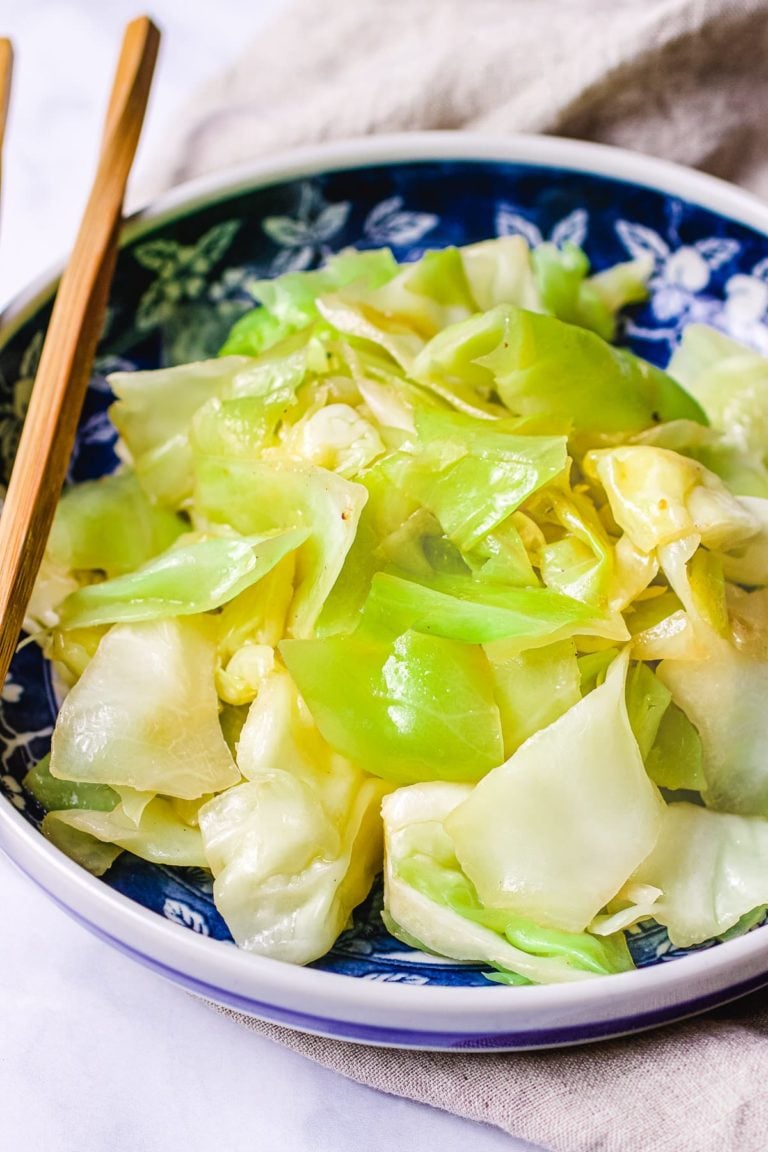 How to cut cabbage for stir-fry
Use the tip of a chef's knife, slowly and carefully rock your knife to halve the whole cabbage then quarter it.
In a 45-degree angle, slice of the core of a quartered cabbage.
From here, you can thinly slice, shred, or chop/dice it to bite sizes.
For the purpose of today's Taiwanese Cabbage stir-fry recipe, we are going to chop or dice the cabbage to bite sizes. This way, they will be extra juicy and crunchy. They don't need to be in the same shape or size. In other words free form and easy!
How to make the best cabbage stir-fry, Taiwanese style!
Simply put Definitely not boil it! The reason why Chinese or Asian vegetable stir-fry is so addictive is because we emphasize on the texture of the vegetables. For example: a cabbage stir-fry should have tender yet crisp texture that's definitely not mushy or wilted.
The trick is to have a well-heated skillet before adding the oil and the vegetables. If you aren't sure how to pre-heat your skillet for stir-frying, check out my how to stir-fry beef blog post where I talk about how to properly pre-heat a skillet.
Once the skillet is pre-heated well, you should scoop and toss the vegetables frequently over medium-high to high heat so that they won't get burnt or cooked unevenly. Quick saute also makes vegetables less likely to sweat too much and therefore they maintain the crunch and sweet juicy flavor.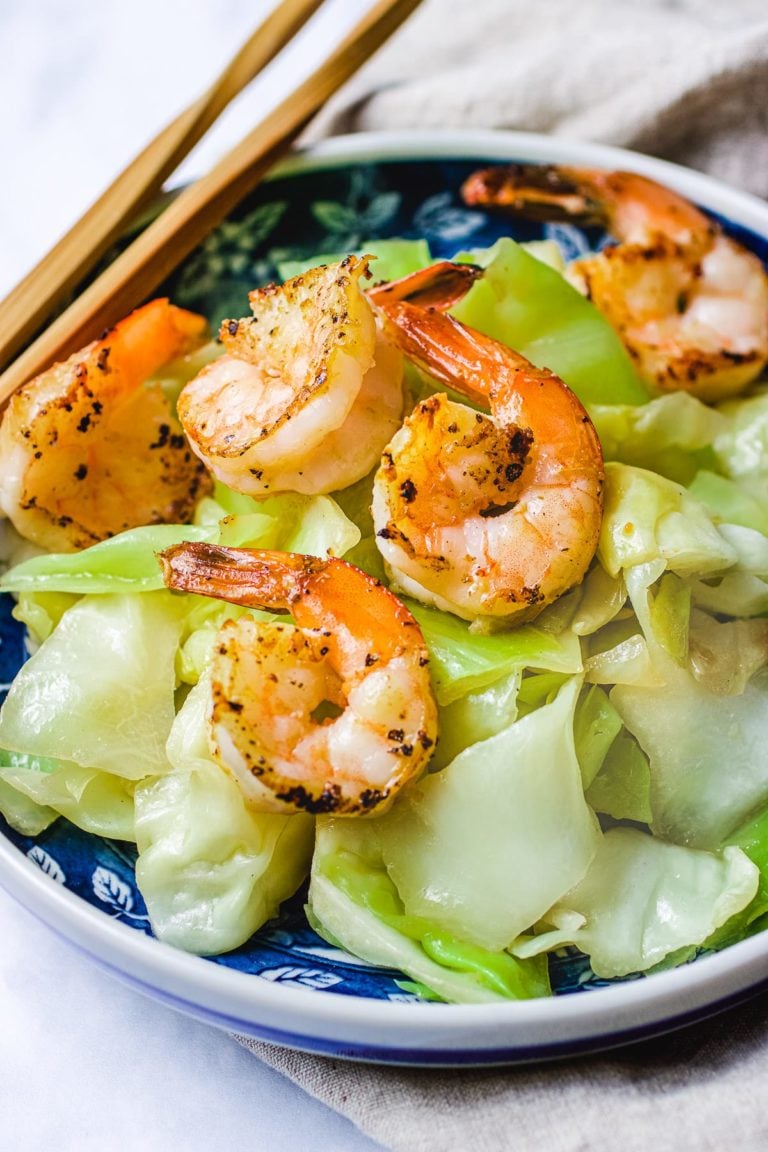 Cooked cabbage v.s. stir-fried cabbage
When I think of cooked cabbage I associate it with soup or stew with soft and buttery vegetables that blend-in with a dish beautifully. My Instant Pot Chicken Cabbage Soup and Paleo Chicken Stir-Fry with Napa cabbage are two perfect examples.
Napa cabbage is great for dishes that are intended for soft and soupy texture whereas green cabbage, in my opinion, is most suitable for stir-fries with tender yet crisp texture.
You can, of course, enjoy both vegetables raw. I recommend finely shred them first so that it's easier to mix with salad dressings. Check out my Asian Chicken Cabbage Salad and Japanese Chicken Katsu.
Pair the sautéed Taiwanese cabbage with –
More healthy side dishes and vegetarian recipes
Whether it's Asian-style Sautéed Cabbage recipe or western-influenced coleslaw salad, there are definitely more than one way to enjoy this healthy and affordable vegetables and let me show you how to turn this everyday veggie from boring to crisp-tender and from bland to super-tasty! Your kids will look forward to eating it. 🙂
Please note that I do not count oil, salt, pepper, or stock/broth as part of the ingredients because they are basic pantry essentials. The goal is to keep the list minimum and I hope to inspire you to make delicious meals at home.
Sautéed Taiwanese Cabbage Recipe (Paleo, gluten-free, low carb)
Crunchy and sweet Taiwanese Sautéed Cabbage with 2-ingredients only. This paleo cabbage stir-fry is simple yet scrumptious. Ready in under 15 minutes!
Print
Pin
Rate
Instructions
Remove the core of the cabbage and dice it to bite sizes. They don't need to be in uniform shape. I found that if you dice the stem parts slightly smaller than the leafy parts the cabbage get cooked more evenly.

Rinse the cabbage and set it aside to drain well.

Preheat a 12-inch saute skillet or wok over medium-heat until it's too hot to place your palm near the surface, about 2-3 inches away. Add oil and swirl it around. If the skillet becomes too smoky that means your skillet is overheated. Simply set it aside to let cool for a few seconds before putting it back to the heat source again.

Add cabbage, be careful of the splatter. Saute the cabbage over high heat. Keep scooping and tossing frequently for about 3 minutes.

Sprinkle with shiitake powder and keep sauteing the cabbage for 1 minute. Add stock and saute for 1 additional minute. The cabbage should be tender yet crisp.

Off heat. Taste and see if you'd like to add more shiitake powder. Serve warm or at room temperature over a large plate.
Notes
If you use green cabbage, please use shredded green cabbage for stir-frying.
If you want to make cabbage stir-fry without the shiitake mushroom seasoning, check out my Chinese cabbage stir-fry recipe.
In the photos, I pair the cabbage stir-fry with seared shrimp. It's totally optional. You can swap it for grilled chicken, pork, steak, or fish or serve the cabbage as a stand alone simple side dish. 
Please note that I do not count oil, salt, pepper, or stock/broth as part of the ingredients because they are basic pantry essentials. The goal is to keep the list minimum and I hope to inspire you to make delicious meals at home.
Nutrition
Serving: 1serving, Calories: 208.81kcal, Carbohydrates: 19.73g, Protein: 4.36g, Fat: 14.34g, Saturated Fat: 1.74g, Sodium: 376.24mg, Potassium: 578.33mg, Fiber: 8.51g, Sugar: 10.88g, Vitamin A: 333.39IU, Vitamin C: 124.51mg, Calcium: 136.08mg, Iron: 1.6mg
Cabbage Lovers!