Gluten free hoisin sauce (homemade)
This homemade gluten free hoisin sauce is your new favorite condiment. It's sweet, tangy, and savory. Made from simple pantry ingredients, it takes only 5 minutes to make! The best part is that it's also soy-free and paleo!
Use it for your mandarin pancakes, or as a delicious stir-fry sauce for moo shu chicken. It also makes a sweet and tangy dipping sauce alongside your favorite dishes.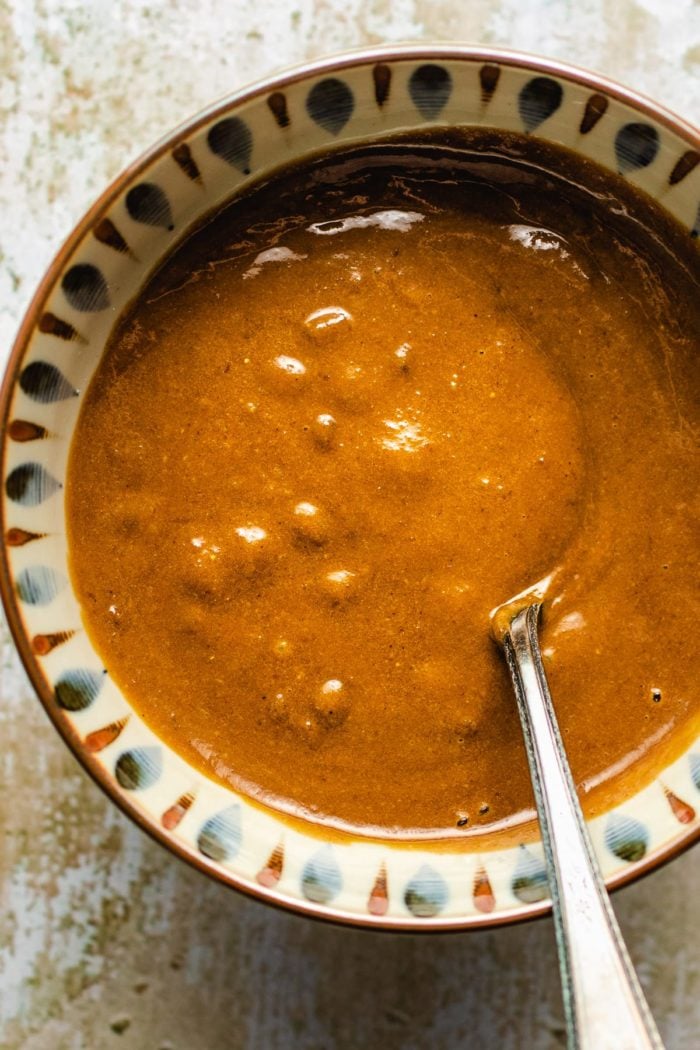 What is hoisin sauce
Hoisin [hói sīn jeung] is cantonese pronunciation. Mandarin pronounces hǎi xiān jiàng.
海 [hói or hǎi] means ocean
鮮 [sīn or xiān] means fresh, deliciousness, and umami.
醬 [jeung or jiàng] means sauce.
When you put the first two characters together, 海鮮 Hoi-sin [hói sīn or hǎi xiān] means seafood.
This sauce, despite its name, does not contain seafood. Although, it is often used as a dipping sauce to accompany seafood dishes such as seafood dim sum.
Hoisin sauce flavor profile
Gluten-free hoisin sauce is savory and super delicious. It's salty and sweet, with a hint of star anise, and cloves, and has a tangy flavor. Traditionally, it is made with fermented soybean paste with additional seasonings.
It's not as sweet as plum sauce. Hoisin sauce has a dark caramel color and a thick, almost syrup-ish consistency. It's often used as a glaze for BBQ meats, a dipping sauce, or a stir-fry sauce after being diluted.
Hoisin sauce is a thick, salty, and sweet sauce, with a hint of tanginess, that is mainly made with soy. It is often compared to American-style BBQ sauce, however, it is much saltier and sweeter than regular soy sauce. It's different from a ketchup-based BBQ sauce.
Why homemade
Healthy ingredients: My recipe is healthy as it's gluten-free and has no additives. Plus, this soy-free hoisin sauce is naturally sweetened with dates.
Easy to make: My recipe uses accessible ingredients and it takes only 10 minutes to make!
Fresh flavor: As the homemade version is free from preservatives, you can expect natural and authentic flavors in your dishes.
Ingredients
Save a trip to your local grocery store, as you only need pantry ingredients to make your hoisin sauce gluten free.
Sauce ingredients: Pitted dates or pure date syrup, coconut aminos, tahini, garlic powder, coarse sea salt, five spice powder, and water.
Ingredient substitutions
Use Tamari or any gluten-free soy sauce if you can't get your hands on coconut aminos.
Substitute tahini with Chinese sesame paste, peanut butter, or sesame oil to get a similar thick texture.
Black molasses, honey, or date syrup can add sweetness to the sauce if you prefer to use them instead of pitted dates. You can add sweetness to the sauce using black molasses, honey, or date syrup instead of pitted dates.
Use a teaspoon of freshly grated garlic cloves for a more fresh, garlicky flavor, rather than garlic powder.
I do not recommend adding rice vinegar to the sauce. Instead, you can add plum puree for a tinge of sweetness and tartness in your gluten free hoison sauce.
What is Chinese hoisin sauce made of
The main ingredients in the store-bought version are sugar, water, fermented soybean paste, garlic, dried sweet potato, salt, colors, modified corn starch, and plum puree.
As you can see, the store-bought sauce has a higher content of sugar, corn starch, and has more preservatives.
How to make the sauce
This Gf hoisin sauce takes 10 minutes to make and it's easy to have a jar ready whenever you need:
Blend all the ingredients in a small food processor. Make sure to scrape the sides and blend the mixture again until you get a thick, almost syrup-ish texture. Taste and adjust the flavors accordingly.
If you're using pure date syrup, exclude the water when blending, and adjust the spices to suit your taste.
Your healthy hoisin sauce is ready to be served or used as you like.
Hoisin sauce vs. Oyster sauce
Hoisin has a sweeter profile compared to oyster sauce. It is mainly used as a BBQ glaze, mandarin pancakes for Beijing duck, Moo Shu Chicken, or dipping sauce.
Meanwhile, oyster sauce is widely used in stir-fry dishes with vegetables, meats, tofu, and seafood. It adds depth and a savory taste without being overly sweet.
Variations
Hoisin gluten free sauce is delightful as is, but you can be creative and add flavor twists including:
Add Miso paste or chickpea miso to get an extra umami savory flavor.
Turn up the heat by adding a little sriracha or garlic chili sauce.
Add a touch of freshly grated ginger for a pop of zesty flavor.
For a bit of sweet and tart notes, blend the sauce with a bit of plum puree.
Common FAQ
What can I substitute for hoisin sauce?
Make your own paleo hoisin sauce by blending pitted dates, coconut aminos, tahini, garlic powder, coarse sea salt, five spice powder, and water.
Is hoisin sauce gluten free?
You can now purchase gluten-free versions from brands like Kikkoman and San J, or at Walmart. Read the label carefully as most hoisin sauce does have gluten and might not be soy free.
Can I replace hoisin sauce with oyster sauce?
No, because the two sauces have different flavor profiles. Oyster sauce is more savory whereas hoisin is sweeter and has a strong soybean paste flavor.
Can I substitute teriyaki sauce for hoisin sauce?
No, as teriyaki sauce tastes different from hoisin. Teriyaki has a thinner consistency and a stronger garlic and ginger flavor. The latter tastes sweet with a hint of star anise flavor.
Storage and make-ahead
Any gluten free hoisin sauce leftovers should be stored in a glass, airtight container. Once refrigerated, it can last for up to 3 weeks, while up to 3 months in the freezer. Before using, defrost it in the fridge and shake the bottle again. If the sauce becomes too thick, add a tad bit of water and blend again.
More gluten-free Chinese sauces
If you love this gluten free hoisin sauce recipe, check out these other condiments to add to your favorites.
I have a full archive of gluten-free Asian sauces that you can use as salad dressings, stir-fry sauces, and many more. One of them is the vegetarian oyster sauce, perfect for everyday stir-fries.
If umami-rich dipping sauces are your thing, I've got you covered. This recipe for hot pot sauces includes five different sauces to fulfill your multiple cravings. My favorite is shacha sauce, which you can also use in stir-fries.
Umami Tips
The recipe quantity might seem small but with this sauce, a little goes a long way.
Hoisin is a versatile sauce, used in stir-fries, dipping sauce, marinade, or as a spread.
Dilute the hoisin sauce with 1 or 2 tablespoons of water before using it in stir-fries.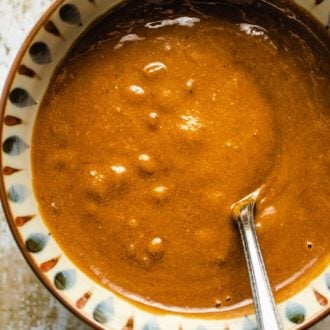 Gluten free hoisin sauce recipe (homemade)
Homemade gluten-free Hoisin Sauce is easy to make. Simply blend a handful of ingredients for the freshest hoisin sauce gluten-free at home! Use it as a dipping sauce, bbq glaze, or even stir-fry! Makes about 1/2 cup.
Print
Pin
Rate
Ingredients
1 oz. pitted dates, about 6 dates or 2 tbsp pure date syrup
2 tbsp coconut aminos
2 tsp tahini, or cashew butter, sunbutter
½ tsp garlic powder
To taste Coarse sea salt , I use ¼ tsp
Small pinch five spice powder
3 tbsp water to blend, if use pitted dates
Instructions
In a mini food processor, blend the dates with ingredients from coconut aminos to water. Scrap the bowl a few times and blend until it becomes a thicker and almost syrup-ish texture. Taste and adjust. The flavor should be salty, sweet, and with a hint of star anise, cloves, and tangy flavor.

If you use pure date syrup, you do not need water to blend the sauce. Simply stir-well and adjust the seasonings to your personal liking.

Store the extra in a glass container in the fridge. Best use in 1-2 weeks. Thin with 1 tablespoon water or more until your desired consistency.
Notes
Most recipes online also add rice vinegar to the sauce but personally I didn't find it to my liking. If you prefer a more tangy-version, start with a teaspoon of rice vinegar and add more if you like.
If you are on Whole30, please use the pitted dates. The pure date syrup is not Whole30 friendly.
Use this sauce in my Moo Shu Chicken Recipe or please scroll up the post to see the section on how to use hoisin sauce in recipes.
Nutrition
Serving: 1tablespoon, Calories: 22kcal, Carbohydrates: 4g, Protein: 1g, Fat: 1g, Saturated Fat: 1g, Sodium: 68mg, Potassium: 31mg, Fiber: 1g, Sugar: 2g, Vitamin A: 1IU, Vitamin C: 1mg, Calcium: 3mg, Iron: 1mg
Made a dish and love it? Please remember to rate the recipe and leave a comment in the comment section below! It helps my blog grow organically so I can continue sharing free and awesome content with you. Thank you!