Paleo Chicken Yakitori Skewers
If you love Japanese food, you will go nuts for these Paleo Chicken Yakitori Skewers! This recipe calls for juicy chicken thighs and lightly charred scallions, basted in a naturally sweet and savory Paleo Teriyaki Sauce from my cookbook Asian Paleo. Grill them on a stovetop or outdoor BBQ. The smell, when this is cooking, is outrageous!
If you are a lover of air fryer cooking, you'll love my Air fryer teriyaki chicken, using the same sauce!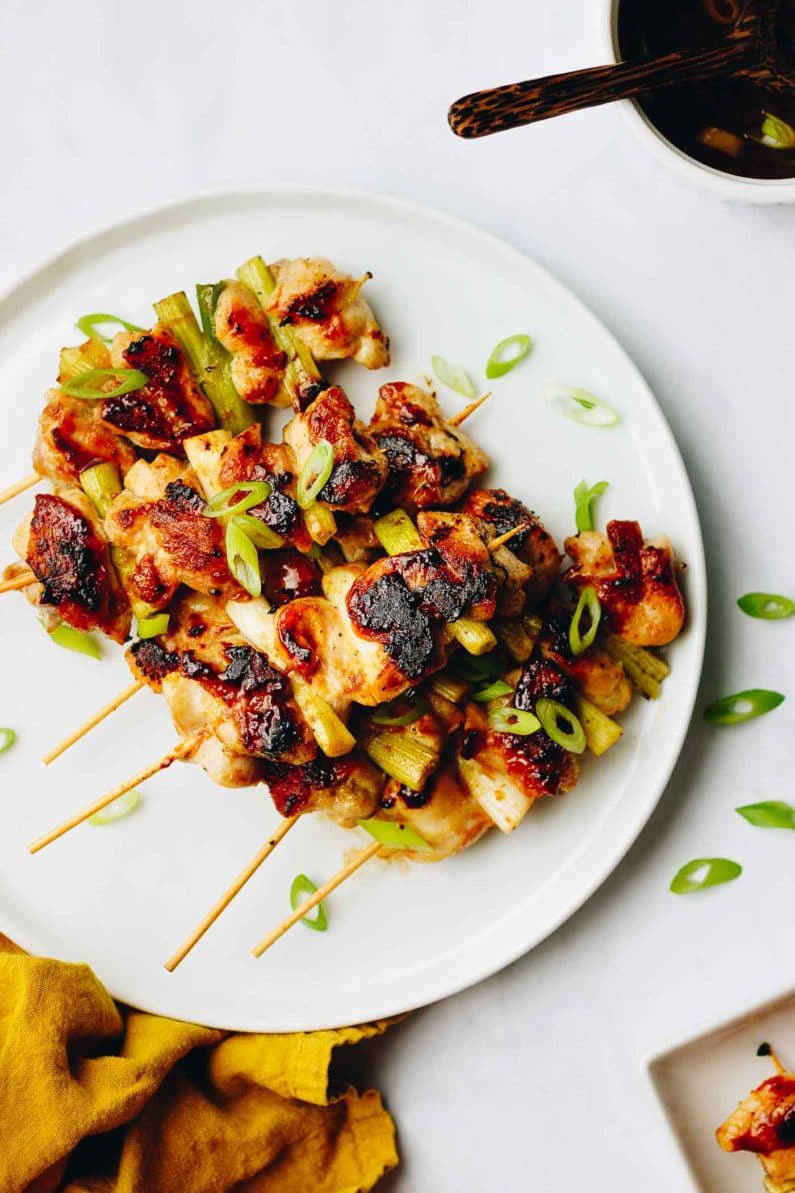 What is yakitori?
Yakitori (Japanese: 焼き鳥) is a Japanese skewered chicken dish. They are grilled over a charcoal fire. Typically, there are two types of seasonings, salt and tare sauce. Tare (垂れ, [taɾe]) is a general term means Japanese dipping sauces and teriyaki sauce is one of them.
Yaki comes from the verb Yaku, which means grill. And Tori means bird. So Yakitori literally means grilled chicken.
There are many types of yakitori skewers that uses different parts of a chicken. For example, liver, heart, skin, gizzards, cartilage, wings, chicken meatballs, …etc. And the type we will make today is called Negima (ねぎま).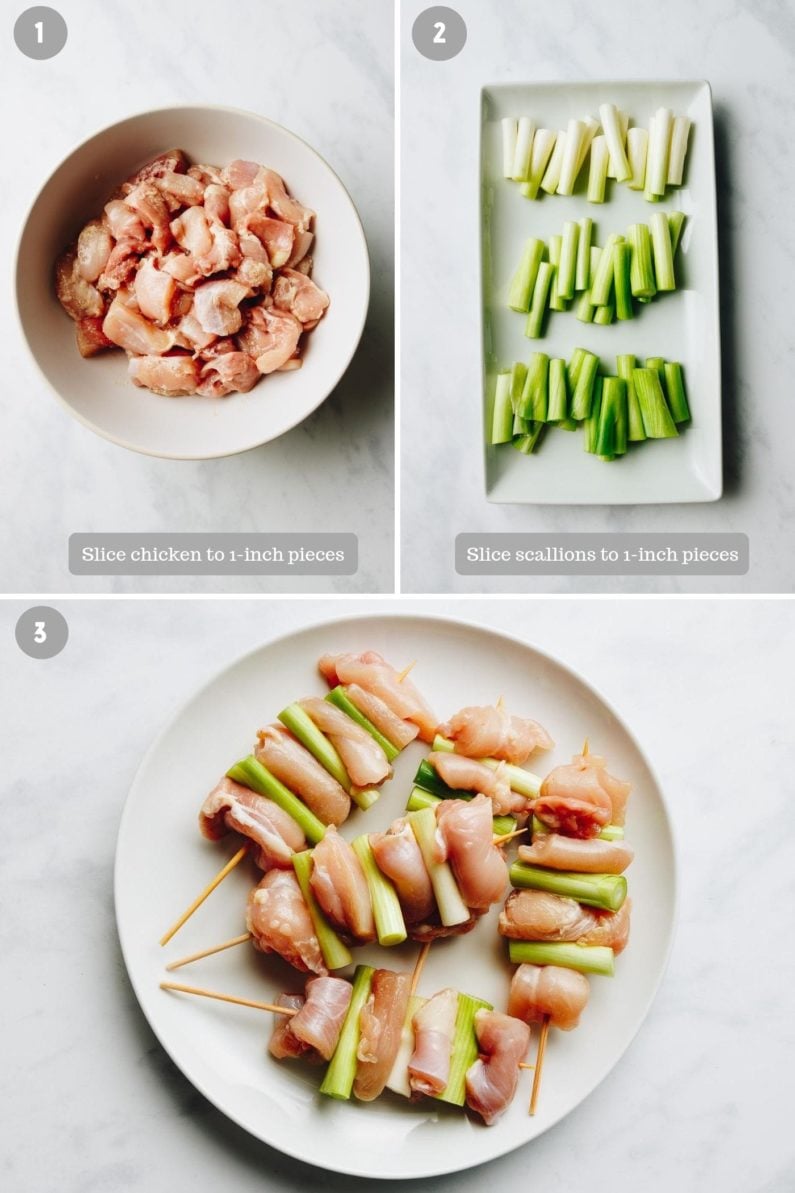 Negima Yakitori Skewers
Negi (ねぎ) is a type of Japanese leek. They look similar to scallions but are much thicker and sturdier than scallions. However if you compare Negi to Western leeks, Japanese leeks are much thinner and have a delicate texture. The texture of Negi is a cross breed between Western leeks and Chinese scallions.
The Paleo Chicken Yakitori Skewers we made today uses only white and pale green parts of scallions to mimic negi. They deliver similar texture and flavor and are much easier to find for most of my readers in the U.S.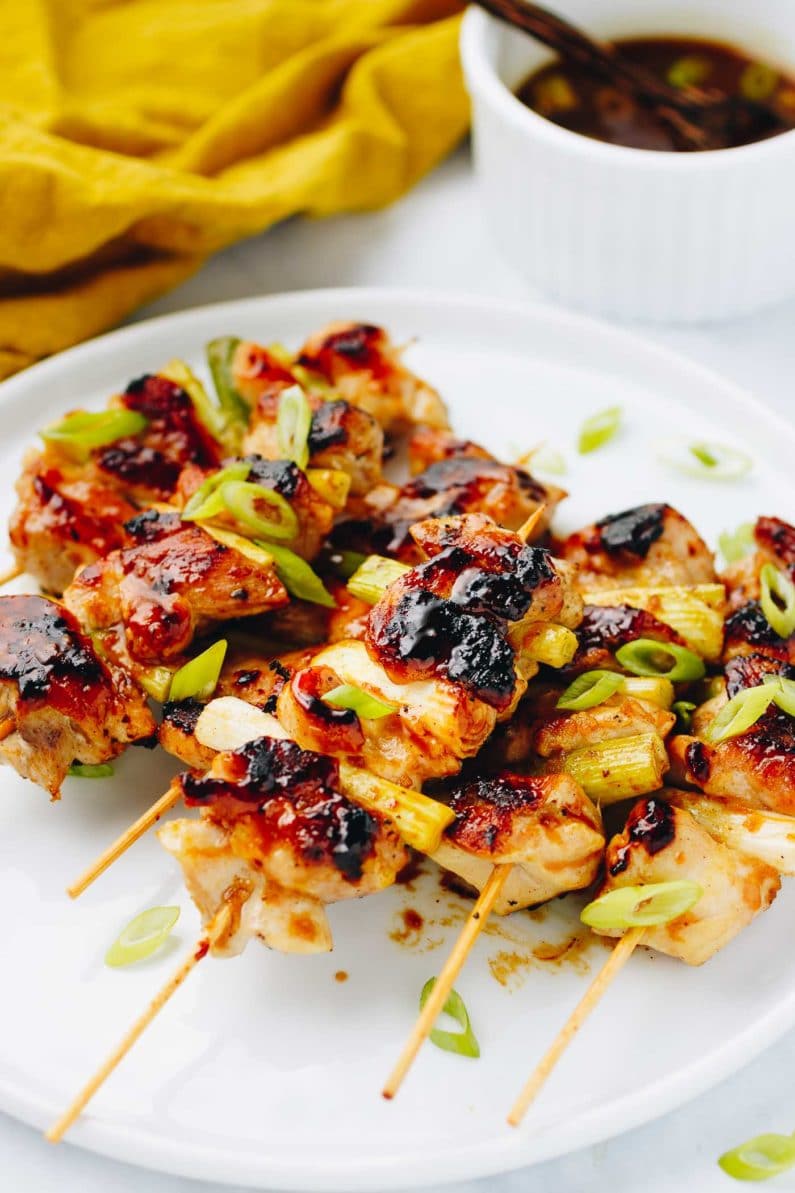 What does chicken yakitori taste like?
Yakito comes with two different seasonings – salt only or a sweet and savory yakitori sauce. The grilled chicken skewers are juicy and savory, and with a hint of sweetness from the sauce. Because the skewers are grilled over charcoal fire, you can also taste a slight charred flavor from the grill.
Is yakitori sauce the same as teriyaki?
Yakitori sauce is very similar to Teriyaki sauce with the same ingredient components – Japanese shoyu, mirin, sugar, and sake – but in different quantity. In most recipes, you'll find that they are interchangeable. For today's Chicken Yakitori Skewers, we use my Paleo Teriyaki sauce that's also Whole30 friendly. If you are Keto, use my Keto Teriyaki Sauce!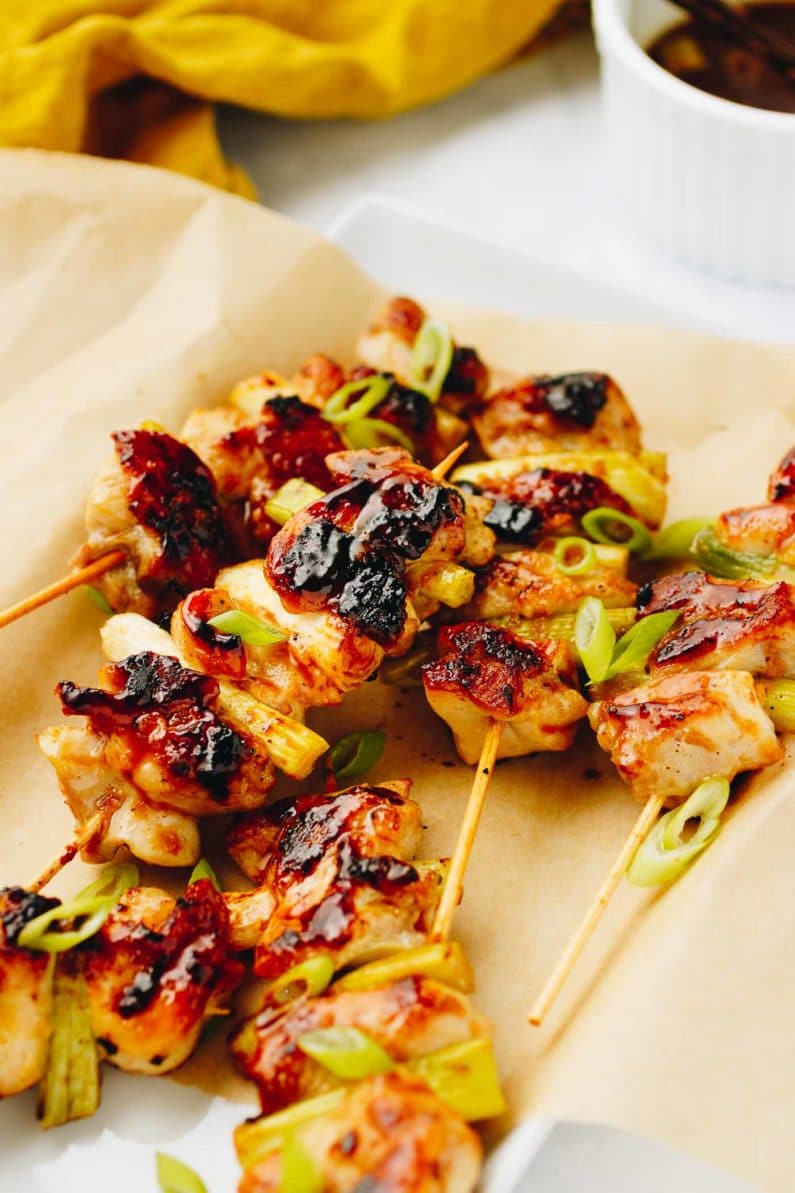 Paleo Chicken Yakitori Skewers (Whole30, Keto)
Yakitori is probably one of the most popular Japanese finger foods. Although originally tori means chicken, lately you can see many yakitori shops in Japan include other types of proteins so it is not chicken only.
The flavor of this chicken yakitori is classic Japanese – it has a lovely depth of flavor. It's sweet and savory, and the charred scallions and chicken, basted in teriyaki sauce makes this distinctly Japanese BBQ. This is terrific cooked over a stove top or outdoor grill. The caramelization that you get on the surface is the best. BEST!
More BBQ/Summer Grilling Recipes:
If you make this dish, tell me in the comments below if you agree that the smell when this is cooking is outrageous!!!
And if you haven't made it yet but you want to, tell me in the comments below if you can tell just by looking at the photos that the smell when this is cooking.
Hungry for more?
Subscribe to my blog I Heart Umami for weekly new updates and learn more about my online Paleo meal planning program. Let me help you kickstart a healthy diet and stress-free living.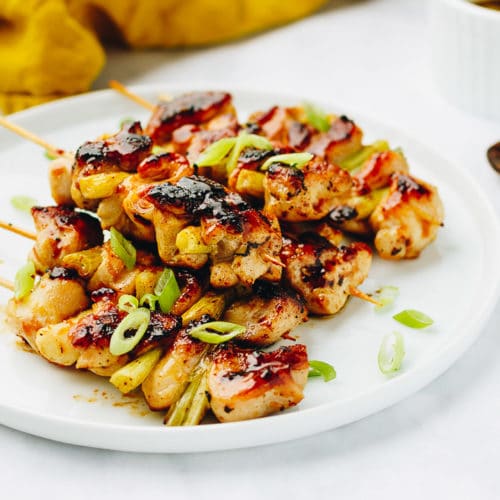 Paleo Chicken Yakitori Skewers (Whole30)
Paleo Chicken Yakitori Skewers with juicy chicken thighs, basted in a sweet and savory Whole30 Teriyaki Sauce. This is the ultimate summer BBQ recipe for grilled chicken lovers!
Print
Pin
Rate
Ingredients
1.5 lb chicken thighs, boneless, skinless
½ tsp coarse sea salt, plus more during cooking
⅛ tsp white or black pepper, optional, plus more during cooking
2 bundles scallions, use white & pale green parts only
Instructions
Soak the bamboo skewers in water for 1 hour. In the meantime, make the teriyaki sauce and set it aside to cool. Reserve 1/4 cup of the sauce aside for dipping use.

Dice chicken to 1-inch pieces. Place them in a large bowl, toss and season with ½ tsp salt and ⅛ tsp pepper.

Slice scallions to 1-inch pieces. Use only white and pale green parts only.

On a flat work surface, fold the chicken in half and thread 1 piece of chicken onto a skewer, then thread a segment of scallion. Continue alternating and pack them tightly. Each skewer will hold 4 chicken slices and 3 scallion pieces.

Stovetop: In a well-heated large skillet, add 1-2 tbsp avocado oil. Cook the first side of the skewers about 4-5 minutes over medium heat. Season with a little salt and pepper over each skewer. Turn and cook the flip side 4-5 minutes further. Season with a pinch of salt and pepper. Do in separate batches and add more oil, if need be.

Gas Grill: Oil the grilling gate with avocado oil, place skewers directly over the grill, cover and cook, turning frequently, until chicken is well browned and scallions are tender, about 10 minutes. Season with salt and pepper 2-3 times during the grilling process.

Brush the skewers with teriyaki sauce and cook for 30 seconds. Turn the skewers again and brush with more sauce, and cook for 30 seconds longer.

Remove the chicken from the heat and let rest for 1-2 minutes. Brush with more sauce and serve immediately.
Notes
The skewers can be made 1 day ahead and store in the fridge. Grill the next day when ready. 
The nutritional label is calculated without the teriyaki sauce. 
You can also use my Keto Teriyaki Sauce for this recipe. 
Nutrition
Serving: 1skewer, Calories: 99kcal, Carbohydrates: 1g, Protein: 11g, Fat: 6g, Saturated Fat: 1g, Cholesterol: 54mg, Sodium: 148mg, Potassium: 139mg, Fiber: 1g, Sugar: 1g, Vitamin A: 25IU, Vitamin C: 0.2mg, Calcium: 5mg, Iron: 0.5mg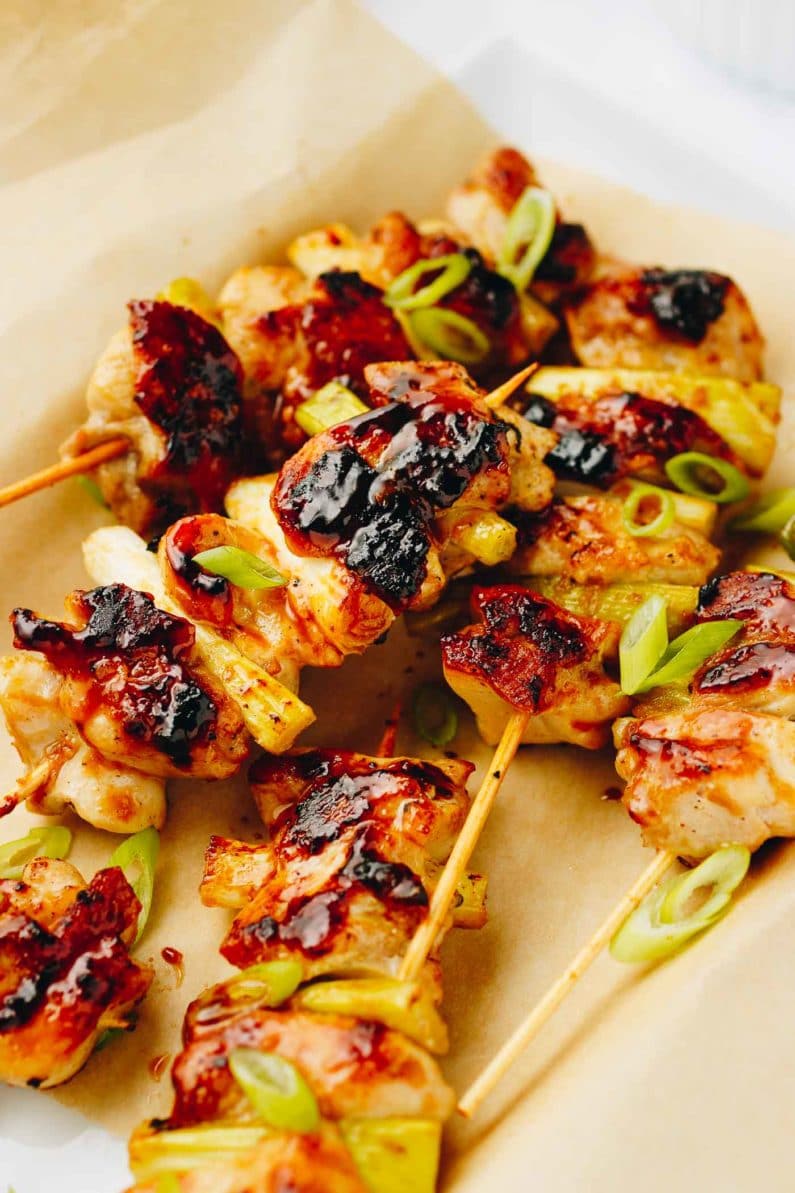 Complete the meal with –