Paleo Kofta Kebabs
Paleo Kofta Kebabs ! Paleo lamb kebab skewers with tons of fresh herbs and spices in dairy-free Tzatziki inspired tahini dipping sauce. Perfect holiday and grill recipe. Keto and Whole30 friendly.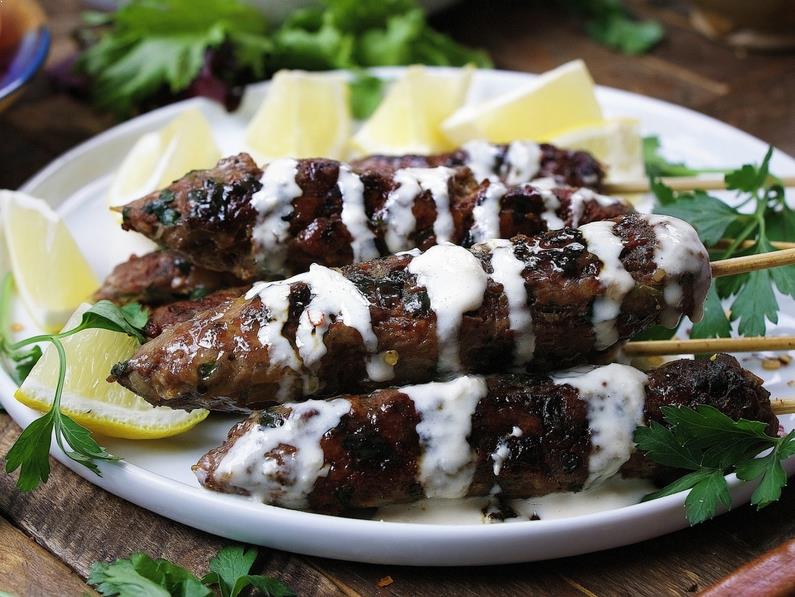 Hit PLAY to check out how you too can quickly make this nutritious and delicious Paleo Kofta Kebabs for your next outdoor BBQ or parties !
Paleo kofta kebabs – my take on the famous Turkish cuisine !
I love cuisines from all over the world. Although Asian cuisine is the dearest to my heart, I appreciate cultures where people take great passion and pride in their everyday home cooking.
These Paleo Kofta Kebabs are made with ground lamb and mixed with many awesome and good-for-you fresh herbs. The fat vs. lean meat ratio is absolutely crucial to keep the skewers moist and tasty. Test with a small batch in the skillet first before forming them into skewers so you can adjust the seasonings to your own liking.
A few tips from my experience to share with you
In restaurants, chefs use flat shape kebab skewers to skewer the ground meat. The slightly flattened meat skewers have two advantages: 1). The meat will cook more evenly (the inner part of the meat will get cook through faster before the outer surface gets overcooked) 2). The flattened surface will get browned up more easily thus the texture in the mouthfeel and visually are more interesting.
If you use wooden skewers like me, soak the skewers a few hours in room temperature water before making kebabs and follow the instructions below to form, shape, and grill. It took me a few tries to make the skewers gorgeous looking and tasty so I hope you'll find my cooking tips helpful.
Dip the skewers in my super simple iced cold lemon tahini dressing. Serve the skewers with some lettuce wraps, lemon wedges, tomatoes…etc to incorporate more veggies to your meal. It's a perfect balance between protein and veggies. :))
[clickToTweet tweet="Paleo Kofta Kebabs with iced cold Tzatziki inspired tahini dressing @iheartumami " quote="I'm loving these Paleo Kofta Kebabs from I Heart Umami ! " theme="style3″]
Hit the Social Share and Pinterest buttons to share this super delicious Paleo Kofta Kebabs
. It'll be a crowd pleaser and add variety to your everyday home cooking !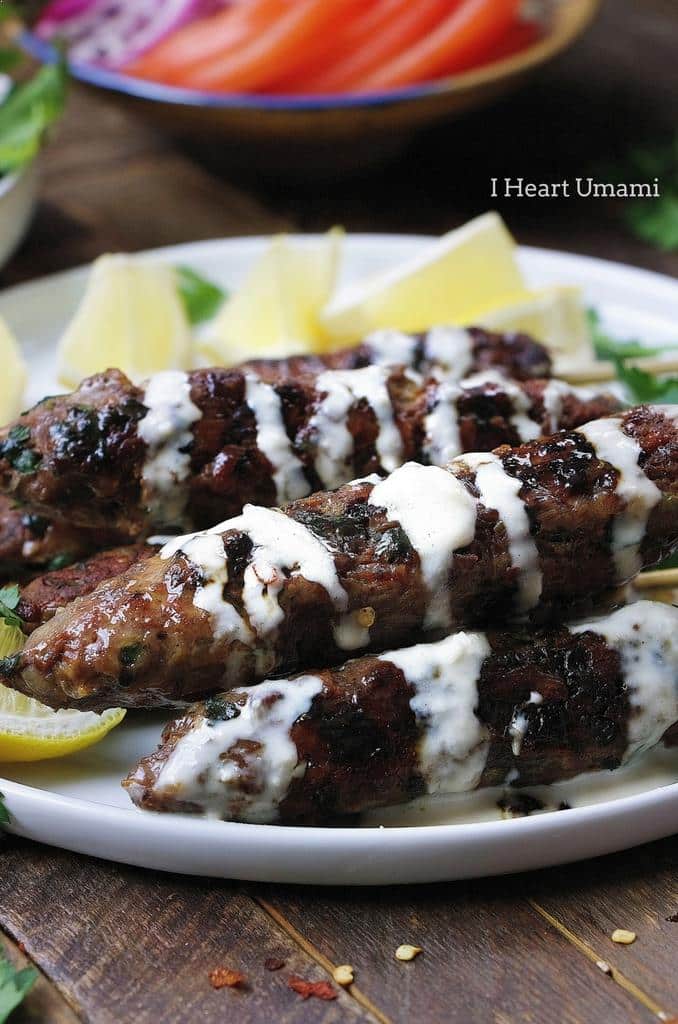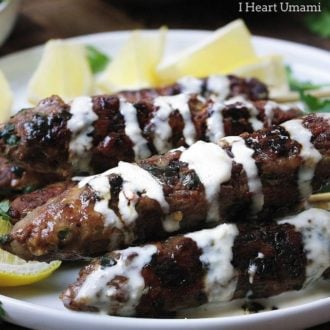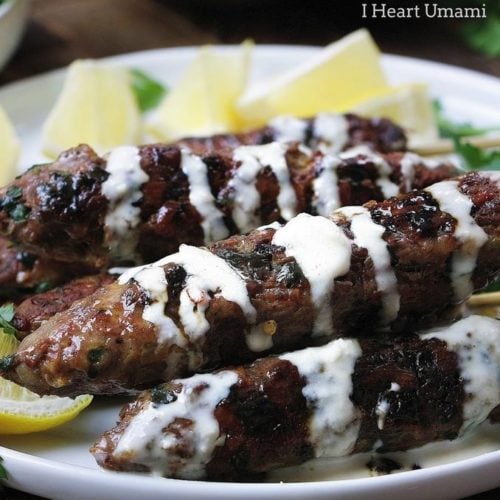 Paleo Kofta Kebabs
Paleo Kofta Kebabs ! Paleo lamb kebab skewers with tons of fresh herbs and spices in dairy free Tzatziki inspired tahini dipping sauce. Perfect holiday and grill recipe. Keto and Whole30 friendly. Follow the recipe to make these delicious and nutritious skewers !
Print
Pin
Rate
Ingredients
1 lb. ground lamb, 77% lean, 22% fat or higher fat ratio to keep the meat tender
10-12 7 ½ inch skewers, pre-soak in water before grilling
Optional sides:
1 large ripe tomato, sliced
Mixed greens
About half of one whole lemon, slice to wedges for serving use
Seasonings:
3-4 large garlic cloves, crushed
½ cup fresh parsley, finely chopped
2 large shallots, finely chopped
1 to 1 ½ tsp coarse salt
1 tsp ground cumin powder
1 tsp ground coriander powder
1 tsp sumac
½ tsp smoked paprika
¼ tsp dried red chili pepper, optional
1 tbsp extra virgin olive oil
Tahini dipping sauce:
⅓ cup tahini paste
⅓ cup water, or more for thinner consistency
2 small garlic cloves, crushed or grated
¼ to ½ tsp fine sea salt
Half to one whole lemon juice, to taste
Instructions
Mix ground lamb with ingredients under "seasonings". Gently mix them well but do not overwork the meat. Divide them roughly to about 10 parts to form individual meat skewers.*

Grab 1 part of the ground meat and form a round meatball shape then flatten it over your palm and place one skewer in the center. Gently squeeze and shape the meat over skewers to make cylinder shape and use your thumb to slightly flatten the meat over skewers so that the meat will cook evenly and be more delicious. Set the skewers over a large flat plate or store in the fridge cover with clear wrap until ready to use.*

Preheat a large skillet over medium/medium-low heat until hot (but not to a smoking point), then add cooking fat of your choice. Swirl the oil in the skillet so the oil is distributed evenly. Add skewers and grill over medium heat. First side about 4 minutes and carefully flip to cook additional 3 minutes for the flip side. Cook in batches so to not overcrowd the skillet.

Serve immediately while the skewers are hot (this will be more tasty and the meat will be less dry tasting particularly if the fat to lean meat ratio isn't as high in your ground meat) with chilled tahini sauce and topping of your choice (sliced tomatoes, mixed greens …etc.)
Notes
*Before making the skewers, take one small portion and pan-fry the ground meat to taste if more seasonings or salt is needed to your preference.   *If making ahead and not grilling the skewers until next day, finish steps 1 and 2 and gently wrap them over parchment paper and store flat in large ziplock bags and store in the freezer. Defrost in the fridge overnight before grilling.   *The cooking time indicates per skewer cooking time (4 mins + 3 mins on the flip side). Please adjust cooking time based on the meat quantity per skewer. 
Nutrition
Calories: 198kcal, Carbohydrates: 3g, Protein: 9g, Fat: 16g, Saturated Fat: 5g, Cholesterol: 33mg, Sodium: 325mg, Potassium: 207mg, Vitamin A: 425IU, Vitamin C: 7.2mg, Calcium: 30mg, Iron: 1.5mg